A few years ago I bought a '09 Acura MDX as my wife's daily driver, baby hauler and grocery getter, but it's turned into my daily driver since my wife prefers driving her old '07 Civic sedan (which I thought would become my winter beater). There's nothing inherently wrong with the MDX (other than feeling like a bit of a soccer mom while driving it), but lately I've hauled two engines with it (one for the FR-S and one for the Swift ChumpCar), and I often make trips to the States to pick up tires and other car parts to keep the Speed Academy machine running. Oh, and I towed the ChumpCar in an enclosed 20-ft trailer with it and it was in 3rd gear at 4,000+ rpm the whole time just to hold 90 km/h on the highway. Ouch.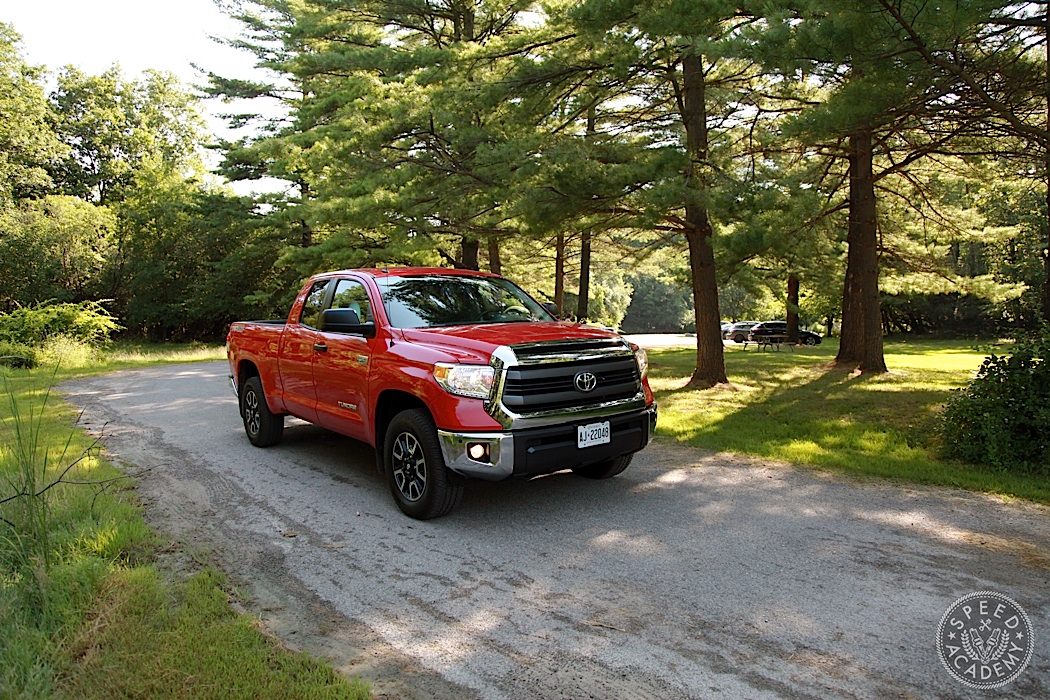 With all this heavy lifting, it's become more and more obvious that I need a truck. Back in the early to mid 2000s I owned a 1st gen Toyota Tundra TRD 4×4 and absolutely loved it. It towed my race car to Time Attack and Road Race events like a champ (I added rear air bags for load levelling but left it otherwise stock), and it came in extremely handy for all sorts of other super-manly jobs, from trips to the dump with 20-year old furniture from the basement to lumber runs to Home Depot when fencing the backyard.
I told my wife I wanted to trade the MDX in on a Tundra and she gave the idea her royal approval, but before pulling the trigger I decided to borrow this Radiant Red 2015 Toyota Tundra from the press fleet to make sure I liked the new generation as much as I liked my first gen.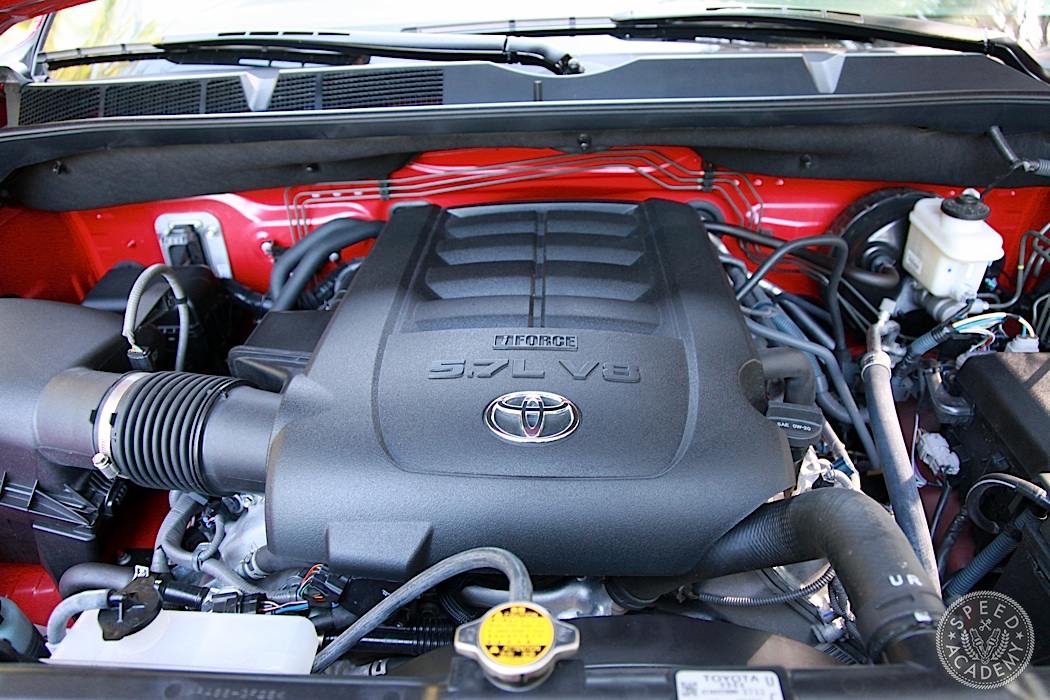 Big Red here is a Double Cab TRD 4×4 model in SR5 trim with the big-boy 5.7L i-Force V8, so its got upgraded Bilstein shocks, fancy alloy wheels with all-terrain tires, along with a cloth interior rather than the more upscale leather interior you get with the Limited (or other higher trim levels). It's actually very close to the way I'd spec out my own Tundra, though I do prefer the limo-like leg room you get in the back with the CrewMax cabin (my Tundra will still do family road trip duties, so the more rear space the better, though the double cab is still quite roomy).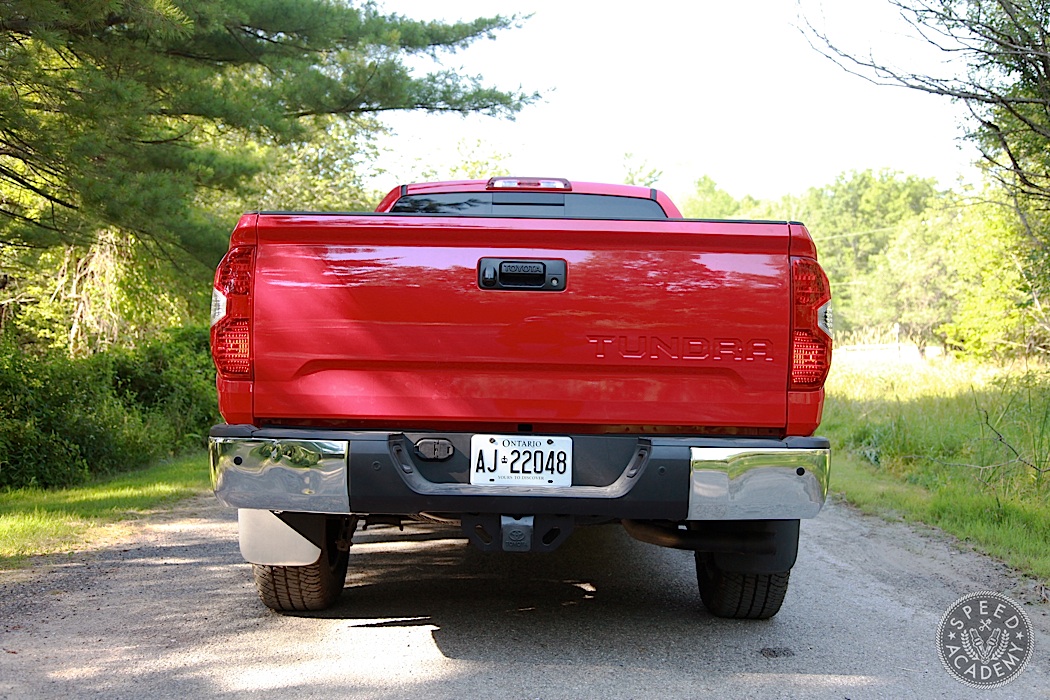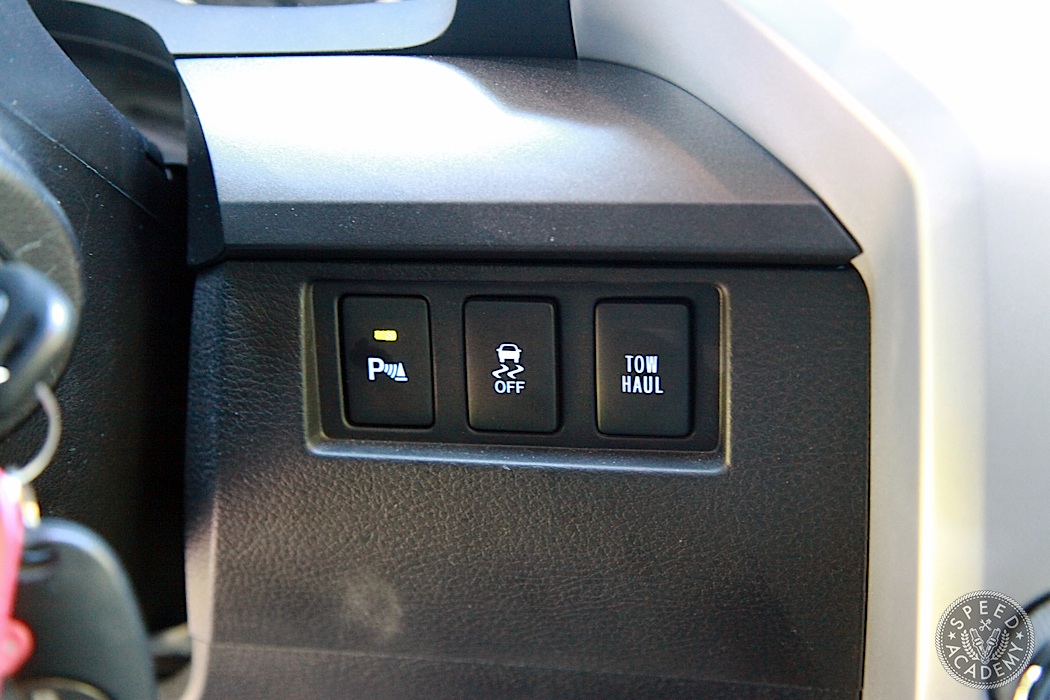 The 5.7 comes with an engine oil cooler, which shows you Toyota is serious about the Tundra doing work. Designed and built in North America, you also get a transmission cooler with the towing package as well as a Tow button in the cabin that changes shift patterns, boosts torque and engages engine braking to enhance control when hauling or towing heavy loads.
We put that Tow/Haul button to good use, too. Ken needed to tow his RX-7 to a friend's house for a little help with the rewiring job we'll have a story (and video) for you on soon. Ken normally tows with his V6-powered Toyota FJ, and by comparison he said the Tundra pulled the car and trailer combo like it wasn't even there. Over 400 lb-ft of torque and a 10,000-lbs towing capacity will do that, which just goes to show, if you're serious about towing you need a full sized truck and a full sized V8 and the Tundra gives you both along with Toyota's legendary reliability and durability.
You can get Tundras with a monster 8.1-foot bed, but the 6.5-foot bed like our test mule had is far more common, and there's also a 5.5-foot bed option as well. I put the bed and double cab rear cabin to the test during a trip to Niagara Falls, NY to pick up a whole bunch of goodies for various projects we have on the go. There's no way I could have fit this all into the MDX. I was more and more sold on becoming a Tundra owner again with each trip I made in Big Red.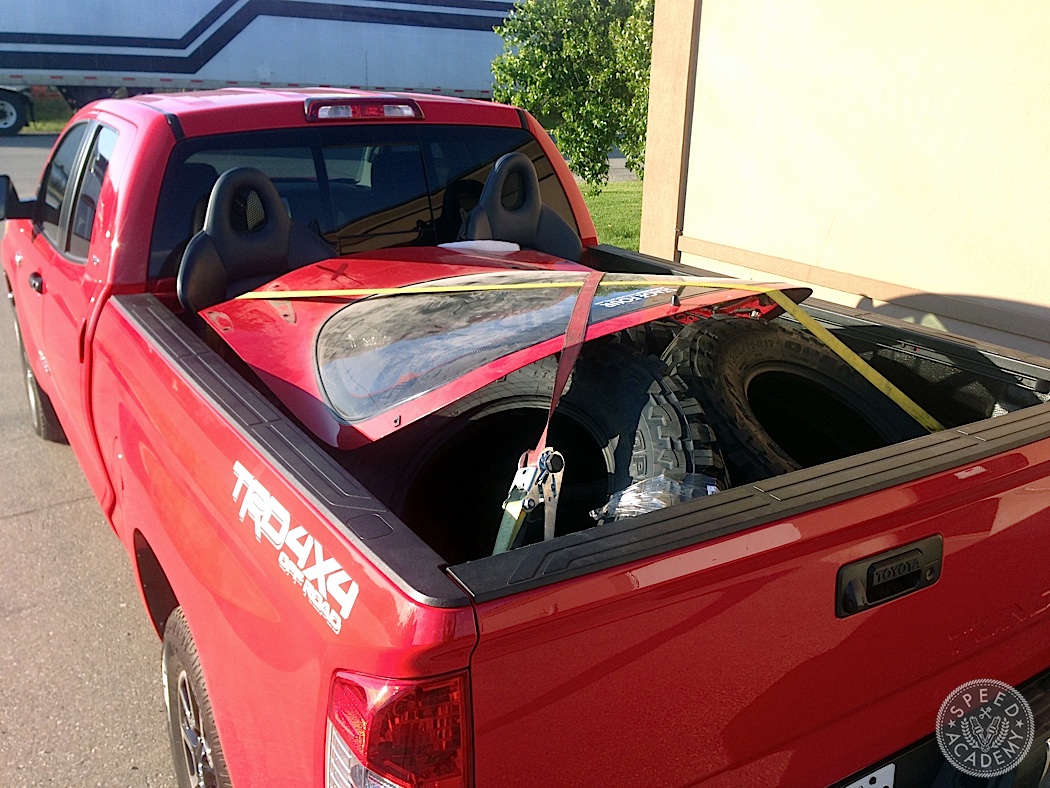 Pete also put the bed to good use, transporting the spare rear hatch off Ken's RX-7 to our buddy Kevin from C3 Composites so he could get started on making a carbon hatch, plus you may recognize the ASS2000's seats, which we sold to make space at the shop. Do work, Tundra, do work!
The cabin is also a totally pleasant, comfortable and spacious place to be. As a full-figured man I do appreciate the roominess of a full sized truck, and as usual Toyota's seats are super comfy. I also really liked the huge buttons and dial controls for the HVAC and entertainment systems. These seemed properly truckish in style and presumably were designed that way to make it easy to operate even while wearing work gloves or winter gloves. Proper truck design thinking here, and the rest of the cabin is intelligently designed for ease of use as well.
And it's still got all the modern amenities creature comforts, including a big screen for Nav, reverse camera, audio control, Bluetooth connectivity and heated seats. And if you want to be a baller, you can order up the Tundra in the extra-macho 1794 Edition or the ultra-luxe Platinum Edition. Bring your wallet turbo, though, because those versions start at over $55k CDN (Big Red comes in at $46k thanks to the TRD package but started out at $38k before options).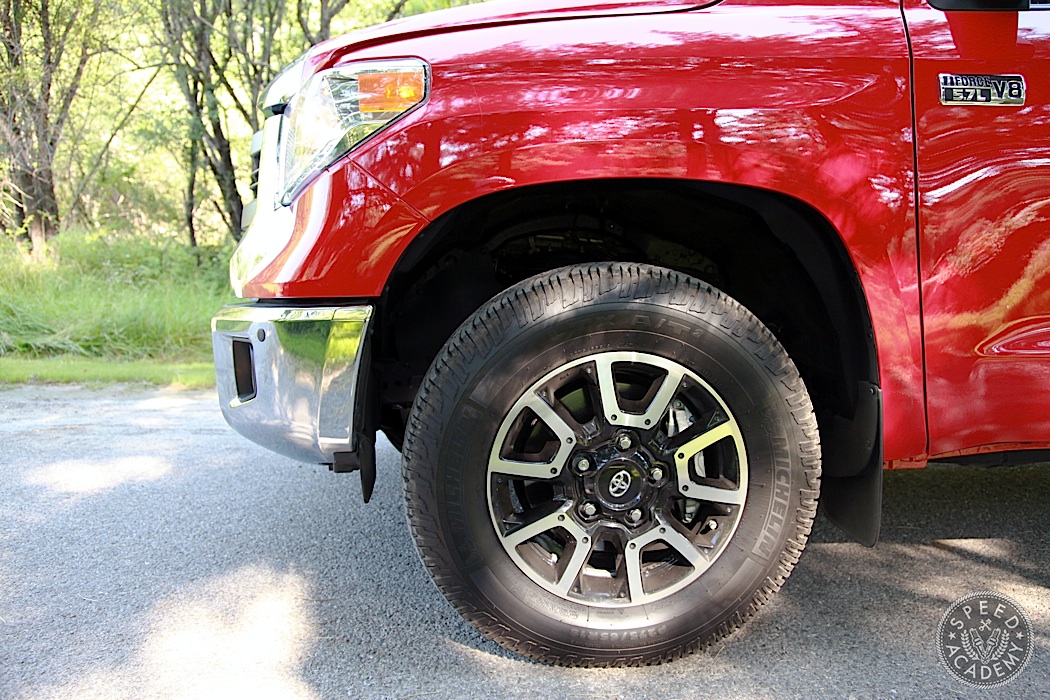 Even with the base model Tundra you get a lot of technology, as I learned during an emergency stop on the highway. I was cruising home from the shop when traffic came to a sudden stop. The truck in front of me (a Dodge) stood on the brakes as hard as he could but still rear-ended the car in front of him. I stomped on the Tundra's brakes as hard as I could, ABS pumping away and I just stopped short of the Dodge's rear bumper. It felt like I stopped a few inches short, but it was probably more like a few feet. Still way too close for comfort in somebody else's truck, but as our buddy Vinh (an engineer and Manager of Quality Assurance at Toyota Canada) pointed out, Toyota Brake Assist may well have saved my bacon.
Studies have shown that nearly half of all drivers do not step on the brake quickly and strongly enough to stop the vehicle in case of an emergency, so when Brake Assist detects a panic stop (based on the force that is applied to the brake pedal and how fast the driver is stepping on the pedal), it adds the maximum possible pressure to the braking system to shorten stopping distance as much as possible.
Of course I'd like to think I'm in the 50% that does utilize the brakes fully in a situation like this, but since the Tundra was new to me and I hadn't needed to fully test the brakes like this until this panic highway stop, it's entirely possible the Brake Assist technology made the difference and saved me from a very embarrassing phone call to Toyota. The other cool thing about Brake Assist is that when you start to release the brakes, meaning disaster has been averted, the system eases off and lets you regulate the brakes normally. It's all very seamless, so much so that I had no idea it was even there until Vinh told me about it.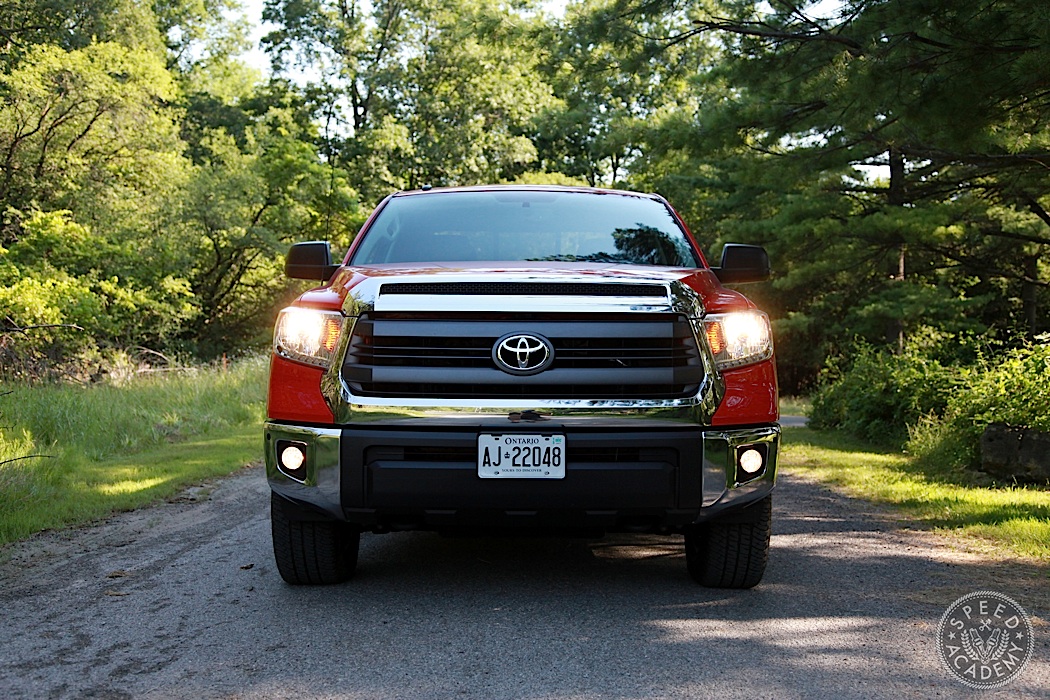 Point being, Toyota takes safety very seriously and active safety systems take Brake Assist full advantage of modern sensor and computing technologies, so even though a full sized truck like the Tundra isn't going to stop as short as a FR-S, it stopped remarkably well in this emergency situation and left me with a lot of confidence in its on-road capabilities not just as a workhorse but as a family hauler, too. Of course its braking performance isn't just about Brake Assist — its beefy 13.9" front rotors and 4-piston calipers work exceptionally well on their own.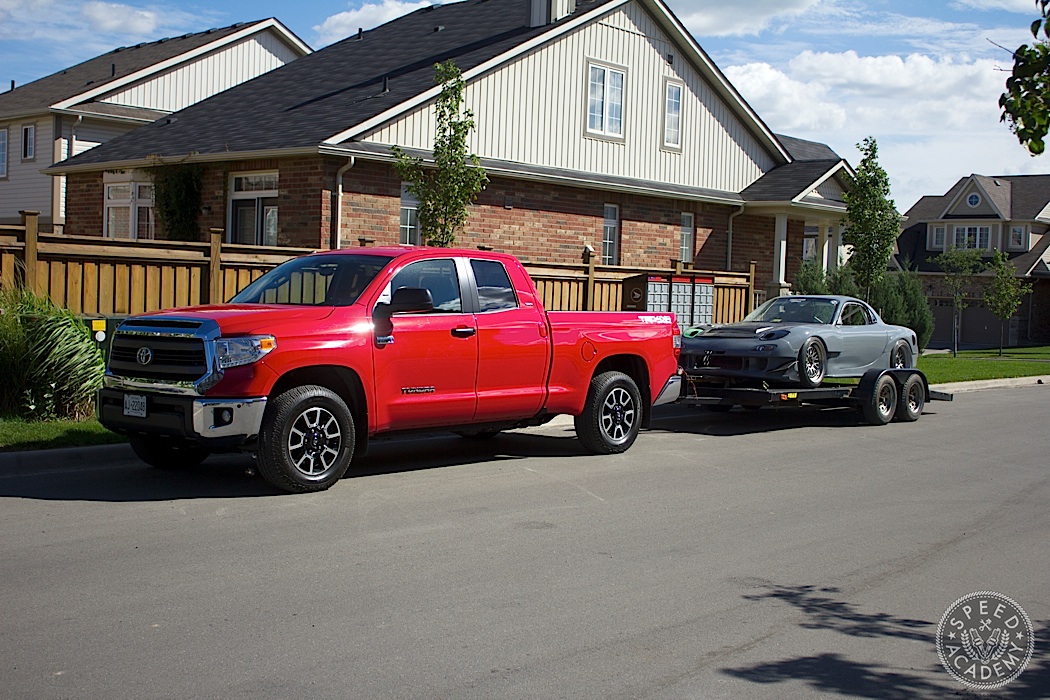 All in all, we really enjoyed Big Red and got a huge amount of work done with it during the 7 days we had it. Safe to say we'll get a lot more work done once we add a Tundra of our own to the Speed Academy fleet. It rides quite a bit firmer and feels a lot more heavy-duty than my 1st gen Tundra, though its front double wishbone suspension does give it a level of ride quality sophistication I didn't expect.
As much as I liked the "in between" sizing of the 1st gen Tundra, it's impossible to deny how useable the new gen Tundra is in all its full sized glory. Now if I can just find a good deal on a lightly used one with the coveted CrewMax cabin and the 5.7 V8 under the hood. Time to put my Kijiji, Craigslist, and AutoTrader skills to the test!