Sure, the title might sound like a bit of a catch phrase, but what I mean to say is that it looks better, feels better, sounds better, and rides better than my 2011 Prius, plus it tries to make you a better driver.  Correct, the Prius Prime tries to make you a better driver.  If you keep reading, you will learn how.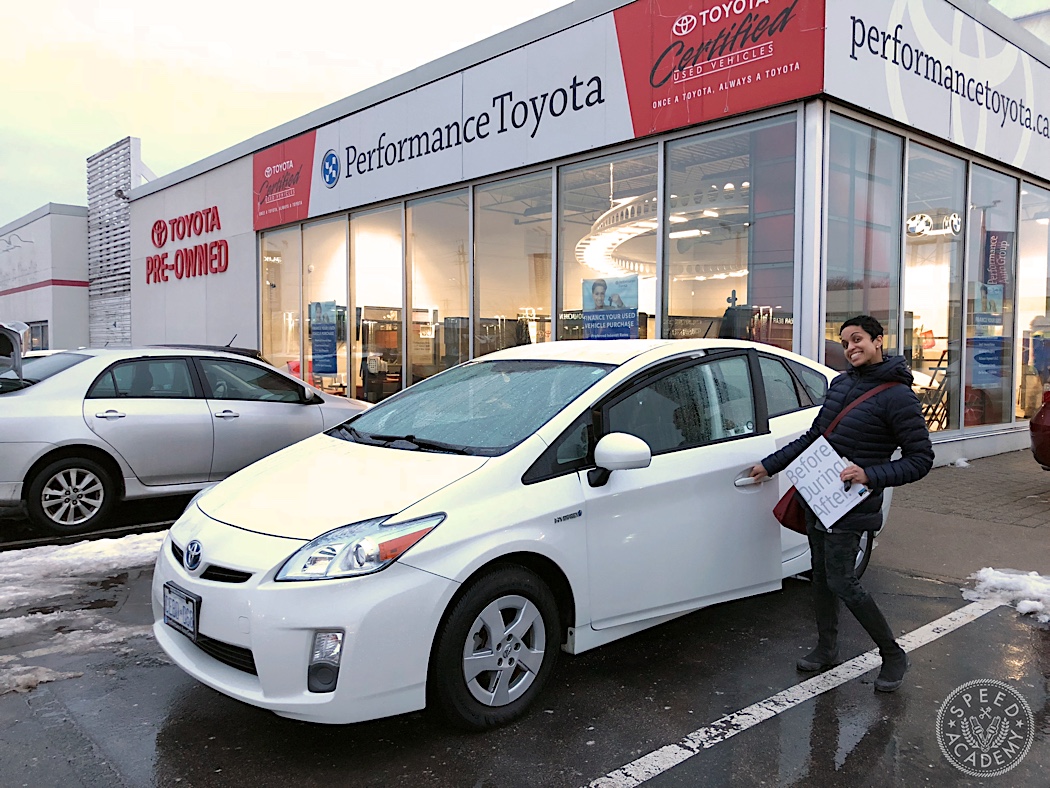 On January 10th, 2018, I picked up a 2011 Toyota Prius as my new daily driver and I named her Cybil (based on the letters in her license plate). She is an extraordinarily practical vehicle that, as expected, is fantastic on gas with her hybrid motor. I average about 750-km per 45-liter (11.9-gallon) tank of fuel and I don't baby her. You don't really notice how great the mileage is unless faced with the question, "When was the last time that you filled up on gas?"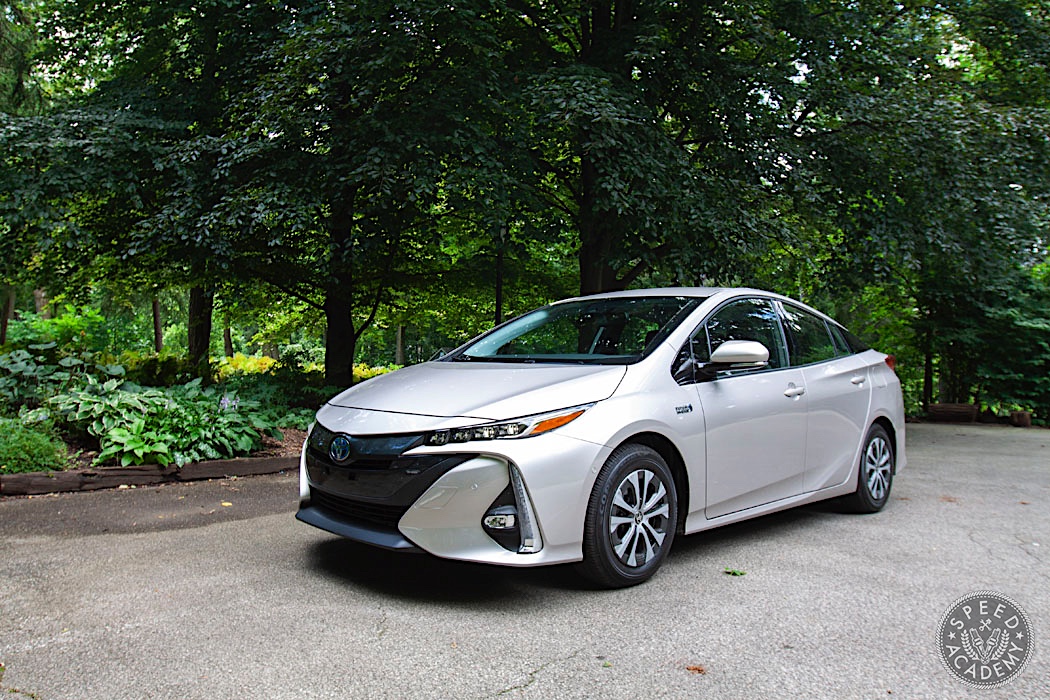 On August 19th, 2019, my "Internet-famous" auto journalist husband (Speed Academy Dave) brought home a 2020 Toyota Prius Prime (equipped with the Technology Package) for a week-long press car test drive. My initial reaction was, "That's a Prius!?"  It looked too bold, too sporty to be true. Because, let's face it, previous generations of the Prius (including mine) may have been designed to optimize fuel efficiency, but I don't think too many owners were won over based on style alone.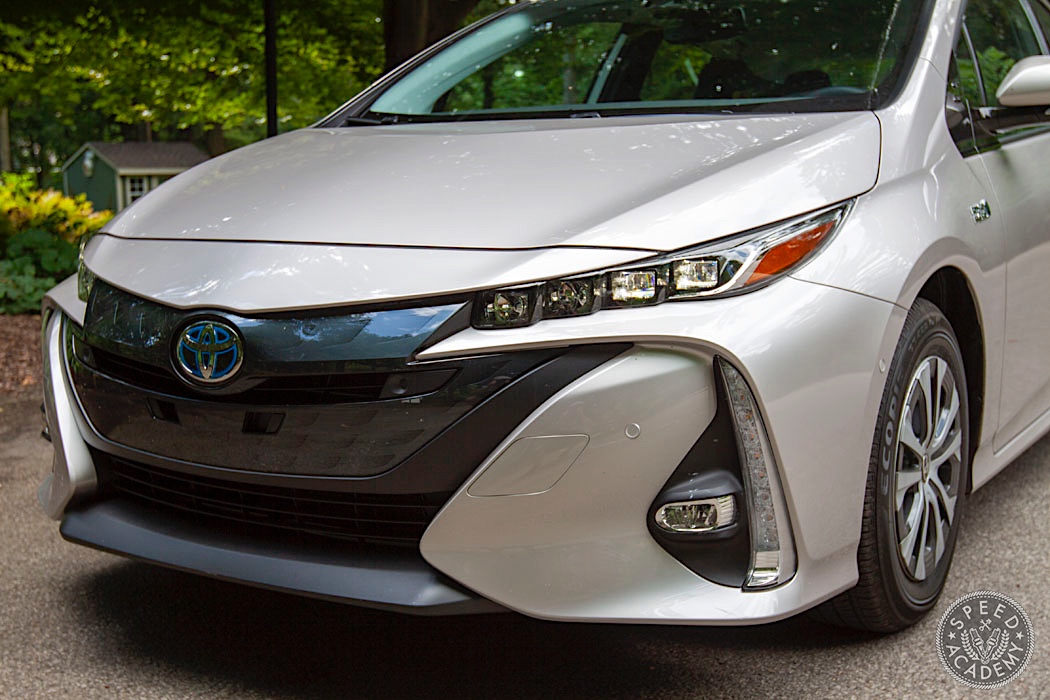 From my perspective, the 2020 Prius Prime design is futuristic and edgy enough to make a very strong visual impression. I especially like the front end design, its gradually sloping nose [contributing to its very low coefficient of drag of 0.25] and aggressive front lip blending beautifully with the wrap-around LED headlights.  As you can see, there's also LED fog lights and vertical running lights that give the front end an even more distinctive look, especially at night when the whole lighting package really pops. 
The rear end styling is just as bold, with the standout feature being the wave form across the rear "spoiler" where it dips down in the middle. I'm not sure if this is done for aerodynamics or style (or both), but I can tell you it does appreciably improve rear visibility, something I struggle a bit with in my 2011 Prius. Plus, those unique vertical running lights at each rear corner tie the whole design together, and when you pop the rear hatch you're immediately aware of how committed Toyota is to making this a very stiff and lightweight machine, given the exposed carbon fiber of the the hatch.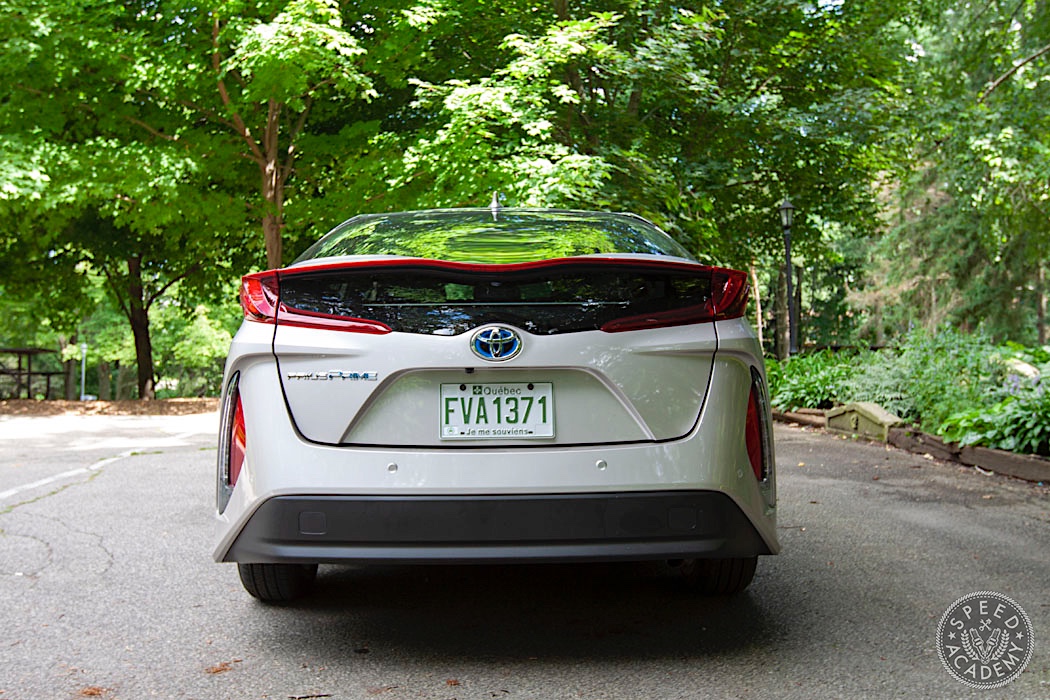 The Technology Package this Prime is equipped with has a lot of additional safety features, but they are not obvious at all.  The wealth of sensors necessary to operate the Blind Spot Monitor System with Rear Cross Traffic Alert, Intelligent Clearance Sonar, and Intelligent Parking Assist are flush with the body and paint-matched, so you don't really notice they're there, but if you look closely at the front and rear bumpers you'll see 4 little circles that indicate how many sensors are watching out for you. 
Eventually, I hopped in.  Man, it felt good. You know the difference you feel between stepping into a Toyota and Lexus or VW and Audi? One is good, the other is luxuriously great. With this top-of-the-line Prius Prime, those lines are blurred.  There's a real sense of quality and style throughout the interior, from the material choices and piano black accent trim to the illuminated blue shift lever and wireless mobile phone charger. 
As you can see here, the center tunnel console is no longer open underneath, the way it is in my 2011 (a real pet peeve of mine, since I found it too easily traps dirt). The 2020 Prime's console and tunnel area takes a more traditional approach, with standard size cup holders and plenty of storage inside the center armrest. My only complaint with the 2020 Prime's interior is there's no place to put the key, or should I say remote (since there's no key for the ignition, but rather a push-button start that functions based on proximity to the remote). Still, a little slot in the dash or center console to park the remote would have been appreciated, since I don't always wear a jacket or pants with pockets.