As we shared last week, AEM Performance Electronics announced that they've launched a new brand called AEM EV that will be offering motorsports-grade tuning capabilities for anyone building a custom EV (Electric Vehicle) race car, and of course this same technology can (and no doubt will be) used by DIY enthusiasts to convert their favorite road cars to EV propulsion as well.
While chatting with AEM EV's representatives in their booth at the 2019 PRI Show, where we also snapped all these pics, we were excited to learn more about their move into the EV tuning world, since AEM Performance Electronics has long been a leader in the internal combustion tuning segment (and will no doubt continue to be).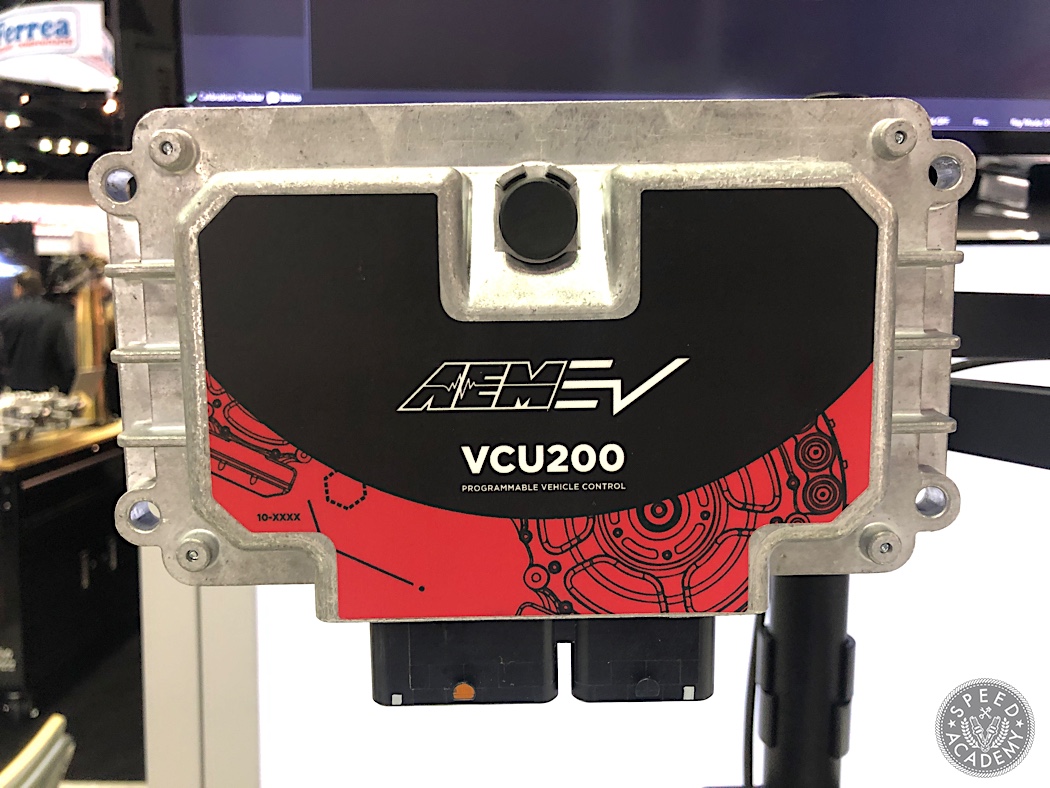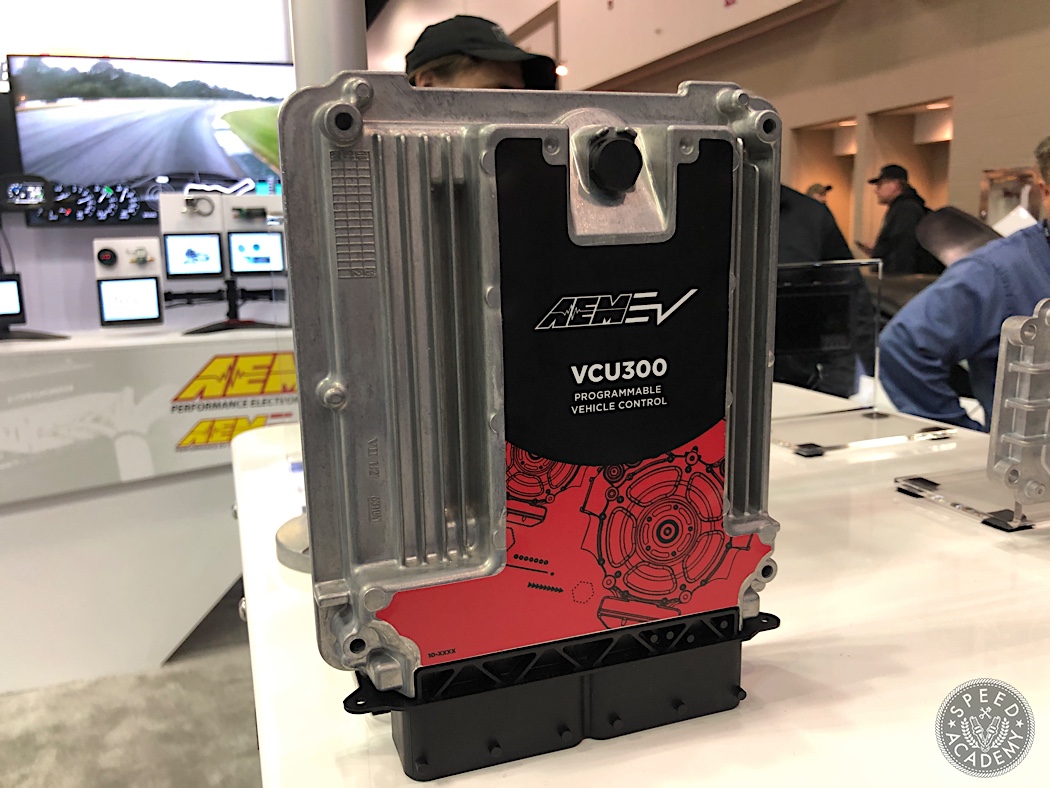 As you can see here, AEM's initial offerings include the VCU200 and VCU300, which feature functionality to control the strategies for a motor or motors (up to 4), and inverter(s), and interface with the battery management system, on-board battery charger, DC-to-DC Converter, pre-charge resistor, and high-voltage contactors. According to the reps we spoke with in AEM's booth, both units are built on OEM hardware from a top tier supplier, giving the 200 and 300 OEM level safety models that are critical for safe and reliable EV propulsion.
Where things get really interesting is that AEM EV has unlocked these control units and equipped them with their own proprietary motorsports and tuning features, giving the end user the ability to control all aspects of EV operation. Better yet, AEM EV has also developed a new graphical interface unlike anything else on the EV market, a design that mirrors the type of interface you would see in internal combustion engine programming software in its graphical presentation. This will make the tuning of the 200 and 300 units extremely user-friendly, unlike the other existing EV tuning options on the market today, which require very expensive controllers and bespoke coding and calibration in an interface that only professional programmers and software engineers are likely to be comfortable working with.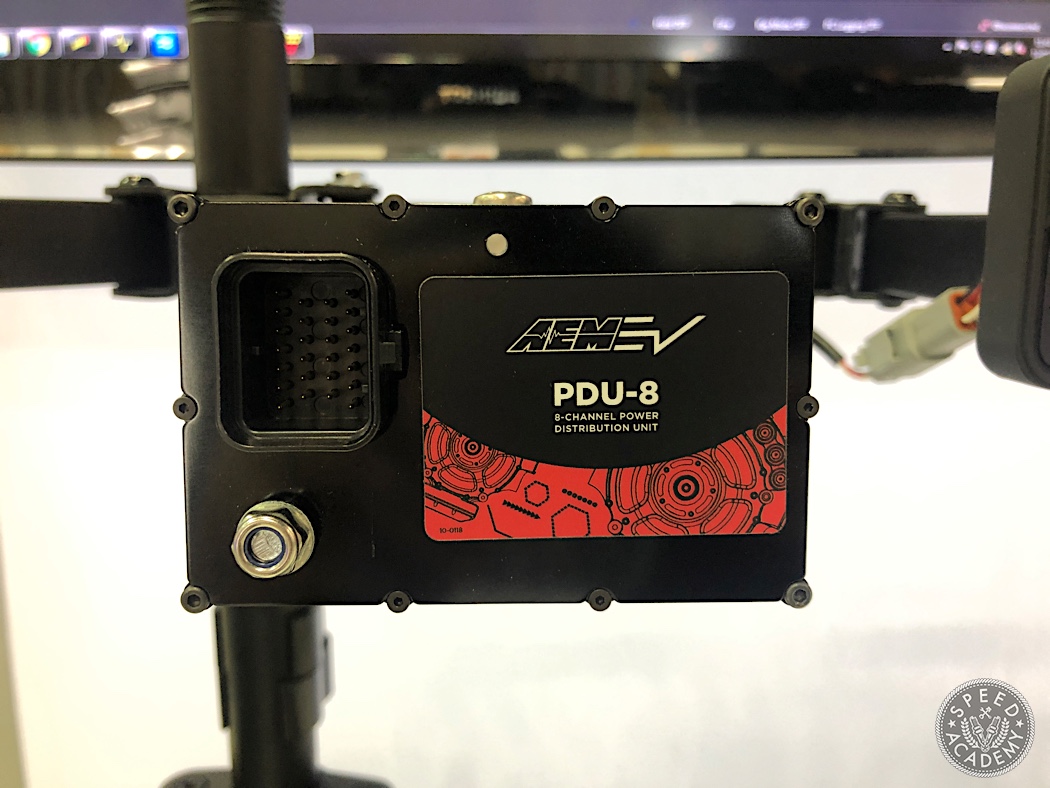 Another key piece to the EV conversion puzzle is how to distribute power throughout the vehicle, and AEM EV has an amazingly compact solution for that called the PDU-8, which is a CAN driven 8-channel power distribution unit. Only slightly bigger than a credit card at 4″ side by 2.7″ high and 1.5″ thick (and weighing only 190g or 6.7oz), it will be incredibly easy to mount anywhere in your EV project and you can daisy chain up to 8 units together, meaning you can have up 64 channels available. Each PDU-8 has 4 20amp outputs and 4 10amp outputs, and if you've ever used a PDU before you'll know how amazing these things are when it comes to simplifying the wiring in your car, since they replace traditional fuses and relays with a solid-state unit that has current sensing and self-reseting functionality to prevent damage to the electronic systems throughout the vehicle. Normally setting up a PDU takes a fair bit of time to configure via custom software, but AEM EV has simplified this process by making their PDU-8 interface seamlessly with their VCUs, meaning no custom configuration is required.
However, the PDU-8 does more than interface seamlessly with the VCUs. It's essentially a slave box and all of its commands are programmed from the VCU. The advantages to this are many, but the highlights include the fact that you don't have to program each one independently of each other to drive specific functions, which means you don't need to have a spare for each one on a motorsports application. This greatly simplifies the troubleshooting process, because if something isn't working with a system powered by one of the PDUs, you can swap a PDU from a different part of the car, plug it into the system with the problem, and if everything works you know the box you replaced is at fault and if it doesn't you know it's a wiring issue. As any racers reading this will know, in time-crunched motorsports environments, this kind of simplified troubleshooting is extremely valuable.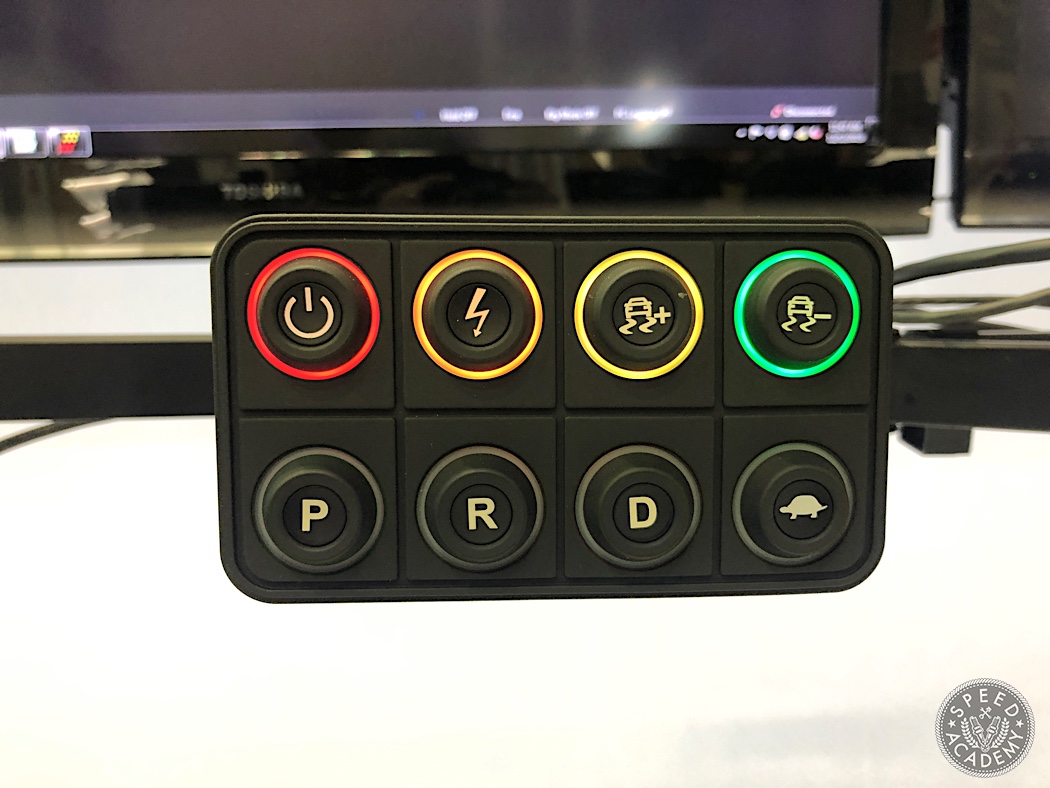 This 8 button CAN-based key pad is also designed to integrate seamlessly with AEM EV's VCUs and PDUs, and it's pretty obvious what all the buttons control…except for that turtle! Maybe it's a "valet mode" or "slow mode" to keep your 16-year old son or daughter from having instantaneous access to full e-torque while he or she learns to drive? [Edit: we have since confirmed that this is in fact a 'safety mode' button, just as we guessed]
AEM also had this EV-powered Palatov Motorsport D2 kit car on display in their booth, in order to showcase what will be possible to build using the VCU-200 or 300 along with the PDU-8. And as you can see, AEM's digital dash also makes a great display option for these types of EV projects. This isn't just a booth-built machine, though, it's actually a very special project built by Cascadia Motion, a BorgWarner owned company that specializes in manufacturing world-class EV propulsion solutions for aerospace, professional motorsports (including Formula E), specialty road cars and e-motorcycles.
Built to conquer the mountain at Pikes Peak, this Palatov D2 tube-frame chassis has been equipped with a Cascadia 450-hp electric motor across the front axle and a 900-hp electric motor across the rear axle. And as you can see in the images above, there's also three Cascadia 840v inverters onboard along with a 78 kWh battery.
This dual engine combo produces an astounding 1261-whp and 1020-wtq on a Dynojet dynamometer in a package that weighs 3350-lbs. A potent combination, to say the least, as proven by it's amazing sub 10-minute run during the 2019 Pikes Peak International Hill Climb, where driver Greg Tracy managed to cross the finish line in 9-minutes and 55-seconds in very tricky conditions that included fog and rain, placing 2nd in Unlimited Class and 9th overall. See the video below for in-car footage and voiceover commentary from the driver.
Not that you have to build a crazy Pikes Peak car to take advantage of AEM EV's new lineup of parts. It's easy to see how Autocross, Time Attack, and even Sprint Racing will start to see more and more EV entries thanks to the efforts of AEM EV and how this new lineup of products solves the problem of affordable and readily available way to effectively control an EV propulsion system. Plus I'm sure there will be lots of new EV home-built projects that convert all manner of road cars to electric propulsion thanks to how much AEM EV is simplifying this process.
We certainly look forward to seeing EV racers and tuners putting these new options from AEM EV to test, and who knows, maybe we'll find an engineless 911 sitting in a barn and put them to the test ourselves next year.