We posted a press release from AEM Induction on our Facebook page a month or two ago and people were impressed and, in a few cases, skeptical about how big the advertised power gains were on the 2015 Subaru Impreza WRX STI (20-whp peak vs peak and 32-whp max gain). We wanted to put this new offering from AEM to the test, but we didn't have a 2015 STI available, so we enlisted well-known Subaru Time Attacker and Cobb ProTuner Travis Barnes from Snail Performance to try it out on his shiny new daily driver.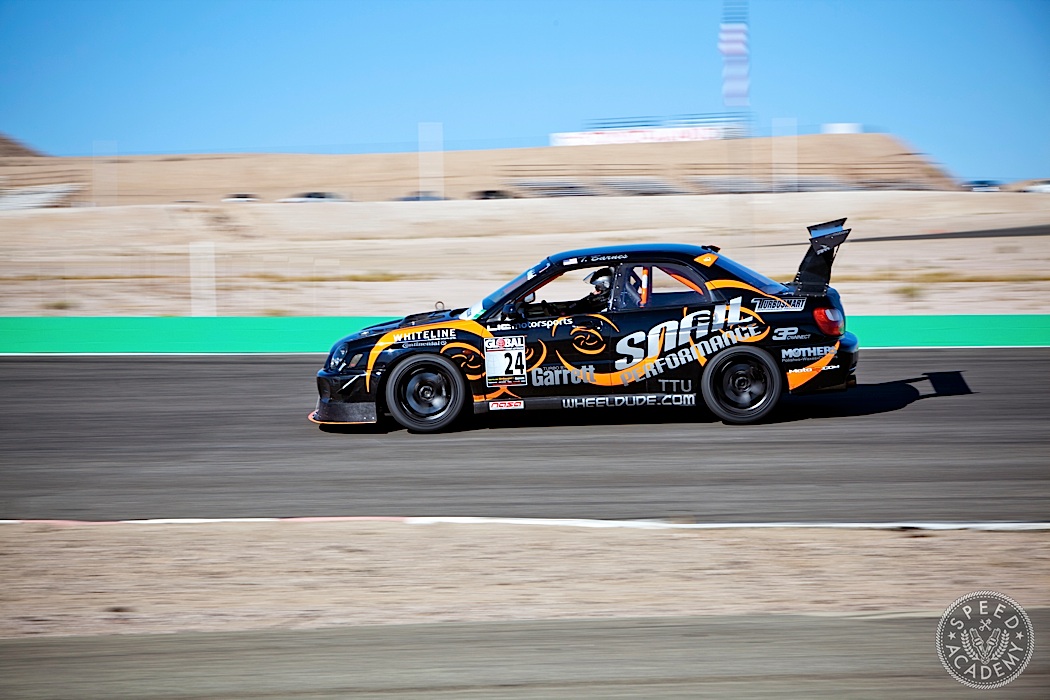 We first met Travis about 10 years ago, when he brought his bug-eye WRX out to a little track test comparo we were working on and let us hoon the crap out of it at Spring Mountain Motorsports Ranch. A few years later his Subie was well on its way to becoming the full-blown 'Snail Racer' you see above, having run it in the Modified Tuner Shootout with us and the good folks at NASA AZ. Travis did extremely well in the Shootout (4th overall) against some big shop-backed entries, and since then he's grown Snail Performance into a highly respected Subaru tuning specialists in Arizona and California (Snail has a retail location and installation centre in the Phoenix area and Travis is now located in the Bay area of northern California and works his magic as a Cobb Pro Tuner on his "ego busting" Mustang dyno).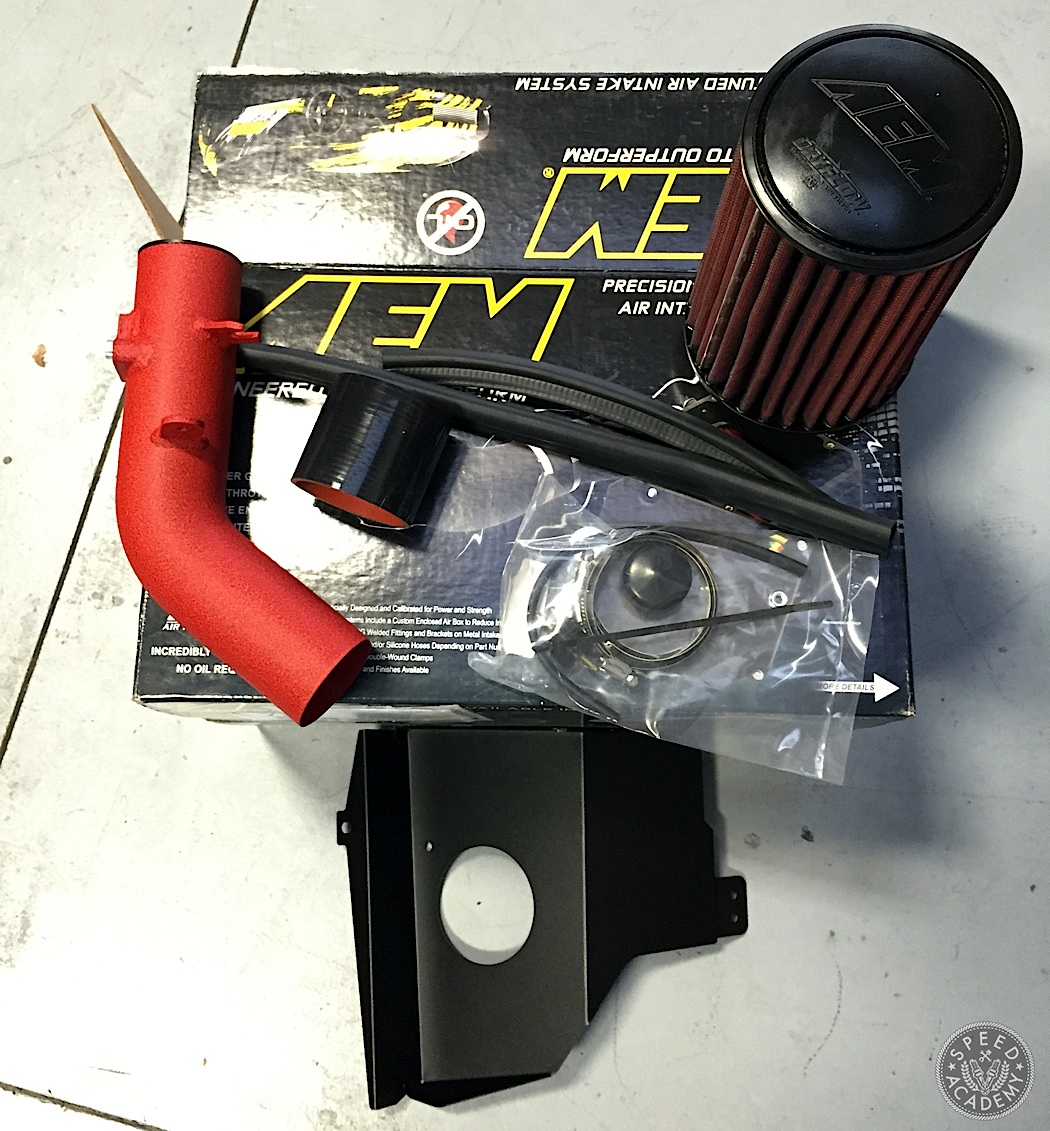 The AEM cold-air intake system for the 2015 STI, backed by a limited lifetime warranty, includes a black powdercoated aluminum heat shield that bolts up in the factory air box location and seals the filter off from engine bay heat, a mandrel bent intake tube (finished in either wrinkle-red like ours or wrinkle-black) that's designed to accept the stock MAF sensor and uses stock mounting points for support, and a large Dryflow synthetic air filter that's designed to be low restriction without compromising engine protection. The Dryflow filter is also washable and reusable and doesn't require oil, so won't foul the MAF sensor. And of course the kit also includes all the clamps and hoses needed for a quick and easy installation.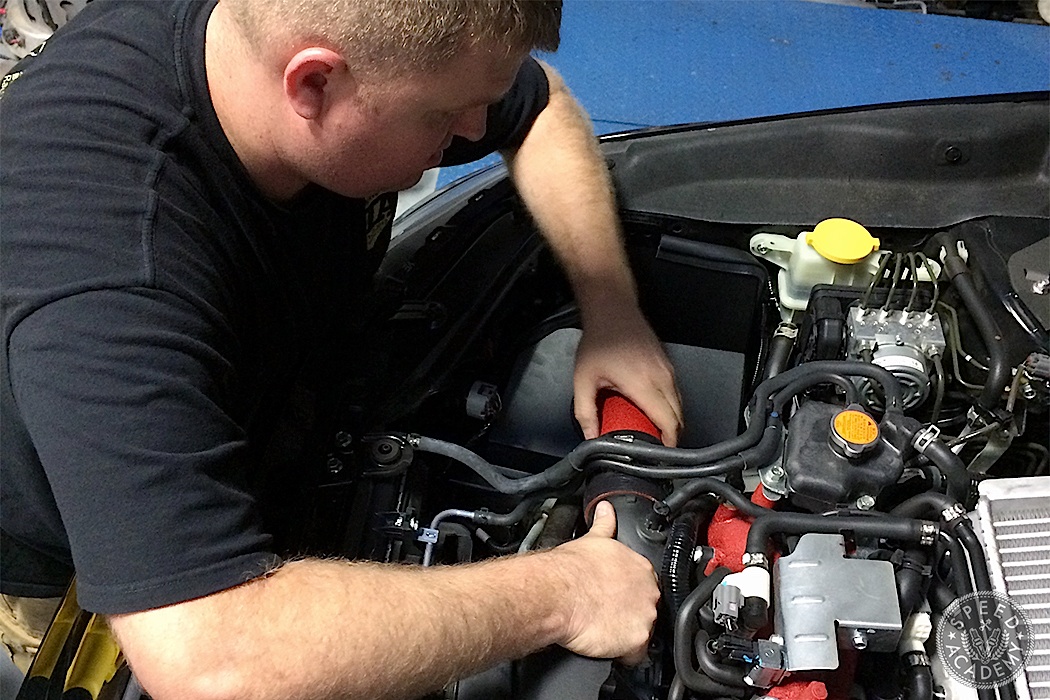 So quick and easy, in fact, that Travis described the job this way: "Removing the stock intake and Installating the AEM kit was very simple. Had it in and done in no time flat. A child could install this [laughs]! AEM includes a big plastic cap for that annoying sound resonator thingy that pipes engine noise into the cabin, but I just deleted the whole setup so didn't use the cap. Overall, the AEM system has perfect fitment. Everything just bolts up nice and easy and I was impressed by how well it was packaged in the box, too, so it won't get hurt during shipping. It's a really well thought out product."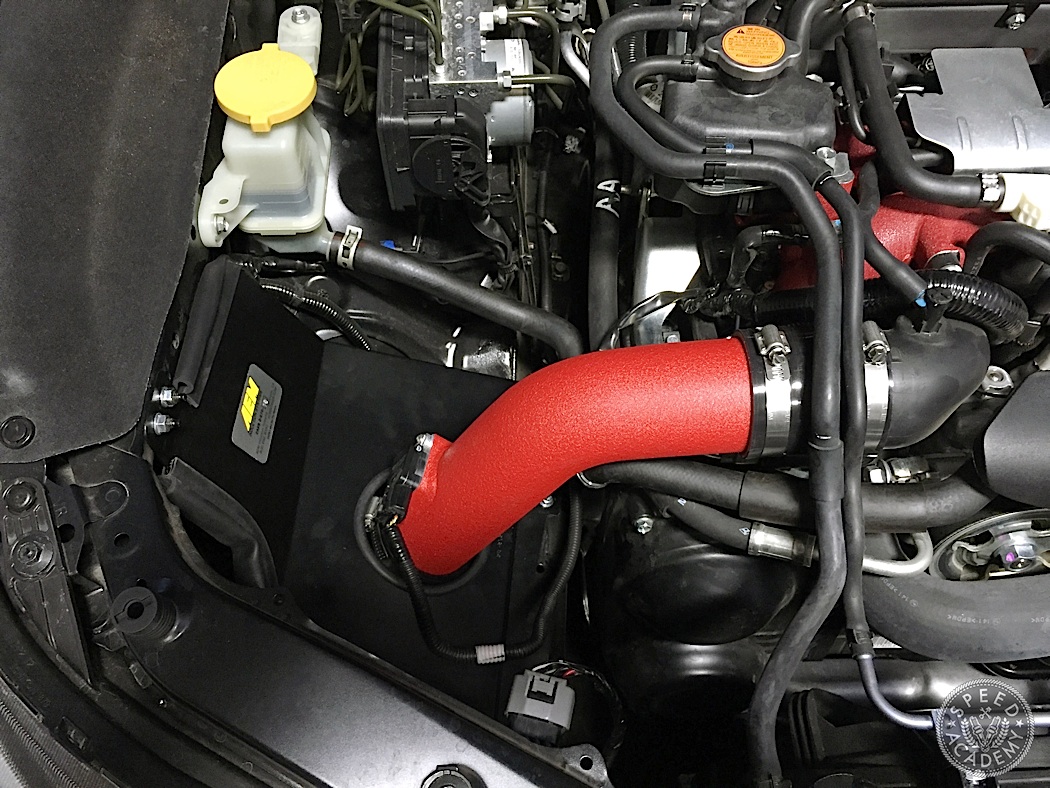 With the intake fully installed, it was time for Travis to strap his '15 STI onto his Mustang dyno and see what sort of gains can be made.
Don't blink, because this one's over in a hurry! (that's what she said).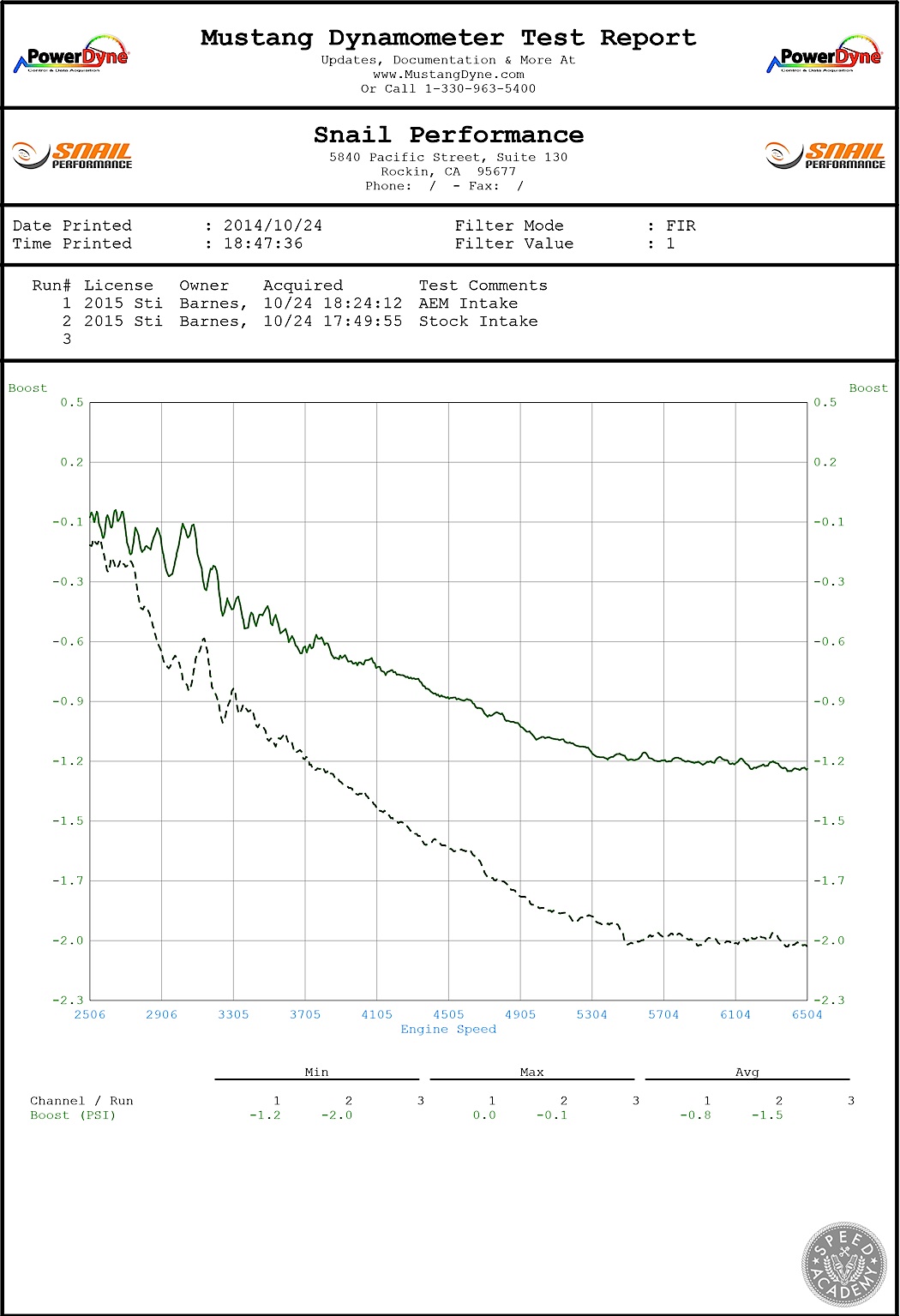 Before we get to dyno results, Travis did a couple of extra tests that reveal quite a lot about how the AEM system outperforms the stock air intake system. While on the dyno, he measured intake vacuum and intake air temperature, both of which produced intriguing results. As Travis explained, "A lot of the power with the AEM system comes from it being less restrictive. Less restriction means more air, and more air means more power! As a result, boost stays up a bit higher starting at 4700RPM because of this lower restriction level, as indicated by the fact that intake vacuum is around -1.2 psi with the AEM intake and -2.0 psi with the factory intake.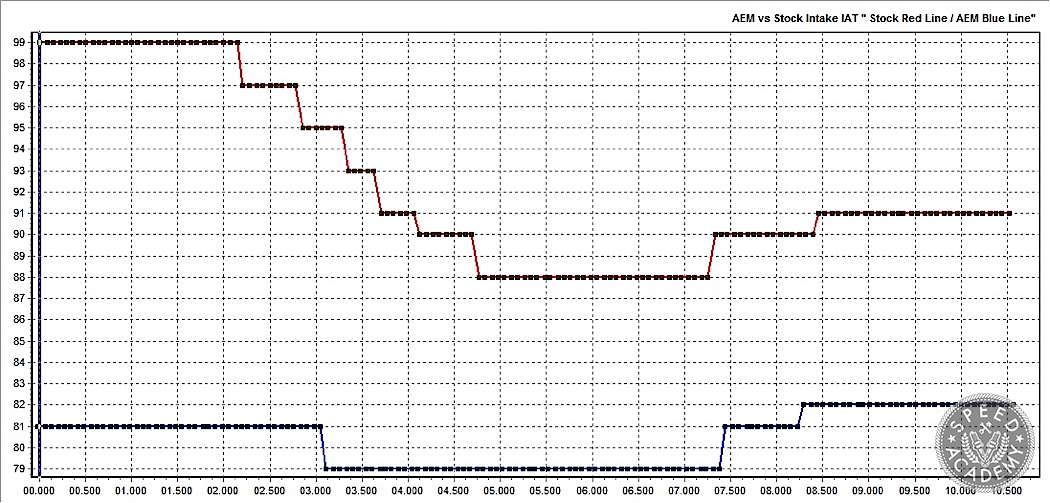 Travis also logged intake air temperatures to see if the AEM intake was indeed lowering temperatures thanks to the filter being shielded and located in an area where it's encouraged to suck in cooler outside air rather than hot engine bay air. Sure enough, intake air temps were significantly lower with the AEM system in place. According to Travis, "There was almost a 10-degree difference in IAT on the dyno, and on the street it runs cooler, too. Outside temp was 50F when I logged temps after the install and IAT was 60F. So there's a bit of hot air building up, but definitely cooler temps than the stock box. Temps also drop faster with the AEM, so if you're stuck idling for a while IATs go up and then once you get rolling temps drop much quicker with the AEM system."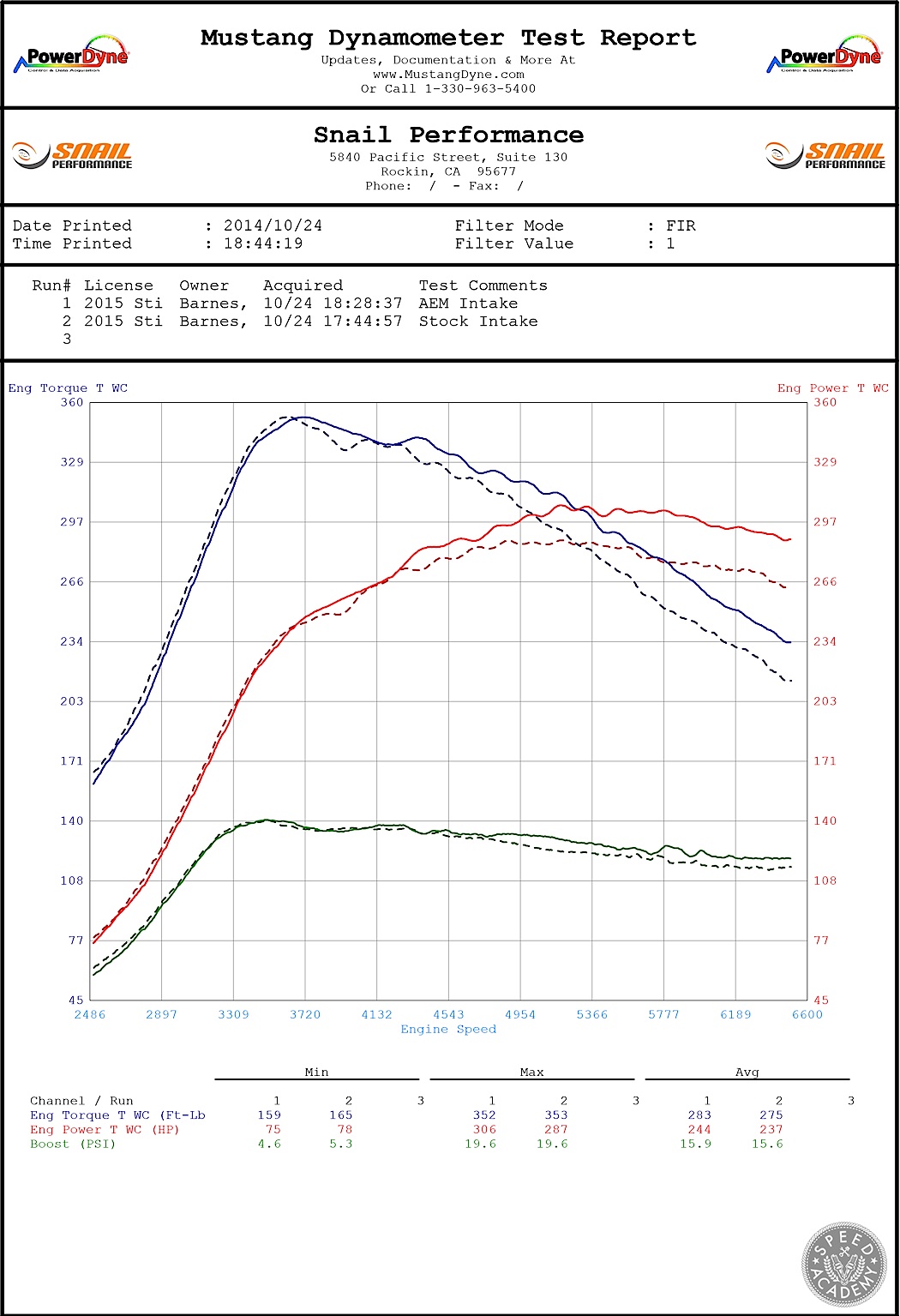 So, how'd the numbers look on the dyno once Travis touched up the tune a bit to set air-fuel ratio back to where he likes it? Pretty much spot on AEM's advertised gain, as you can see from the AEM pull overlaid with the baseline pull (dotted lines). The AEM system starts to free up power at 3,700 RPM and keeps on building all the way to redline, with a peak vs peak gain of 19-whp and an approximately 30-whp max gain at around 5,777 RPM. As Travis told us, "Without changing the tune, it definitely leaned the mixture out a bit. This is to be expected since there's more air in the mixture, but it was only 0.3 AFR leaner so it wasn't dangerous by any means. This intake would be totally safe on the stock tune, since it runs so rich from the factory. But you will pick up more power with a custom tune, for sure. Since I've done a tune on my car already, all I needed to do was adjust the AFRs back to where I like them for safety, and it didn't lose any power being a touch richer. After I was done on the dyno I took it for a street test and it definitely feels more responsive. Pulls stronger in the top end, plus it makes cool turbo whooshing sounds now too, since the intake muffles the real induction noise less than the factory system."
So there you have it. AEM's 2015 Subaru Impreza WRX STI intake system lives up to the billing, not only producing the advertised gains but also greatly improving area-under-the-curve from 3,700 RPM to redline, improving induction noise, dropping intake air temperatures, reducing intake vacuum, and doing so with a very nicely finished package that enhances the appearance of the engine bay, too (we love the way the wrinkle-red coating on the intake tube matches the factory finish on the intake manifold).