Is any project car — be it road car, drift car, or race car — ever really complete? Probably not, but after slogging away on our high mileage E46 M3 Cabriolet drift car build, supported by SPEC Clutch and Koyorad, it feels appropriate to call the build "complete" in the sense that it's finally whole again. Finally a running and driving machine again. And finally ready to rip some sweet, smokey drifts.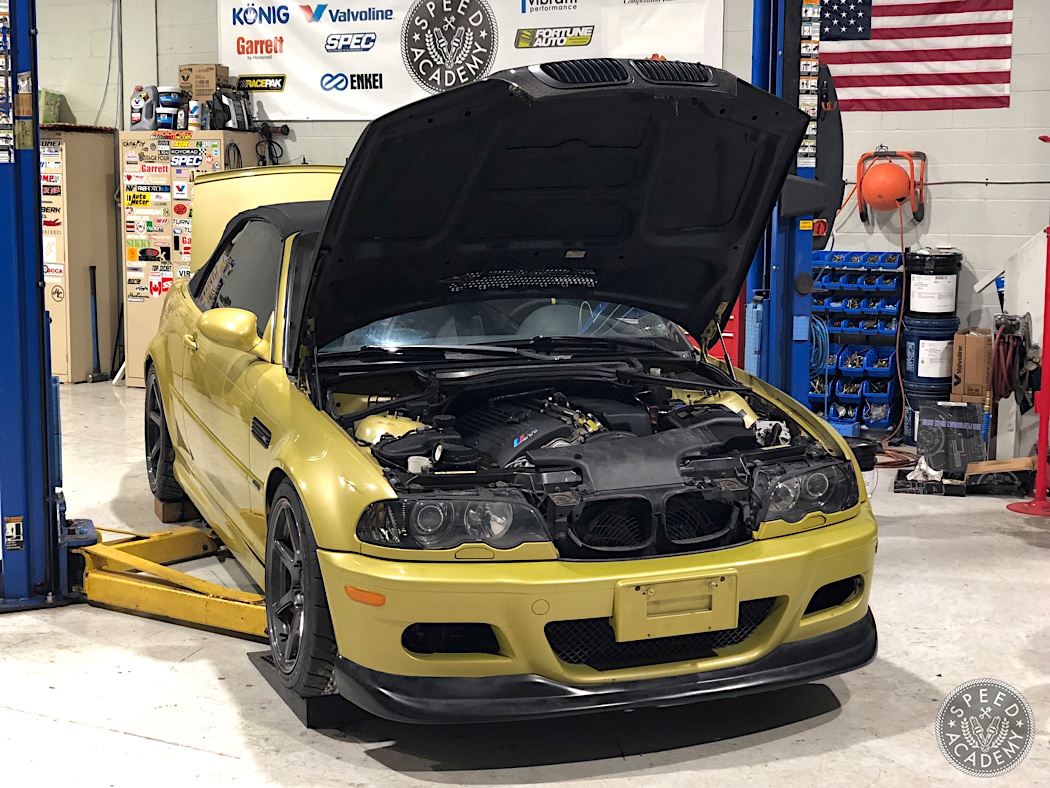 When we started the Drift Car Build-Off video series, our objective was to find a Nissan 350Z and a E36 or E46 M3 at the best price we could, since with drift cars you're not necessarily looking for pristine examples given the likelihood of spins off track, wall-taps or door-tap. If you've followed the video series then you'll already know we lucked into an amazing deal of a very clean 350Z out of Arizona, but we had a tougher time finding an M3 that fit our budget. Eventually we stumbled upon this local '01 E46 M3 Cabriolet and thought it was a decent candidate for a drift build, given its flashy Phoenix Yellow paint and bargain basement price tag ($4,000 USD).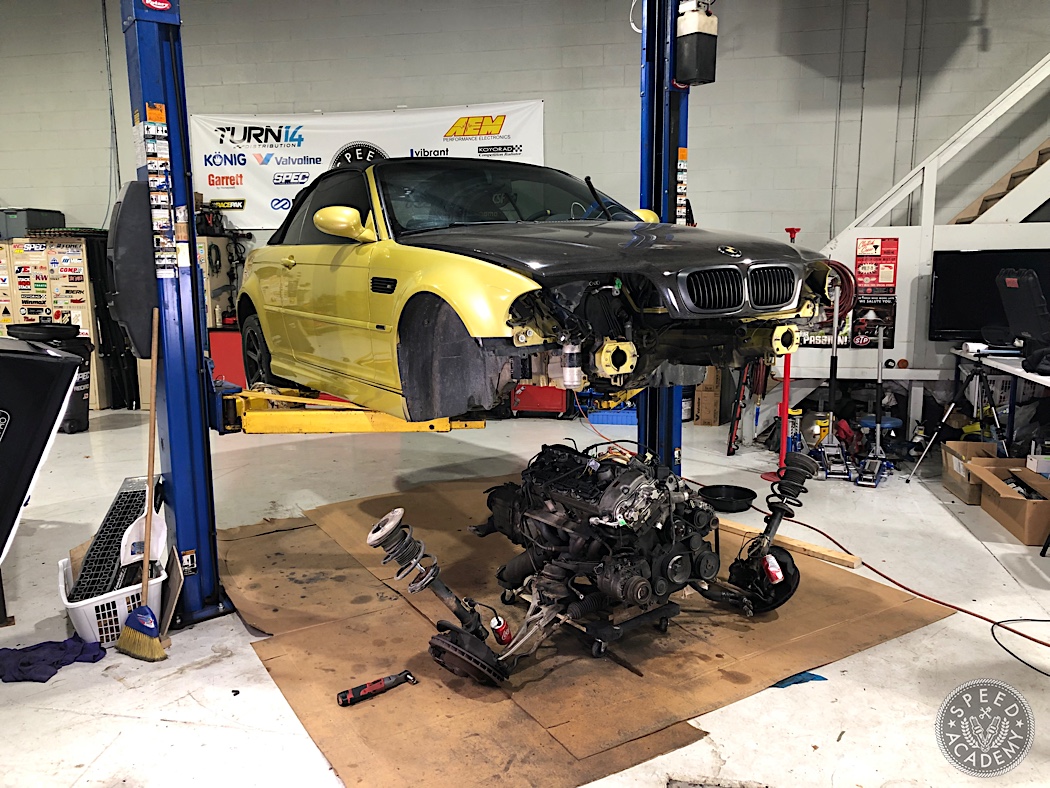 That price tag meant the body was a bit rough around the edges, the engine had 300,000-km on it, the rear springs were broken, not to mention the ragtop and a very rusty underside. We knew it was going to be more work than the 350Z, but I'm not sure we expected it to turn into a full-on, engine-out restoration.
The upside to this is it let us do a deep cleaning of the engine and engine bay before tackling the obligatory VANOS rebuild and rod bearing replacement that all E46 M3 owners eventually face. Check out our rod bearing replacement write-up for more details on that job, and for more info on the VANOS rebuild have a watch of the video above.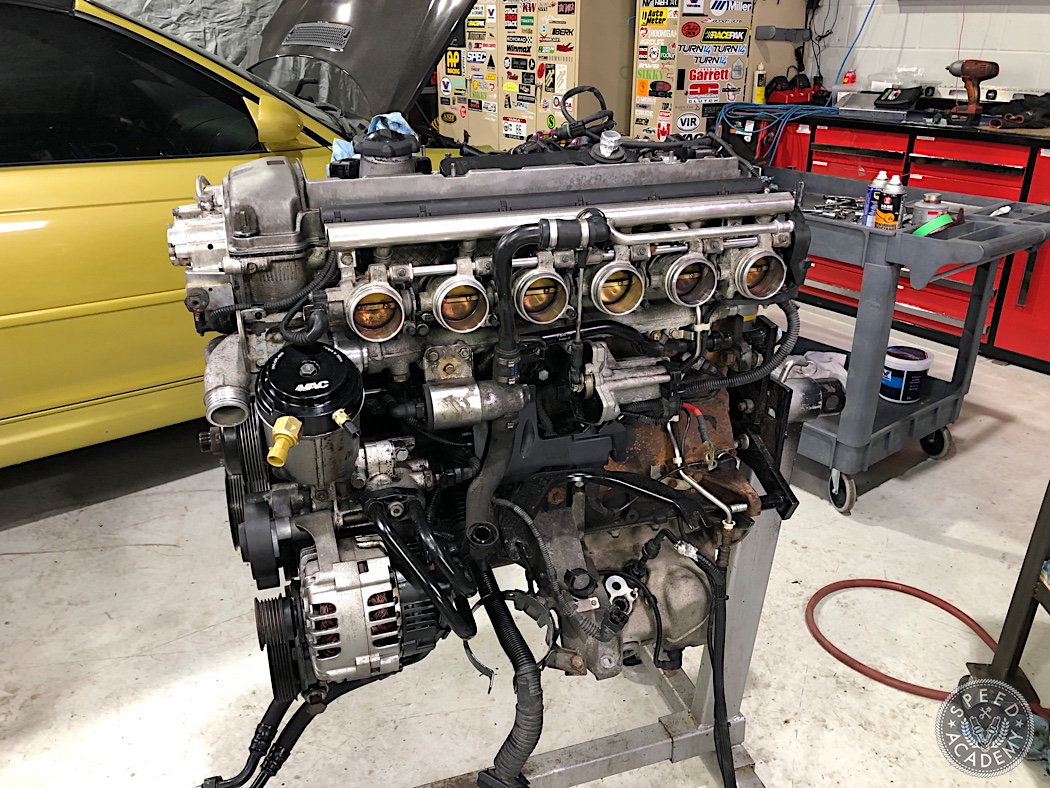 With those two big jobs tackled, along with lots of other smaller jobs like upgrading the oil filter housing lid with a billet unit from VAC Motorsports and replacing the failure-prone VANOS oil line with a braided stainless steel one from Hack Engineering, we were ready to put the engine and transmission back in the car.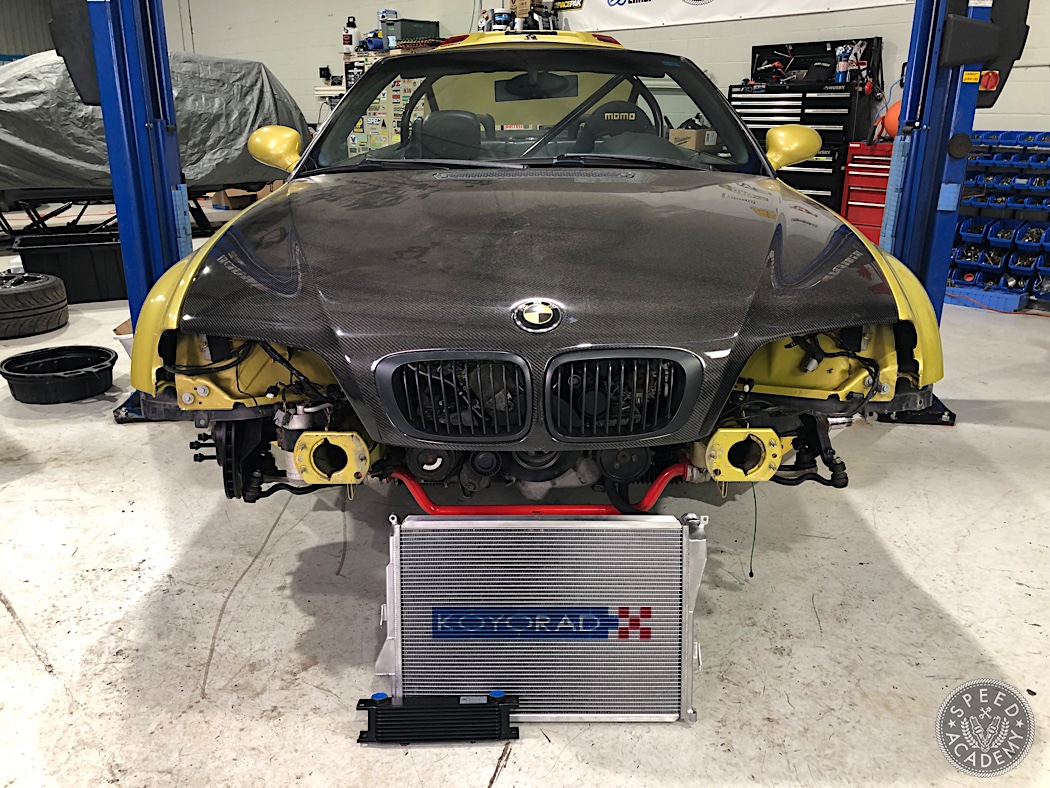 Lots of upgrades accompanied the refreshed S54 on its way into the M3's engine bay, like Samco Sport hoses, new engine mounts, and an all-aluminum HH Series high density, two row 48mm core radiator and power steering cooler from Koyorad. This radiator is designed to integrate perfectly with the factory shroud and ducting, while the power steering cooler was hung from the front rebar and plumbed up using Vibrant Performance AN fittings and Flexible Race hose.
Lots of other important powertrain upgrades were made before we could move on to other areas of the build, including installing a SPEC Stage 3 clutch and lightweight flywheel. As we explain in the video above, SPEC recommends the Stage 3 clutch for drifting because the friction material has a lot of carbon in it, and carbon handles the high heat stress that comes from clutch kicks (a driving technique used to help initial a drift) much better than the ceramic material their Stage 2 and 2+ kits use.
Before we could move on to the brakes and suspension, we had to address one other very common problem that plagues this chassis, the infamous cracked rear subframe mounting points. Cracks can form on the chassis mounting points where the rear subframe bolts up, creating an obvious safety issue if those cracks were to spread. To fix this, we welded in Bimmerworld's E46 rear subframe/chassis reinforcement kit, a job requiring the complete removal of the rear end before prepping the chassis metal (cleaning off the paint and welding up the cracks) and then welding in the reinforcement plates that provide a permanent fix to the issue. This is a big job and not for the faint of heart, but well worth it if you plan to track your E46 as hard as we do.
While we were under the rear end, we also installed this beautifully constructed Borla S-Type exhaust system. The OE muffler section of the exhaust was completely rusted out, something this car will never live through again thanks to Borla's million mile warranty on all their exhaust systems. Pretty remarkable to see this kind of warranty, but it's a testament to the very high quality T-304 stainless steel they use which has high levels of zinc and other rust-resistant metals in it. Best of all, the S-Type system gives the M3 a more aggressive sound when on the throttle, but has no drone or rasp at light throttle or cruising speeds, plus fitment was exceptionally good when bolting it up to the car.
With the worst of the build behind us, we could finally move on to more enjoyable jobs, like installing new brakes and coilover suspension. For this we turned to Stoptech and Fortune Auto, two of our go-to supplier for track-worthy components that won't break the bank. Stoptech's Sport rotors have proven extremely durable on many of our other track cars, and their Sport brake pads offer a good blend of street-friendliness (relatively low dust and low noise) and track capability (they handle the heat well and provide good initial bite when applying the slow pedal). We opted for Fortune's 500-series coilovers, which offer a fantastic blend of road comfort when the dampers are turned down and roll control when the dampers are turned up. That shinny red bar is also a tip-off that we installed Eibach's anti-roll kit (consisting of front and rear ARBs) for improved handling balance and less body roll.
As you'll see in the video above, we also installed a whole host of Powerflex USA bushings, since the 300,000 km OE bushings on this car were well past their prime. This was another big job, but will go a long way to making the old E46 feel better than new.