Since the M3 had a damaged hood when we bought it (from a failed hood latch), we replaced the hood with a Seibon carbon fiber one that we sourced from Turn14 Distribution at an unbeatable price. Plus we added an eBay front lip, which features the material quality and fitment you'd expect for a $100 piece (good from far, but far from good).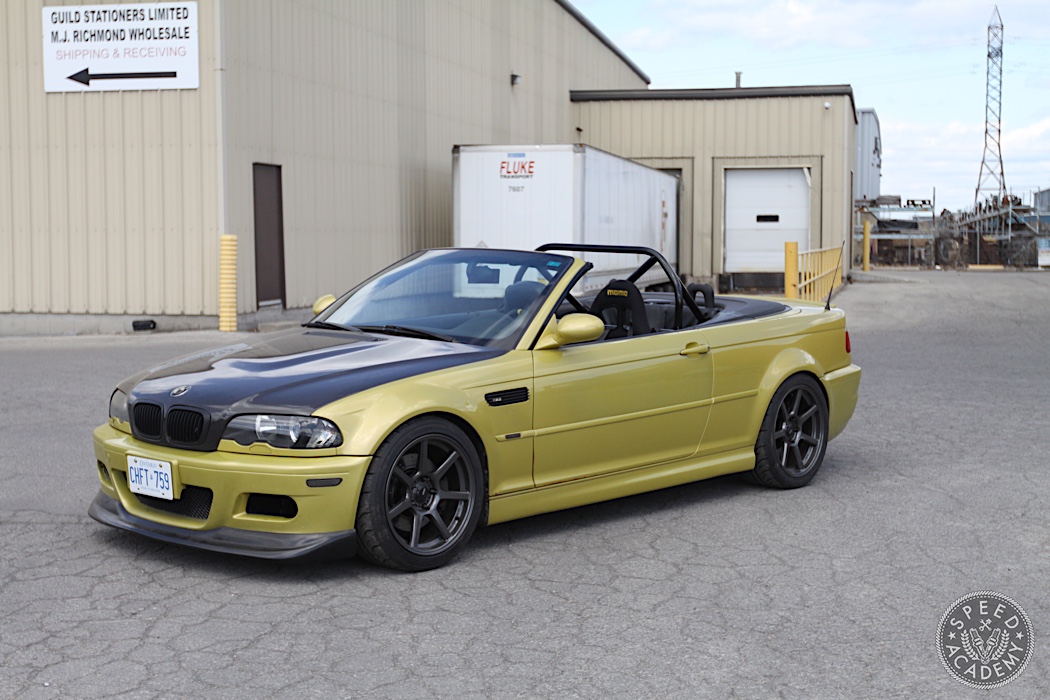 Of course the biggest upgrade to the exterior has to be the wheel and tire package, which combined with the lower stance we dialled in with the Fortune coilovers gives the M3 a much more aggressive personality. We're big fans of Konig's flow formed lineup of wheels, since they provide many of the benefits of a fully forged wheel (lightness and stiffness as well as excellent elongation properties that allow the wheels to survive big hits on potholes or curbs), but at about half the price.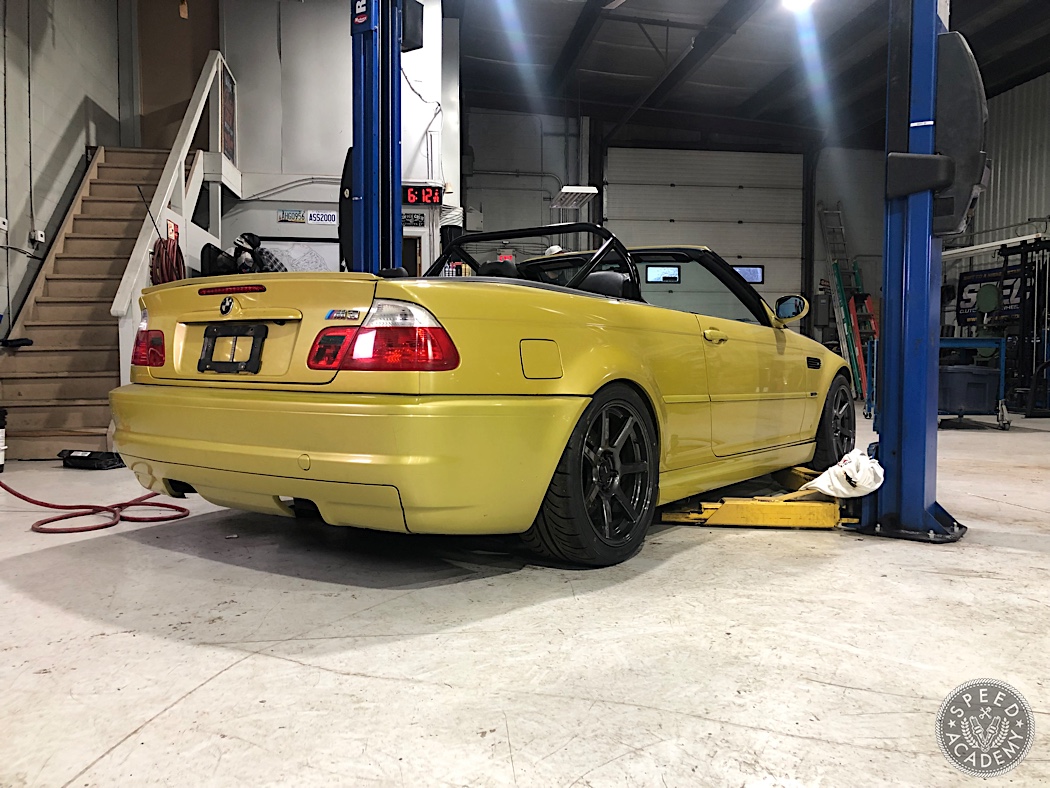 We went with Konig's Ultraform wheels in a 18×9.5 +36 in their Gloss Graphite finish, which we wrapped in Zestino Canada tires. Zestino is a motorsport-oriented brand that originates from Japan, and based on their recommendation we went with their sticky 255/35R18 Gredge 07R front tires with a 240 tread wear rating and their slightly less sticky 235/40R18 Acrova 07A with a 280 tread wear rating out back. This setup should give us easier rear breakaway when initiating drifts, but still tons of forward bite once we're sideways and accelerating.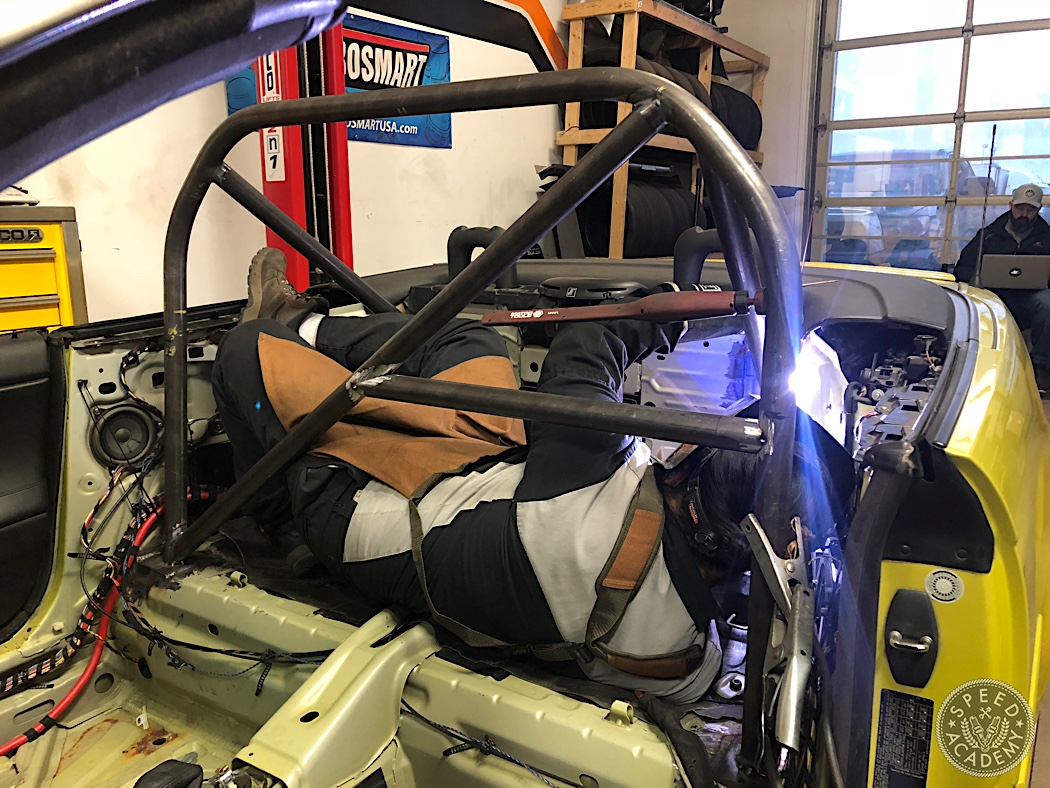 Last but not least, we also made some safety improvements inside the car, starting with this custom roll bar fabricated by our homies at NV Auto.
Vinh, the lead fabricator at NV, did a fantastic job fitting this bar to the chassis so that we could reinstall the rear seats and trim without any drama, and more importantly we're now much safer in the unfortunate event of a rollover at the track or on the street.
We also installed a Momo Super Cup racing seat on Brey Krause seat mounts. As you'll see in the video above, the Brey Krause mounts we opted for allow the use of the OE powered sliders, so we now have a racing bucket that can move using an OE power switch. How cool is that!? And as you'll see in the same video, we also installed a Momo Monte Carlo steering wheel, which we've since swapped out for a drift-friendlier deep dish Momo MOD. 7 wheel.
As we often do with our track builds, we also equipped the M3 with a set of AEM Performance Electronics gauges so that we can keep a close eye on engine vitals, namely oil temp, oil pressure, and water temp. For this we went with their X-series gauges, which are some of the fastest responding and easiest to read gauges on the market. And last but not least, we installed an e-brake handle extension from Nerptech, which allows us to disable the e-brake lock and gives the driver a more ergonomic and easy-to-reach handle to yank while drifting.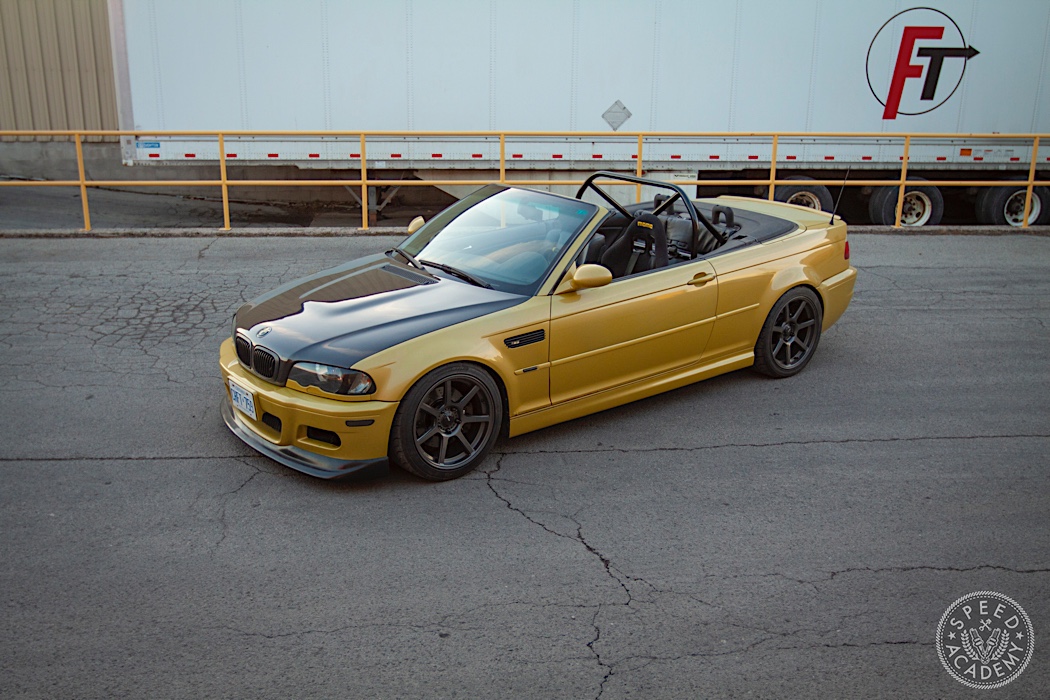 With what turned out to be a far more extensive build than anticipated, we are happy (and relieved) to finally have the E46 M3 Cab back on the ground and ready to hit the track, so stay tuned for lots of sideways action videos as we start to learn the dark art of skid racing. Be sure to subscribe to our YouTube channel to catch all the action and to follow along with our other project car builds.