It's been way too long since our last Project ASS2000 update, presented by Turn14 Distribution. Winter was insanely cold and long here this year, and our shop space isn't heated, so it made any kind of wrenching pretty much impossible. Imagine picking up a wrench that's colder than ice and laying on frozen concrete while fighting with rusted and seized bolts on our rat bag AP1. Not fun.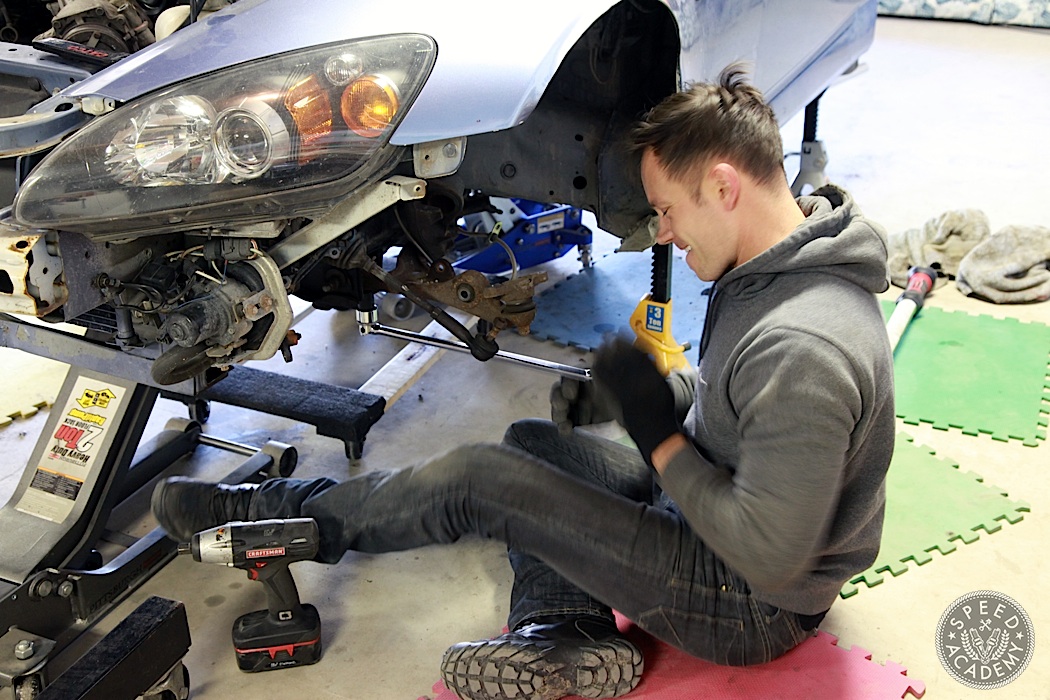 Spring has finally sprung around here, though, and we're stoked to be back to work on the old girl and working towards that sub 1-minute 2o-second lap time (at Toronto Motorsports Park) target we've set for the build. So stoked, in fact, that we may even have a second video and story for you this week, if this head cold doesn't completely kick my ass and Pete's able to work his video editing magic.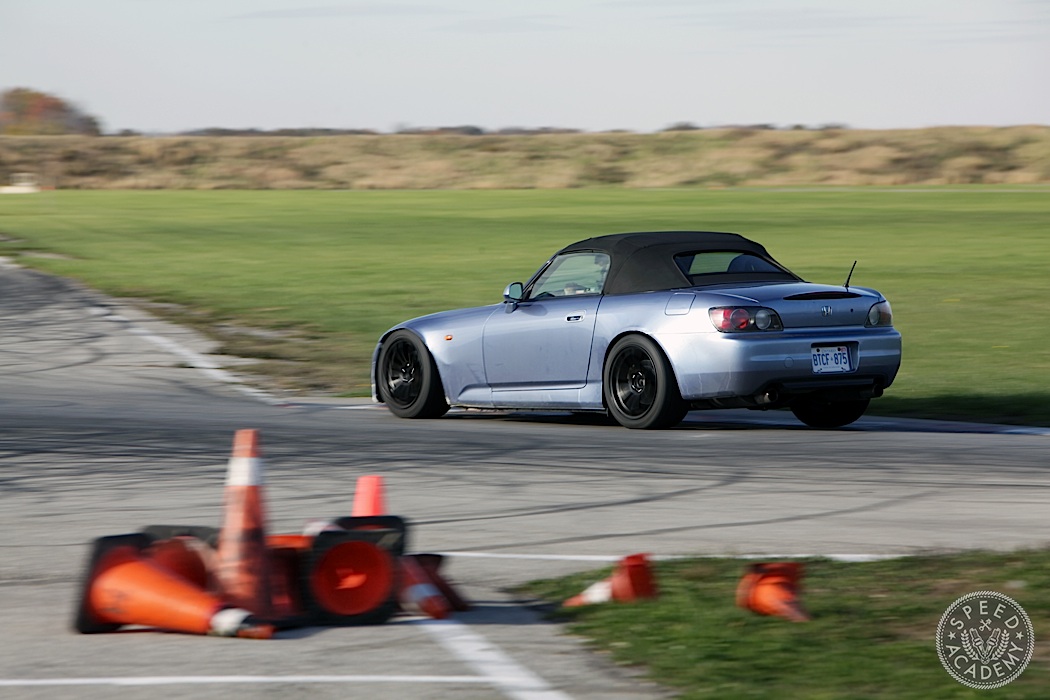 As you'll recall if you've been following the build so far, we lopped 7-seconds off the 11.2-seconds we'd need to find to achieve our goal by installing Eibach coilovers, Gram Light wheels wrapped in Hankook Ventus RS-3 tires, and Stoptech rotors, pads and brake lines, but we couldn't ignore the slipping clutch or clunking ball joints and bushings any longer.
We knew it was going to be a big job to replace the clutch and all the suspension mounting points, plus both subframes needed to go since the front was damaged in the accident that started its journey to becoming the worst S2000 in the world and the rear had severely seized camber bolts. So we picked up second-hand subframes in good condition for $200 along with a low mileage AP2 transmission for $900, which we wanted for its stronger carbon fiber synchros (our AP1 gearbox was grinding on upshifts).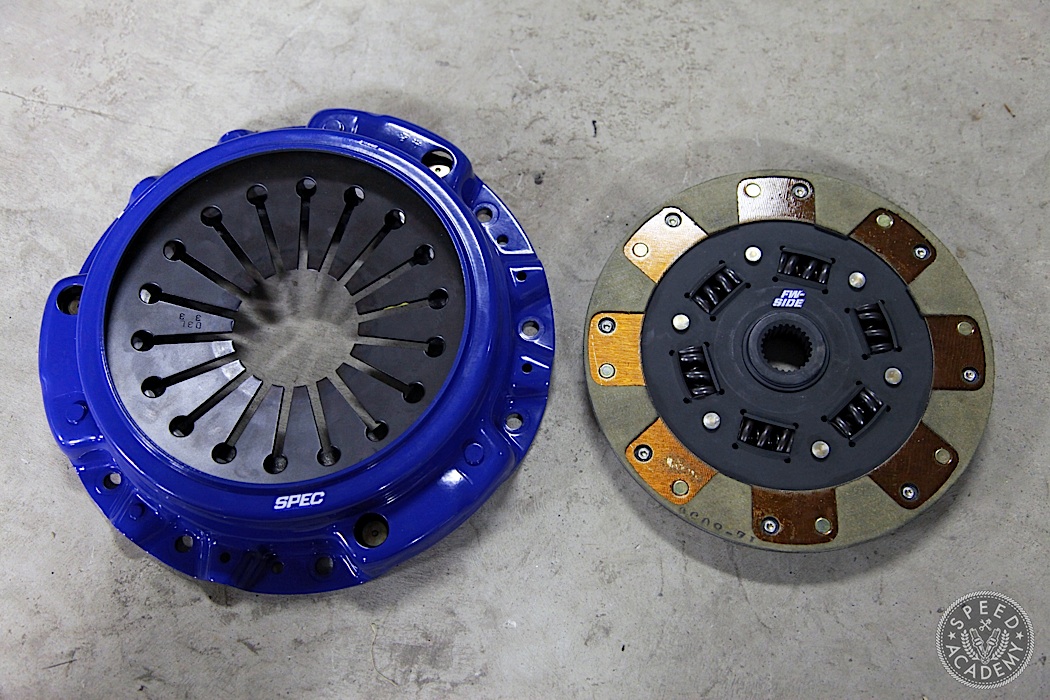 We also ordered up all the parts we'd need for this massive overhaul, including a SPEC Stage 2+ clutch and lightweight aluminum flywheel. But before we could get to that, we had to drop the engine, trans and front and rear subframes, which meant removing the suspension, disconnecting the brakes, and unplugging all the wiring and plumbing.
It took a couple of days, but eventually the chassis was completely naked from beneath. And with the engine, trans and front subframe now on a dolly, we could finally get down to the business of removing the worn out OE clutch and AP1 trans and replacing them with a fresher AP2 trans and some shiny new goodies from SPEC.
As you'll see in the video at the bottom of the story, we had a hell of a time separating the trans from the engine, but only because we were dumbasses and didn't realize the shift fork needed to be removed first. Once we sorted that out, the trans popped off and we could remove the glazed and heavily worn clutch disc. In the video I state that the disc doesn't look that badly worn, but upon closer inspection it is down close to the wear indicators on the disc, and it's also badly glazed and a little burnt looking from slipping. So it's definitely scrap at this point. The OE pressure plate and flywheel weren't looking much better, with hot spots and lots of wear on their mating surfaces.
I think you'll agree the Spec aluminum flywheel, which weighs about 7 lbs (half the weight of the OE flywheel), looks awfully nice bolted up to our wrecking yard AP1 engine. For those of you who've never upgraded to a lighter flywheel, the reduction in rotational mass frees up a few ponies, but more importantly it allows the engine to gain (and lose) revs more quickly, giving you a more responsive feeling engine when modulating the throttle or heel & toe downshifting. For us, it's one of the best bang for the buck mods for a road car or track day car, with this SPEC unit having a retail price of $461.
After that we bolted up the Stage 2+ clutch kit, which isn't too hard on the pocketbook at $719 and uses a really interesting combination of friction materials, with carbon semi-metallic on one side and Kevlar on the other. Designed to bridge the gap between SPEC's Stage 2 and Stage 3 clutches, the 2+ is meant to offer the drivability and engagement quality characteristic of the Stage 2 but with a 15-20% higher torque capacity. It's also worth noting the hub is double sprung with spring cover relieves for flexibility, and all the components are heat treated for added strength and durability. Dave at SPEC assures us the 2+ is ideal for street and track use like we have in mind, and we'll report back on its performance once we've broken it in and logged a bunch of street and track miles. We do like the fact that it'll hold 350 lb-ft, which should more than cover us if we throw a little boost into the mix.
With the SPEC goodies torqued to spec (94 lb-ft on the flywheel bolts and 19 lb-ft on the pressure plate bolts), we installed the AP2 transmission. As you'll see in the video, we made that harder than it needed to be, but eventually we proved that the three of us (me, Peter and Ken) have the intelligence of one normal man and got the job done. And as far as our goal of beating the Jag F-Type's lap time for a third of its cost (meaning we can't spend more than about $25-30k all in including the cost of the car), here's how the numbers add up: with $10,375 into the project prior to this set of upgrades ($4500 for the car, plus a little under $6000 for the coilovers, wheels, tires and brakes), when we add the cost of the subframes, AP2 transmission and SPEC clutch kit and flywheel, we end up with a grand total on the build so far of $12,655.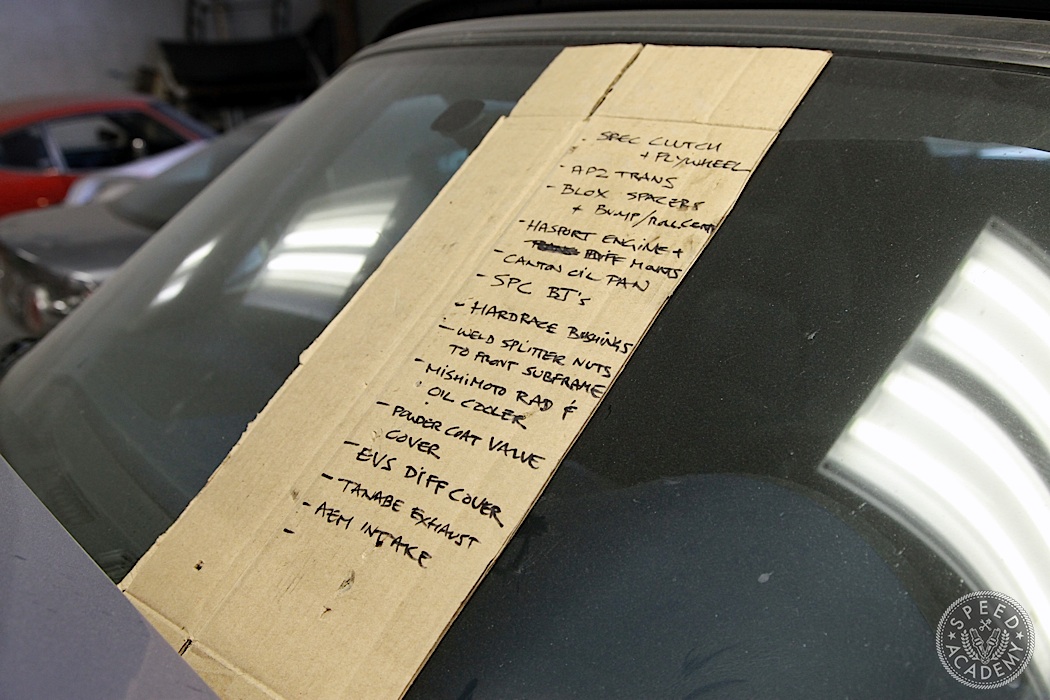 Stay tuned, because we've got a ton more ASS2000 action coming at you very soon!