Gridlife Special Stage is the season-closing event for what has undoubtedly been a very busy and very successful season for Chris Stewart and his ace team of organizers at GridLife. Just like the big event in May where there's a music festival to go along with HPDE, Time Attack and Drift action out on the track, Special Stage is held at what I consider my home track, Gingerman Raceway just outside of South Haven, Michigan.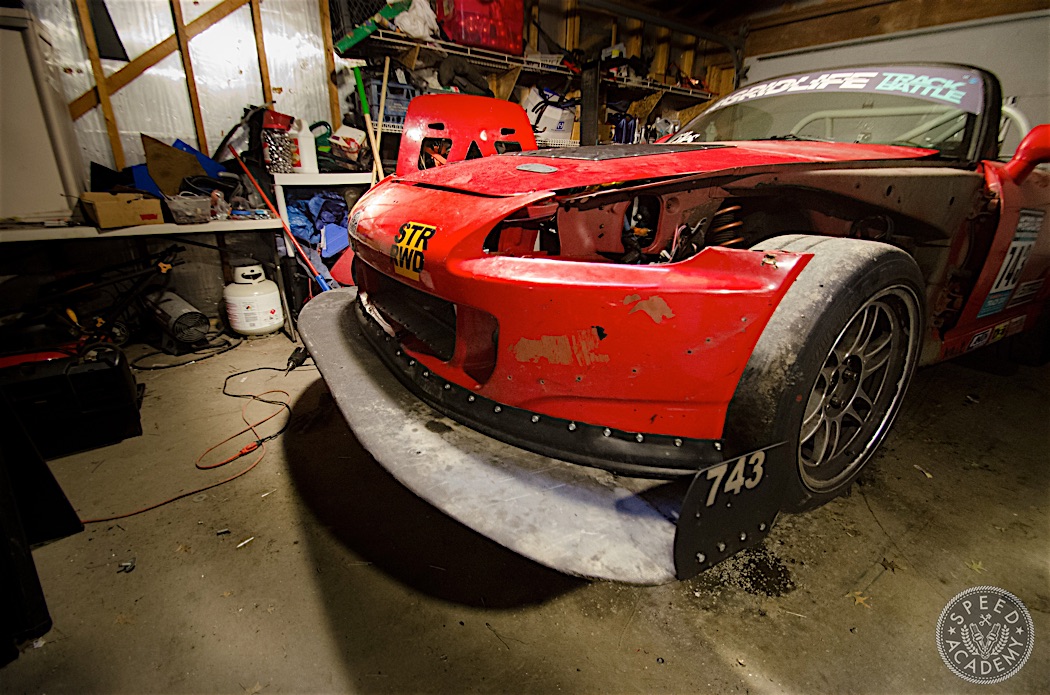 With cool October weather, you might expect track records to fall since lower air temps are perfect for boosted cars and also help prevent tires and brakes from overheating. The knowledge that it's your last chance to beat your lap record is also a situation that might just bring out the best in you. Before any of that could happen, at least for me, there were a bunch of things that I wanted to change on Sheri, my turbocharged AP1 Honda S2000 Time Attack car (links at the bottom of this story for a full history on the car).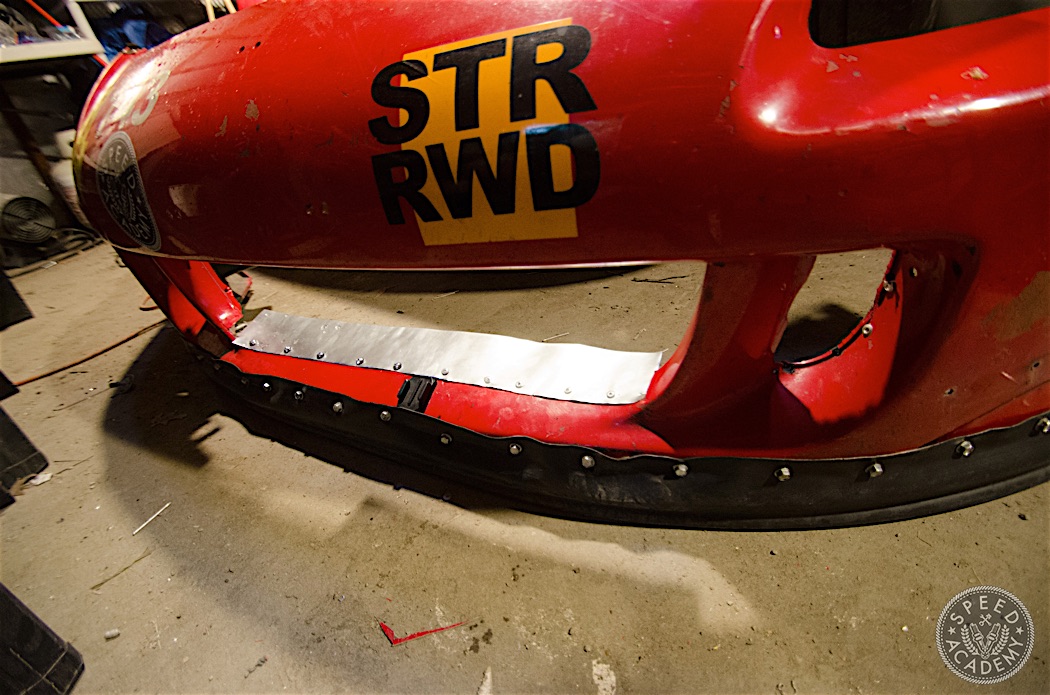 For starters, I wanted to make my aero package more efficient. As Mike Lewin from Professional Awesome explained, "Each small thing adds up, one by one it adds up. Eventually, they add up to dropping time, each tenth eventually becomes a second". Speaking of which, I reached out to Professional Awesome, the current overall Time Attack record holders at Gingerman Raceway in their Mitsubishi Evo8, for consulting on how to take my car to the next level. A lot of the changes I made before Special Stage were based on Mike's feedback.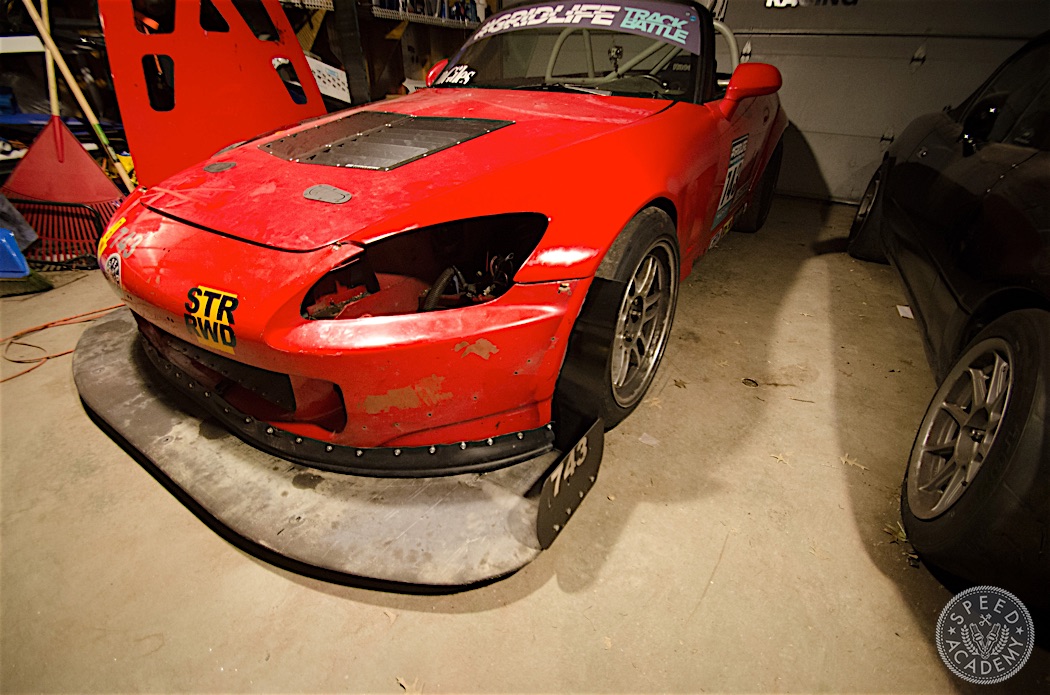 Step 1 was to go back to an OEM AP2 bumper so I could gain 2 more inches all around on the splitter. I still kept my homemade gardening liner for an air dam, but I added a small piece of aluminum to guide air into the radiator. Next step for this off-season is either to put brake ducts in those holes next to the grille or block them off.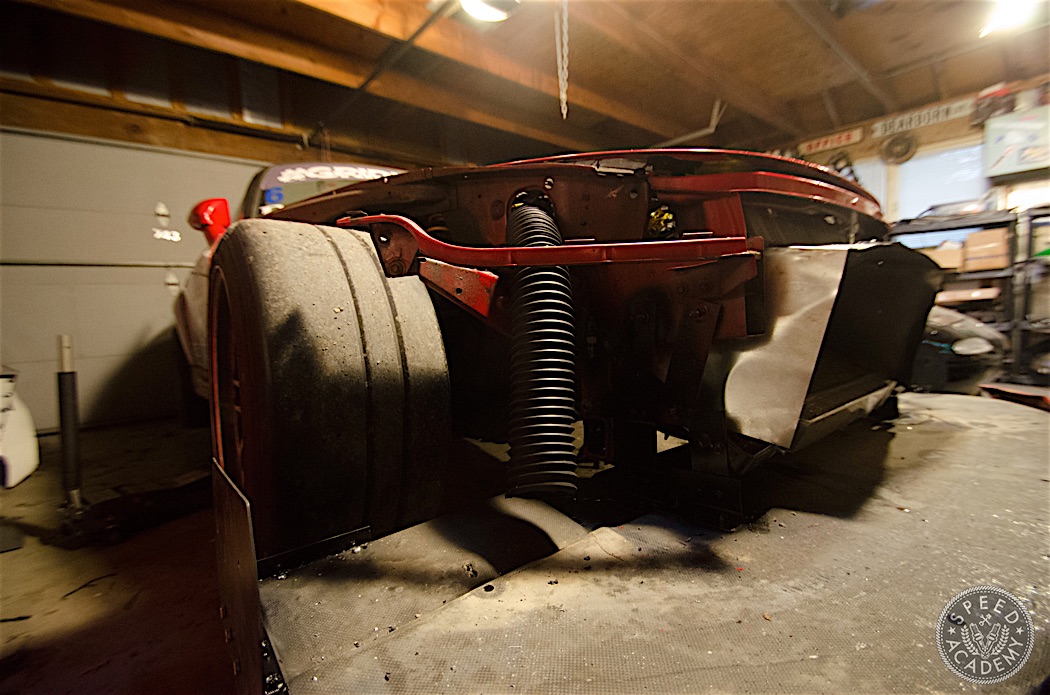 Instead of letting the turbo suck in all the heated air from the oil cooler and the intercooler, I made an intake to run from a duct that I have in the bumper. You can also see the hood ducting that I finally made for the V-Mount set up. This did end up keeping temps down for this event, as they never rose over 192F.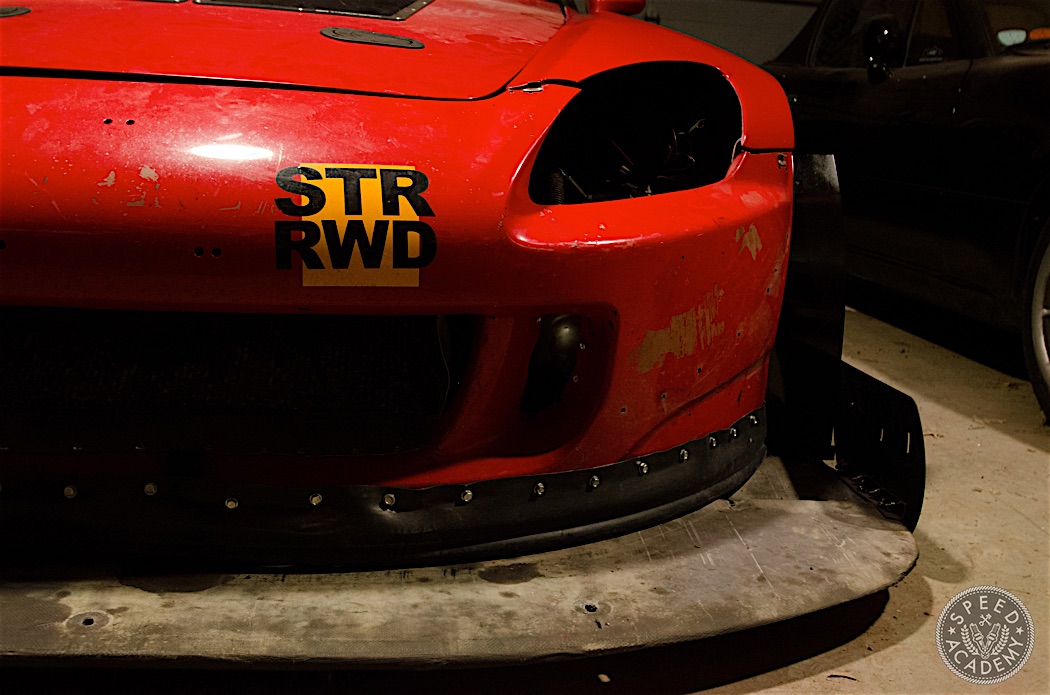 The other add-ons are tire spats that completely cover any air from hitting the front tires where they stick out past the front bumper cover. I also recycled my old end plates for endplates for the splitter. I had some air going through there so I actually had to cover it with tape for now.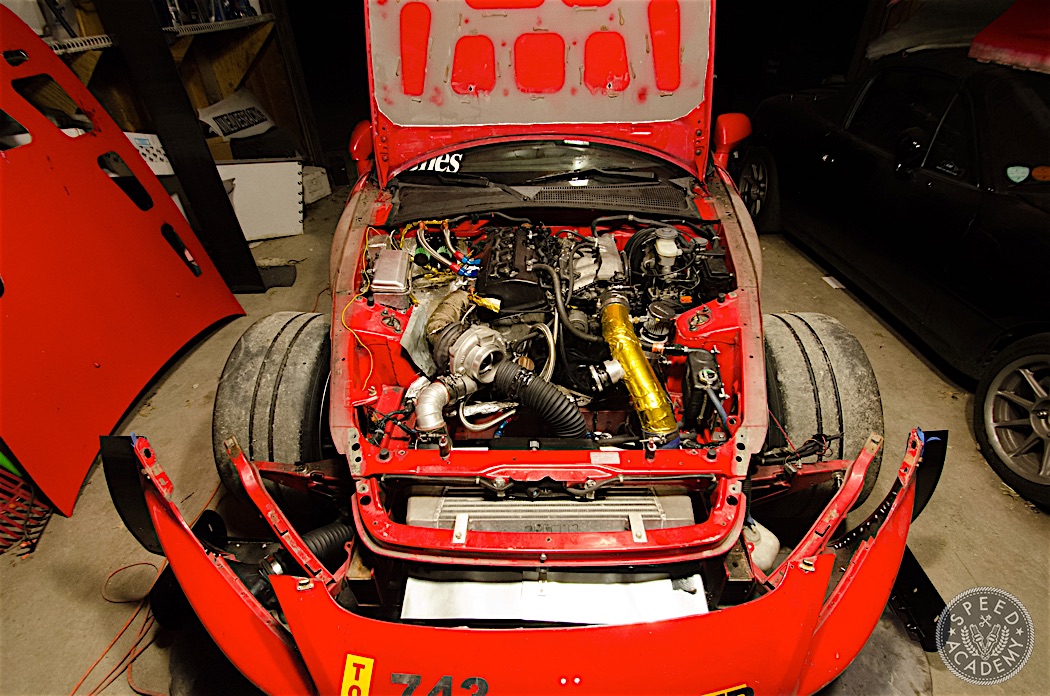 I also cut out the skeleton out of the hood. This reduced weight, but also gave the hood the structure of a noodle. But this did make it easy to add Trackspec Motorsports hood louvers to aid in extracting all that turbo-heated under-hood air. In this photo you can also see the other end of my intake. The other mod was to add dual Radium Engineering catch cans to the passenger side. That brings Sheri up to a total of three catch cans, so all the ventilation!
That was all I could get done before October 15th rolled around, Sheri and I being the first to hit the track during the Special Stage event. The car felt great, a little too great. All of a sudden a fail safe kicked on at 6500 RPM. Of course, I'm thinking, "what the heck could be wrong now?". Well, I putt-putted around the track and back to the pits. When I got back to my area I found out that the wastegate vacuum hose broke off. So the great feeling I was experiencing was the car over boosting until it reached 2 fail safes. One fail safe is that my injectors can't automatically add more than 20 percent more fuel, and the second failsafe is set to not run over 13.5 AFR. These fail-safes programmed into the AEM Infinity ECU by Flyin Evo 2ning saved my engine.
The only other thing that was a problem was that the driver's side of the splitter kept touching the ground, a lot. Actually, it was touching in every turn or brake marker, but I wasn't going to deal with it at the track. Just drive through it. With that being said, I lost and endplate because of it. Literally ground all the heads off the bolts holding it on.
I ended Saturday with a 1:38.4, which matched my best and was good enough for 1st in my class and 6th overall out of 44 cars. With talk around the paddock of a storm coming, I felt that it was the last time I would actually get to drive my car at speed.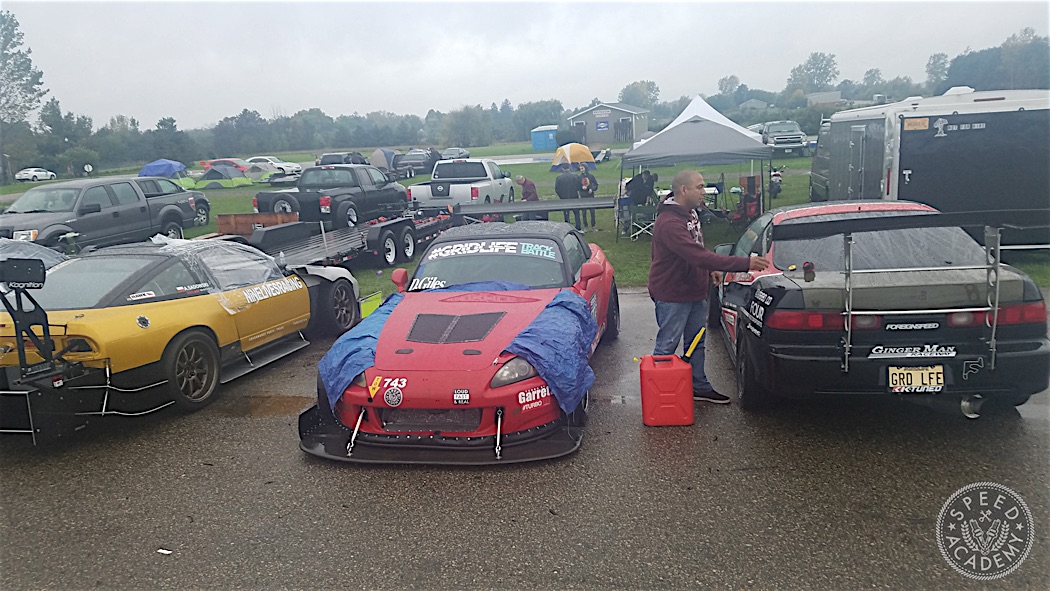 Well, they were right! It rained all night and all day, with a few breaks of sunshine just so it can break your spirit again when it starts raining again. However, it was fun to see my buddy and Canada native Luigi rip some laps in the rain in his turbo K20 DC2 Integra built by Foreign Speed in the Toronto area.
I did take my Honda Fit out for a little fun, though. Stay tuned for Spec Fit, a new Time Attack series that Gridlife will have next season. How would you like to see a Speed Academy build of one?
That's how my season ended, sliding around in my support vehicle. This off-season will be very busy with upgrades on the S2000, and maybe the Fit too. My main goals with the Sheri is to make her safer and faster, and maybe I'll finally get around to putting an engine in my Miata Who knows, right?