For a while there it felt like the ASS2000 might spend the rest of its life on jack stands, but with plenty of patience and perseverance it's finally moving under its own power again. But before we could throw it on the ground like Andy Samberg, we had to finish up reinstalling the re-bushed and re-ball jointed suspension arms, hang the Tanabe exhaust system we sourced from Turn14 Distribution, toss in some racing brake pads from Winmax, and install a few other small but important pieces you'll see below in Episode 10 of our video series.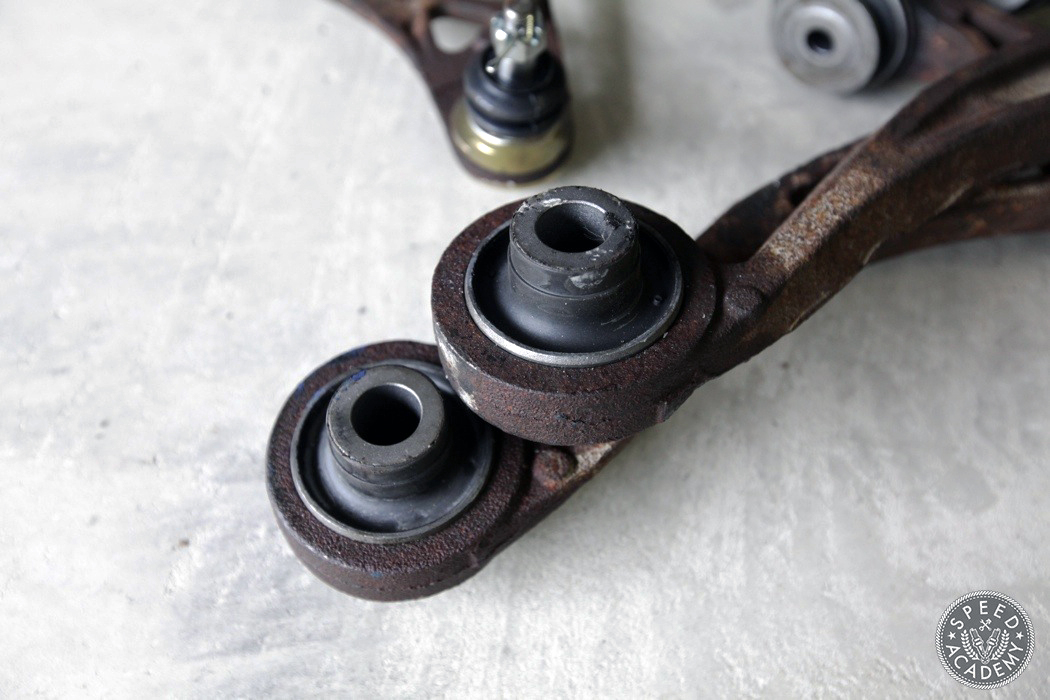 Having raised the white flag on installing all the bushings and ball joints ourselves, I ran the control arms and knuckles over to our friends at Creighton Service Centre in Hamilton, Ontario. Bob and the boys at Creighton always treat us right and do a great job on stuff like this. As you can see, the hardened rubber Hardrace bushings look nice and fresh in the rusty control arms.
We sourced a complete set of Hardrace bushings from Stage Four Motorsports, a shop we've been tight with for about a decade and that's run by a great group of go-fast enthusiasts and racers. Stage Four also runs an extremely successful Time Attack team and I've run the Stage Four stickers on my RX-8 for quite a few years since they've helped me out a lot and it's always a blast to hang out with these guys at the track. So if you're looking for go-fast parts from a reputable online vendor with excellent customer service and the experience to sell you stuff that will actually make your car faster, give these dudes a call.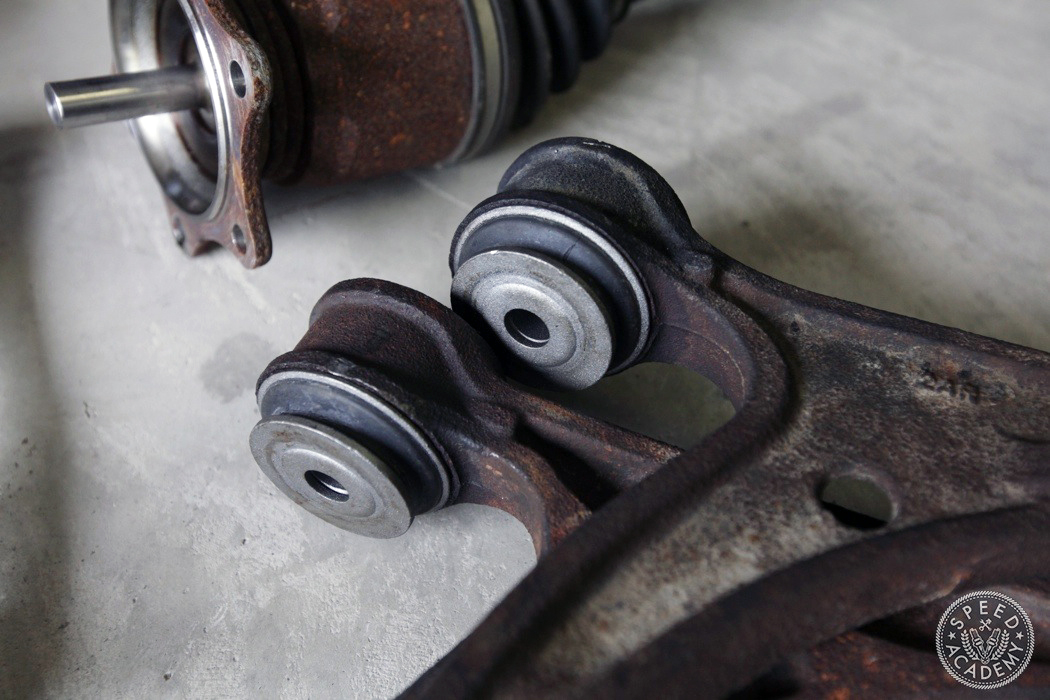 We opted for hardened rubber bushings since these will provide some compliance and road comfort while tightening things up significantly compared to stock. They're also nice and quiet, unlike polyurethane bushings which we can start to squeak after a while, even when they're lubed up aggressively with grease during installation.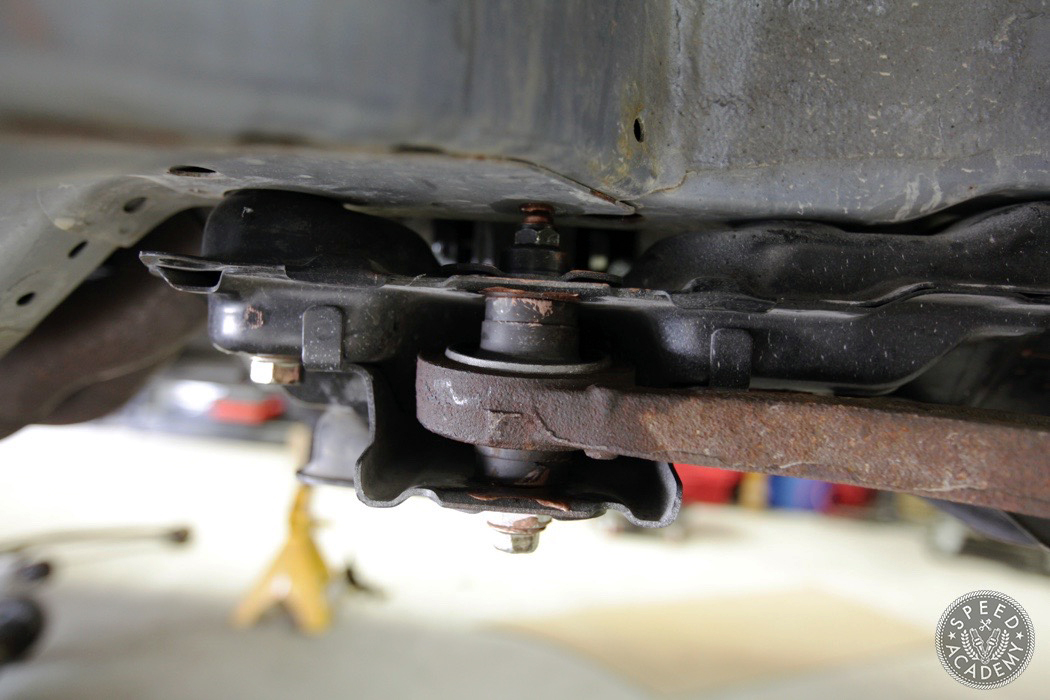 For a road and track setup like our S2000, it'll be interesting to see how the Hardrace rubber bushings stand up to the punishment. We'll report back once we put some miles on them, but for now we're just excited to finally have a fresh set of bushings and OE bolts in place, rather than all the stripped, seized and otherwise fubared stuff that was on there before the winter teardown.
We also had Creighton install the SPC Performance front and rear upper ball joints we sourced from Turn14's ever-growing lineup of aftermarket performance parts and Buddy Club front and rear lower ball joints.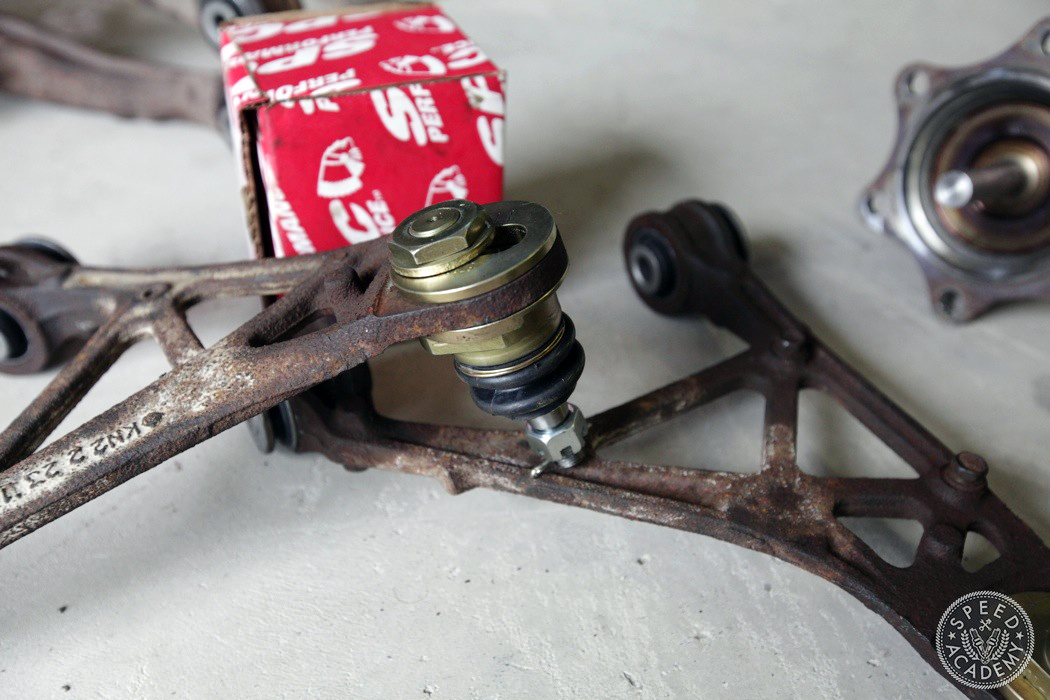 As you can see, the SPC ball joints are camber adjustable. I really like the design of these, since it's super easy to lock the ball joint in place with a big wrench on the top nut and they give you an extra 1.5-degrees of camber adjustability in either direction. It's such a clean, simple approach to adding more camber than you can get out of the OE eccentric adjusters, and because the SPC's are located on the upper control arm it means you gain fender clearance as you add negative camber.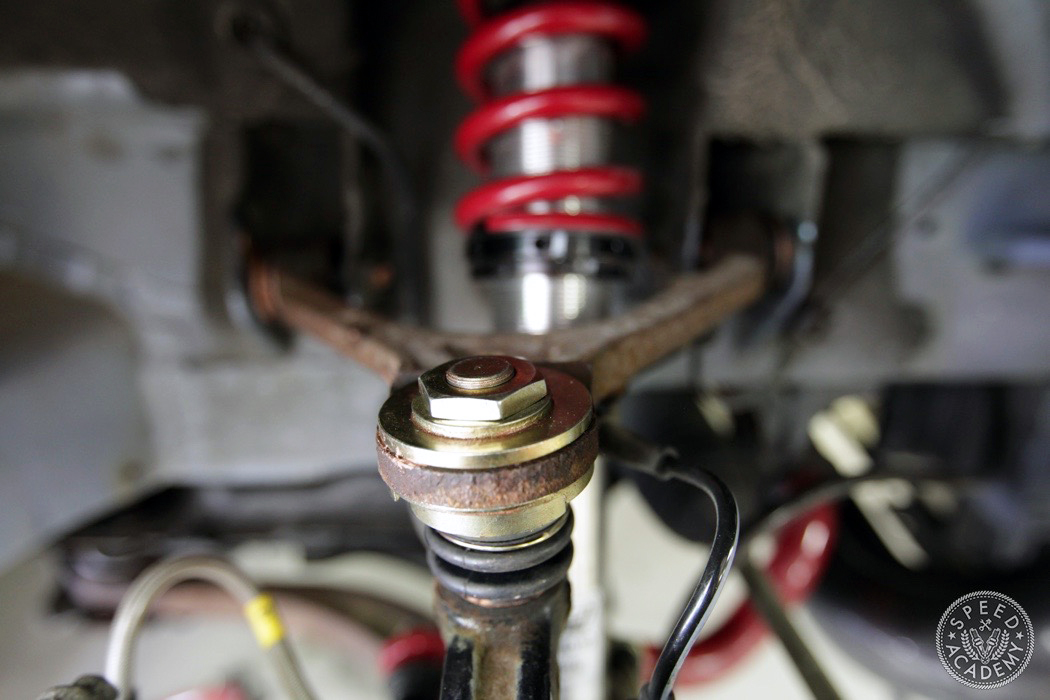 This is a huge benefit on the S2000, which has seriously limited fender clearance if you want to run an aggressively offset wheel and tire package like we have (17×9" +40 offset Gram Lights 57Xtreme wheels and 255/40R17 Hankook RS-3 tires). Just keep in mind that you must run at least a 17" diameter wheel with the SPC ball joints (the OE 16" wheels run until clearance problems with these).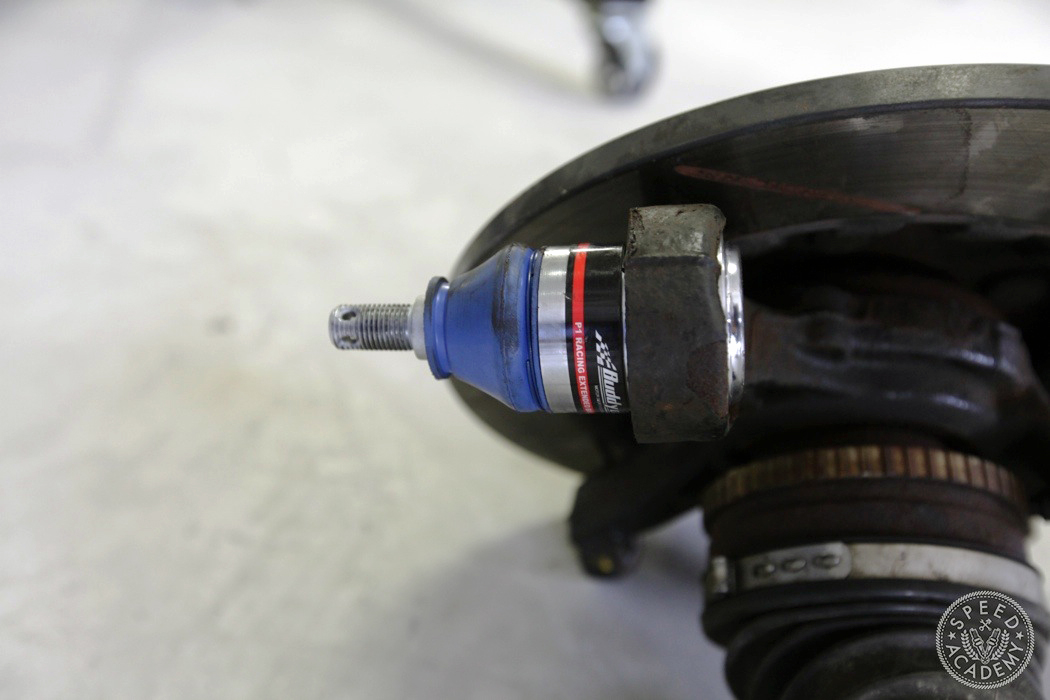 The rear Buddy Club P1 Racing extended ball joints are pressed into the carrier on the rear knuckle and are designed to correct roll center on lowered cars.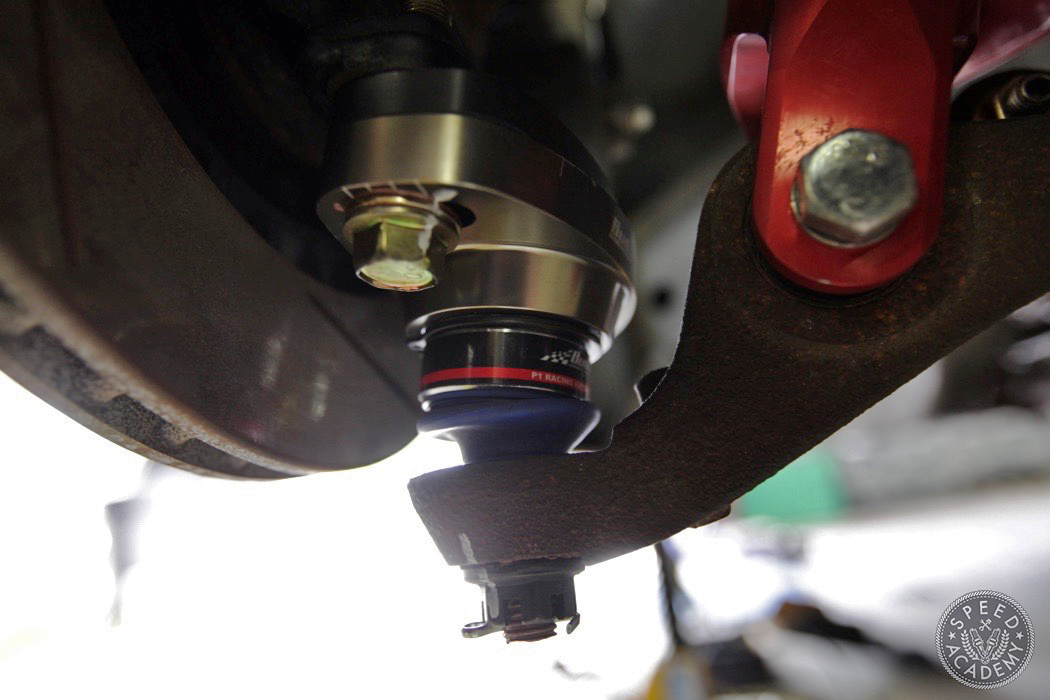 Up front, the Buddy Club ball joints bolt into the OE location on the front knuckle. These are a seriously trick piece, correcting the front roll center the same way the rear ball joints do, but also have camber adjustability built into them as well. The advantage of adjusting camber from the lower ball joint like this is that you gain track width when adding negative camber, which should give the car more front grip in the corners.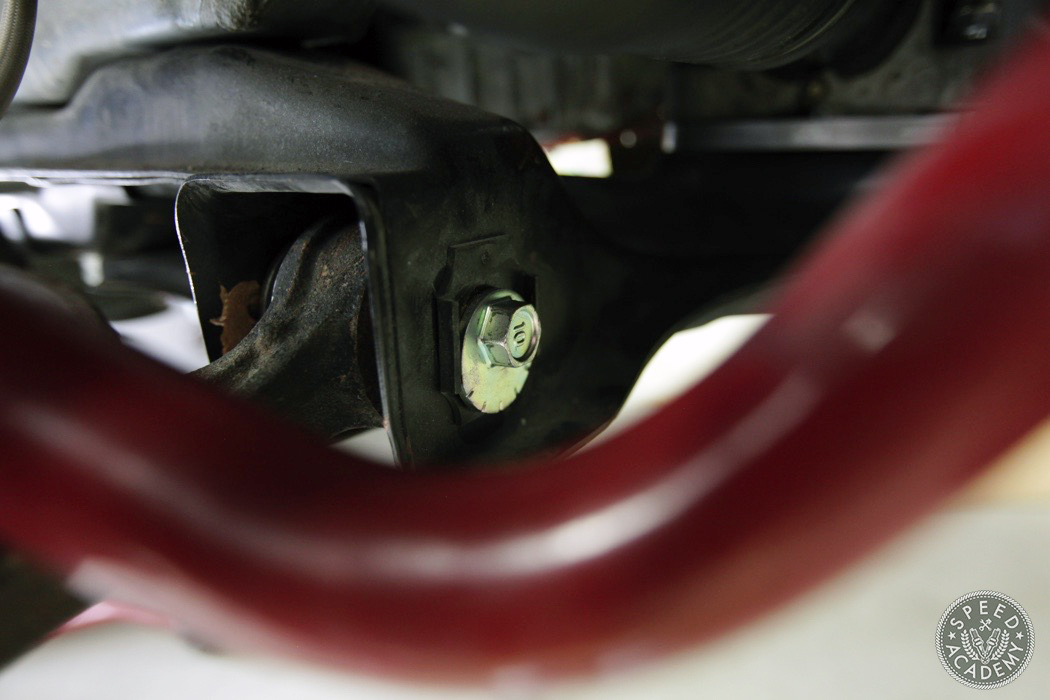 With fresh eccentric camber bolts in place as well, we now have the ultimate in camber adjustability available, so we really have no more excuses as far as dialling in the alignment on the old ASS2k.