When I first thought about writing this, I was sure that it would be the final chapter for Sheri. Since I last spoke to you all, I've wrapped up aero package version 10.0, finished the turbo K swap, and finalized the heat exchanger orientation. Then it hit me, on June 3rd to be exact, that Sheri will honestly never have a set finish date. It'll never really be done. There is always something to change. Something still breaks, and once it breaks you can't just replace it. You have to figure out why it broke and upgrade it. So with that in mind, let's see what we've improved.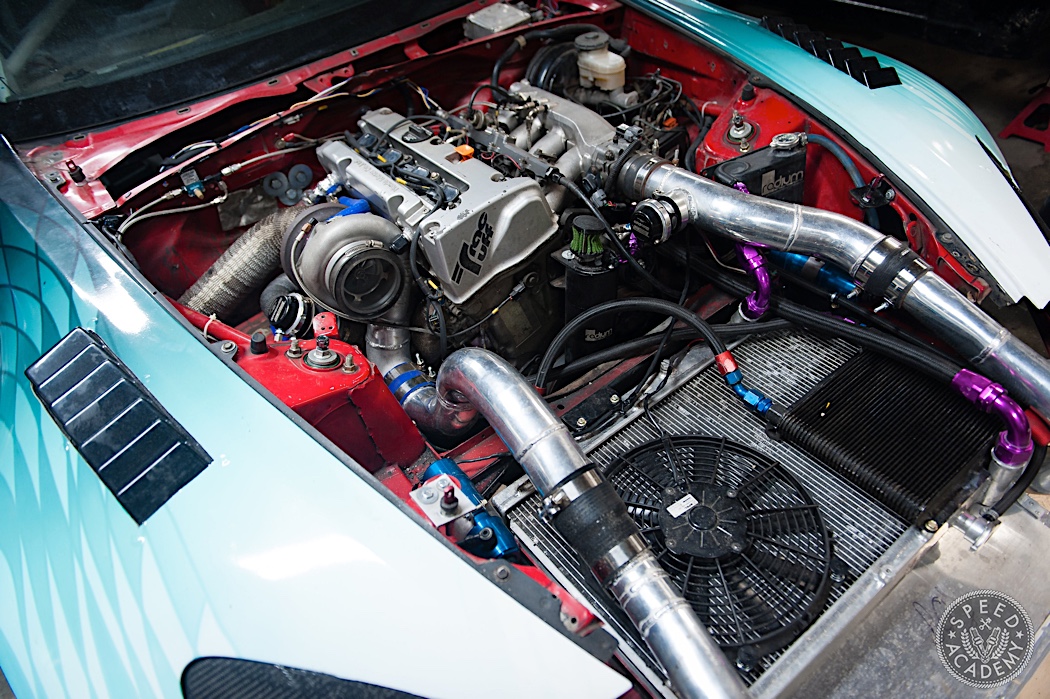 WHAT WENT RIGHT
With the help of my teammates at Professional Awesome, we redesigned the heat exchanger cooling arrangement. The CSF radiator is horizontal, and the Garrett intercooler is basically pressed against it. The Canton Racing oil cooler is on the back side of the radiator and spaced a ½" from touching the radiator. There are also some hidden gems that we worked on, such as cutting the frame and re-welding a new section there so we could raise the radiator and intercooler higher.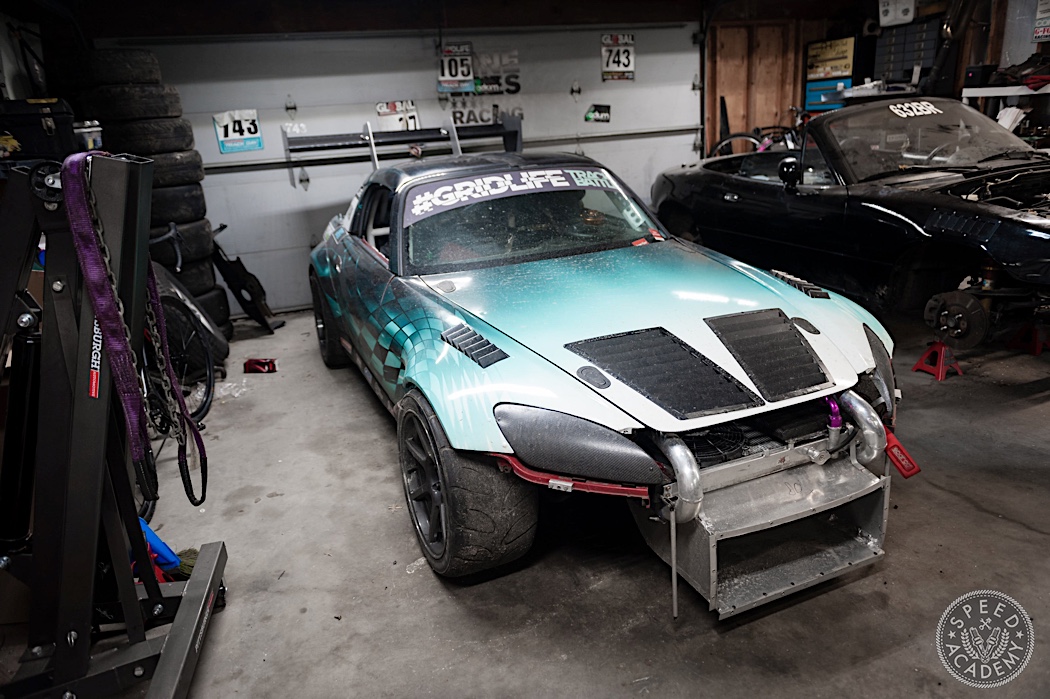 We also made a pretty colossal duct for the coolers. As time goes on, we'll make it smaller. Remember what I said before. There is always something to change/optimize. The exhaust from the coolers exits out the hood through the track spec louvers. We do have plans to seal the cooler to the hood, but this will do for now. Don't mind the driver side intercooler piping. I ran it over.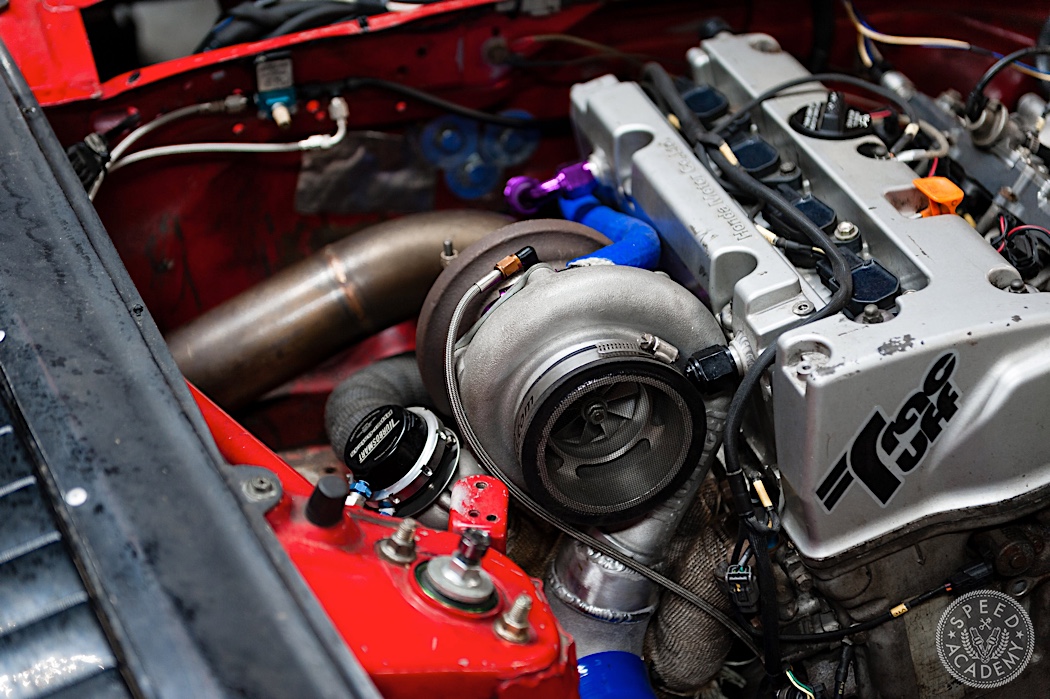 Moving on – no, I'm not telling you how I ran it over. However, do you have a moment to talk about my lord and savior Garrett Motion? The manifold I had made was built around making the GTX3582 work as efficiently as possible while dealing with the limited amount of space available. The manifold incorporates a single Turbosmart Hyper 45 wastegate, has equal length runners, and sits as close to the block as I could make it. The exhaust exits out the fender, and it's actually the rear three feet of my old exhaust. When it was all said and done, it made 400-whp and 370-wtq. That's with me telling my tuner to make the car as safe as possible while making the least amount of horsepower.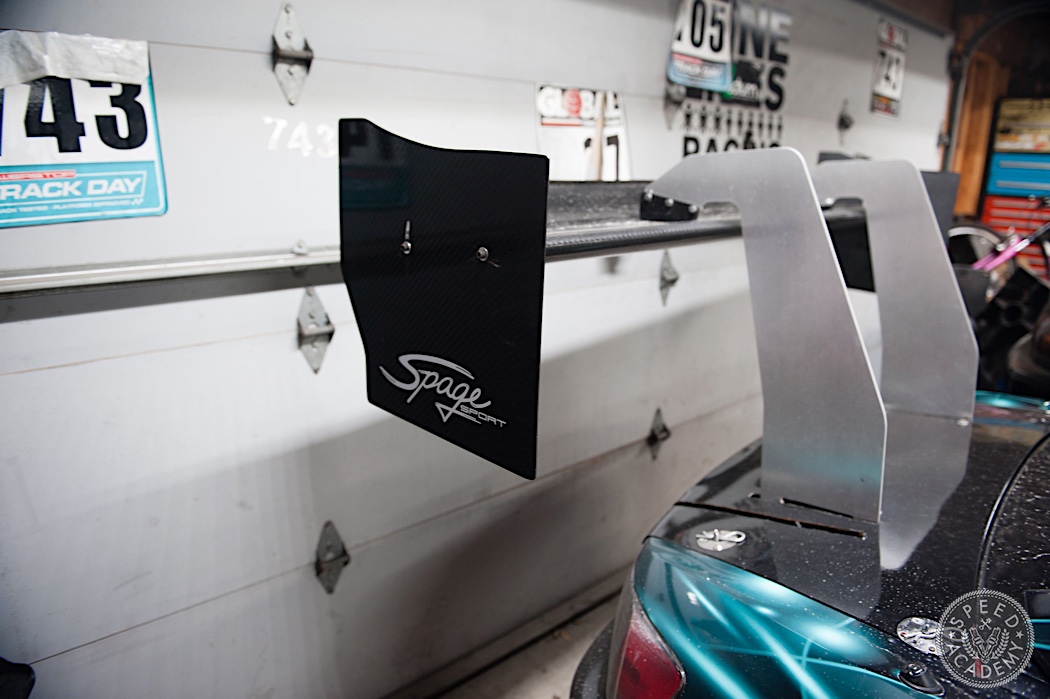 Last but not least, another big project we finished: installing the Spage Sport SP012 wing. This bad boy is low drag and produced around 900 pounds of downforce, not to mention it looks killer. I mean, have you ever seen something look so lovely on Sheri? Oh, and did I mention that we installed this thing at the Gridlife Midwest Festival, where I had some, how can I say, issues?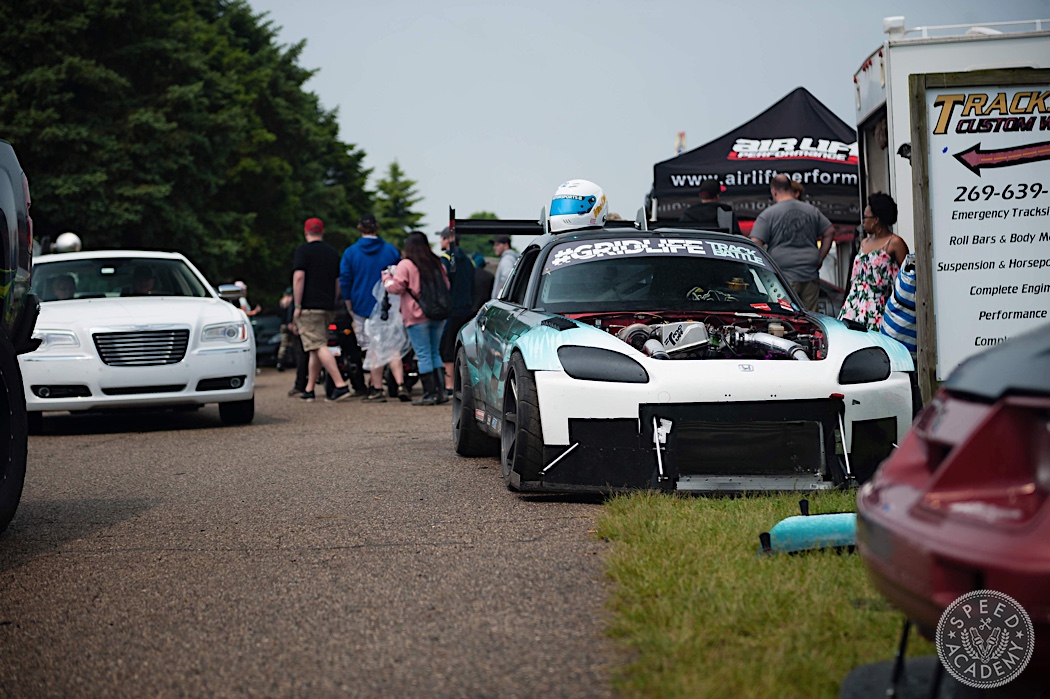 SLOW & STEADY
So on to the bad. We all know that once you "finish" a build, there are the dreaded teething problems. There's an oil leak from a fitting that you didn't tighten enough, or a misfire from a sensor that wasn't 100% plugged in. These things happen. Sheri has been to two recent events at the time of me writing this: VIR for Tire Rack's Ultimate Track Car Challenge in Alton, Virginia and Gridlife Midwest Festival in South Haven, Michigan.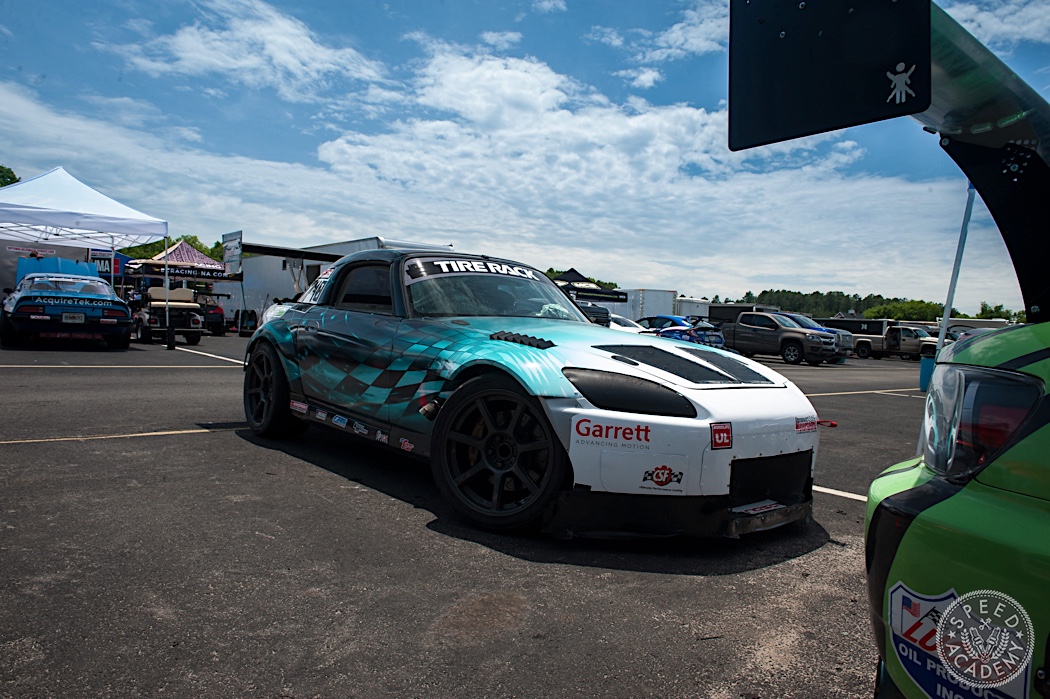 At Ultimate Track Car Challenge (UTCC for short), I ran into some of those teething issues. I quickly found out that the mounting system for my splitter, which I used for years, wasn't strong enough. You see, I installed Professional Awesome diffusers on this splitter, and you need to support your splitter a lot. I mean A LOT with the amount of downforce that they provide. Not to mention all the things we did upfront to make everything that much more efficient: aka more pressure on the splitter to do its job. Well, it destroyed itself in fascinating proportion down the back straight of VIR.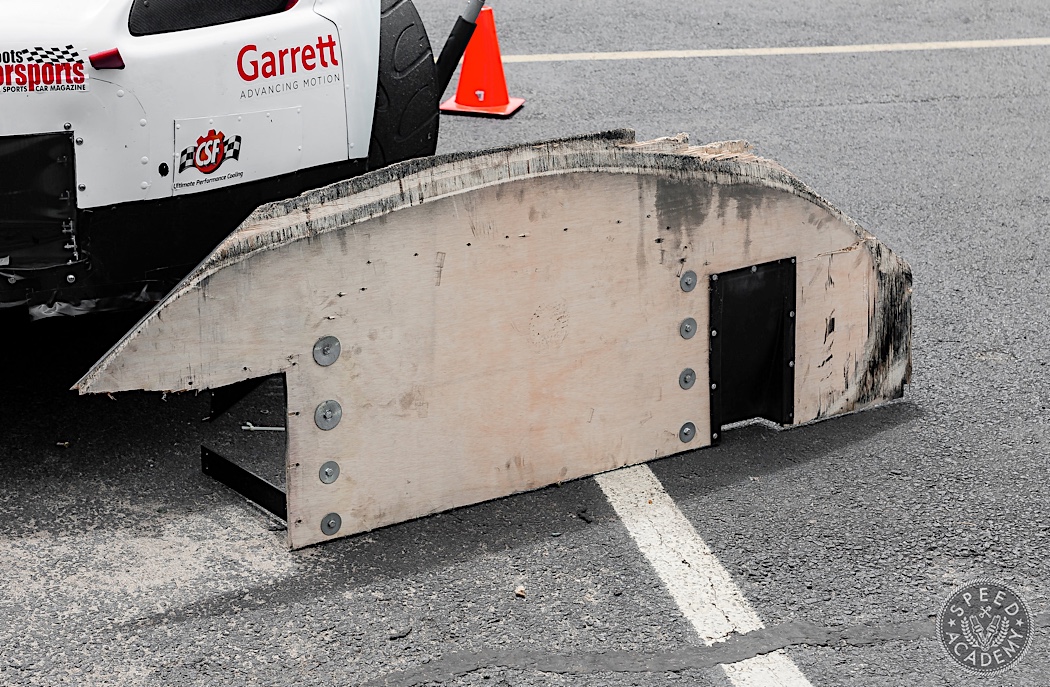 I also ran into some cooling issues, from air trapped in the head to be specific, which triggered my coolant failsafe that I have programmed into the AEM Infinity engine management system. So that means that I couldn't really go into boost or higher RPMs. It was frustrating to say the least, but as you can see in the video, I still tried to "send it" as much as I could.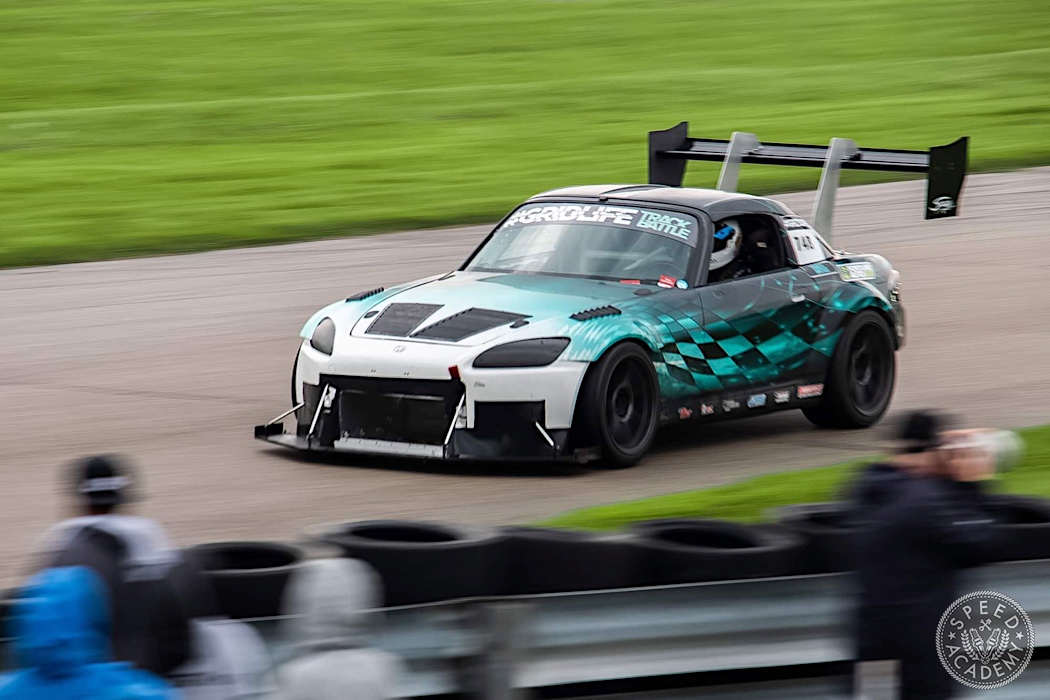 Fast forward to Gridlife Midwest – morale was high! I figured I had the splitter mounting problem solved. I was also able to properly bleed the cooling system, which took about three hours by the way. As for the rear wing, since Spage Sport is based in Canada, they brought it down with them on Thursday. We spent most of Thursday getting it installed. Then we were able to get on track for the last session of the day. That's when I broke it for the first time.
So I have a hypothesis on what went wrong, but I'm not 100% sure so I'll keep it to myself. The outcome, however, was that the car would not disengage the clutch. So I went off to work and contemplated, "What is life?" Ultimately, I made the decision that on Friday, I was going to drop the transmission at the track and take it all apart to try and fix it. If you guessed that it would take me all day to take the trans out, inspect everything, make an educated guess after said inspection, and then assemble it all back together, you would be correct!!!
Then I started it up, and she had a glorious misfire. Obviously, after 8 long hours working on this car, I was fed up. I also had to go to work again, so I left it with my teammate Grant. Well, that was after me giving him back three feet of extensions that I stole from him earlier, which he was frantically looking for. Turns out the misfire was from my fuel pressure sensor not being plugged in all the way. The glory of having a modified car. Hey, at least it looks cool, right?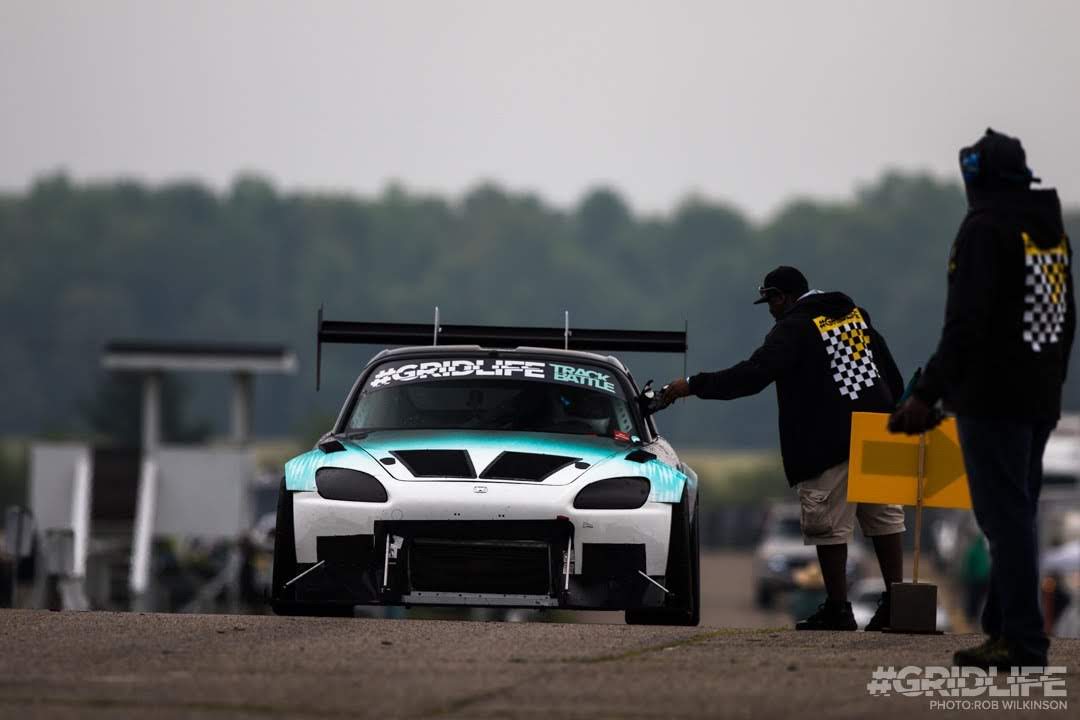 Then Saturday came. Morale was high again, and I was roughly ten pounds lighter from stress and contemplating what went wrong in my life to lead me to silly cars. Rain called for both sessions that day, but honestly I didn't care. I was going to go out and have some fun. Well, it was short-lived; the drivetrain issue came back, and on top of that, I broke my manifold. But if you are curious, this is what fun looks like to me.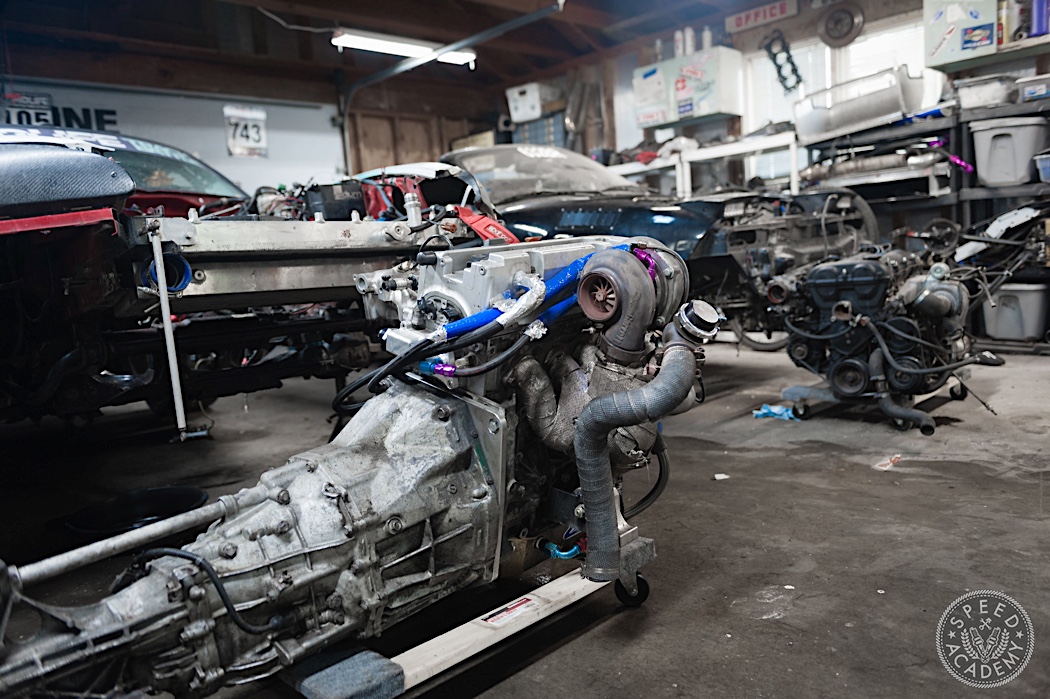 SO WHERE ARE YOU NOW?
Well, I have a manifold that's being replaced, and, of course, I have to make it better. I just added the TracTuff coolant fill adapter. I also have a decent list of things I want to finish before my next and possibly final event of the year for ole Sheri. As Jonathan Woolley said, "You can always pick up Frisbee golf." He isn't wrong either, but that triggered something for me. There is no way in hell I can stop with this car now. I'm in too deep. At this point, it's basically challenging me to be better. Well, challenge accepted ole girl……..
Earlier stories on Sheri the S2000
Bad to Rad Part 1: the start of the rebuild
Bad To Rad Part 2: V-mounting rad and intercooler
Bad To Rad Part 3: vents and airflow management
Bad To Rad Part 4: GridLife South Road Atlanta
Bad To Rad Part 5: GridLife Special Stage & SpecFit
Bad To Rad Part 6: 2017 Plans & Upgrades
Teaming Up With Professional Awesome + Aero Upgrades