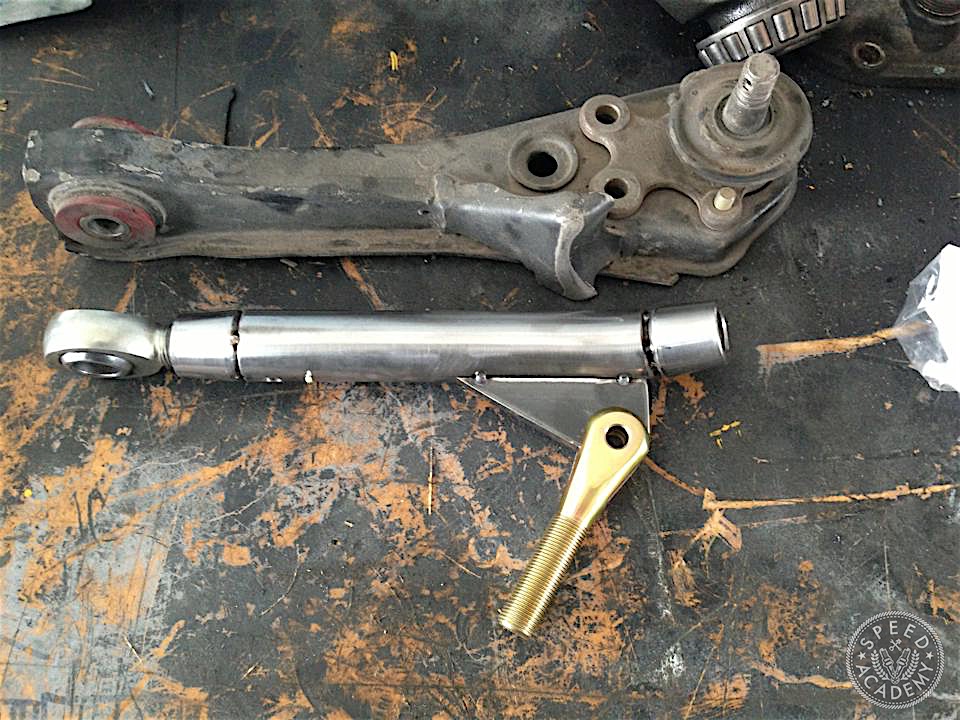 The setup simply consisted of a mono-ball pin, a heim joint on the control arm, and spacers to adjust it up and down on the pin to adjust roll center. It's worth noting that neither of these setups are provided with a traditional castle-nut and cotter-pin. Instead, they use a side or top distortion locking nut. I have found that these have worked rather well, as every time I go over the car for a nut and bolt check, they have not backed off.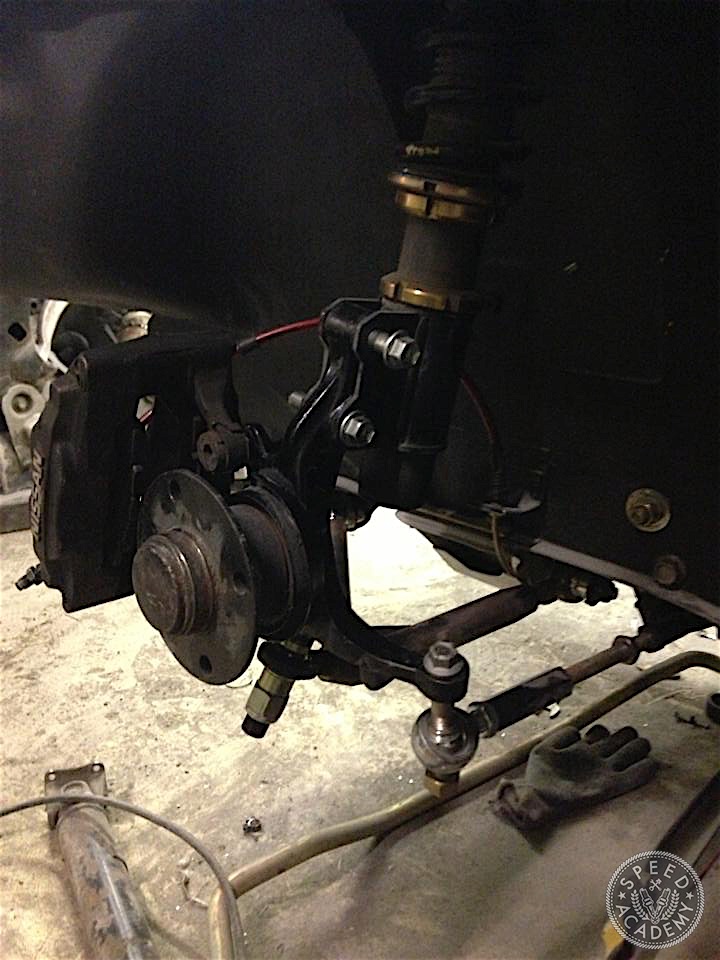 For dampers, I simply picked up a used set of Stance coilovers from an S13. My goal was not to set records but to simply see if the whole setup would work in harmony. Basically proof of concept without emptying my bank account into a horrible idea. My mentality was that a quality shock, coupled with a good tire could potentially mask some geometry problems. Also – budget. I wanted to spend my money on the components that I knew would be staying in the car elsewhere. I also recognized that down the road the coils would be the easiest of the components to switch out.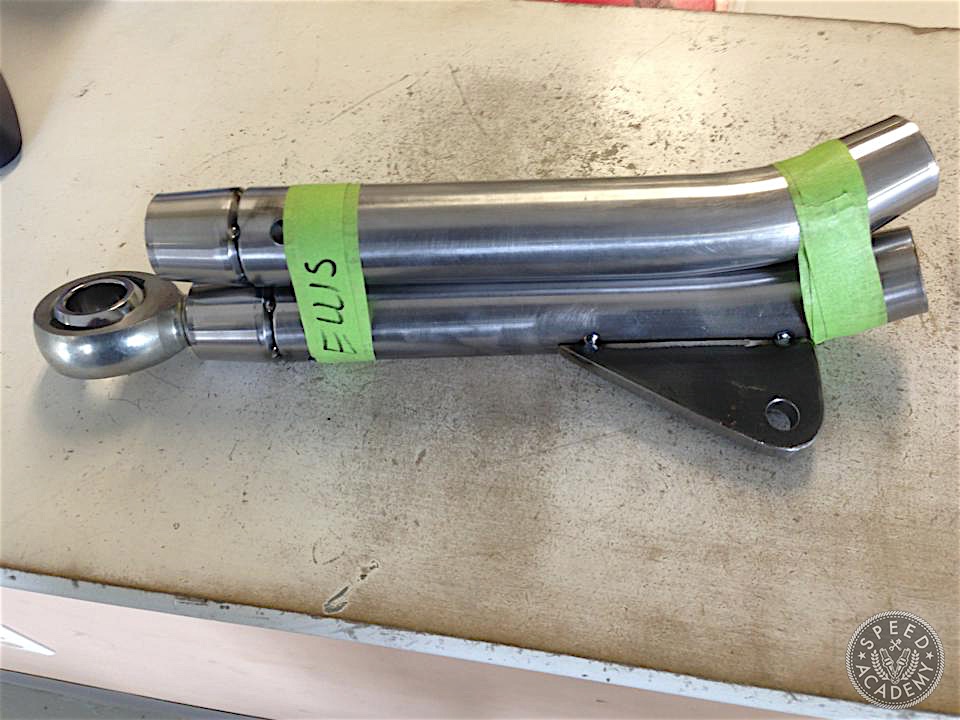 I had my friends over at Hitman Hotrods fab up some beautiful front control arms and tension rods. These would allow me to further dial in track width, caster, and camber. The rear received the typical "slotted cross member" to adjust toe and camber out back. I had read about problems with the rear control arms binding in the slotted cross members. This is definitely not a myth, and is something that will be addressed in the near future.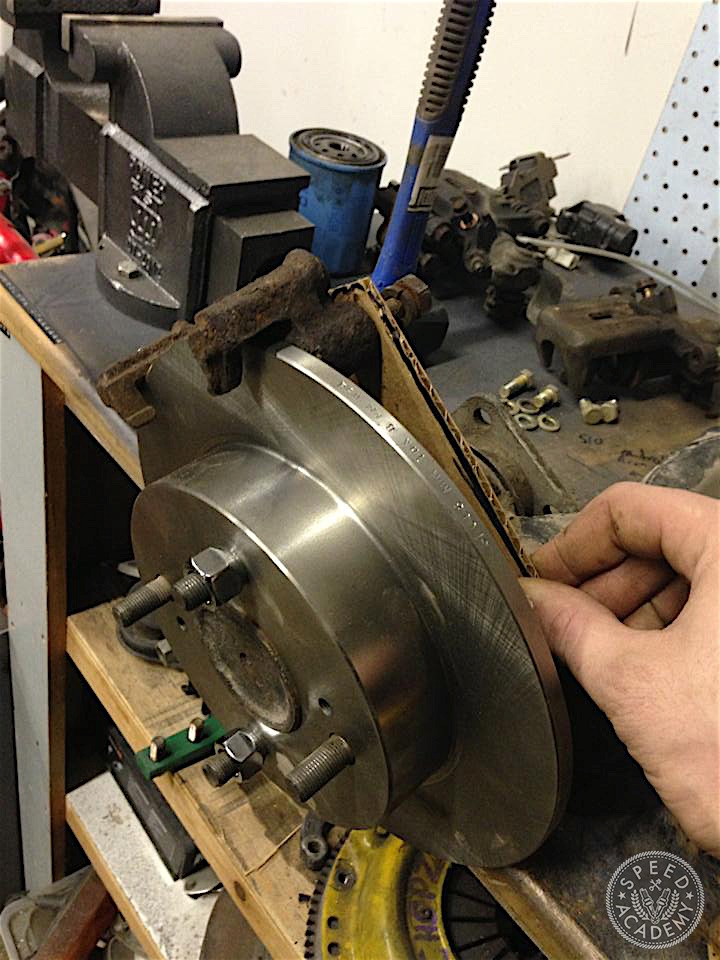 For brakes, I originally went with stock S14 rear brakes with a custom bracket fabricated and welded to the rear control arms. The front, however, has been through a couple changes. Originally I had 300ZX four piston front calipers on the car. This limited my wheel choices and meant I had to drill rotors out or spend a lot more money on aftermarket rotors.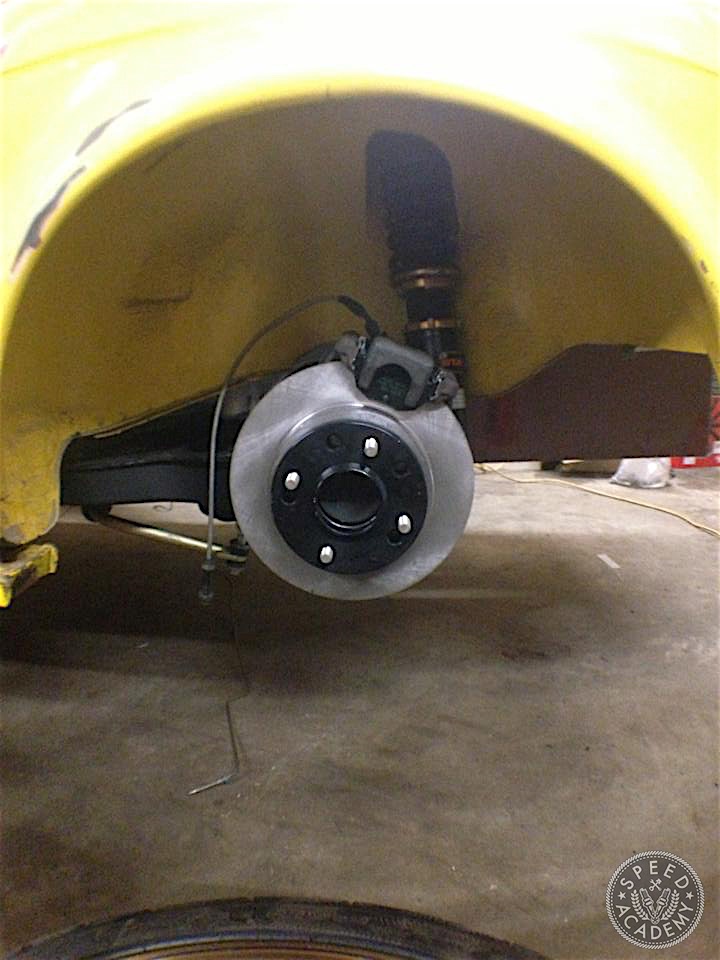 At this point I wasn't willing to swap to a five bolt setup, so I moved back to a 180SX front caliper that still provides me with a relatively large piston and a rotor that's not far off the sizing of the 300ZX's. Keep in mind that this is a car that will weigh just over 2000-lbs with me (280-lbs) in it. I originally decided to run Hawk HPS pads all around, and while I really like the initial bite of these pads, I will likely switch to a Carbotech or Hawk DTC pad in the future.
With the suspension sorted (for the time being), it was time to figure out which differential to run. A popular swap among the Datsun 510 community is to run late model Subaru Impreza R160 diffs. These diffs come in a variety of ratios, are relatively lightweight, and are readily available. Perfect solution for the car! Not quite. But we'll come back to that later on.  I had some custom stub axles made that featured an inner Subaru spline welded to a Datsun 510 axle flange. I worried about not heat-treating these after the welding, but they outlived the differential on my car, and are currently serving their purpose on someone else's 510. In my books, if a part doesn't explode, it's a win.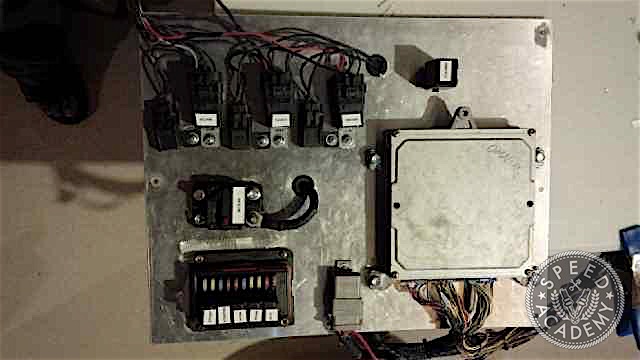 With the chassis largely sorted, it was time to move on to making it all work together. Something I would say is rather critical. I contacted Ryan Maxwell of Ryan Maxwell Racing to stick together the wiring for me. He not only has an impressive resume of builds and knowledge, but he was also willing to walk me through the process so I could learn for myself what is involved in wiring up a race car properly.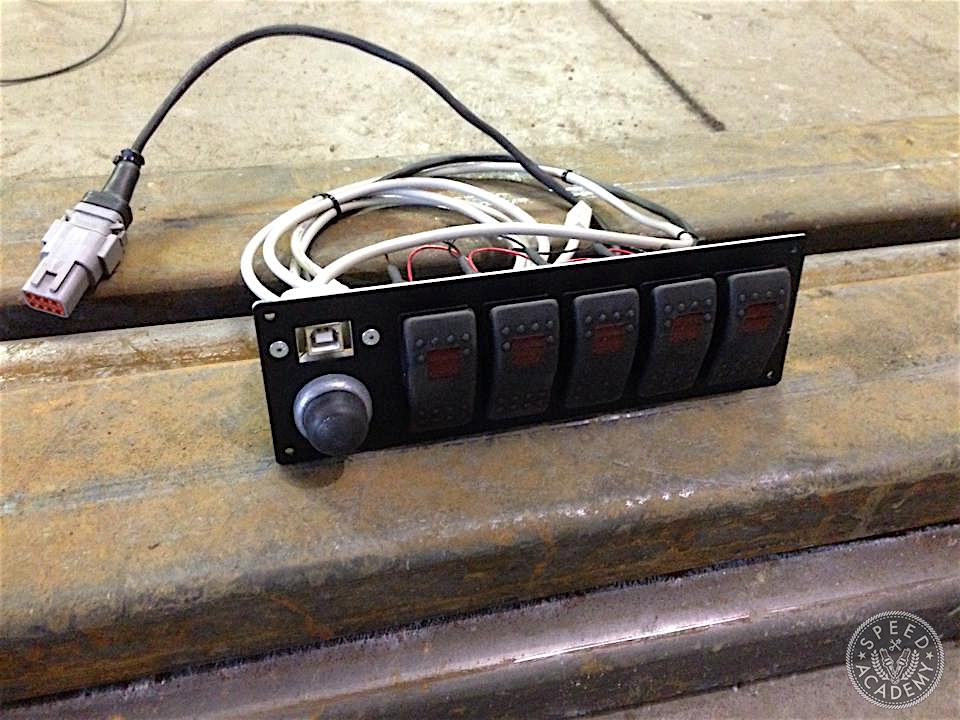 The harness came together rather quickly after Ryan came out and took all the measurements he needed. The Mil-spec wire, solid state power shut-off, Deustch connectors, and Bussman rtr fuse panel and relays give me piece of mind and keep things functioning correctly. Ryan also added remote battery terminals, and a race spec switch panel for ease of use, not to mention a few other security features to make sure that my car stays mine.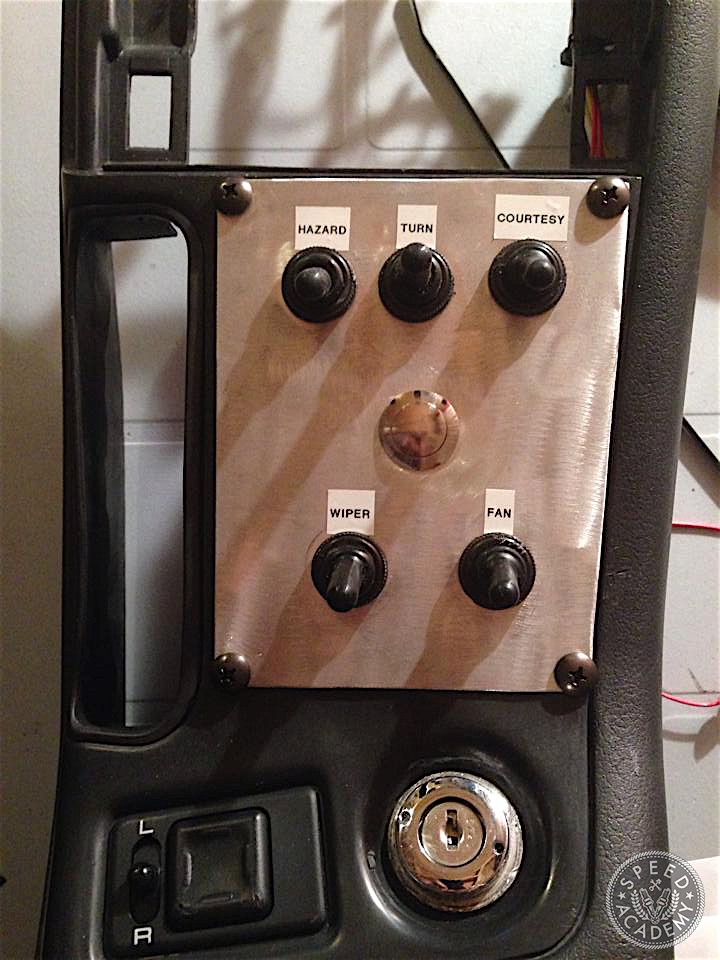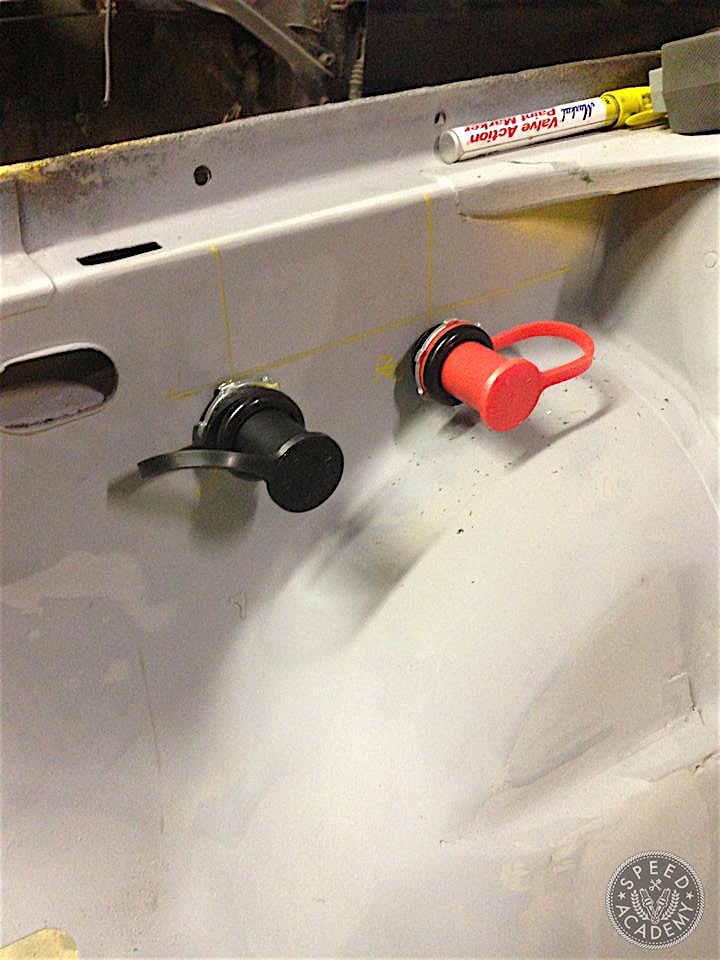 The modern updates on the car are done with the mentality of making the ownership experience better. So improving reliability, making the car easier to service, and faster were all critical to me throughout this build. The most important thing to me was not chasing electrical gremlins. I didn't want to have to worry about the car starting or running into odd problems down the road. While I could have chosen higher spec components in some areas, it was the expertise of Ryan that I trusted to bring this part of the project together for me and within a reasonable budget while also learning something about an area I've steered clear of along the way.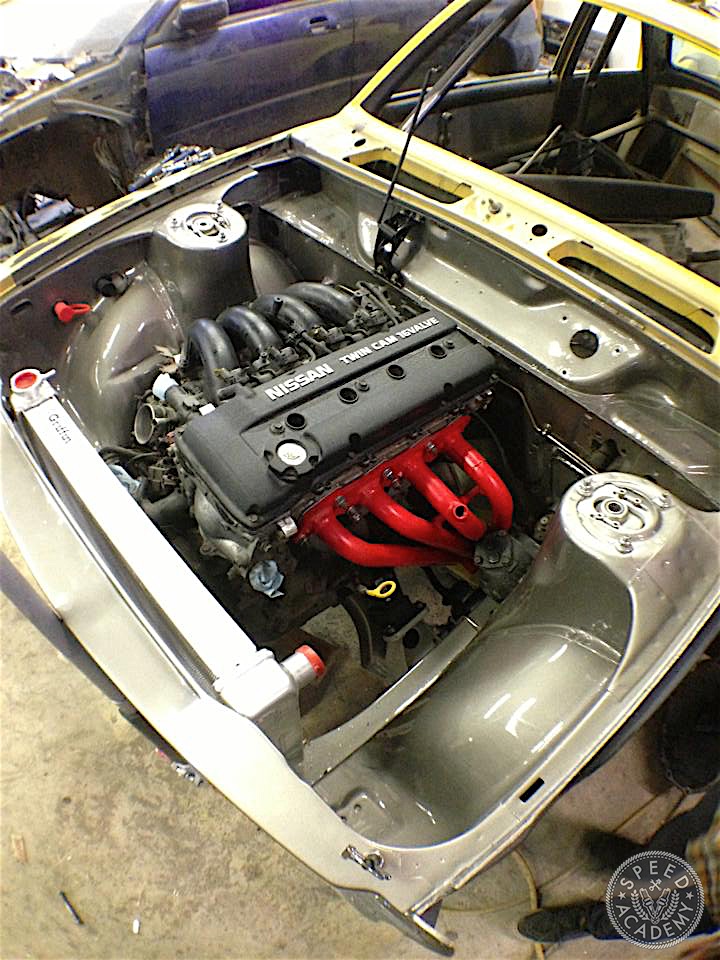 With the electronics buttoned up on the car, the KA24 installed, and things loosely laid out, it was time to finally get the car started, and make some noise.
Just kidding. It's time to take a huge step backwards. But more on that in Part 2. Coming soon, I promise.