It almost seems like I just talked to you, doesn't it? Now that you know the basics of K swapping an S2000, let's look deeper into what has changed with good ole Sheri. Disclaimer, we are still working on her so there are some things that are missing. One would say you might have to use your imagination for now to see the finished hooptie, I mean project. With that being said, let's get started with the engine.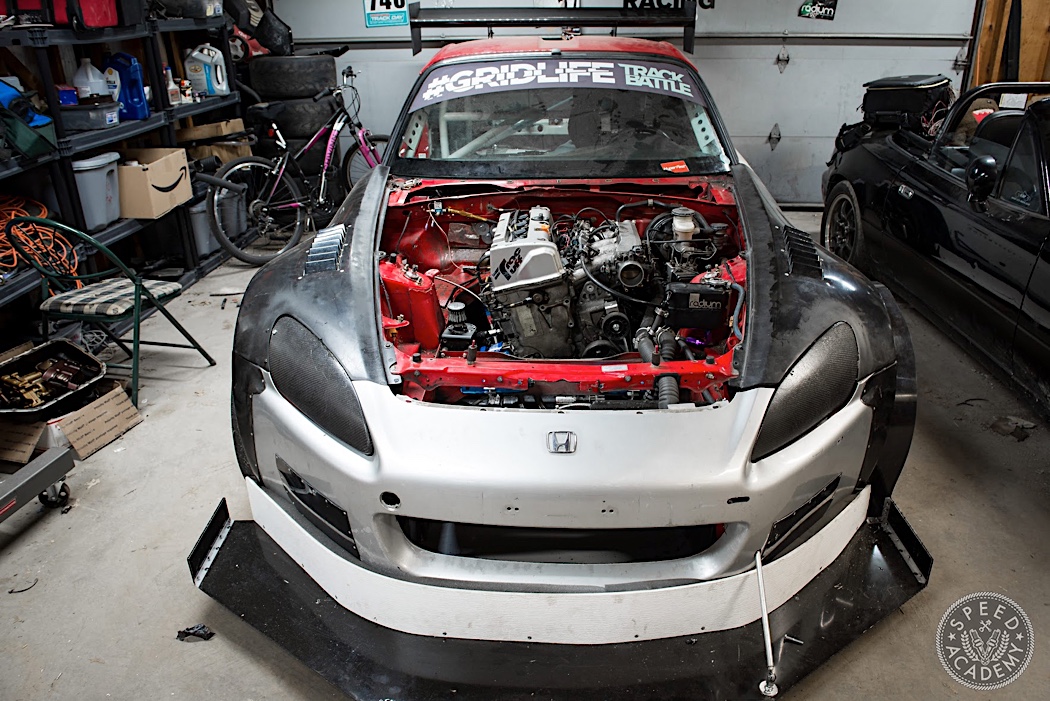 I know the cat is out of the bag when it comes to the new engine being a K24A2 instead of the F20C. What I didn't tell you is that there are two engines. One is basically a stock engine minus a Type S oil pump and a Canton Racing oil pan.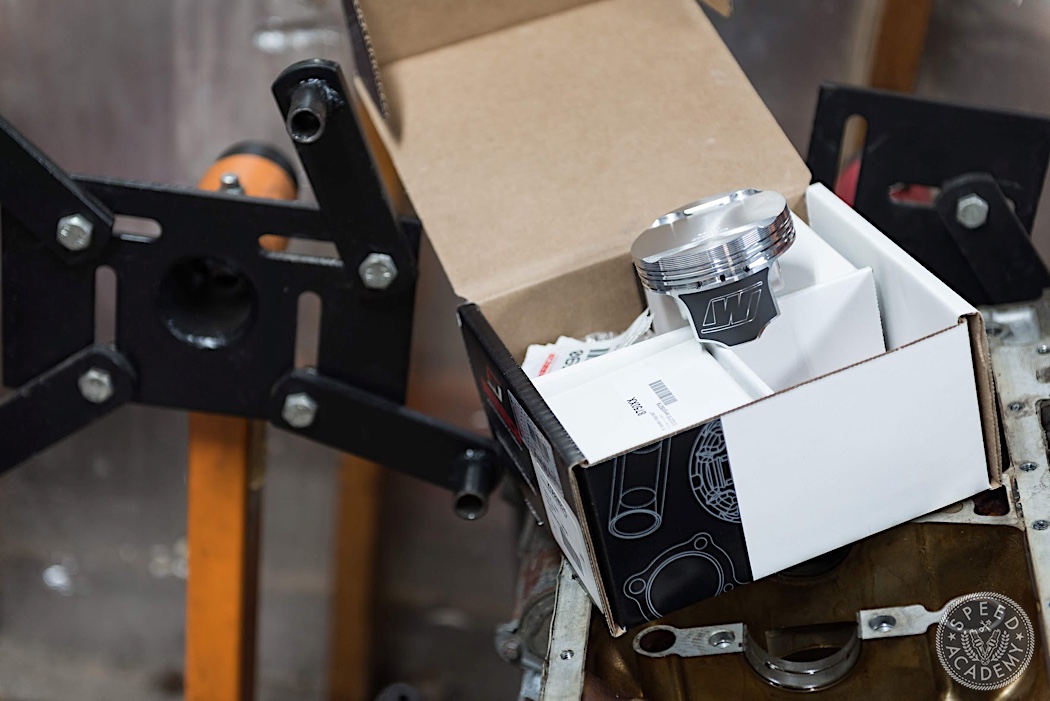 Then there is the one that is in pieces. She is a K24A2 but has a little more going inside including Wiseco Boostline connecting rods and 87.5mm 11.1:1 compression ratio pistons, Kelford cams stage 1 cams and beehive valve springs. This engine will also have a type S oil pump and Canton pan.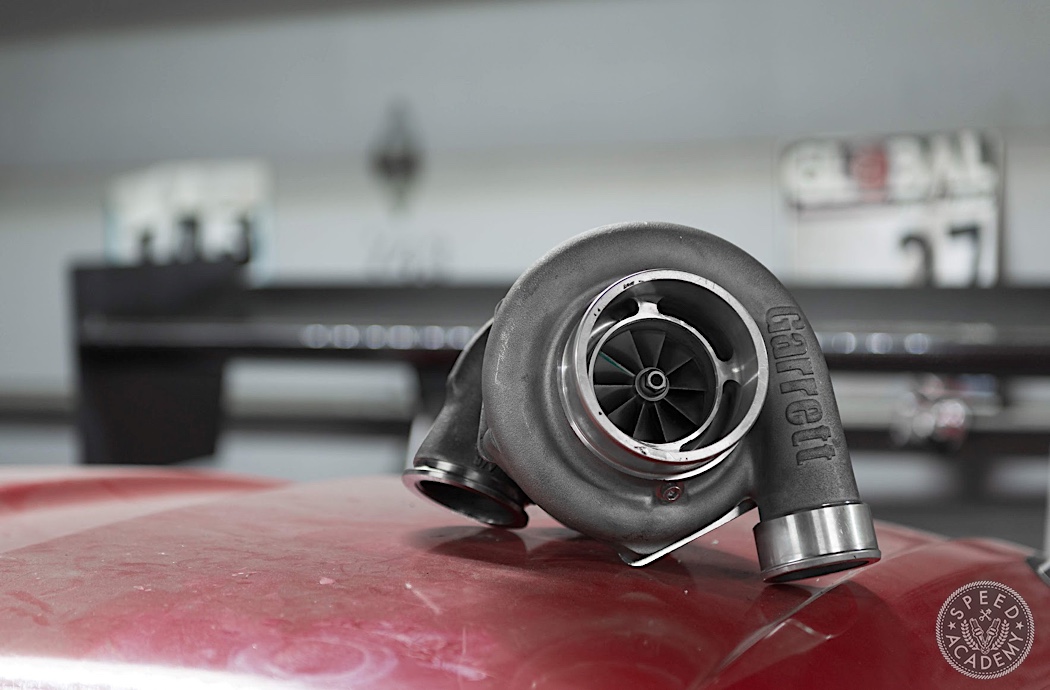 Both engines will be force fed by a Garrett GTX3582 .83 A/R turbo. Yes the stock engine may blow up even around 400HP, but it's worth it to find out what one of these K24s can handle when mounted longitudinally and in stock form. We will be using a Jay Kay Speed turbo manifold and fender exit race exhaust. And since I only use the best when it comes to boost, I will be utilizing Turbosmart 45 Hypergate wastegate and their Race Blow-off Valve.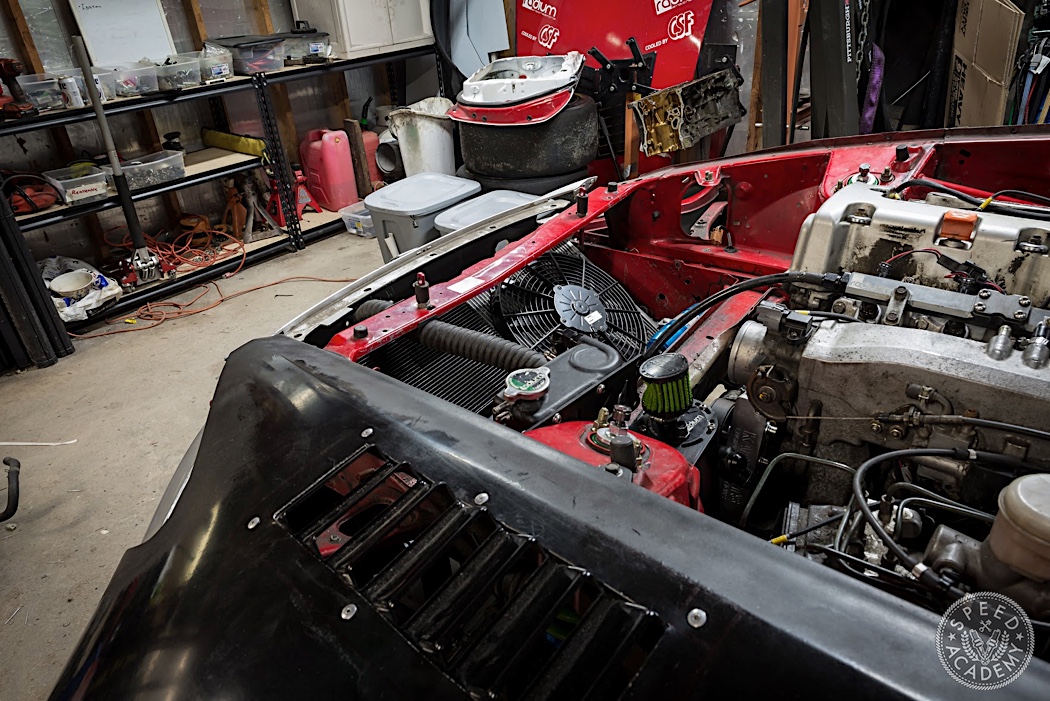 I also did away with the V-mount setup for a stacked setup. Not because the v-mount didn't work, but we are trying to get as much air through the engine bay and over the roof as possible. Now we aren't done here, we still need to make end tanks and ducting so put on your virtual reality glasses to see it completed for now.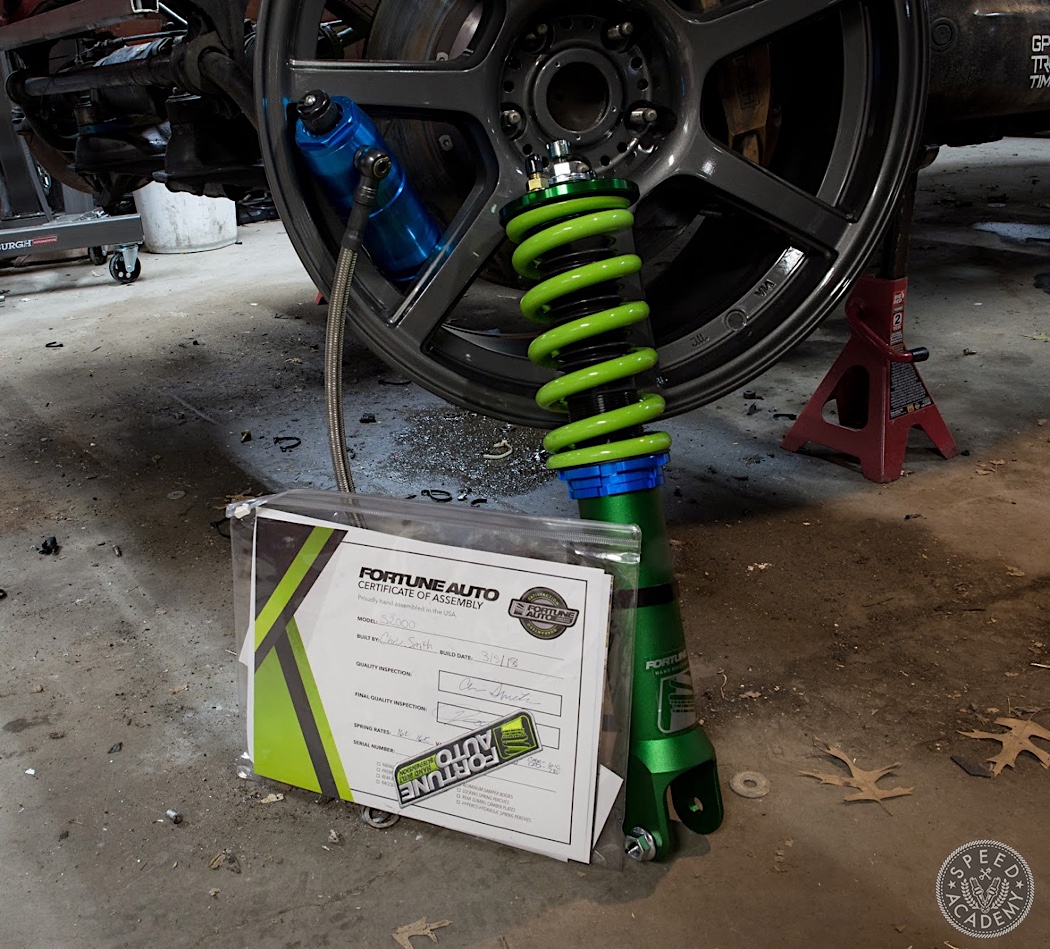 Suspension-wise we decided to upgrade to Fortune Auto Dread Naught 2 ways. Some of the fastest cars in North America including Will Au-Yeung from PZ Tuning and my teammates Professional Awesome utilize them so I thought I should give them a try. Check out our shop tour of Fortune Auto if you don't believe how great this company is.
Why we were in the wheel wells, we decided to go lighter in the brake department with Brypar rotors, which weight 1.4-lbs less than the rotors I had on here before. We didn't stop there (ya get it *slaps knee*) we also upgraded to 18s with these Konig Ultraforms which are also 10.5″ wide so we are able to fit as much tire as we can. So far we are able to fit the width of these Pirelli slicks which are 305s but they are too tall (25.8 inches) to fit on the car. So stay tuned, we are testing other options, we will most likely end up with something in the 315 wide range but 25.3″ tall.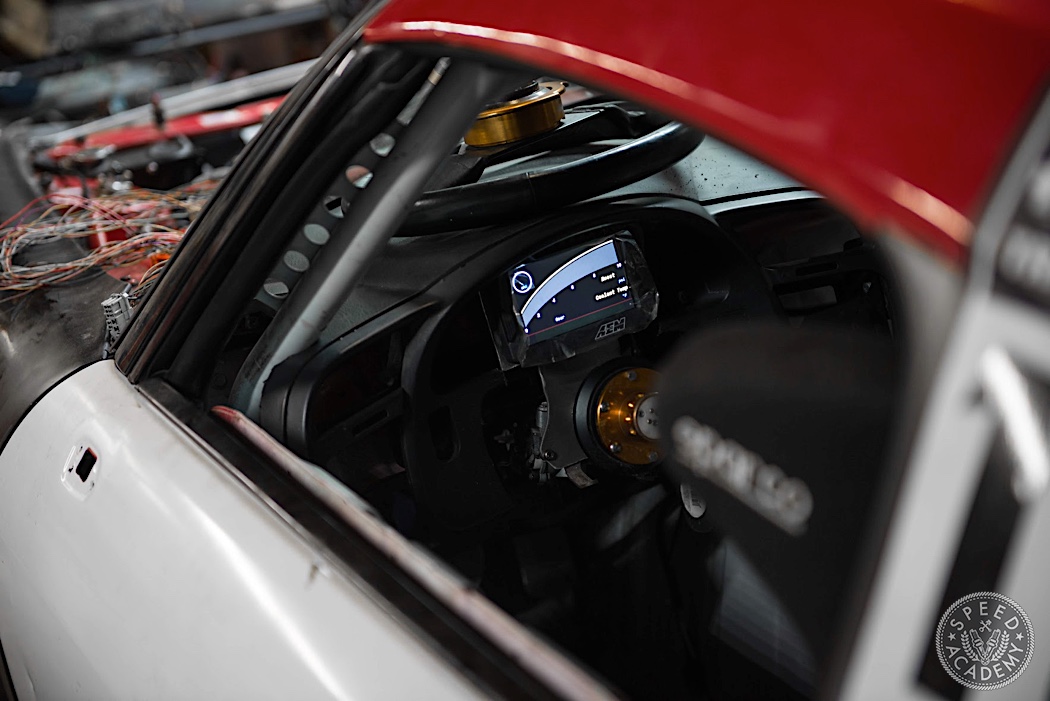 We also have been busy inside the car. Out with our old display and in with the sexy new AEM CD-5 digital display. This bad girl also communicates with the Vehicle Dynamic Module (VDM) as well as the Infinity ECU.  If you like data and you are looking for the extra way to find speed out of yourself and the car., you need the kind of data this setup provides (sweaty palms).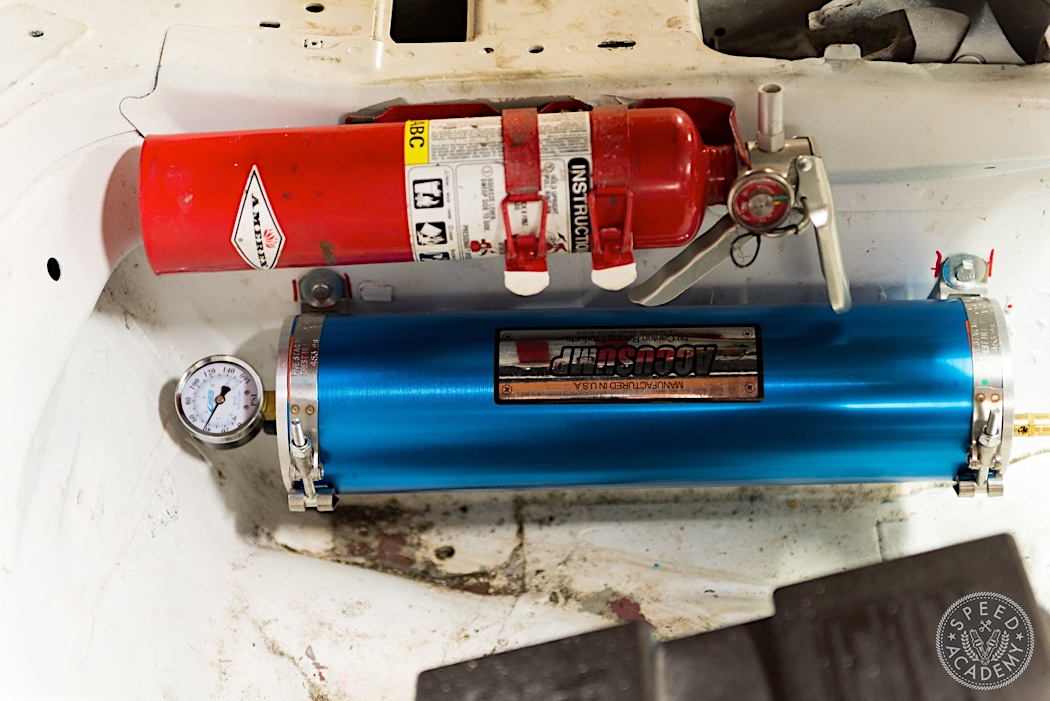 We also decided to do away with the chassis harness like we spoke about in the last article. To completely isolate any problems we may have, we decided to put in a switch panel courtesy of amazon. Plus lets not forget about the 3-quart Accusump oil accumulator either.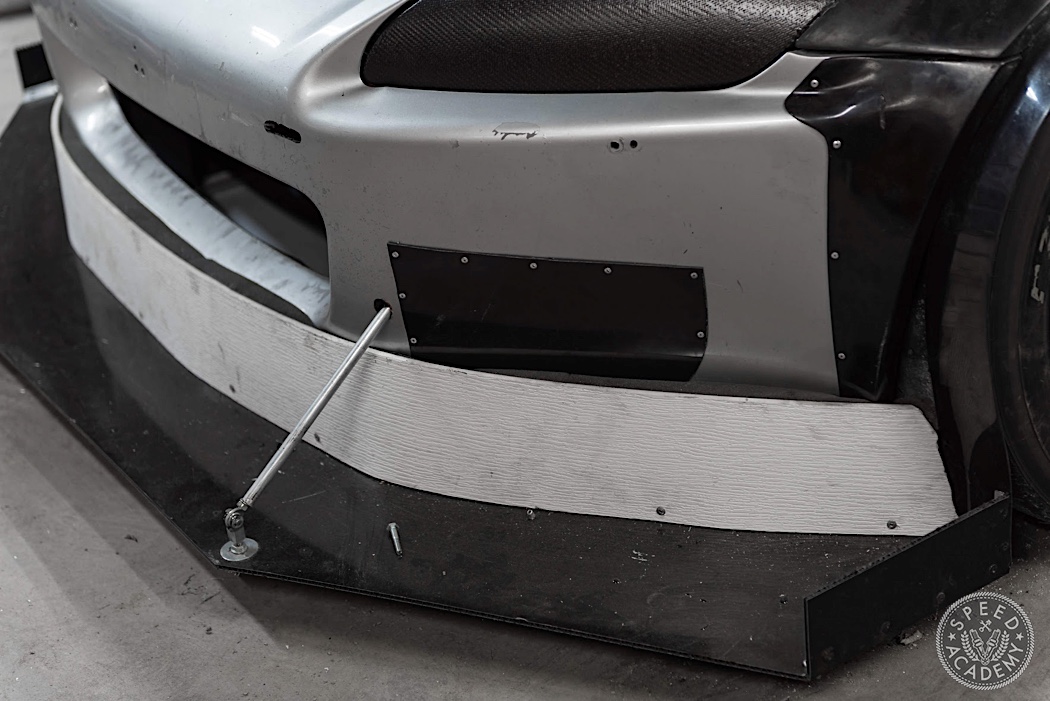 Now what you all have been waiting for: what has changed on the outside of the car. Let's start in the front. We have the universal Professional Awesome splitter with their splitter diffusers, hey just like the same ones Dave and Pete just installed on their Scion FR-S. We also blocked off all unnecessary opening in the front of the car to aid in efficiency of the splitter and cooling system.
Let's move to the side of the car, where we have Shine Auto fenders, which give me the extra room for all that rubber (grow up). I also added some side skirts that are pretty function and basic that I picked the brain of Professional Awesome about. Last but not least, I also have Professional Awesome fender vents in place, which allow all that high pressure airflow in the front fenders to escape, translating into more front downforce.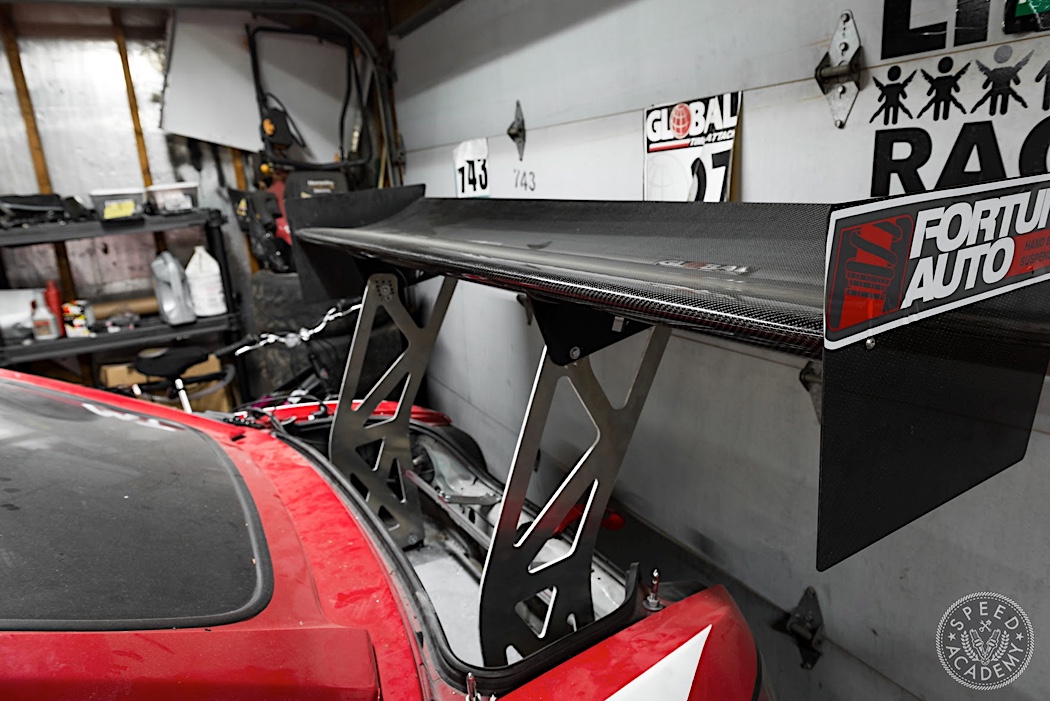 Last but not least, we take a look at the big wang from Zebulon. It's only 69 inches but it makes up for it in chord girth, I mean length. With that inappropriate statement handled, that's where we stand for now. As of writing this, we are on schedule to be at the dyno tuner on the 29th of August. That means we will be missing Gridlife South, but we are aiming to be a the Speed Ring event instead. If you want to see day-to-day photos feel free to add me on Instagram @proawesomedevin.