Engine swaps are rarely as easy as the Internet would lead you to believe, and stuffing an LS-based (LM7 5.3L iron block) V8 under the rear end of a 1977 Porsche 911 is a lot more challenging than your average engine swap, since this chassis was designed around an air-cooled engine with no need for a radiator (or radiators!) up front.
The Renegade Hybrids V8 swap kit that Danno's 911 uses does include a front mount radiator that fits into the tight confines of this classic Porsche's front end, which you can see in the video above by jumping to the 2:08 mark. But asking this single radiator to keep a V8 being fed boost pressure via two Turbonetics billet TNX 40 turbochargers was always going to be a stretch, given how small the front openings are on the 911's front bumper and how hot LSx V8s run under the best of conditions. Predictably, during street testing during hot summer conditions, water temperatures would quickly skyrocket to dangerously high levels, even while highway cruising. Clearly a serious upgrade in cooling capacity and efficiency was needed.
Wanting to preserve the classic looks of his 911 as much as possible, cutting up the front bumper to get more airflow to the main radiator wasn't an option. Inspired by modern water-cooled turbocharged Porsches, which are equipped with multiple engine cooling radiators that are run in series, Danno got to thinking that adding two small but highly efficient radiators in what space is (mostly) available behind the front bumper cover under the headlights and in front of the front wheels was a more appealing solution.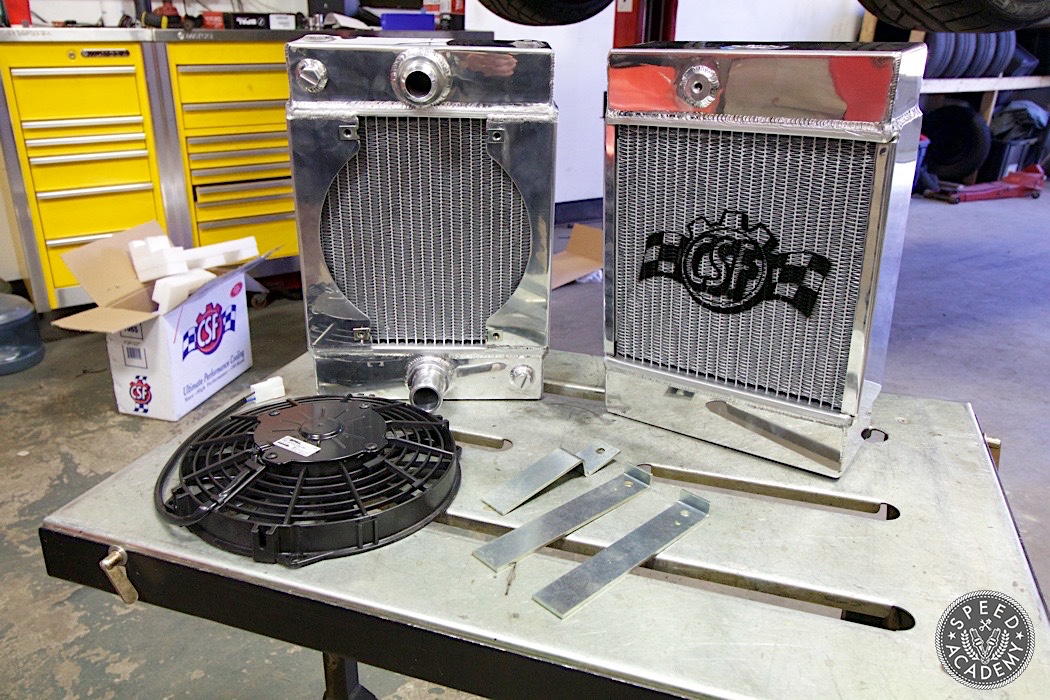 Taking some measurements of the space available in this area of the nose and even making some mockup radiators out of cardboard, Danno scoured the Internet to see what he could find that would fit in this space and offer the kind of capacity and efficiency increase he was looking for. Enter the KING cooler, CSF Radiators' extremely compact universal radiator, featuring a 3.5" thick 2-row core with CSF's exclusive B-tube technology.
CSF's unique B-tubes are carefully formed and then brazed over the seam to seal. Because the B shape and overall design of the B-tube cores are stronger than normal "O" shape tubes, CSF is able to use thinner and lighter aluminum material for greater cooling efficiency.
Having the brazed seam in the middle of the tube also increases its heat transfer surface area by approximately 15% over regular O-tubes, plus the shape of the B-tube further aids cooling efficiency by encouraging laminar flow.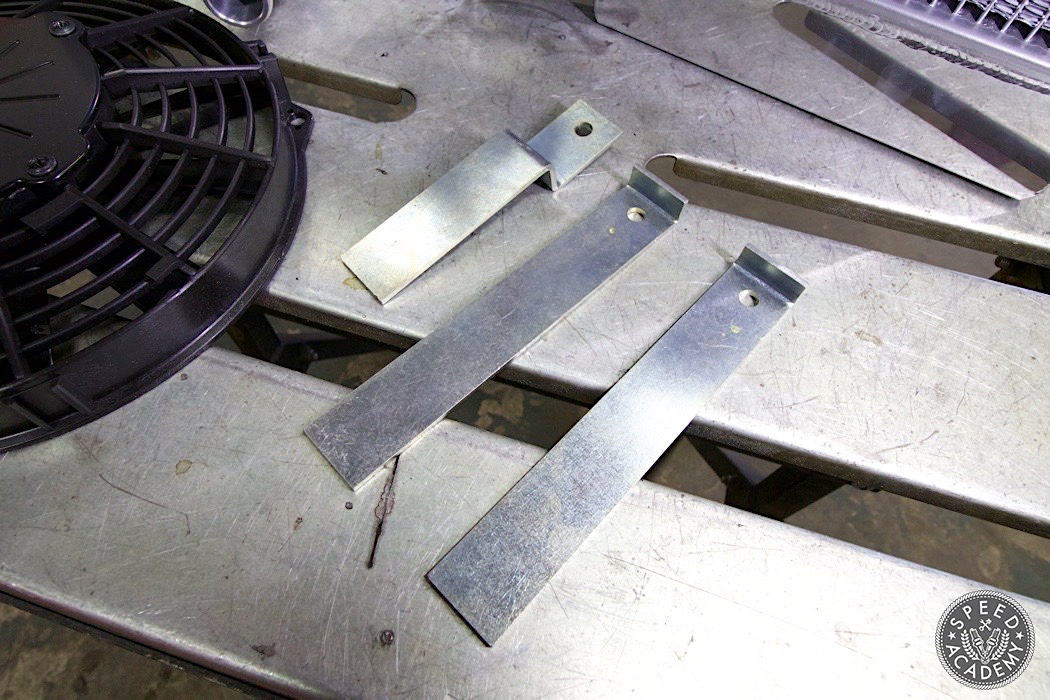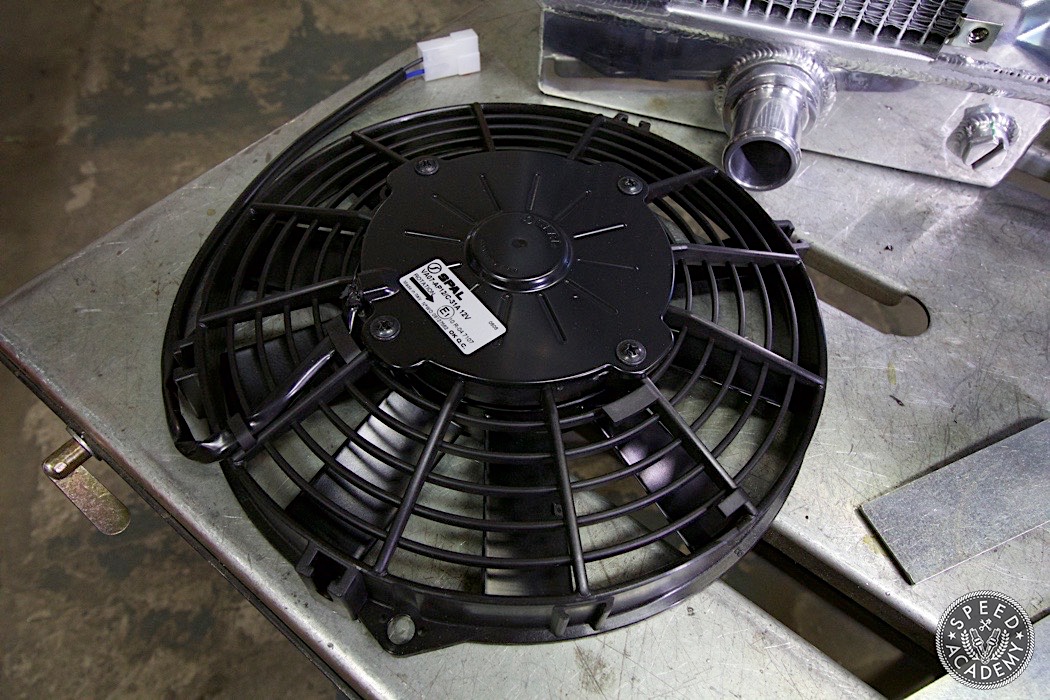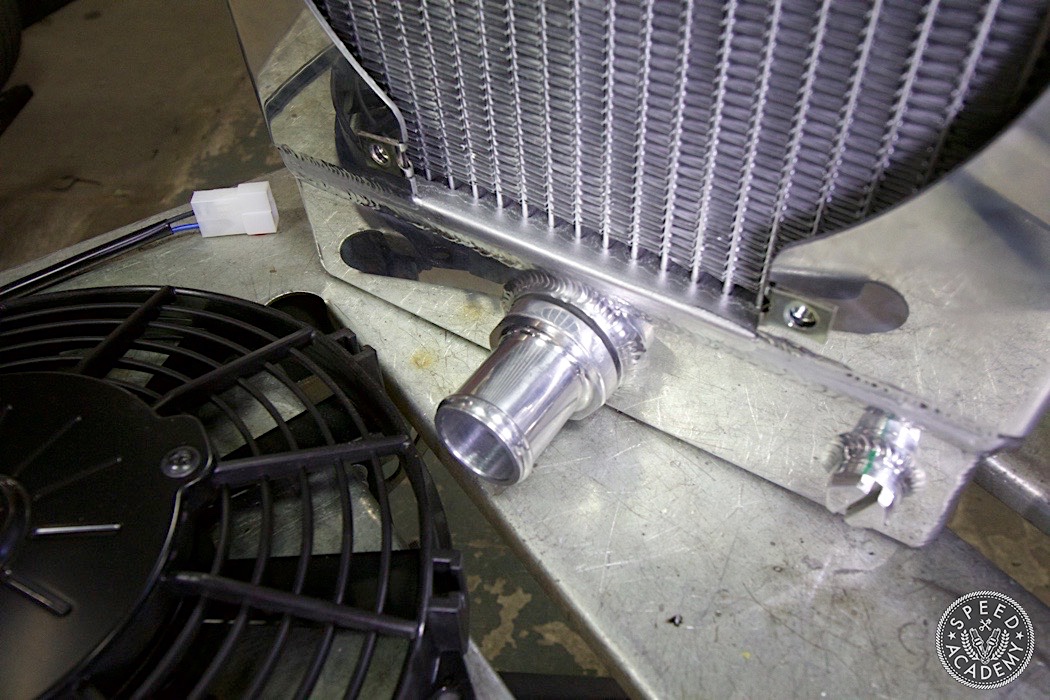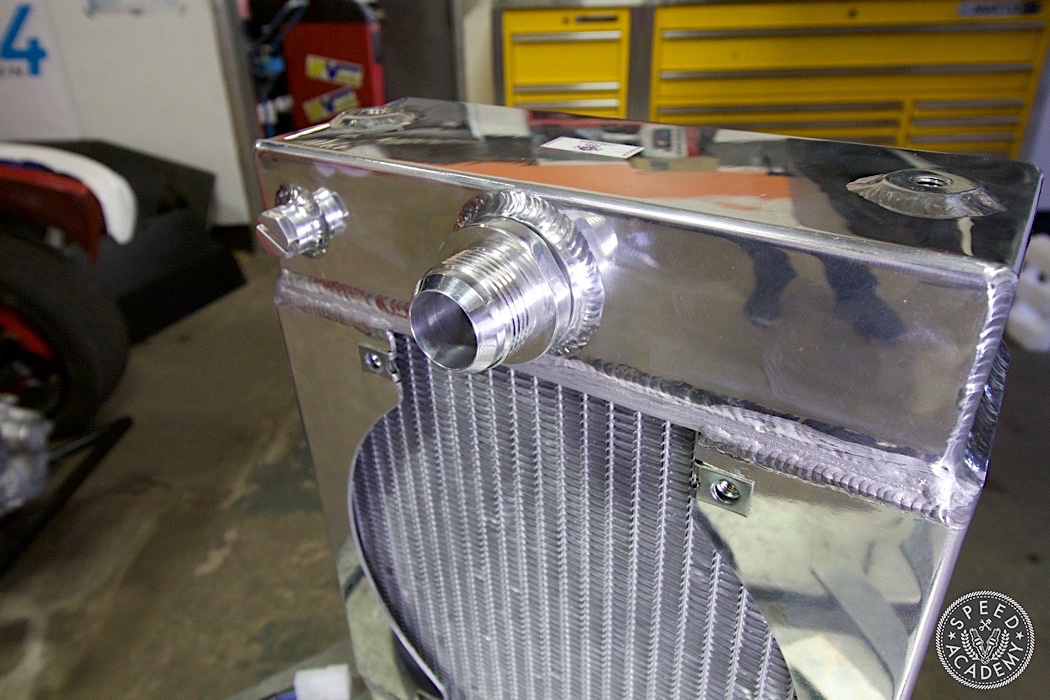 Originally designed with SFWD drag racers in mind, CSF teamed up with Sheepey Built, Whitfield Manufacturing and JRP Canada during a 9-month R&D process that led to the development of the KING Cooler, which includes universal mounting brackets, 9″ SPAL fans, and threaded bungs that accept either the included 1.25″ slip-on fittings or -16 threaded connections.
Being 14.5" tall and 10" wide (and 5.65″ thick with the fan installed), Danno may have been a touch optimistic about how much space he really had to work with, but with a little finesse from master fabricator Vinh from NV Auto, the required room to fit up both KING coolers in series with the main radiator was found.
As you'll see in the video above, fitting these KING Coolers required some notching to the chassis in the inner wheel well area on both sides as well as some creative routing of the coolant hoses to link all three radiators together. The end result is a very serious upgrade to the cooling system with KING coolers bookending the central rad. Checkmate, high water temps?
As you'll see in the upcoming track test video on our YouTube channel, water temperature worries are now a thing of the past and Danno can fully unleash the fury of his V8 twin turbo 911. Here's a quick teaser to tide you over (because everyone loves donuts, right?), but go subscribe to our channel if you don't want to miss the full track test.
A very big thank you to NV Auto for all the hard work making Danno's dream of a triple radiator setup fit under the factory front bumper of his classic 911, and an even bigger thank you to CSF Radiators for making an off-the-shelf solution for anyone looking for a compact and highly efficient cooling solution for their crazy engine swapped machine, drag car, off-road racer, or even industrial or agricultural machines.