With our Ecotec Miata up and running, it was time to start prepping for the race track, starting with a new radiator.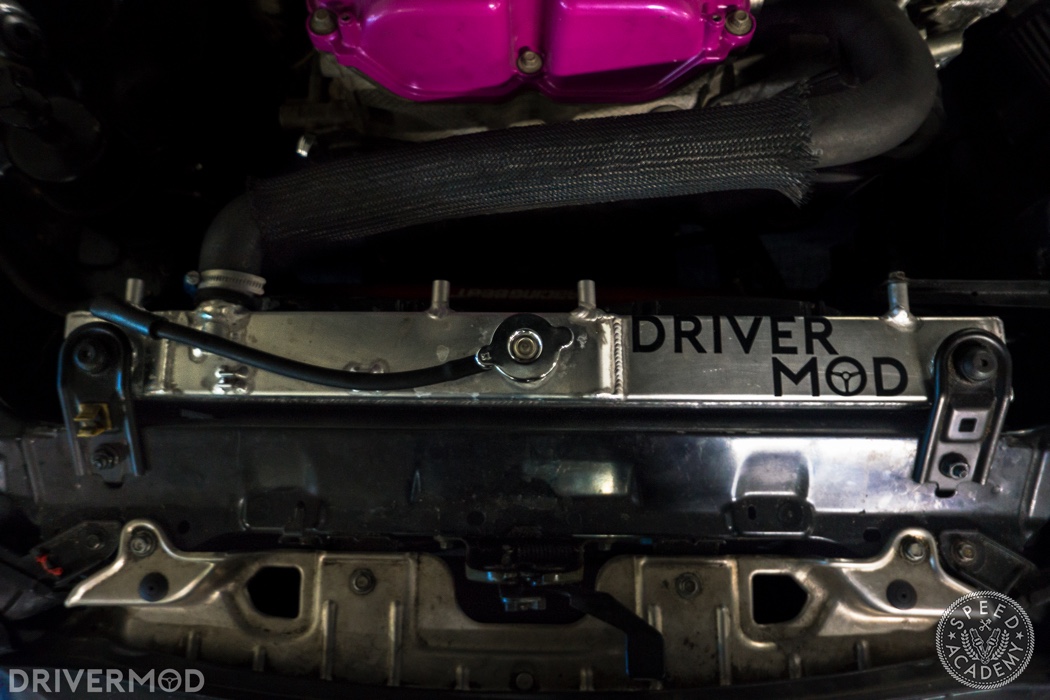 When we replaced the car's timing chain and tensioners, we ended up cracking the factory radiator's coolant hose outlets. Rather than throw another factory radiator into the car, we decided to go with an all aluminum radiator from CX Racing; mainly because it was cheap, and proven to work well on turbocharged Miatas.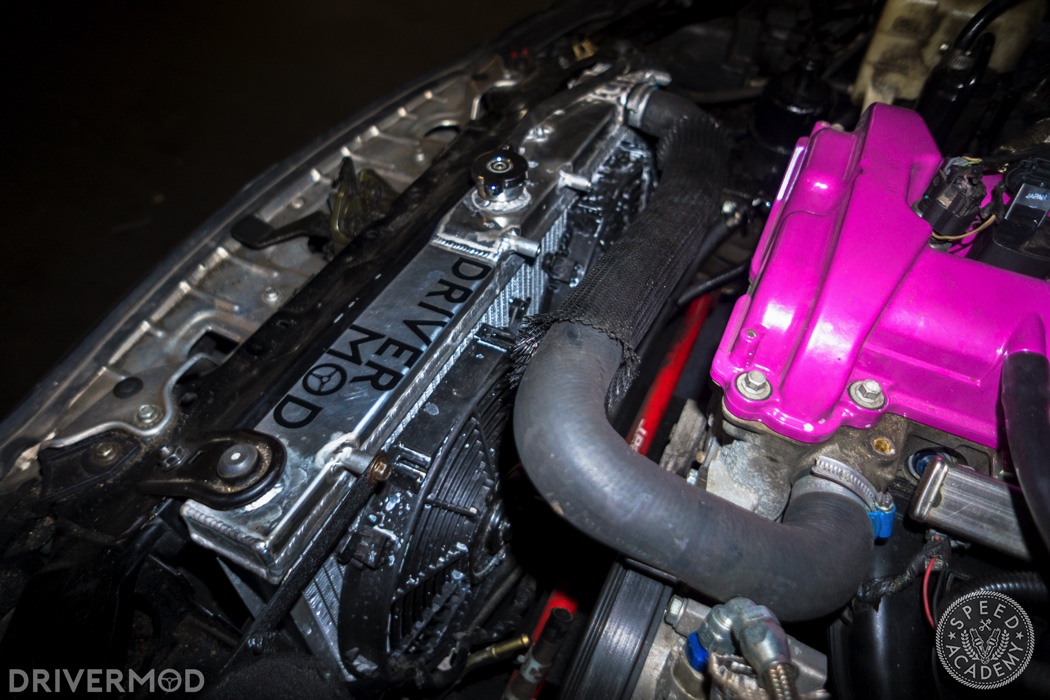 Factory radiators have been proven to work well with this swap, but this solution future-proofs the car in case we ever decide to bump up horsepower later (read: boost). Keep in mind that when using a thicker radiator with an aftermarket sway bar and the Ecotec Miata swap kit's front sway bar relocation kit, it's common to run into clearance issues between the factory radiator fan and the front sway bar, so we also purchased a CX Racing duel slim-fan kit.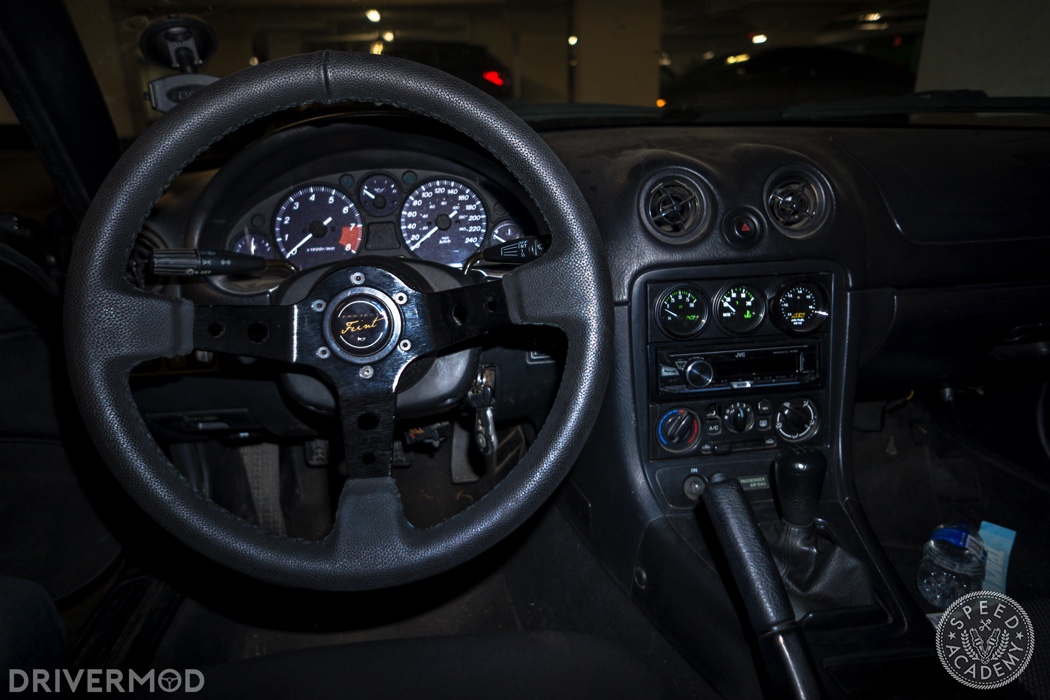 Next, we focused our attention on the interior. The Miata's stock steering wheel is massive, making getting in and out of the bucket seat difficult, so in went Project Feint's PF MOTO 1 steering wheel along with a Daikei Boss Hub.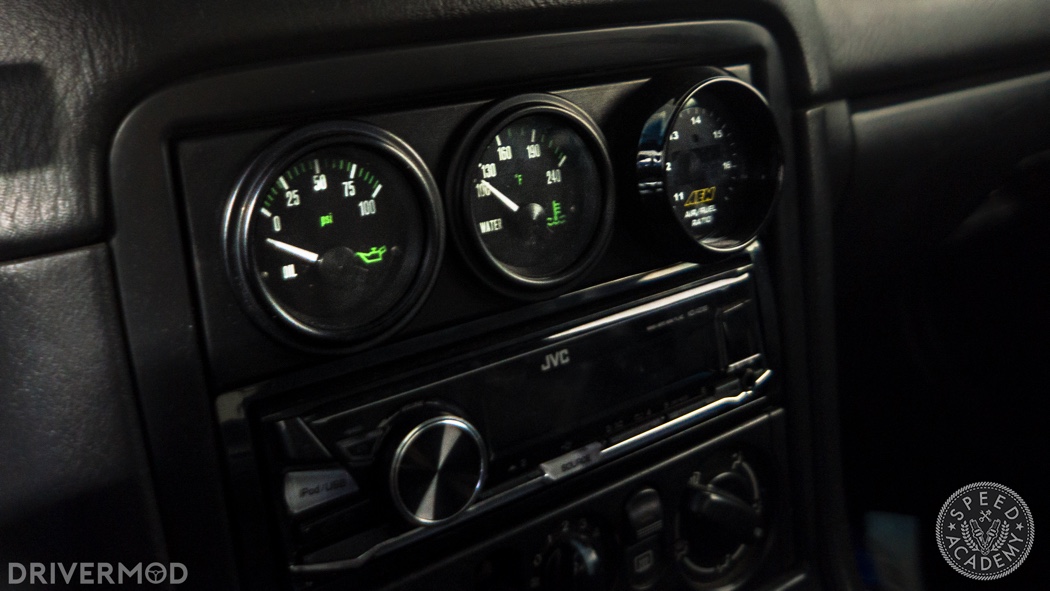 Rather than wiring up the stock Miata's water temperature and oil pressure gauges, we installed a set of Stewart Warner gauges along with an AEM Wideband gauge in the center console. Naturally, this meant installing sending units in the Ecotec engine's oil pressure feed hole, and a water temp sensor in the car's coolant bleed port (the hole that was tapped in part 2).
We ended up breaking the car's factory exhaust during "spirited testing," right where our custom downpipe met the factory catalytic converter. Hoping to maximize the Ecotec's potential and, if I'm honest, improve its exhaust note, I picked up an ISR cat-less exhaust, modified it to fit the car's custom downpipe, and added a Vibrant Performance GESI high-performance catalytic converter.
We threw a can of red rattle-can valve cover paint on our valve cover before it went into the car, but didn't give it nearly enough time to dry. As a result, our dirty hands made it look awful after months of wrenching. That's when we decided to cut our painting careers short and hand the valve cover over to our friend JP at Stripping Technologies for some powder coating love.  Needless to say, it's now the prettiest part of the car.
At this point, all the car needed was a set of wheels, sticky tires, and a track-spec alignment. Wheels were kindly provided to us by Konig. These are the Dail-In model, which are flow formed for maximum strength and lightness. In this 15×9" size, they're incredibly light at just 12.5 lb per corner. These were paired with Hankook's latest extreme performance summer tire, the RS4 in a 225/45/15 size. They're uber-sticky, boast long life, and are cheap and easy to find in southern Ontario.