Having done a round of power upgrades to get the Turn14 Distribution supported Mullet Mustang project officially underway, it was time to replace the sagging old suspension on our early S197 Ford Mustang GT. The Mullet, as we like to call it (because it's business up front with a powerful 4.6L V8 but a party out back thanks to all the moving around the live rear axle does), has over 250,000 km on the odometer, so as you'd imagine the shocks and bushings are worn and the stock wheels and all-season Pirelli tires are well past their prime, too.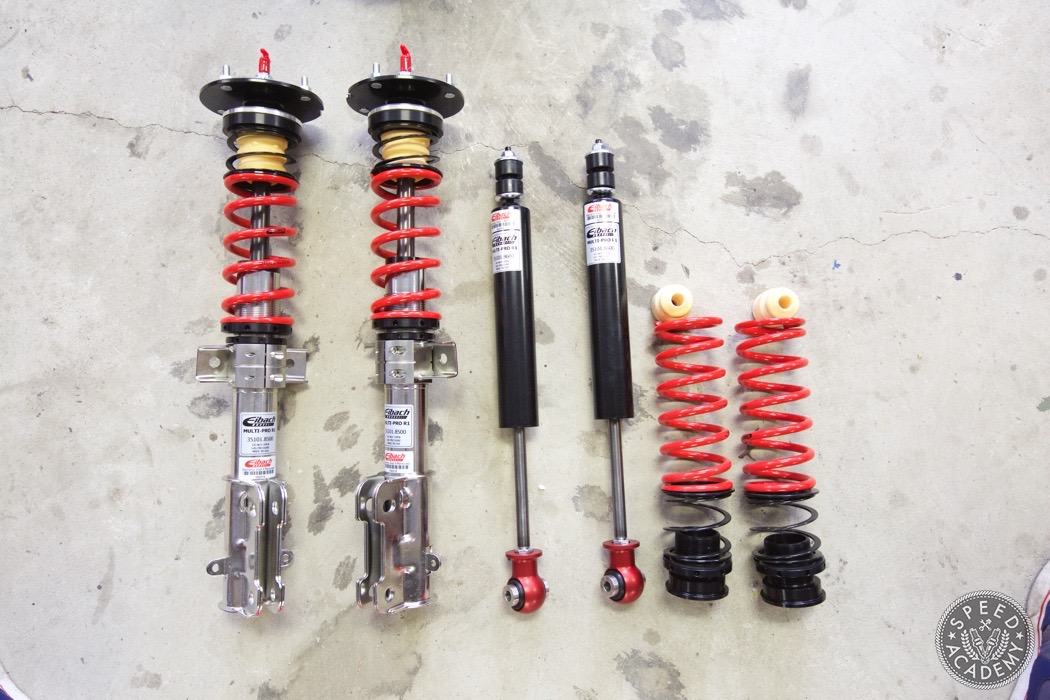 We absolutely love the Eibach Multi-Pro R2 coilovers on our Honda S2000, since they helped knock a huge chunk of time off the ASS2000's lap times but also improved ride quality on the street in the process. On the Mustang we decided to go for Eibach's Multi-Pro R1 coilover system, which has single adjustability for compression and rebound damping, rather than separate adjustability for compression and rebound like the R2's feature.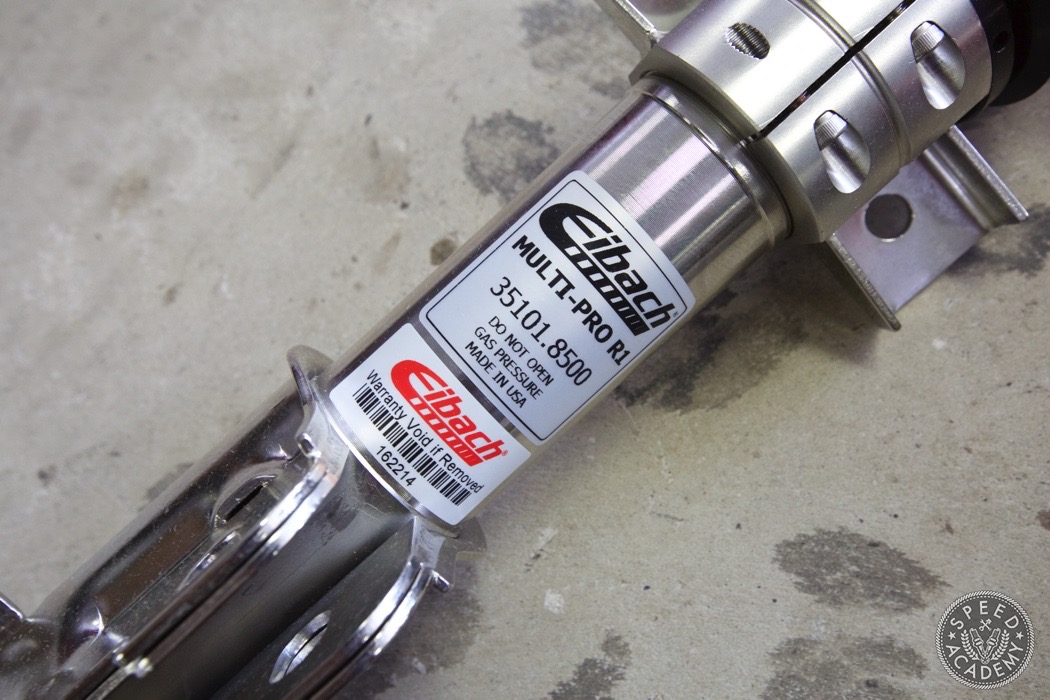 We decided to go with the R1's for a couple reasons, first being we wanted to keep build costs down since this is a $7500 Mustang and one of our goals is to show people how fast you can go with a S197 like this without spending a ton of money on it. You can find this kit online for under $2000, which is a hell of a bargain considering you get Eibach's world-class engineering and build quality (in a stainless steel shock body that's ideal for our salty Canadian climate) with very well sorted damping and spring rates. Plus these are 100% designed and built in the USA and can be ordered with a wide range of ERS spring rates if you're not an off-the-shelf spring rate kind of guy.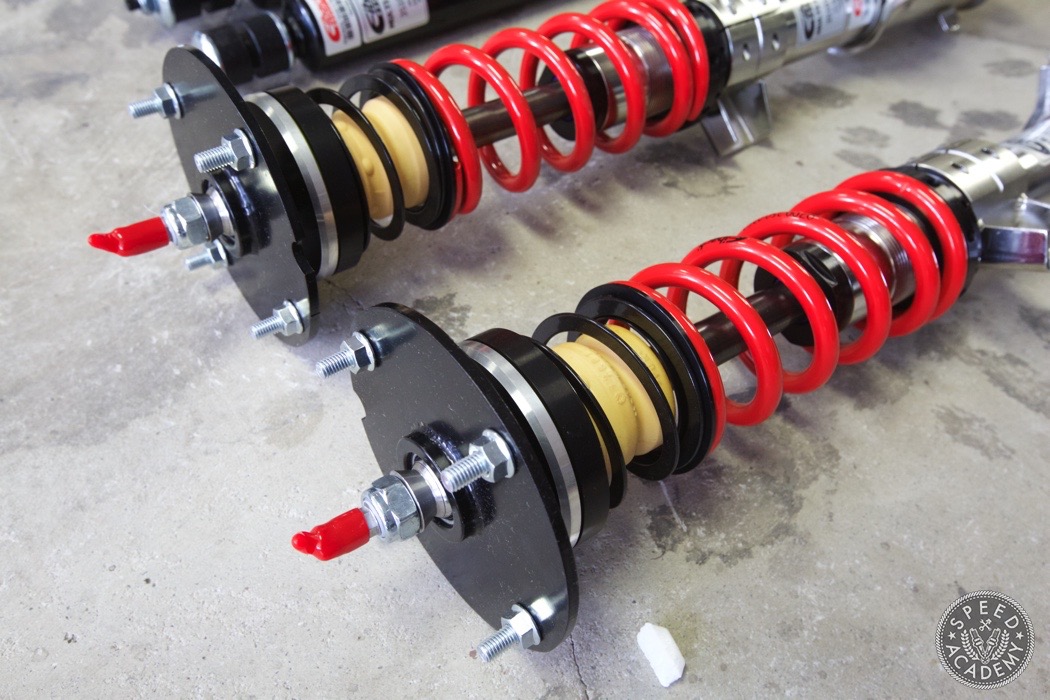 The monotube front struts also include upper mounts that use a precise spherical bushing, and as you can see the R1's have an integrated bump stop and helper springs to prevent any unwanted movement or rattling of the main spring when the front suspension goes into droop. All in all, the Multi-Pro R1 kit for the S197 is very well thought out and a complete bolt-on design, so there's really no thinking required from the end user, other than to select the spring rates you want.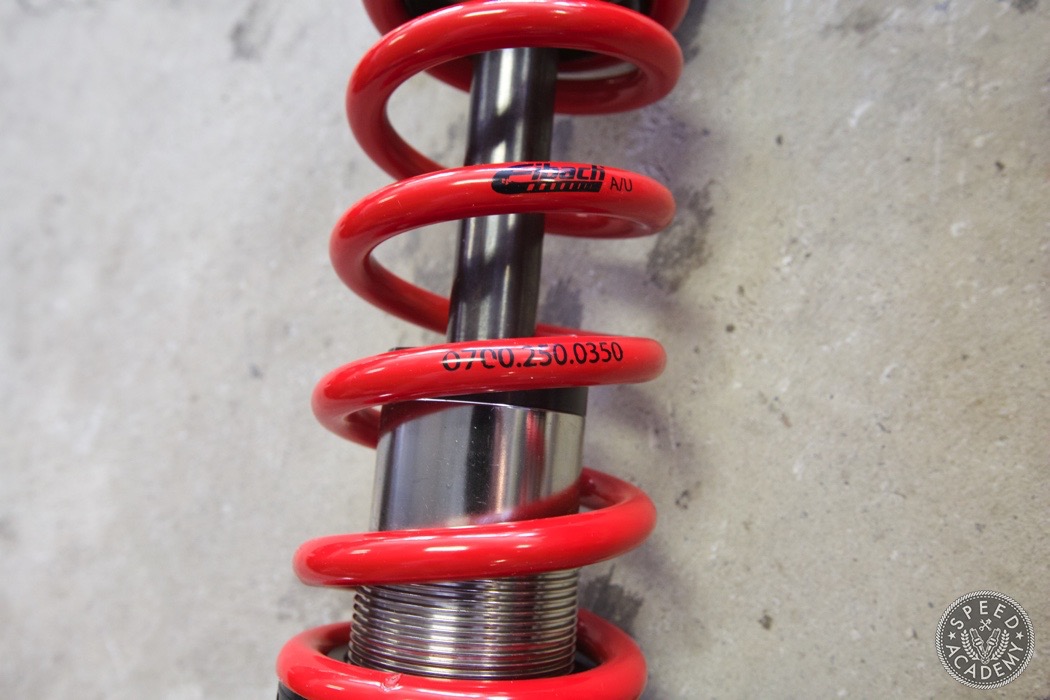 After talking over spring rate options with our friends at Eibach USA, we opted for the off-the-shelf rates of 350 lb/in front and 250 lb/in rear (for reference, the factory spring rates on our '05 GT coupe are 136 lb/in front and 142 lb/in rear). We felt these rates would work best with an ultra-high performance summer tire, but Eibach does recommend going to higher spring rates if you intend to use DOT competition tires or slicks. Keep in mind, we're talking road course use. For drag racing, an optimized suspension setup and spring rates would be different than this, and although we are doing some drag racing with the Mullet we're still road race guys at our core, so our setup is going to be biased toward that kind of playground.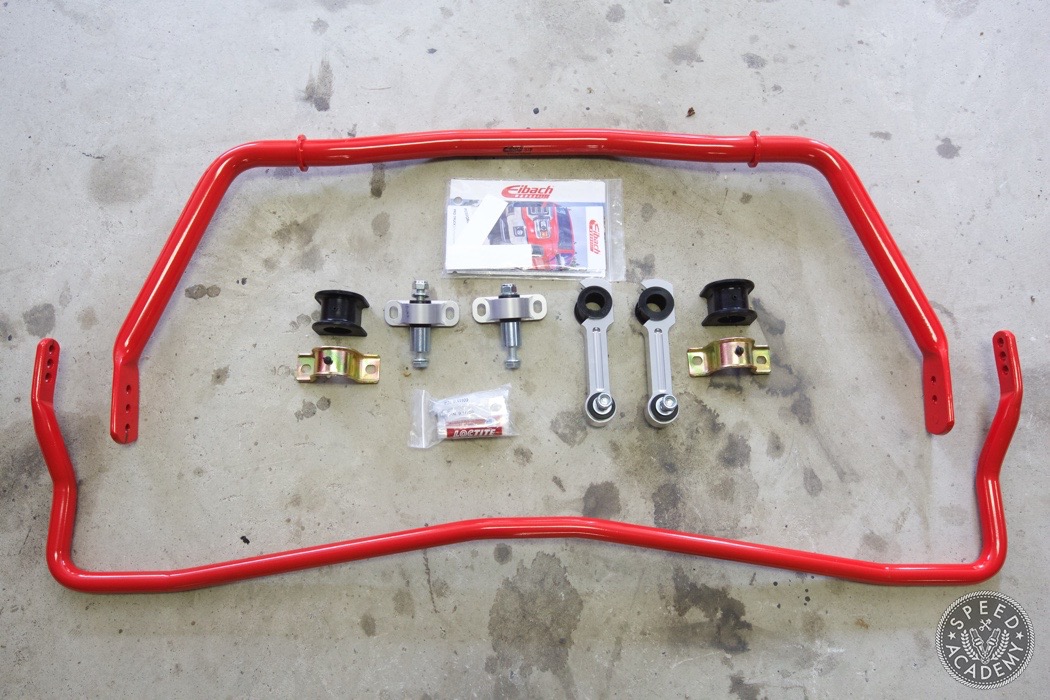 You may be thinking that the front/rear spring rates are going to induce understeer since we've added more front rate than rear rate, but Eibach knew we'd also be using their anti-roll kit front and rear, so the spring rates and bar rates have been engineered by Eibach to work in conjunction to produce a neutral handling balance.
This kit uses a 35mm diameter front bar and a 22mm diameter rear bar, both of which are 3-way adjustable so that we can dial in roll stiffness to our liking. We were also extremely impressed by the mounting hardware Eibach has designed for these bars. And of course it's worth noting that red is the fastest colour, so we're confident (especially after our experience using Eibach roll bars on our S2000 and FR-S) these bars will give us the kind of crisp handling response and improved roll control the Mullet desperately needs.
As you'll see in the video at the bottom of this story, installation of the R1 coilovers and anti-roll bars was a breeze, and Eibach's detailed instructions ensured we did the job right.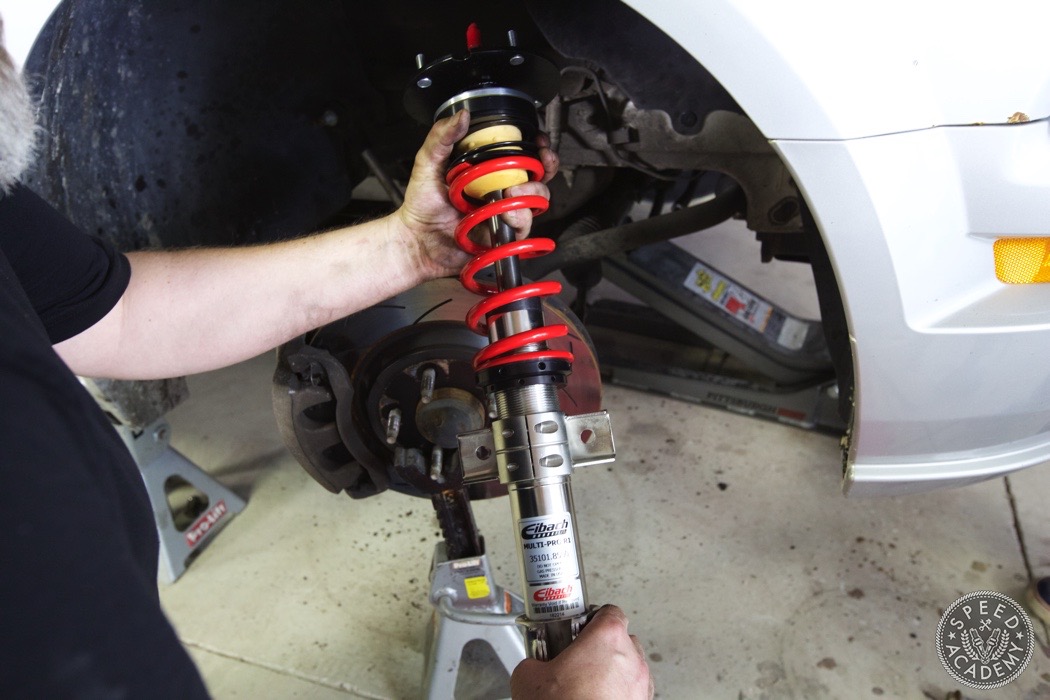 Having Moose's giant, greasy paws on the job also ensured aggressive torque spec application and a few extra dick jokes (though I've normally got that covered pretty well).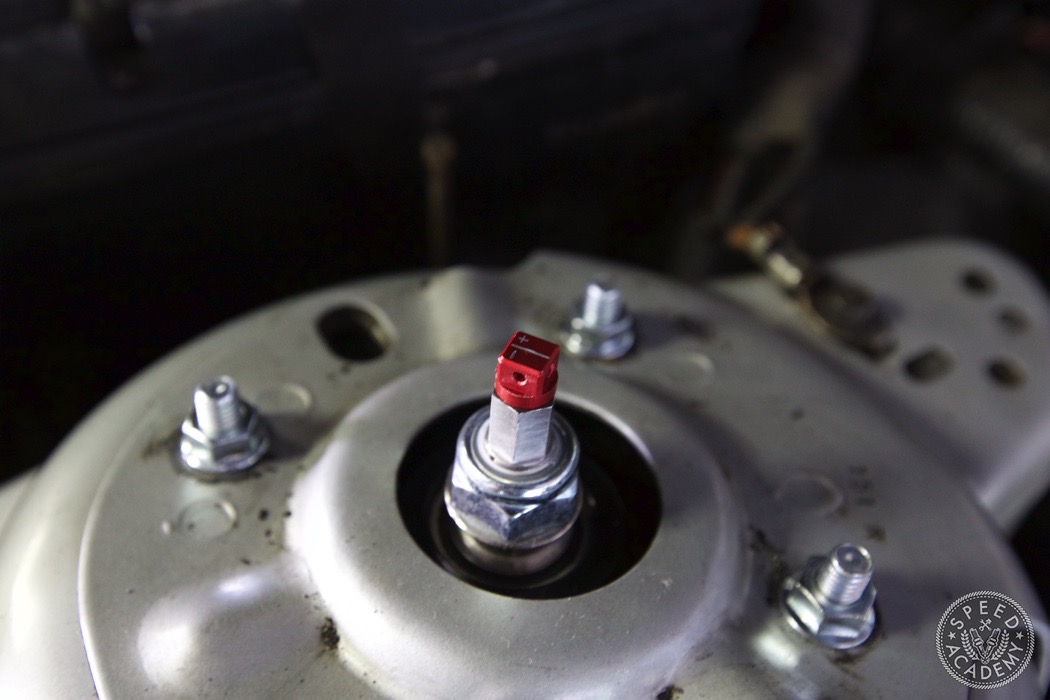 As you can see here, the front shock damping is easily adjusted by turning this magical red knob. As is our usual practice, we set them to the middle of their adjustment range for starters and will dial them in from there. On the street we'll likely end up running them close to full soft, and at the track we'll adjust them as needed to maximize grip and adjust handling balance.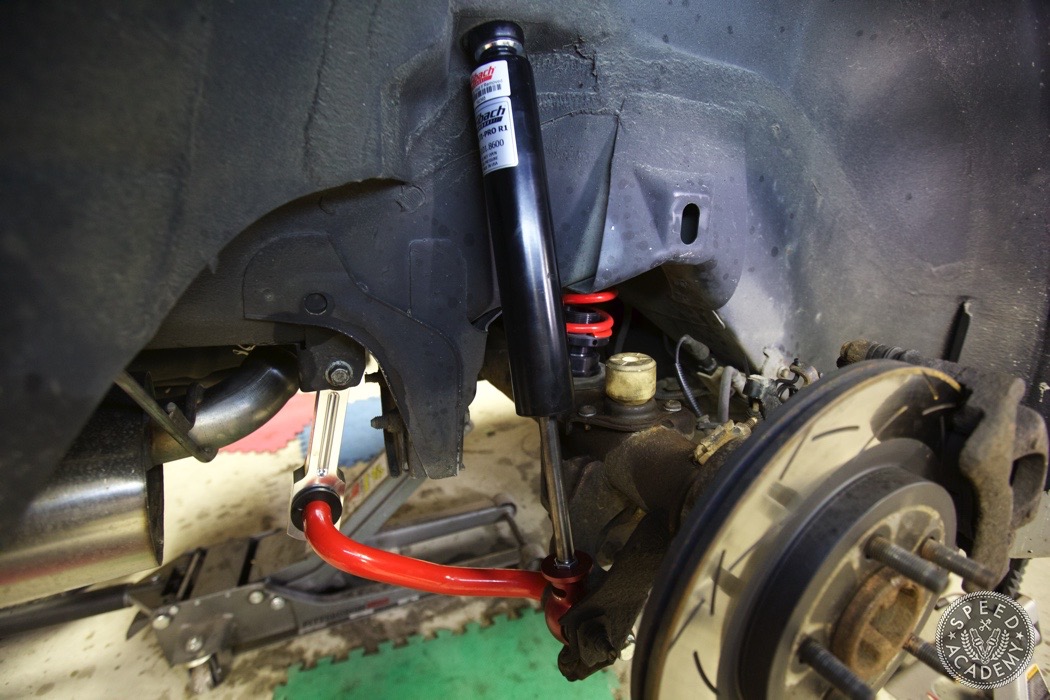 Out back the rear shocks and springs are super easy to swap in, and as you can see the shock is an inverted damper with the valving adjuster being located down in the red lower mount in the neck area. You have to use the supplied red allen key to turn the adjuster, so don't lose that tool!
It's also important to note that you'll want to use the supplied Loctite on the threads of the bolts that hold the rear sway bar mounting brackets together.