After drooling on that full carbon Indy Lights car in the PFC booth, a couple of their engineers wandered over and put me out of my misery but bringing me up to speed on some of their newer designs. This forged caliper with integrated brake duct is amazingly lightweight and there are passageways built right into the forging for the air to flow through from the duct. Genius! But what really blew my mind is the snap-ring design they've come up with to attach the center hat of a two-piece rotor to the friction disc. No more fussing around with a ton of little bobbin fasteners and other doohickeys, just a single snap ring and done! Top level thinking right there, PFC. Well done.
And now for one of the best kept secrets in the world: Hot Lap tire treatment. This shit works incredibly well. So well, in fact, that a lot of racing series and sanctioning bodies have banned it. If you compete in a relatively unregulated discipline like Time Attack, you really need to try this stuff out. You're welcome.
One of the more interesting conversations I had at PRI this year was with Sean from JE Pistons. I was curious about their asymmetrical piston for the Scion FR-S, moreso because of the unique shape on the top of the piston (which I incorrectly assumed was the asymmetrical part). Turns out the piston top and that large recessed area is dictated by direct injection and is exactly the same as the OE piston, but where JE has gone the extra mile is by using different width skirts on either side of the piston. The wider skirt is on the loaded side of the piston, but because the other side sees lower load JE was able to narrower it and save some weight and reduce frictional losses as well. And as you can see from the cross-section of the piston, they've also used a clever top profile that's thicker in the center for added strength but tapers off around the edges to save weight. As Borat would say, "very nice!".
AEM Electronics had a whole bunch of new stuff on display in their booth, including the new Infinity ECU and layover harness for GM LS V8s (are you sensing my obsession with LS swaps yet?). The layover harness plugs into the factory sub harness for coils and injectors and uses the factory sensors, includes and integrated fuse and relay panel, and includes shielded cam/crank inputs as well as water and shockproof sensor connectors. They also had their new Ford Coyote V8 Plug & Play harness for the Infinity on display, which you can use with the Ford Racing Control Pack harness to install an Infinity is about a half hour. This allows you to maintain full control of the DBW and variable cam timing systems while taking full advantage of some of the Infinity's coolest features including launch and traction control, boost control, map switching, no-lift shifting and lean protection.
We also attended Valvoline's presentation on their new TeamValvoline.com hub, where you can sign up for access to and discounts on their Pro-V Racing oils. This is a bold move on the part of Valvoline and one we applaud, since it gives grassroots racers access to the same highly advanced racing oil formulations that are typically reserved for NASCAR teams and other high level pro teams. We're pretty stoked about this, so we'll get you more information on it in a separate story.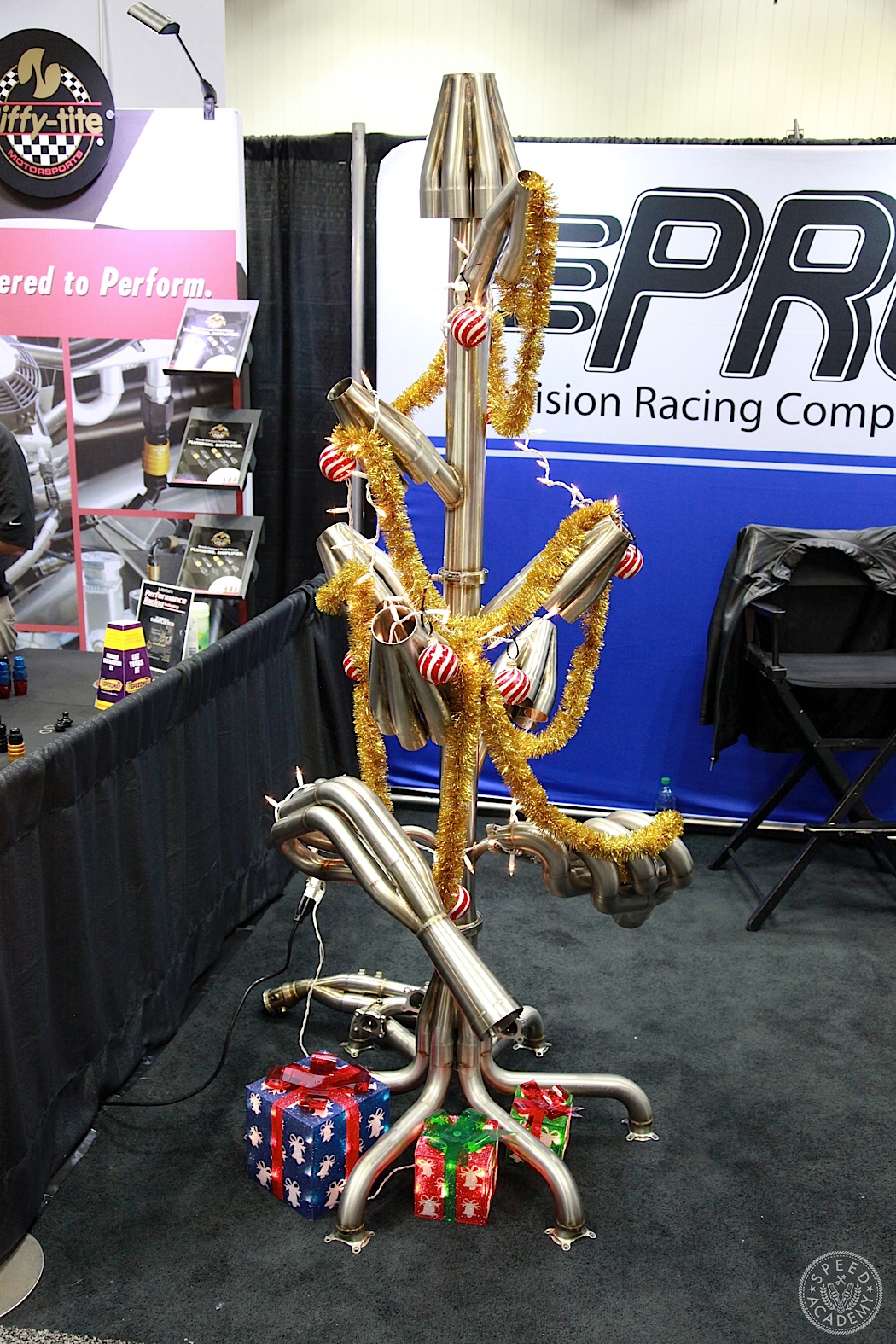 That wraps up my coverage of PRI for now, so let me just leave you with this picture of the coolest Christmas tree in the world.
For Part 1 click HERE