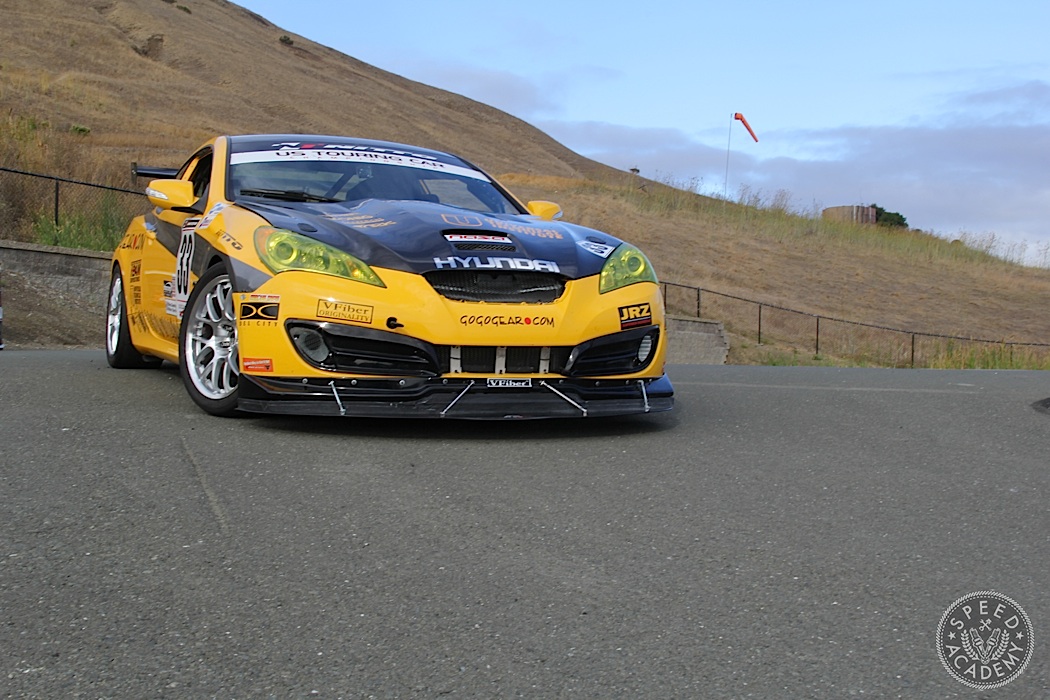 Story By Gary Sheehan (garysheehan.com) Pictures by Head-On Photos
When you get a call from someone asking if you want to drive their race car, you say "Yes!" Now, you don't always know what you are getting into, and I have had a few situations where I ended up driving a turd. But, for the most part, I have ended up driving a lot of very cool cars! So when my long-time friend Ali Arsham asked me to drive his 2011 Hyundai Genesis Coupe during a test day in preparation for the 2014 Nitto Tires U.S. Touring Car Championship, I didn't hesitate.
The Hyundai brand is not typically associated with high-performance or motorsports, but my early driving days bring these much closer together for me. The Hyundai name played an integral part in my driving development. You see, I was one of those original people that helped launch Hyundai (pronounced like the work Sunday here in the US) by purchasing one of those brand new Hyundai Excel 5-door hatches when they first came out. $5,998 of performance fury! Or not. Regardless, this was the tool I had at my disposal in my first years at college in which to practice all I was learning from Ayrton Senna's and Alain Prost's books on racing driving. Threshold braking, heel-toe downshifts, trail-braking, double-clutching, block shifting, maintenance throttle, steady-state, corner exits, all practiced to the point of muscle memory while flogging this highly incapable vehicle improved only with a set of Yokohama high performance tires. Ah, good times! Ignorant, but good!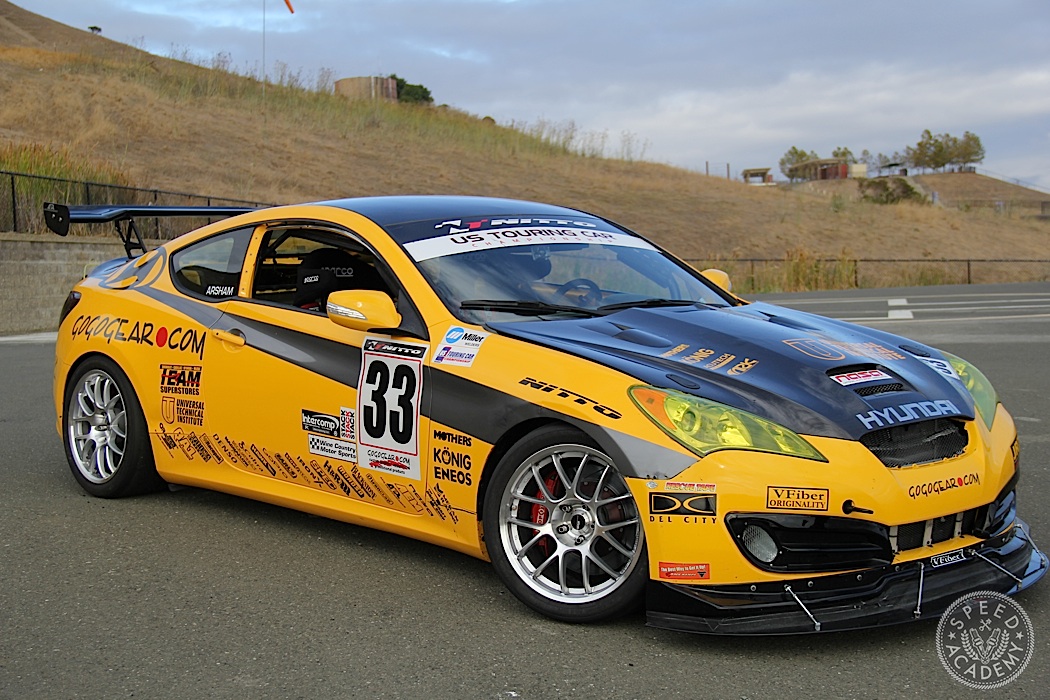 Flash forward 20 years to present day. The bold yellow and black car I approached at Sonoma Raceway looked quite a bit different than my old Excel, the only other Hyundai I'd driven up to that point. This beauty was made of sleek and aggressive lines, with a wide, low stance that grabbed my attention. A quick walk around the car kept feeding me queues that this Hyundai was all about performance. The mean looking GoGoGear.com Racing Hyundai Genesis Coupe's transformation to bad-ass race car status was debuted in the Hyundai booth at the SEMA Show a few years ago, with help from Del City products and Universal Technical Institute (UTI). The team also enjoys support from Hyundai USA and have developed a lot of confidence in Hyundai products. When I asked Ali Arsham, Team Owner, why they have not utilized more aftermarket internal engine parts in the V6, he said, "The 3.8 liter four cam V6 is all stock internally because we care so much about reliability. We have had these engines disassembled by our engine builder who used to work on F1 engines in the 80's and the Hyundai internals impressed him. You just can't replace the millions of dollars in testing that Hyundai has performed."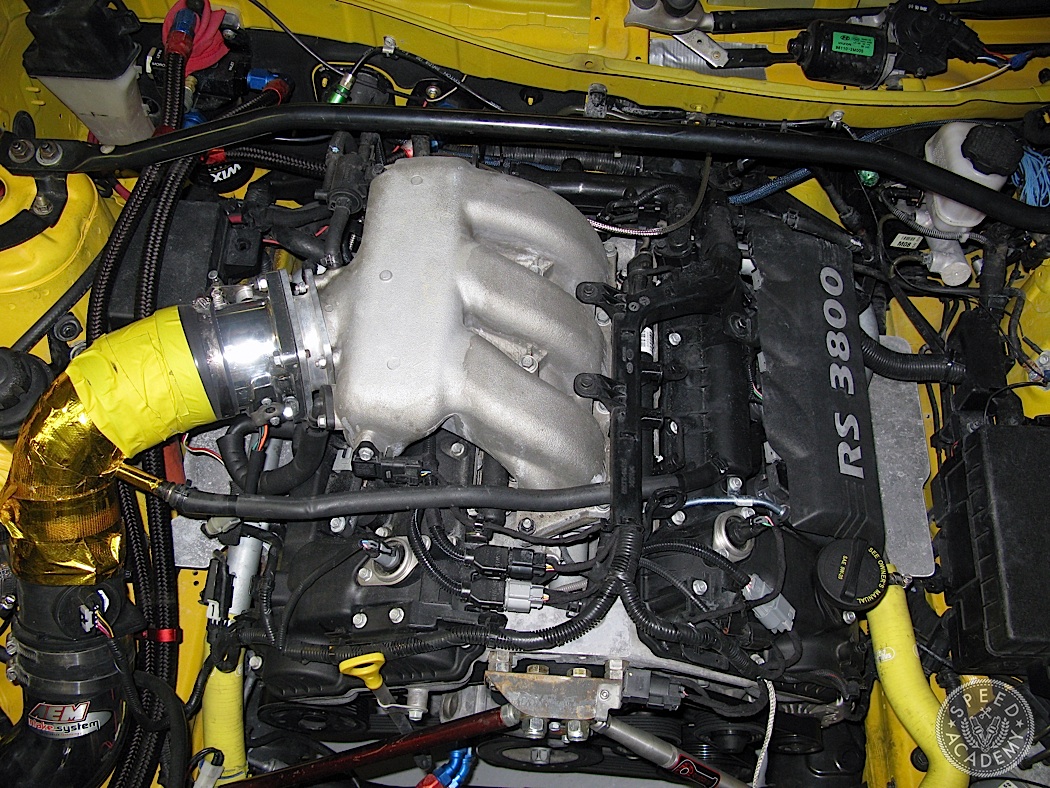 According to Ali, the tolerances on the engine are very tight, so the all-aluminum engine needs strict temperature control. A huge C&R custom aluminum radiator along with a large Earl's oil cooler keep temperatures in check in all ambient conditions. The oiling system is further enhanced with the use of a Moroso remote oil filter that allows the use of a giant racing oil filter and a Moroso oil accumulator that holds three liters of Eneos Sustina motor oil. Oil accumulators provide full oil pressure at engine start-up, which reduces start-up wear as well as preventing oil pump starvation in high-G cornering.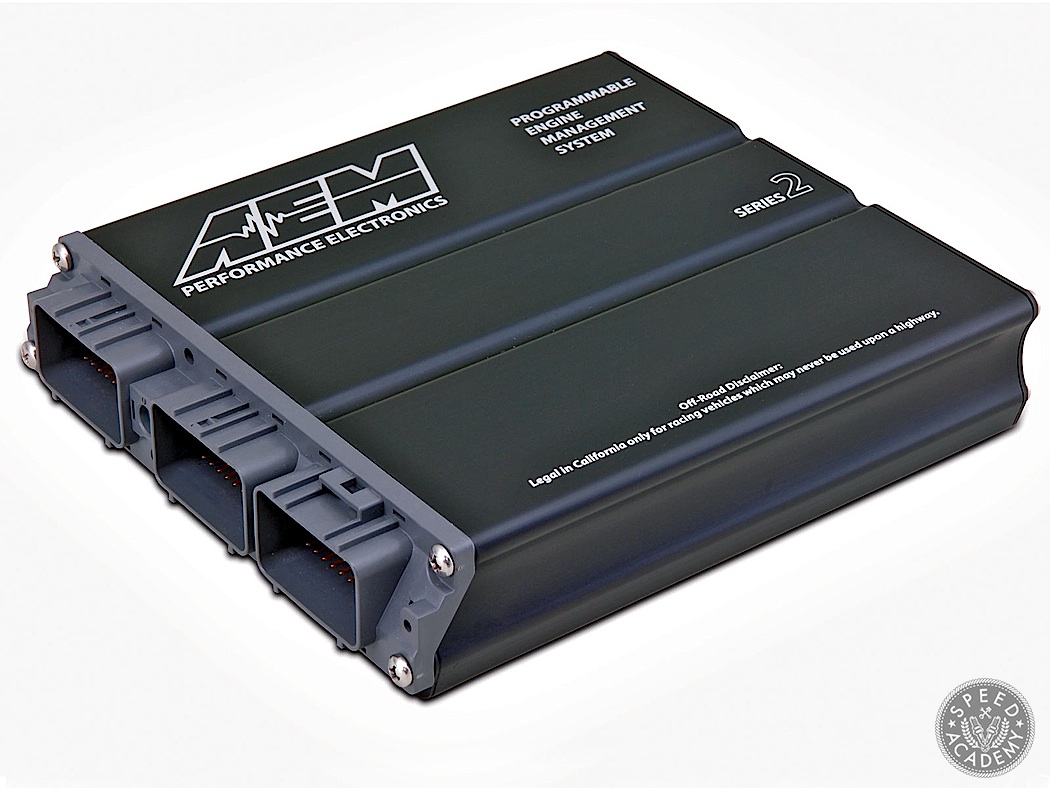 An AEM Series 2 ECU controls all of the engine management duties. FSR Tuning in Montclair, California spent a significant amount of time tuning the AEM Series 2 for additional power and, a recurring theme with this team, high reliability. An AEM intake system reduces intake restrictions to allow this naturally aspirated 3.8L V-6 to breathe easier. The team is so obsessed with reliability they send engine, transmission and differential oil samples to Blackstone Labs for analysis multiple times per season to check for any indications of internal issues.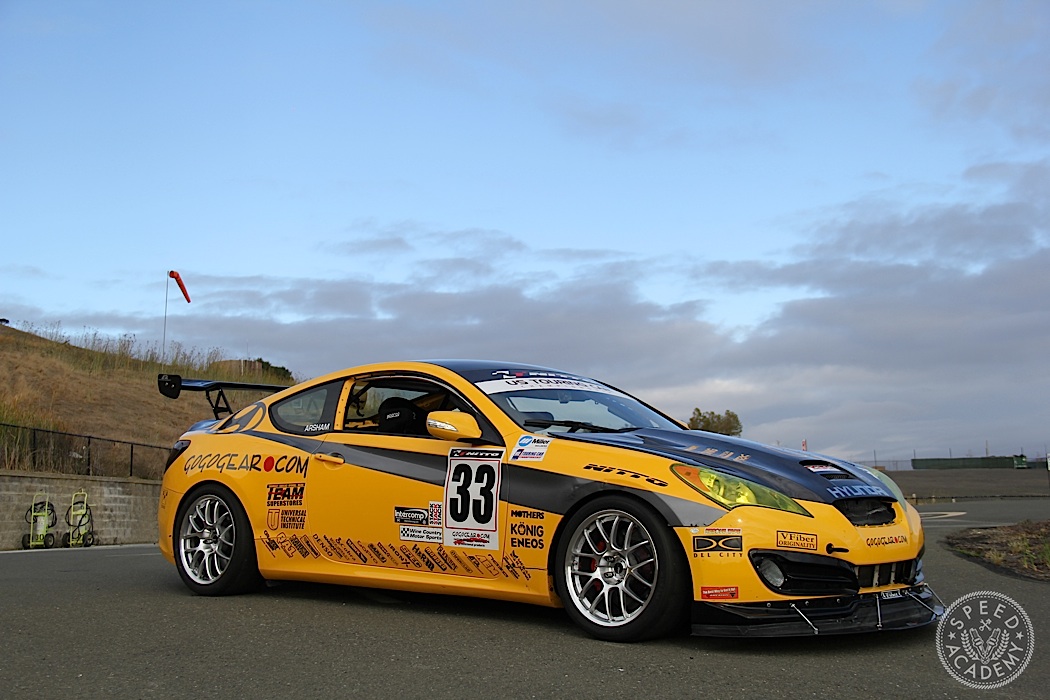 The exterior of the car features an APR Performance adjustable carbon fiber wing, ARK Racing carbon fiber hood and trunk, a V-Fiber front spoiler lip and an APR carbon fiber splitter.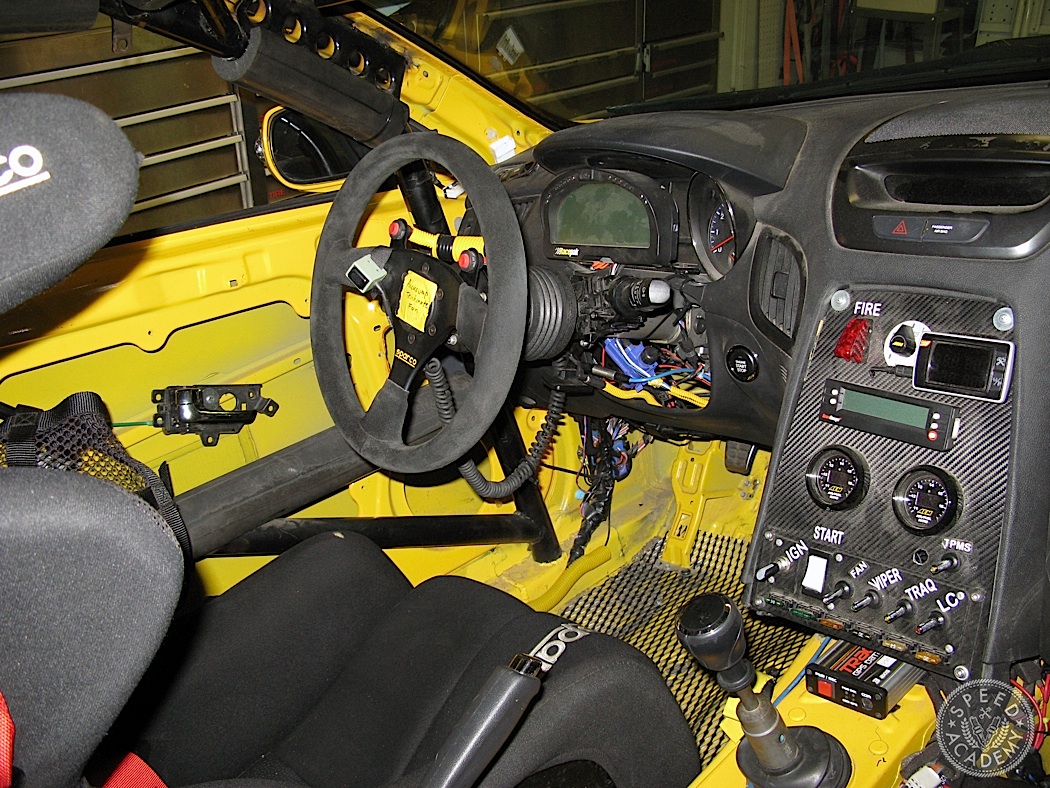 The cockpit matched the exterior, all business. Despite the spartan interior, once strapped in it was quite comfortable. The Sparco Evo seat was very supportive, holding me snugly yet comfortably. A comfortable seating position is critical to driver confidence so he can focus on the task at hand. Front and driver center is a Racepak IQ3 digital dash. Digital dashes like this are far superior to traditional gauges. They provide a wealth of information that is quickly scannable by the driver, offer switchable pages to quickly view alternate information, and are configurable to show alarm information and flash warning LED's when a sensor is exceeding its defined acceptable operating range.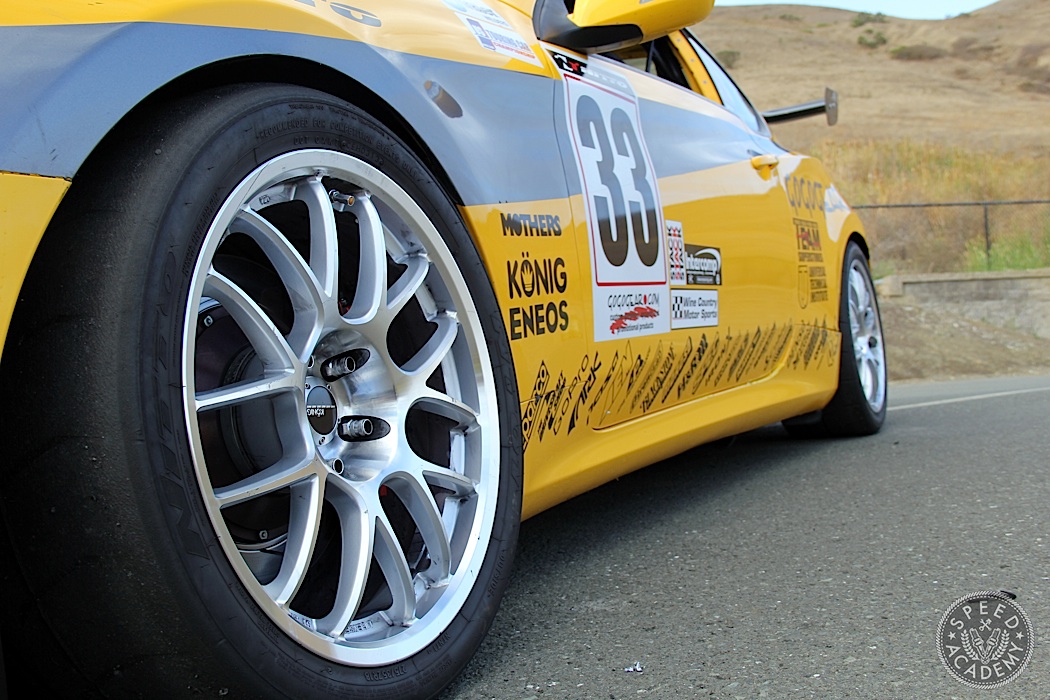 Another useful display in the Genesis cockpit was the Orange Tire Pressure Monitoring System (TPMS). This was the first time I've seen an aftermarket TPMS used in a race car and it is an excellent idea. This system shows actual tire pressures for each of the four tires. From a driver perspective this gives tire pressure data in real time rather than after coming into the hot pits for a tire temperature stick and tire pressure reading. The driver can make a tire pressure change decision while on the track and radio it into the pits before arriving, so the team can quickly make the change and get the driver back out on track. This can significantly speed up testing iterations.