Well, it's officially winter now, which means the ASS2000, presented by Turn14 Distribution, is up on jack stands so we can re & re the wonky subframes, seized alignment adjusters, worn out engine mounts, and slipping clutch, not to mention likely finding a few other bits and pieces that need refreshing in the process. But since our buddy Kevin Stittle from C3 Composites offered to help us build a custom splitter for the tired old girl, we figured we'd just dive in and get down to it, even though it won't be seeing the race track til spring.
I've helped build a custom splitter once before, Andrew Wojteczko from Mantella Autosport and Auto Analyser Racing showing me the ropes when we built a carbon/Kevlar wrapped splitter for my old EG Civic race car, but that was a long time ago so I was looking forward to working with Kevin and seeing how his process differs from Andrew's.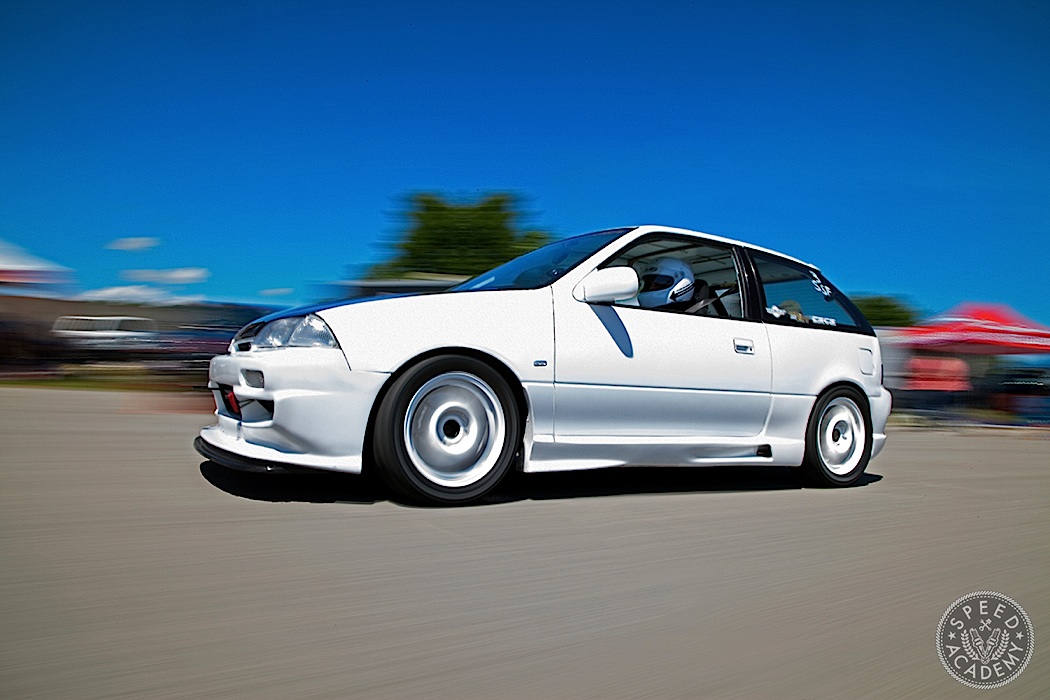 Kevin comes from a pretty unique background, having learned his composites skills working at a surf shop where he repaired wind surfboards. Kevin's also an extremely accomplished windsurfer and sailor, having placed 4th in the Tornado class in the 2008 Summer Olympics in Beijing (like a good Canadian, he was too polite to grab a podium position) and having won a Silver in the 2008 World Championships that same year. He's also a genuine car guy, having built one of the fastest and freshest Suzuki Swifts you'll ever see, including a dogbox transmission and ITB'd engine, plus tons of his own custom carbon work.  We spotted it at a local Time Attack event a few years back and couldn't resist featuring it in Modified Magazine. You'll be seeing more of Kevin here, since we're also teaming up with him and his brother Andrew (a fellow RX-8 owner and racer) to transform an old rally-spec Swift into a ChumpCar race car.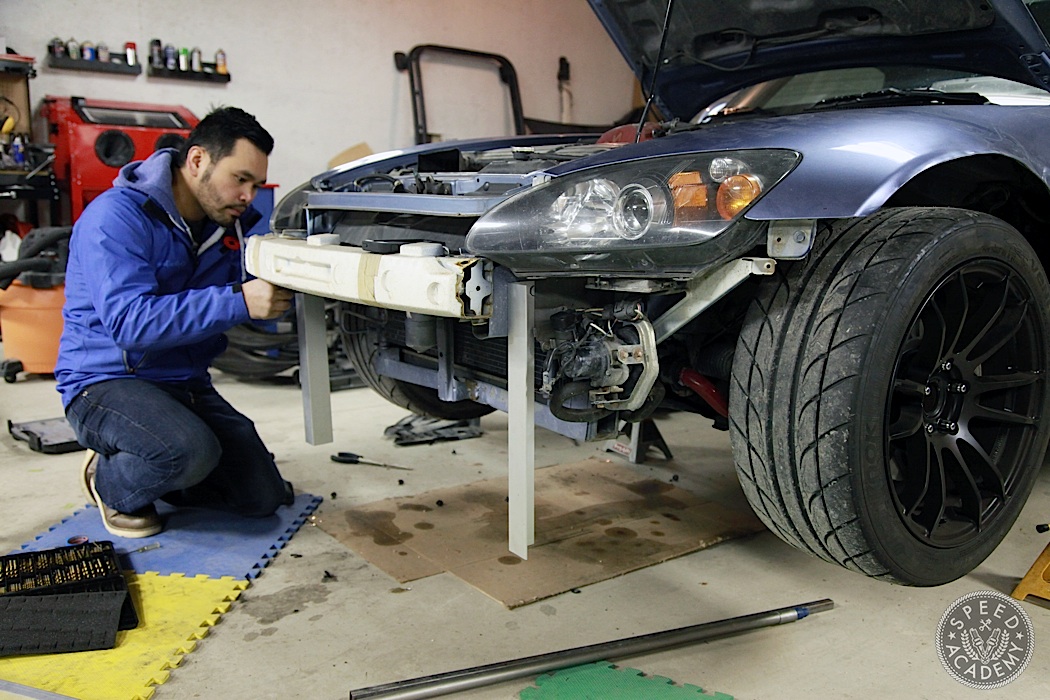 So ya, we've got an Olympian building a splitter for the crappiest S2000 in the world (that's Ken Wagan above, though…Kevin is in the opening pic, "feeling the flow" of the splitter like some sort of aero Zen Master). Kind of awesome and ironic at the same time, but we'll take all the help we can get to make our AP1 grippier and cooler looking, and a front splitter (particularly when combined with a well-matched rear wing) is proven to do just that. For starters, we crawled under the S2000 (which we put up on jack stands) to take some measurements and to look for logical mounting points. Typically a front splitter goes back to the midpoint of the front axle line (often stipulated by racing rulebooks), so we used that as our backside location and found a couple of spots on the front subframe that we can weld nuts into as rear mounting points. Up front we settled on dropping a couple 2×2" aluminum L-bars down off of some OEM threaded bolt holes at the front of the frame rails. This would be the foundation for our mounting system, though as you'll soon see we're far from done.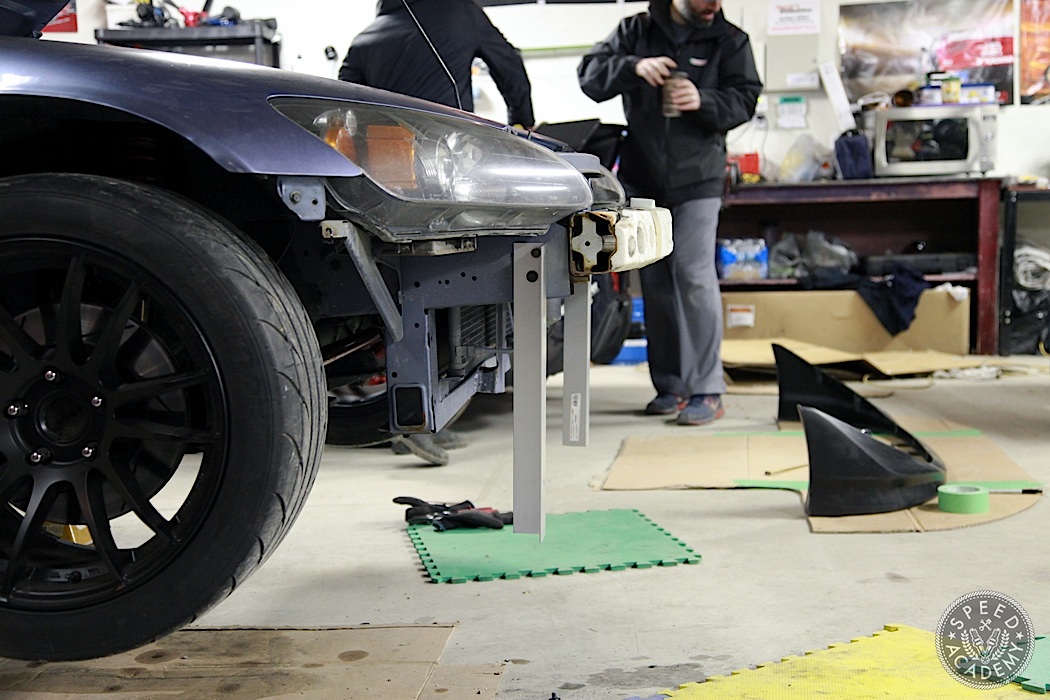 Part of our philosophy here was to come up with a mounting system that's easily and cheaply replaced should it be damaged in an off-track excursion, plus we wanted it to be fully reversible so we can put the car back to stock. So rather than welding steel mounts onto the chassis, we've opted to bolt aluminum mounts on instead. The advantage of aluminum is, of course, that it's light and should be strong enough to do the job, especially once we tie the two L-bars together with a square bar along the bottom.
Next Kevin made a cardboard template, which we could mark mounting points on and shape to ensure proper wheel clearance. We also marked the corners of the lower rad support so we can quickly and accurately position the template to check and double-check our markings on it. Kevin was looking for spots where the oil pan or other low points might interfere with the splitter being mounted on a level plane and as you'll later see, he did have to clearance the rear of the splitter in a few spots.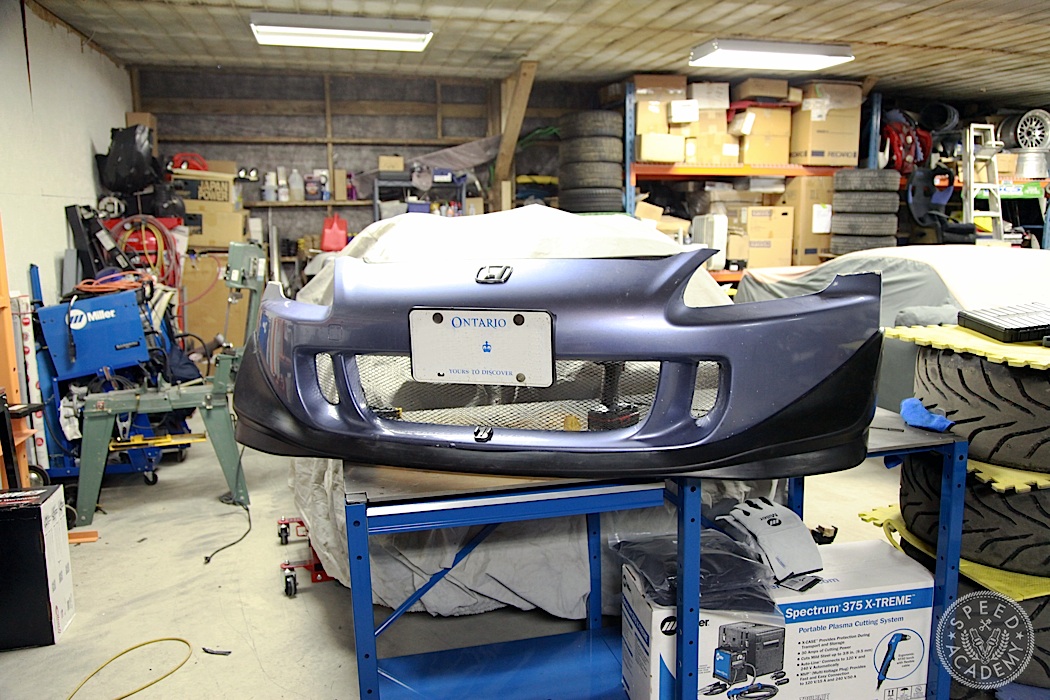 Next we installed the CR front lip replica from Forcewerkz. Surprisingly, this lip is made of a rugged yet flexible urethane, not the usual low grade fiberglass you get with most knock-off body parts, so it should actually be quite durable. Plus it fit surprisingly well. Not quite OE quality fitment, but pretty close. For $250, it's surprisingly decent.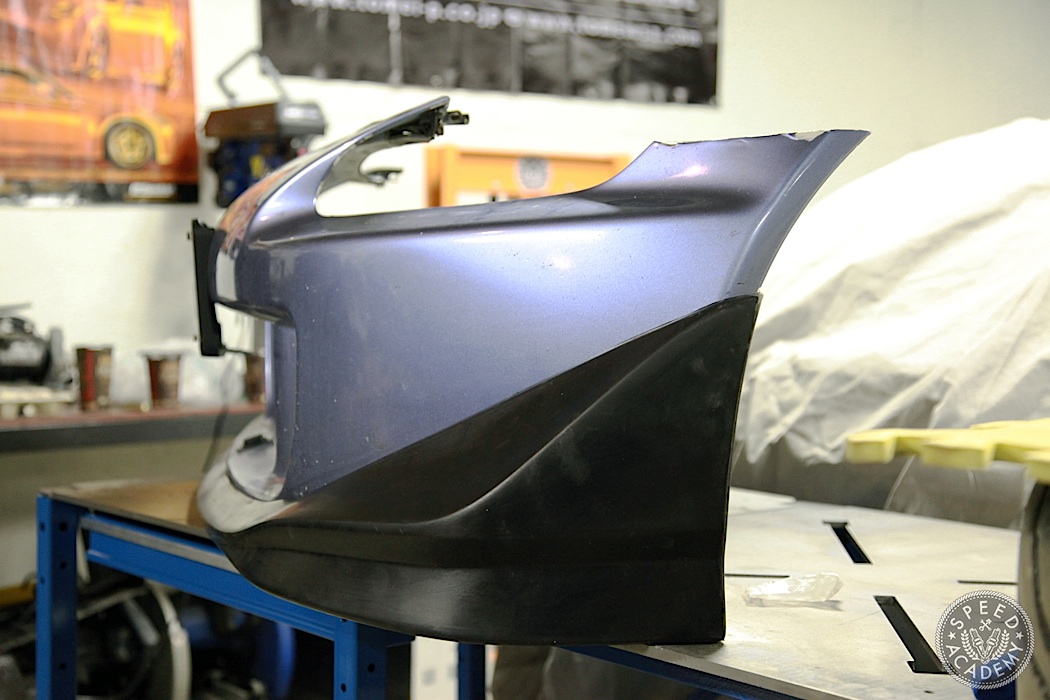 We really like how aggressively shaped this lip is. Honda designed it to produce some actual downforce with those big canard-like profiles on each side, so when combined with our custom splitter it should really help the front tires stick to the road.