As you may recall, the car had carbon front, rear fenders and carbon hatch. Because they were made by wet lay-up, there were numerous superficial pinholes that showed with the first coat of filler primer. Getting them perfectly smooth took a few months. I also swapped over to a Mazdaspeed front bumper that required widening to match the now wider front fenders. I was happy when the car was finally off to paint.
I decided to keep the interior a different color than the exterior for the contrast. I chose the previous Grey the car wore and picked a different color for the exterior.
I had previously painted the car in a home-made garage paint booth, but I was lucky this time to find a local body shop foolish enough to let me rent their spray booth. Big thanks to Larry and son at Lowe's Autobody for letting me ruin the floor of your paint booth.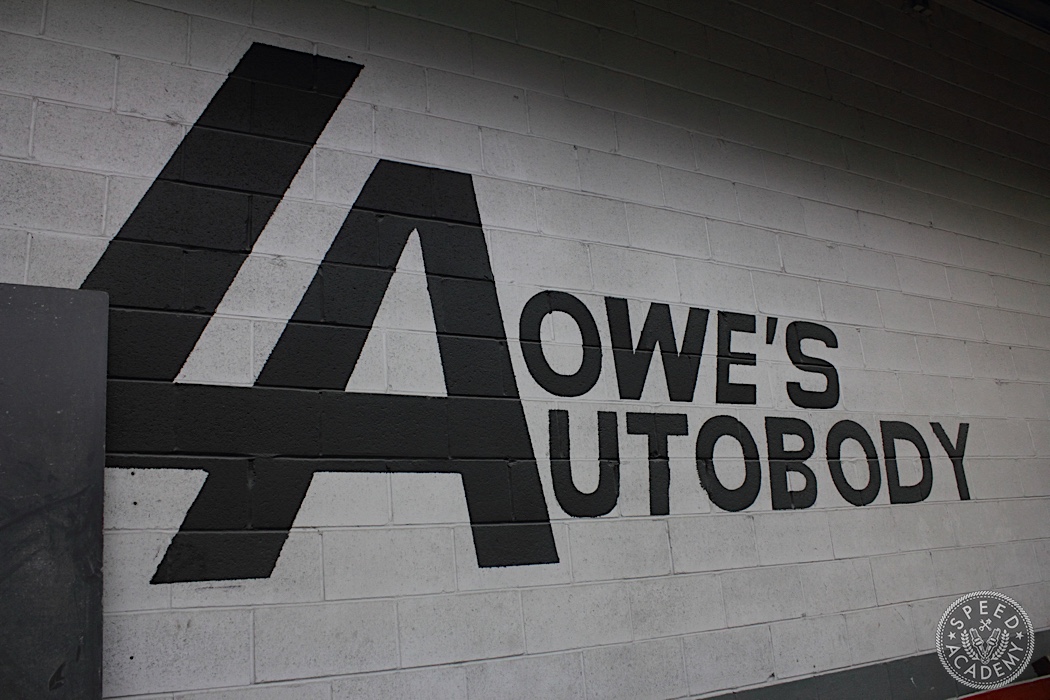 But seriously, Larry did not hesitate to share his experience and even stepped in the booth to help this noob. I am forever grateful!
The car was taped, degreased and ready for paint. I decided on a Blue that I came up with my paint guy who aptly saved it as "race car blue". With the air pressure and spray pattern on the gun set. I sprayed away with Larry coming in to check on me and show me the best way to spray paint after he felt sorry for me. The car received 4 layers of color and 4 layers of clear because I knew I needed plenty of clear on there when it was time for wet sanding. Anyways, I'll let the pictures do the talking.
I was stoked on the color, and a little bit worried on how vibrant/loud the blue was in the sun…but whatever, race car. Here are more pictures of the car slowly being put together.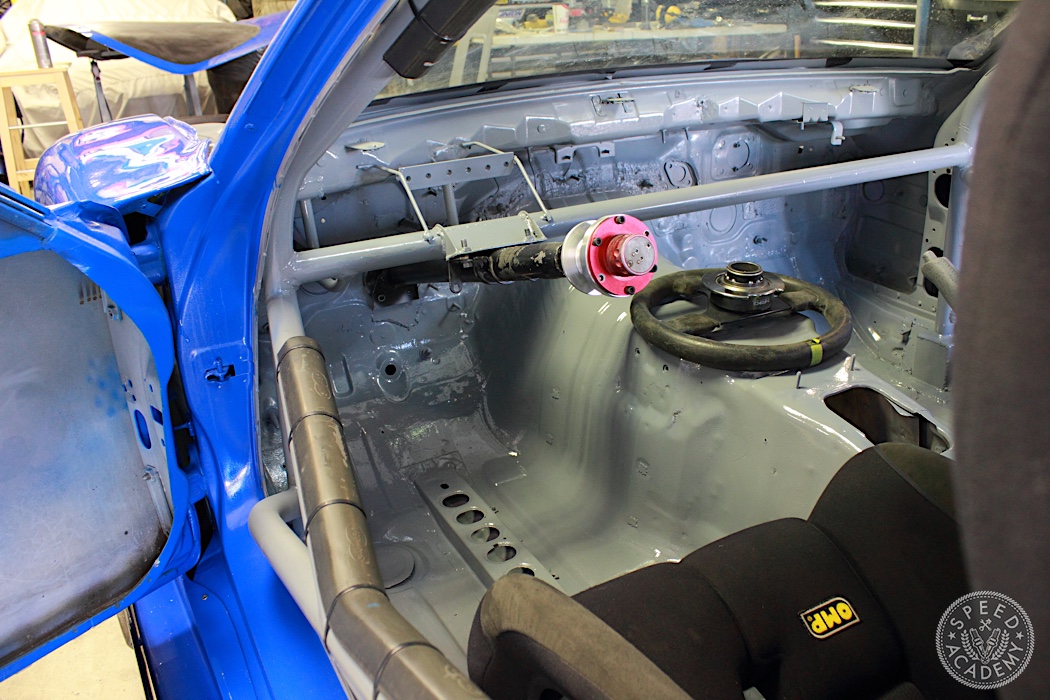 Here is a better view of the filler panel I made to cover up the previous floor mounted pedal debacle.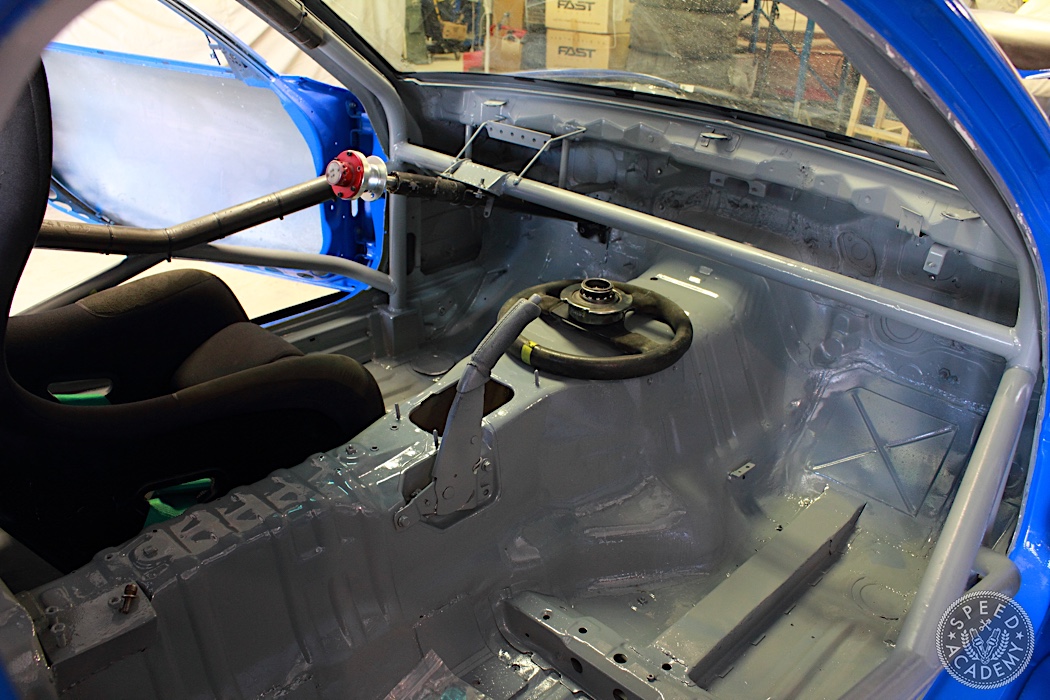 A view of the overhang pedals and reservoirs.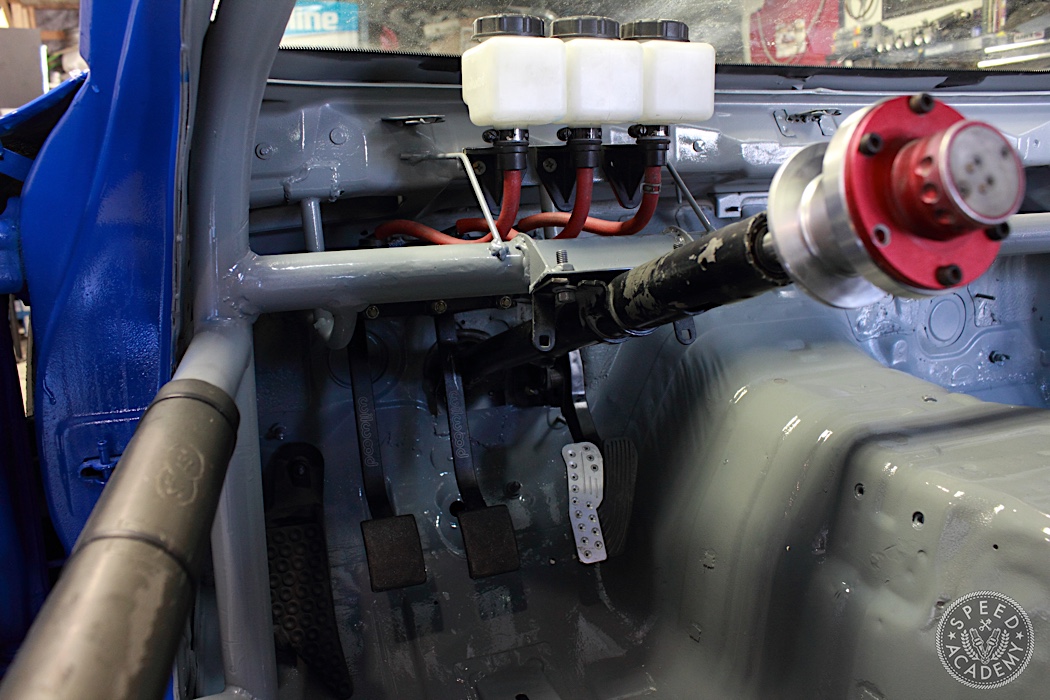 The trunk area coming together with ATL fuel cell setup, Accusump and Fortune Auto Dreadnought Pro 2-way external reservoirs. Also made a new sheet steel bulkhead with Lexan window to close off the cockpit from the rear section. Why the window? So I can see if the trunk is on fire.
Overall I am very happy with how the paint came out, aside from the fact that I need to fix a few clear coat runs and still do a final sanding of the clear coat….that should have done as soon as the car came out of the booth. Thank you once again for keeping your interest in this project and I will have the next update soon!