Finally! Our long-neglected AP1 S2000, presented by Turn14 Distribution,  has been treated to some desperately needed upgrades, starting with the mods that tend to make the biggest impact on looks and performance: wheels, tires, brakes and suspension.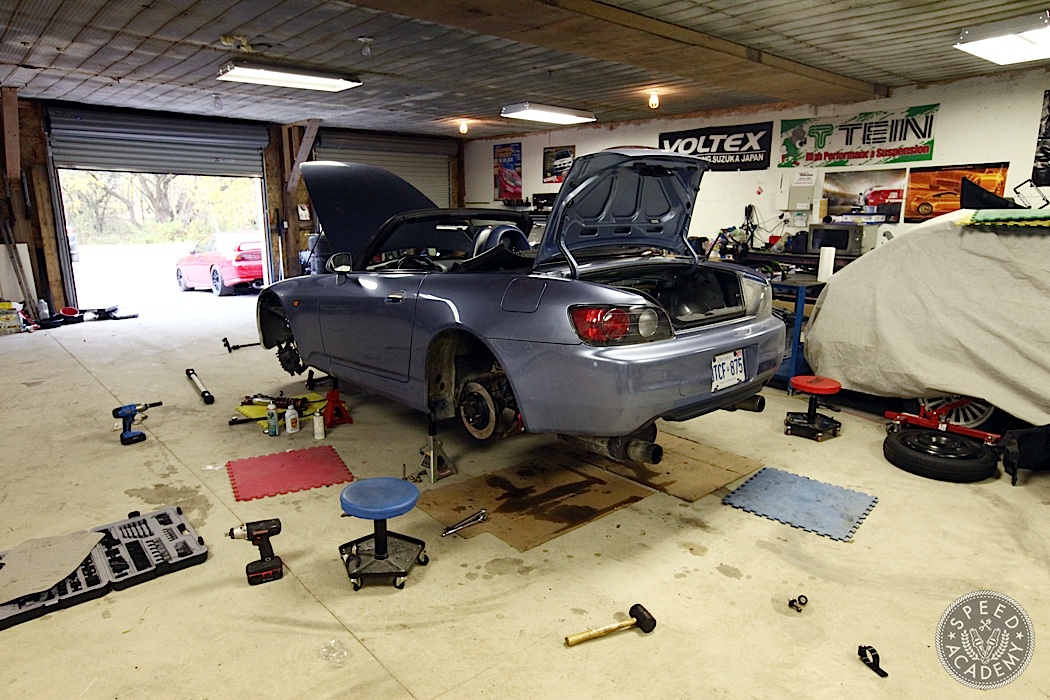 We didn't just slap some mods on and call it a day, though. As you saw in our Track Day Tryout video, we started by baselining it in as-purchased condition, so we can properly measure performance gains each step of the way. Plus we brought along a Jaguar F-Type V8 S roadster to set a target lap time we'd try to beat with the ASS2000 for less than a third of the cost of the Jag. And since Turn14 Distribution is our main partner on this build, we're going to focus on aftermarket performance parts distributed by Turn14 so that we can show you just how effective upgrades from their line card of high quality companies really are.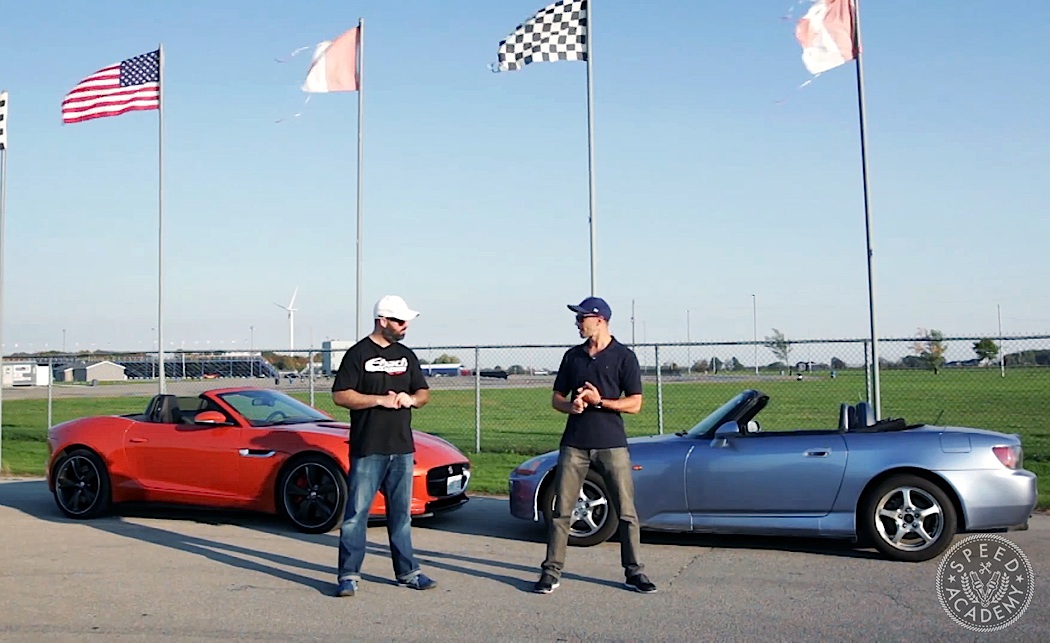 So we've got a budget of around $30k to turn our salvage-title beater into a hot lap superstar capable of outpacing one of the fastest and most high-tech roadsters money can currently buy. The F-Type posted a best lap of 1:21.9 at our test track (Toronto Motorsports Park) on completely trashed tires (it's a press car with over 20,000 km on it, so you can imagine the condition of the tires). It was oversteering everywhere, so we set our target time for the S2000 to beat at a 1:20.0, since we're pretty sure the Jag would run in the low 1:20's at this track with a fresh set of OE rubber. Meanwhile, the ASS2000 posted a best lap of 1:31.1, which was actually better than we thought it'd do given the winter tires, slipping clutch and worn out brakes.
With a mission of breaking the 1-minute 20-second barrier at TMP, we knew we'd need some pretty serious rubber, along with a wide enough wheel to put as much contact patch on the road as we could. Keep in mind, this is going to remain a street car, so we're sticking with street legal mods and street class tires. We've tested most of the Extreme Performance Summer tires on the market, and Hankook's outstanding Ventus RS-3 Version 2 is among the best in class. With a tread wear rating of 200, making them ideal for street-class competition in just about any Time Attack and Autocross series, the version 2 RS-3's are super fast in dry conditions, work across an impressive ambient temperature range, and have a rather wide sweet spot, meaning you don't have to obsessively chase a magical tire temperature or pressure setting to get the most out of them. Plus they're very affordable at just $620 on Tire Rack for a set of 255/40R-17's like we opted for.
The Internet told us the most aggressive setup we could stuff under the "stock" fenders (more on that in a second) are 255's on a 17×9" wheel with an offset of around +40. We're big fans of the Gram Lights 57Xtreme because of how concave the face is and how the split 6-spoke design has a modern edge to it, plus it just so happens that they make it in a 17×9" +40 fitment specifically  aimed at the S2000 track day crowd. Thanks to the high quality cast construction of these Rays Engineering wheels, they weigh in at just 19.4-lbs each. They're also priced right for a set of authentic Japanese wheels at around $1500. But based on our initial test fit, the Internet was being pretty optimistic on the whole "stock fenders with a roll" idea, because it was clear we were going to need to pull the fronts really aggressively and massage the rears quite a bit too.
And that's ok, we're cool with rolling and pulling the fenders on a car as beat up as ours, but if you own a pristine S2000 that you want to keep that way, you're going to want a considerably less aggressive setup than this. But we happily busted out the heat guns and Eastwood fender rollers and started slowly reshaping the fender lips so that they'd covered the top of the tires and get rid of any unwanted mexiflushness. The fronts needed a lot more pulling than the rears, but the rears also needed the tab that holds the rear bumper cover in place chopped and relocated further back so as to give the wider wheels and tires the room they need. We also trimmed the inner wheel well lip on the rear bumper cover to ensure no tire-to-body contact.
With the fenders massaged to the max, we moved on to installing the Eibach Multi-Pro R2 coilovers and anti-roll kit (front and rear sway bars).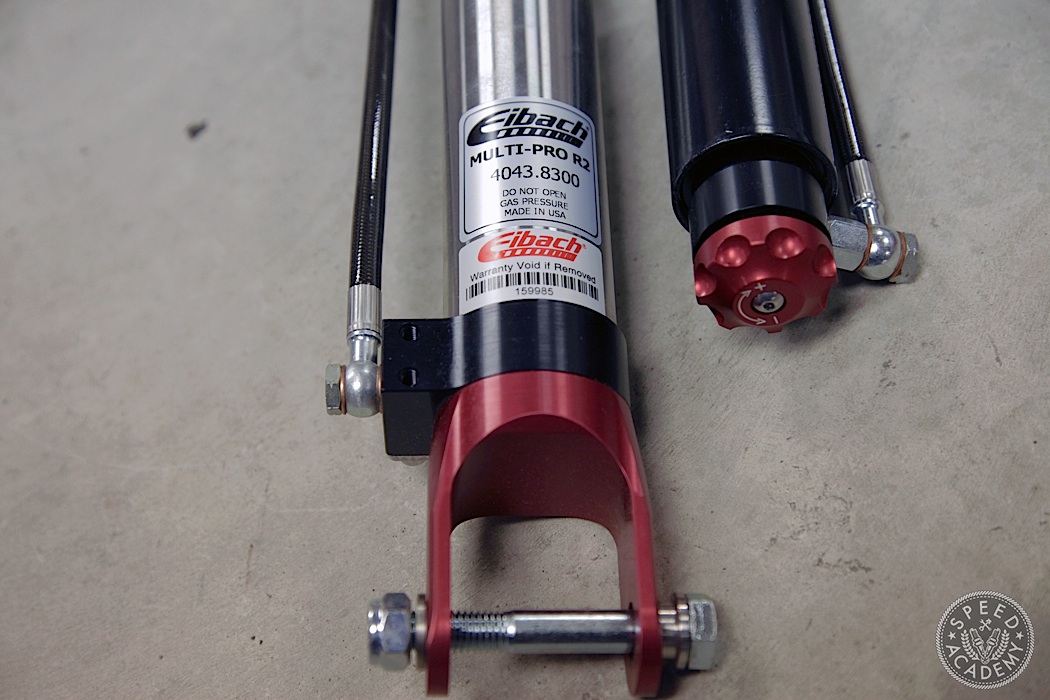 The Multi-Pro R2 is Eibach's top-of-the-line coilover kit, featuring independently adjustable compression (on the remote reservoirs) and rebound (on the top of the dampers). These monotube dampers use threaded stainless steel shock bodies that make adjusting ride height and corner balancing very easy and are also extremely resistant to corrosion, so we can rock that race car stance all year long. The R2 kit comes complete with spherical bearing top mounts, mounting brackets for the front remote reservoirs (which have Teflon braided lines for added safety), and are 100% built in the good old U.S. of A. It really is a very well designed coilover kit from top to bottom, which made installation a breeze, and with a retail price of $2800 at the Tire Rack, they're also a darn good value.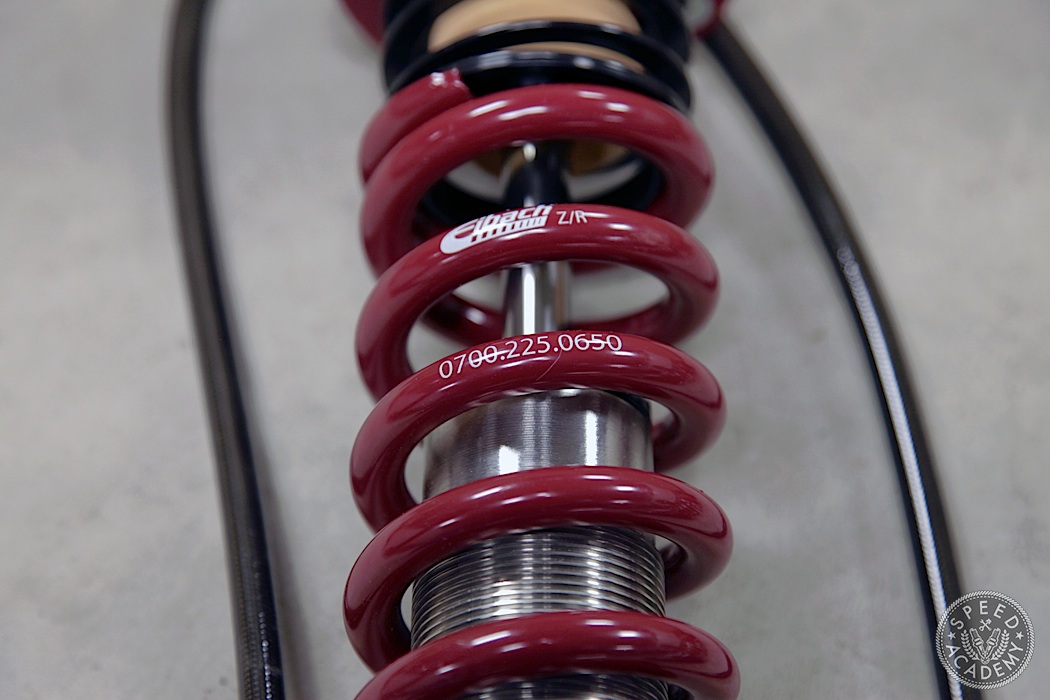 Eibach uses their ERS linear rate motorsports coils on this kit, which can be easily swapped out to different spring rates should you wish to customize your Multi-Pro setup. We've stuck with the off-the-shelf spring rates of 650 lb/in all around, which is a significant increase over the OE springs rates of 246 lb/in front and 309 lb/in rear. In our experience Eibach does an exceptionally good job of dialling in ride quality and handling balance, plus with the adjustability of the dampers and sway bars it should just be a matter of doing some testing and tuning at the track to get the car turning exactly the way we like it.
The hollow 2-way adjustable sway bars are 32mm in diameter up front and 29mm out back and are manufactured from cold-formed, high-strength aircraft-grade steel. The kit comes complete with greased urethane bushings and all the mounting hardware and instructions needed for a quick and easy installation. As a point of reference, the OEM sway bars have rates of 300 lb/in front and 396 lb/in rear, while the Eibach front bar is 368 lb/in in the first position and 416 lb/in in the second position and the rear bar is 515 lb/in in position 1 and 605 lb/in in position 2. We set both to position 1 as a starting point.