Ken and I both know from personal experience that rotary life ain't easy, and there are few things more frustrating than chasing electrical gremlins. Ken's RX-7 has been plagued by its fair share of electrical Mogwai, so he decided it was time for a complete rewire from nose to tail.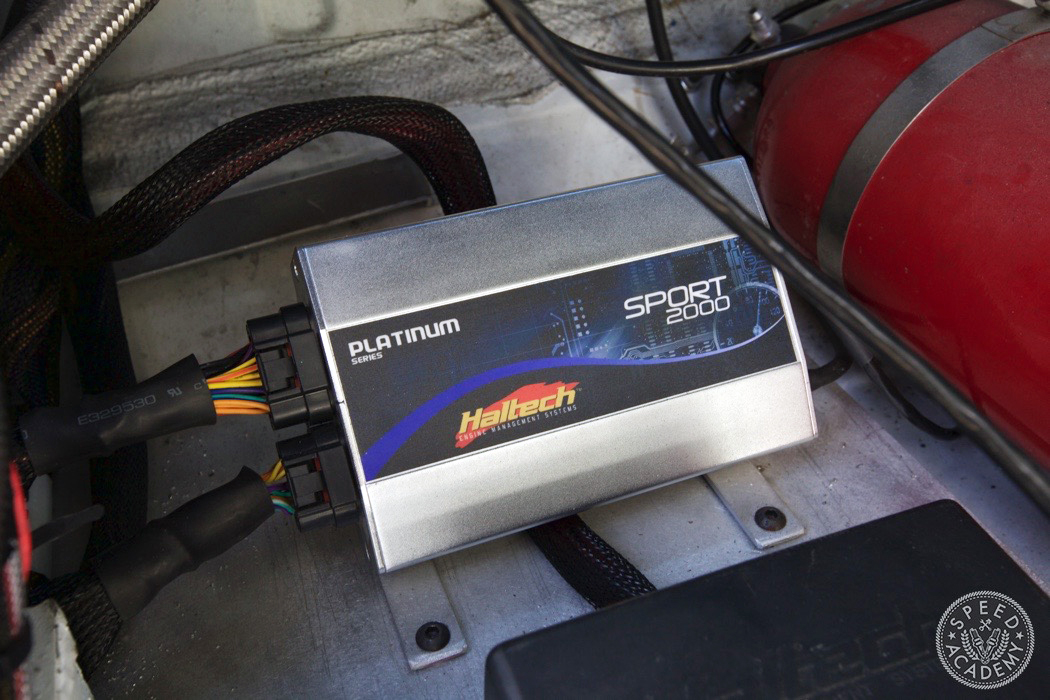 Since I sold my RX-8, we also decided it was the perfect time to swap out Ken's old Apexi Power FC system and in its place install the Haltech Platinum Sport 2000 standalone ECU I had been using to control the supercharged Renesis in my 8. The advantages of the Haltech PS2000 over the Power FC are too numerous to list, but for us the key advantages are 3D mapped rotary engine ignition split, built-in open or closed loop boost control with road speed, RPM or gear based mapping, and staged injection control for multiple injectors per rotor. The PS2000 is also much higher resolution with fully user-definable 32 x 32 mapping ( Up to 1024 points) compared to the Power FC's 20 x 20 mapping, which in the end means the Haltech simply offers superior control of the key ingredients to making lots of tasty rotary jam. The Haltech's even got an anti-lag feature if we ever decide to turn Ken's car up to maximum attack.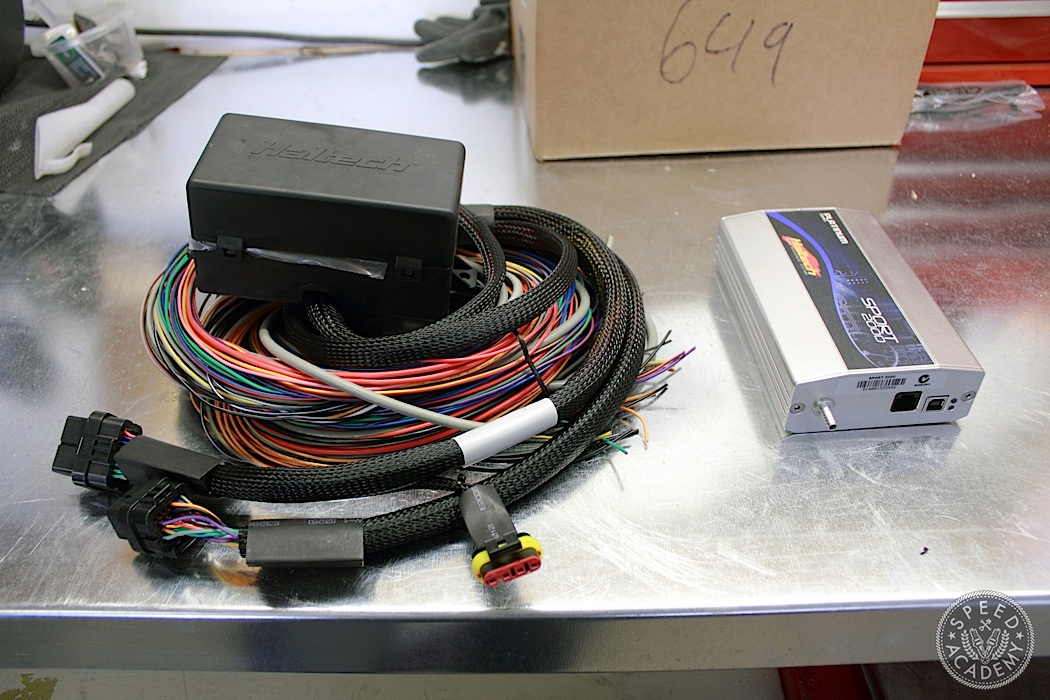 The decision to step up to the Haltech ECU took Ken down the slippery slope all racers are familiar with, since he now needed a Haltech non-terminated flying lead harness to connect the ECU to the engine, not to mention figuring out how to wire it up to the factory gauge cluster.
The point of return had officially been crossed, so it was time to strip the FD of its entire OE wiring, including all the fuses boxes, relays, and other assorted electrical doodads and doohickeys.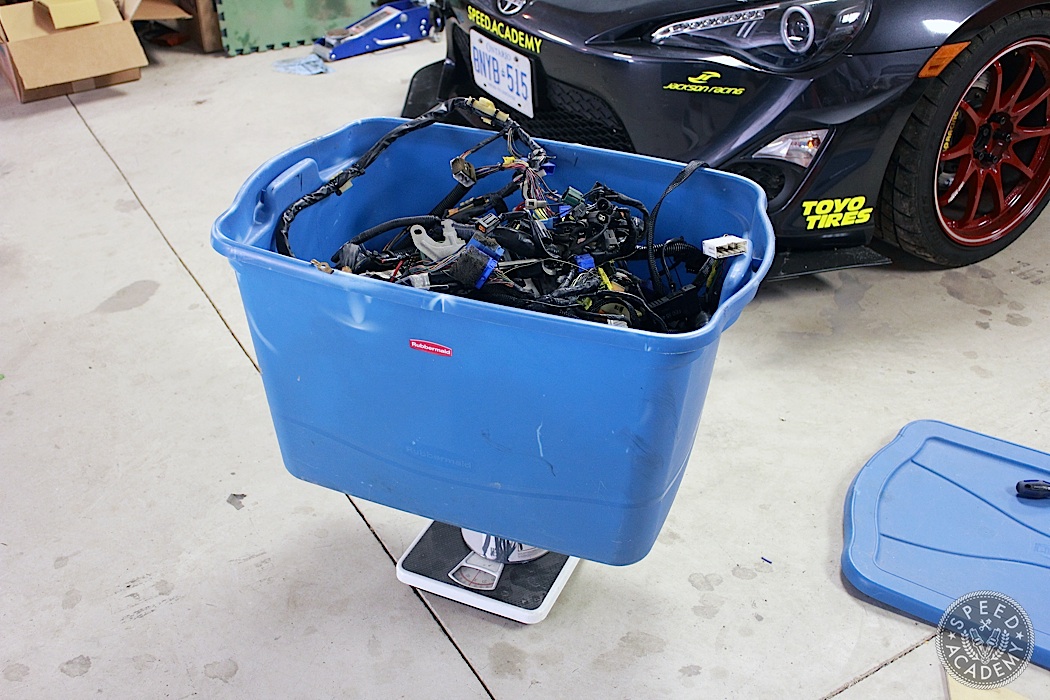 The end result was 65-lbs removed from the RX-7, and with the custom harness that would be replacing it the net weight savings would be in the neighbourhood of 50-lbs. But far more important than the weight savings is the added reliability and ease of troubleshooting should that pesky band of gremlins ever attempt to make themselves at home in Ken's FD again.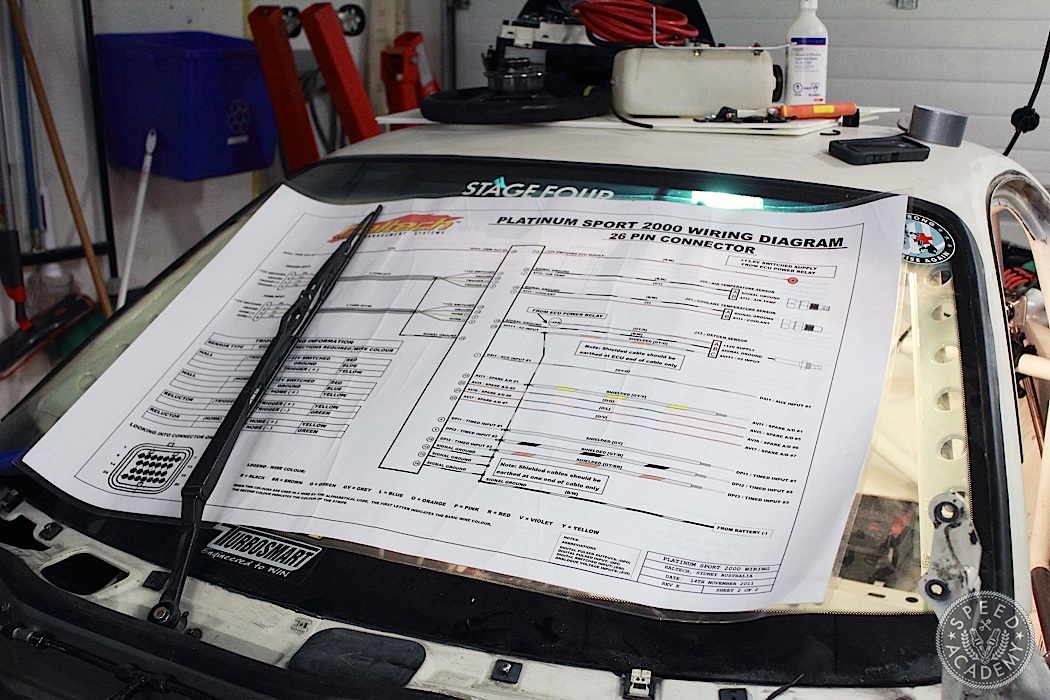 Since Ken has a bit of a wiring phobia, he enlisted rotary friend Gabe to tackle the full rewire job, starting with the Haltech harness to the 13B. As you can see, Gabe wasn't messing around on this job, having printed out a large schematic for the PS2000 wiring.
You wouldn't think owning a Caribbean restaurant called D Hot Shoppe (in Burlington, Ontario) would lend itself to wiring expertise, but as it turns out Gabe's not just a Roti making master, he's also an electrical engineer with a serious eye for detail. We choose our friends wisely!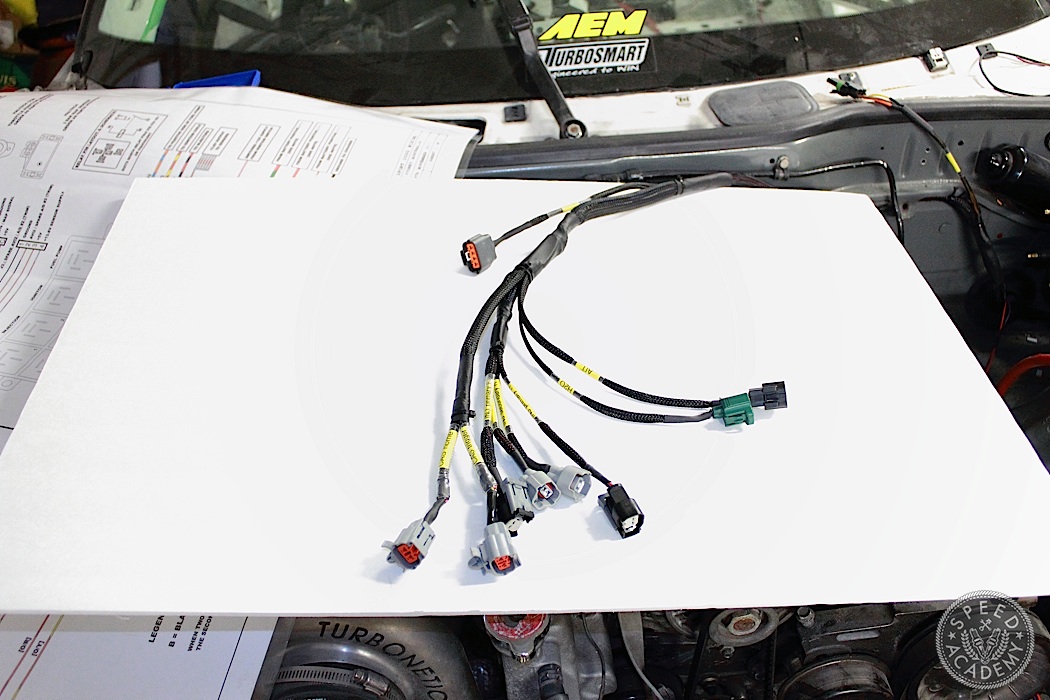 The end result of Gabe's late night wiring skills is this beautifully done engine harness, and he built a similar harness for the rest of the car all the way back to the taillights and fuel pump in the trunk.
But what about all those fuse boxes and relays Ken ripped out? Those have been entirely replaced by Racepak's amazing new SmartWire fully programmable power control module. Racepak has a series of excellent videos covering how the SmartWire works and how to install it, including the one above that covers the basic installation process.
As you can see, we installed the SmartWire on a metal mounting plate in the passenger foot wheel area, just like Racepak recommends (away from any sources of electrical noise or excessive heat). This magical little box is now the central command center for all the wiring in Ken's RX-7, providing the necessary power in user-defined amounts to each electrical input/output throughout the vehicle.
What witchcraft is this? Well, the SmartWire lives up to its name by allowing the user (in our case Gabe, who set the whole system up for us) to plug a laptop into it via the supplied USB cable and then using the supplied DataLink II software to define each input/output in terms of function, power requirements and current exceeding limits (to protect expensive electronics against surges or power spikes in the system). The beauty of the SmartWire unit is really in its simplicity and compactness, its microprocessor and solid state switching design resulting in greatly simplified wiring throughout the car not to mention faster reacting electronics.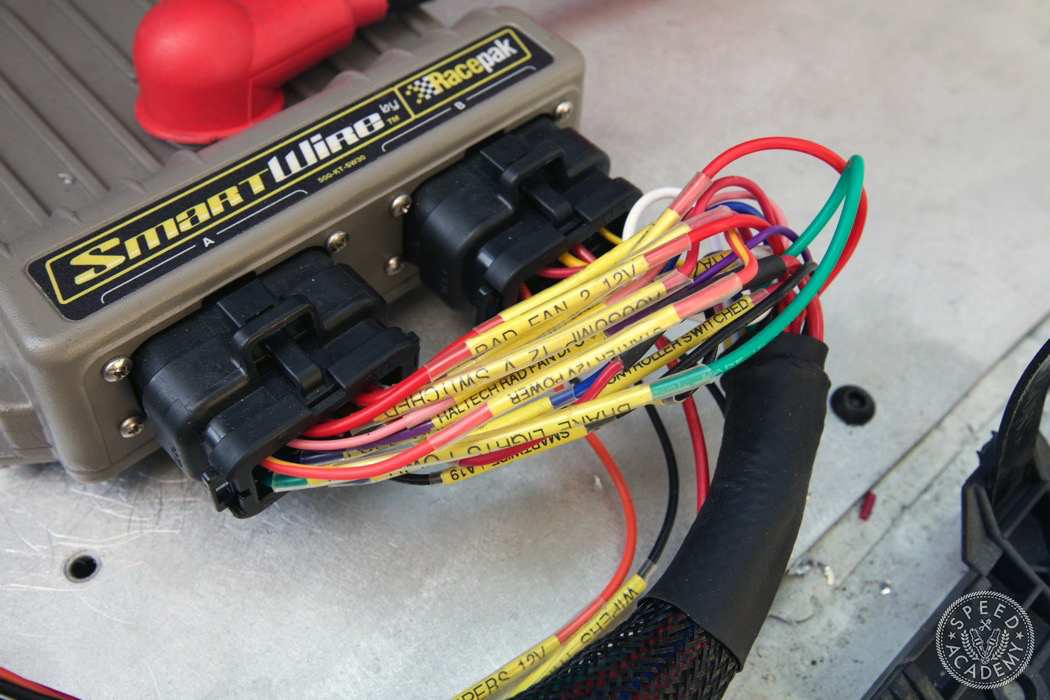 Oh, and as you can see here, Gabe labeled all the wiring sent to the SmartWire so that Ken's got a fighting chance of quickly tracing any problems, though we don't expect to have any, at least not until the rotary has had a chance to split eardrums and melt wires. Did we mention rotaries make an absurd amount of heat?
Adding to the cleanliness and simplicity of Gabe's work is Racepak's exclusive single cable V-Net technology, where you simply daisy chain their sensor wiring together using the blue V-Net connectors. The V-Net approach to wiring not only contributes to the weight savings we've seen with the rewiring of the car, it's also very clever in its ease of use and expandability. You'll see what I mean when you watch our video at the end of the story.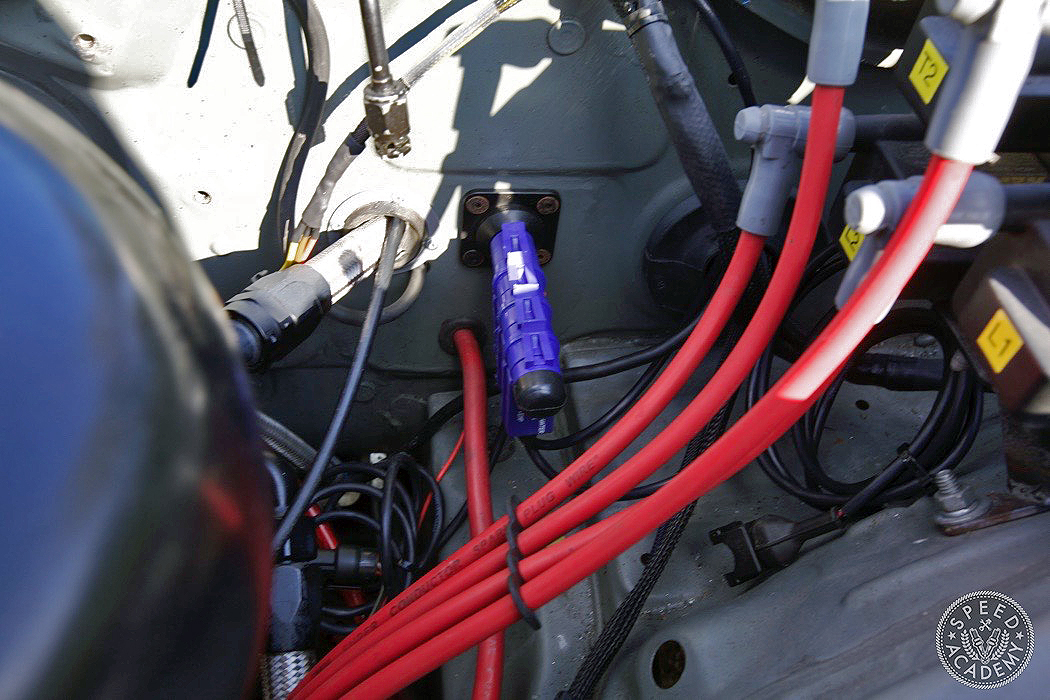 We ordered up Racepak's V-Net cables for oil temp, oil pressure, and water temp along with a bulkhead connector that let us run the V-Net connection thru the firewall without requiring us to drill any big, nasty holes in the process. Given rotary engine's tendency to start fires, we think the bulkhead connector is an essential safety feature.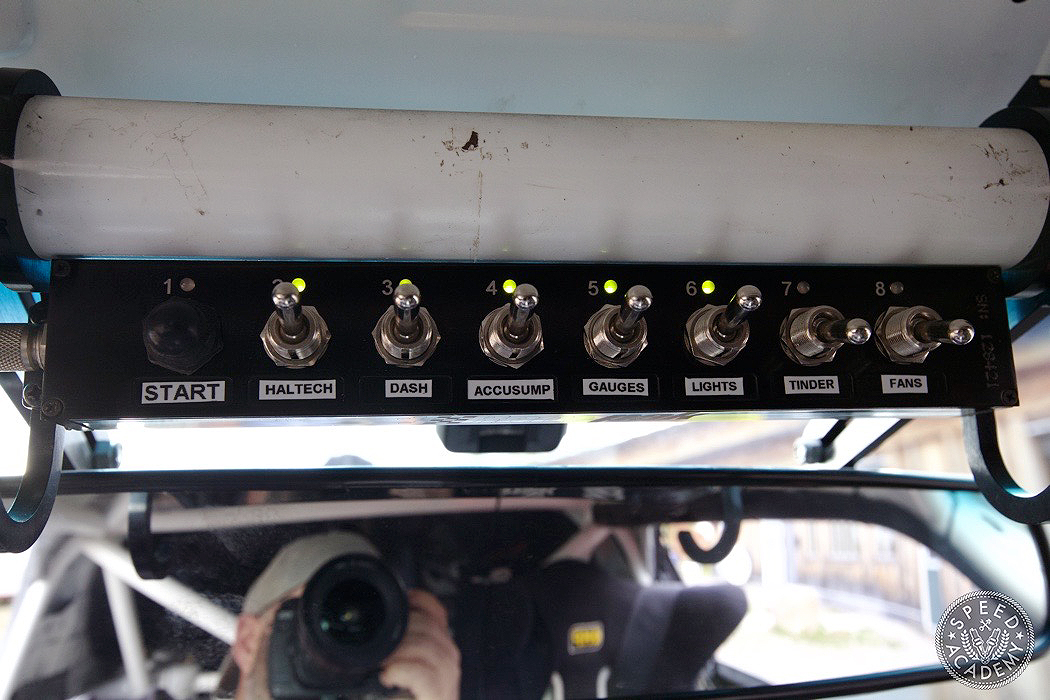 Rather than having the SmartWire power everything up via the ignition key or a single power switch, Ken opted to run Racepak's switch panel, which of course connects to the SmartWire unit via a single cable. The switch panel lets Ken fire up specific components on an as-needed basis, plus the Tinder toggle switch ensures a fresh supply of single ladies for Pete. Hey, if you're not using technology to your advantage, you're going to get left behind…
With a single V-net cable we were also able to quickly and easily connect the Racepak IQ3 digital dash that Ken has been coveting for years, both because it looks badass as hell but also because he now finally has a centralized and very efficient way to monitor his rotary engine's health (via as many as 28 inputs including those V-Net signals from the oil pressure, oil temp and water temp sending units). And if you know anything about rotary life, keeping a close eye on temps and pressures is the key to keeping the triangles spinning and the apex seals in their seats.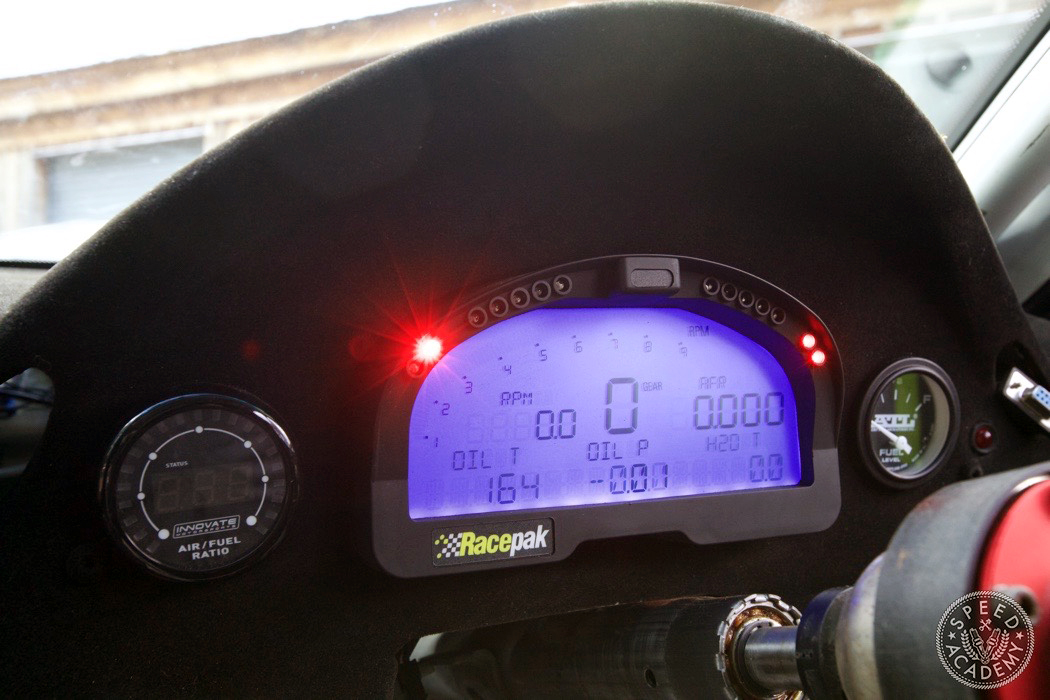 The blue backlight LCD display provides excellent viewing in all types of lighting. And of course we've programmed the IQ3 via the DataLink II software to have high/low warning lights for temps and pressures specific to our flaming Doritos engine, and we've also set the redline so that the shift lights are timed properly. There's even a gear indicator once Ken steps up to a Hollinger sequential transmission (after he wins the lottery).
But before installing the IQ3, Ken put his arts & crafts skills to the test again by converting the stock gauge cluster to one custom built for the Racepak display along with a couple of other gauges including fuel level for the ATL fuel cell we showed you in a previous story.
After lots of filler, sanding, priming and painting, Ken then flocked the cluster along with the rest of the dash to reduce glare.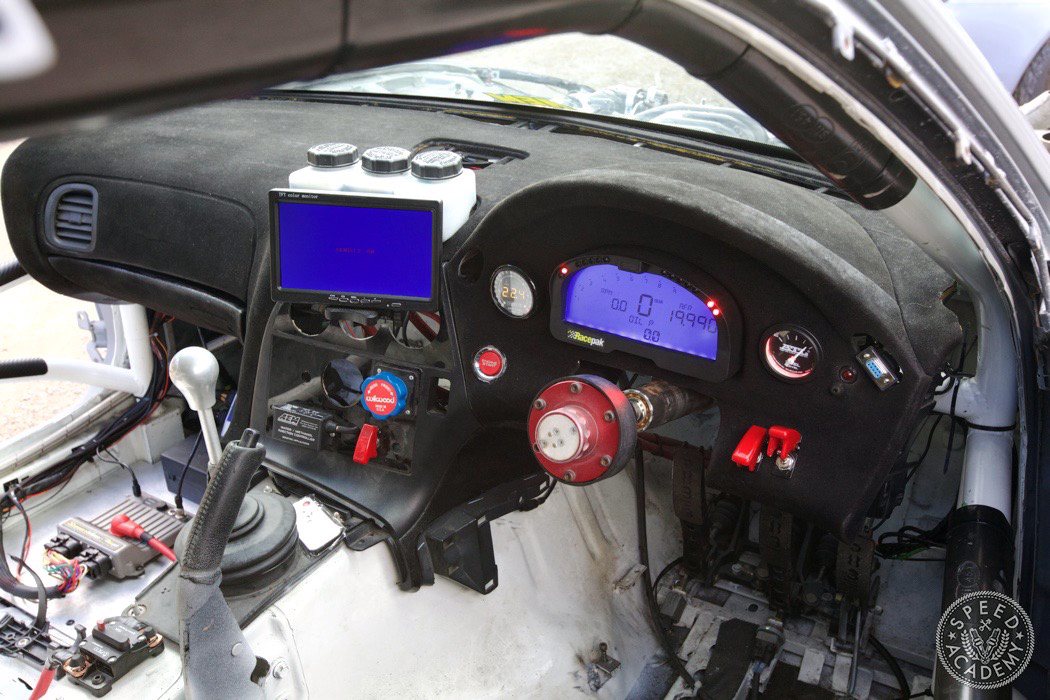 The end result is pretty sexy, I think you'll agree, and it certainly looks like a proper race car from the driver's seat. The screen on the center console is for a rearview camera, since Ken's carbon fiber rear hatch (which you'll also see in the video below) doesn't have a window (because glass or even Lexan is heavier than carbon, plus Ken's a big fan of the Revolution RX-7 in Japan which has a dry carbon hatch with no window).
Enjoy the video tour of all these Racepak goodies, along with a little rotary revving in our shop. You'll have to wait a little bit longer to hear this beast at full song on the dyno, followed by a proper track test session. It's been a long, slow build, but I've gotta say we're all pretty stoked around here to finally hear Ken's FD running strong and without any of the electrical issues that have sidelined it in the past.