As a car enthusiast, do you ever have a moment to sit and allow your mind to wander and conjure up interesting combinations of chassis, suspension, and drivetrain – just let the ideas flow into a wonderful "what if" build without any real goal or destination? Well, what if one day, while walking through the paddock, you happened across one in the flesh; pulled directly from the twisted recesses of your brain almost down to the paint colour? It would be a pretty cool experience, wouldn't it?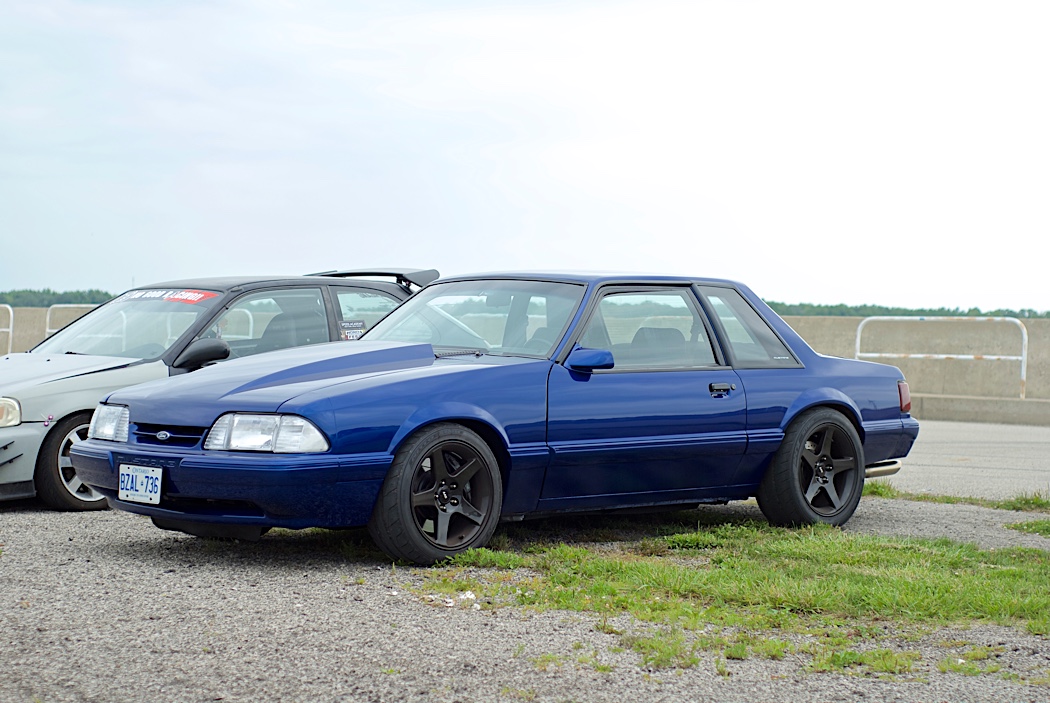 Enter Mike Olliviera's Chevy-powered, Honda-blue, Mustang with Volkswagen seats.
I first happened across Mike's Fox body notch-back at Speed Academy's second annual lapping day meet at Toronto Motorsports Park. I was drawn in by the cleanliness and lovely blue paint, but stayed for the hint of rear negative camber and fuel cell sump peaking out from under the rear bumper. Clearly there was more to this car than a subtly aggressive exterior and nice paint. I had so many questions!
An Instagram post about the car and a few days later, I was standing in Mike's garage with him oozing questions and admiration, and I had my answers!
Before we dive into the details of the car, let's first take a minute and learn a bit about what led Mike to create this fantastic example of crowd control (kidding! According to only the most credible Internet sources, only later generations of Mustangs are prone to plowing through groups of innocent bystanders). 
While I wouldn't call this project's gestation painful, it also wasn't the most straightforward thing in the world. Mike originally had a propensity for going fast in a straight line, so Awesome Fox V1 (as I've dubbed it, not Mike) started out as a project to build a 10-second streetcar, complete with solid rear axle and a 393 Windsor engine.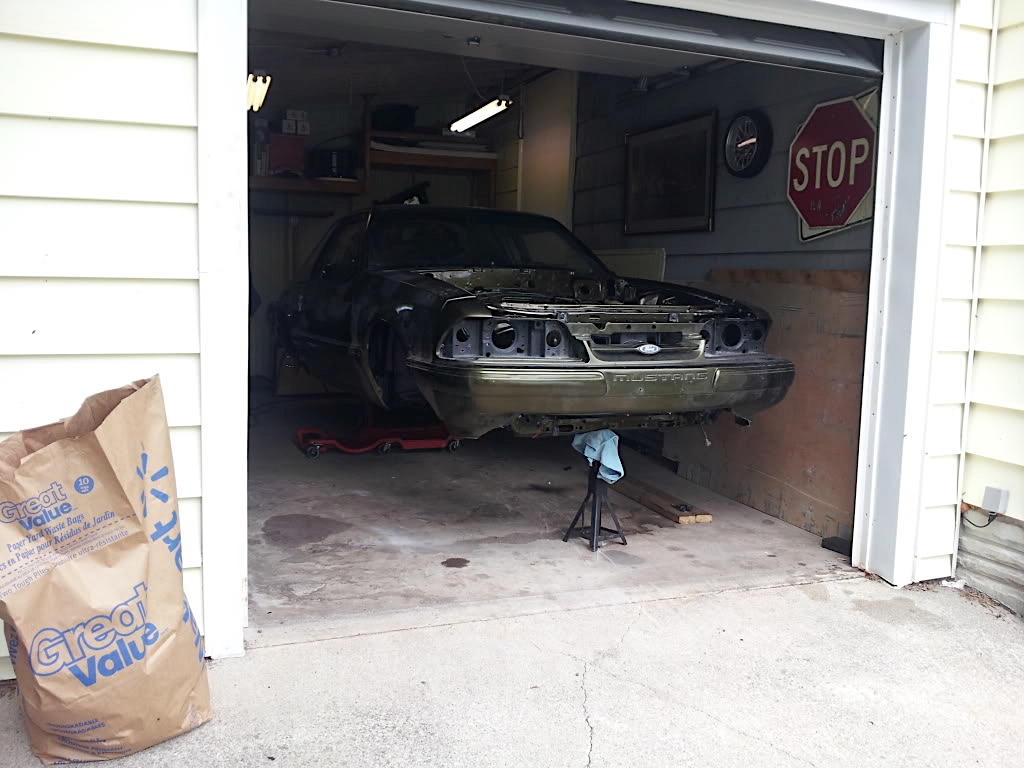 Mike originally wanted to build a notchback with the independent rear suspension from the '03-04 Mustang Cobra along with a late model Coyote 5.0 engine. The major upside of this plan is that Mustang owners wouldn't be gathered outside his home with torches, the downside being that – at the time – that drivetrain wasn't exactly growing on trees in good used condition, nor was it particularly reasonable to acquire in terms of dollars. So Mike set out to stick his existing 393 Windsor powertrain into a clean notch back chassis. The hunt was on for a home for his small block Ford.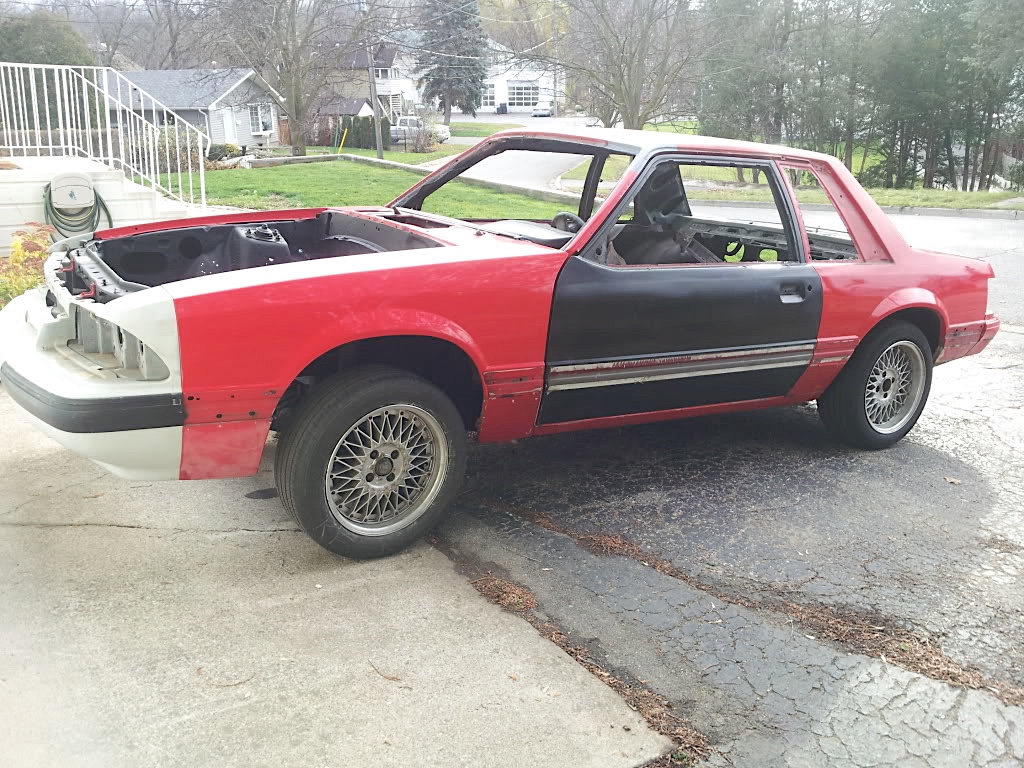 The first kick at the can for Mike was someone else's unfinished project. The car had a mini tub, and appeared to be in good nick, however once home Mike found too many things he didn't love about the chassis, so he removed anything he deemed useable and shuffled it off to a new home. After a little internet shopping a red ex-audio competition car appeared in his driveway.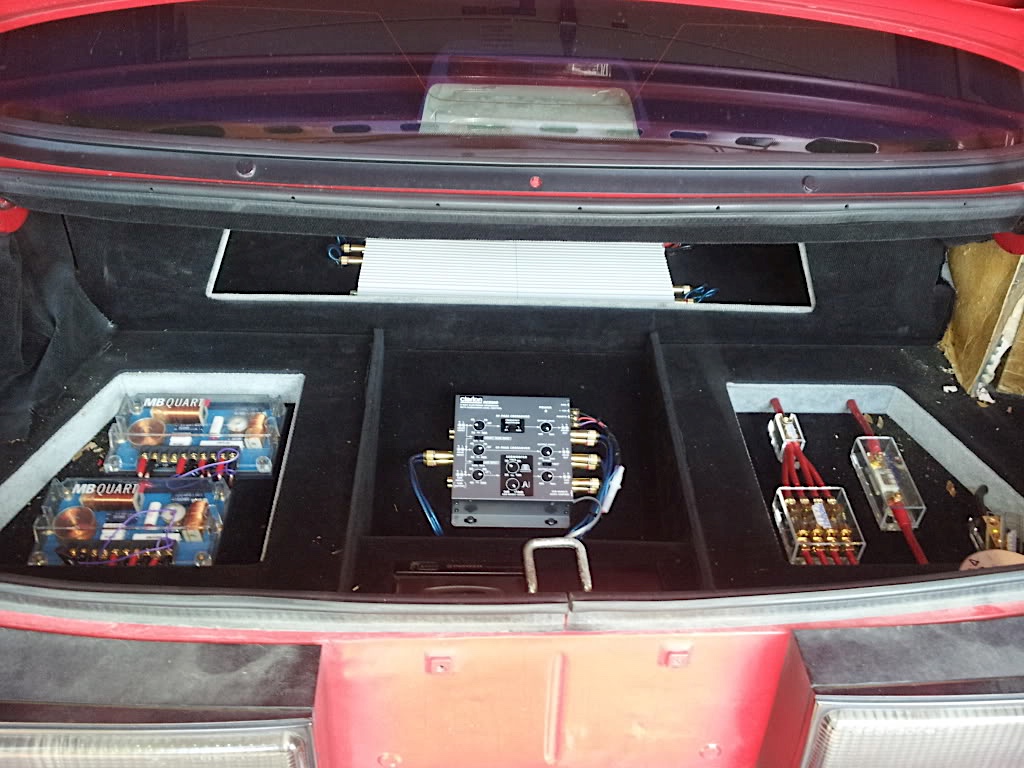 When Mike dug into this second chassis he found some rust in the a-pillar and cowl that were a big turn off. However, after some consideration, Mike decided to press on with the red notch back – the floors were clean as were a lot of other areas that are typically destroyed by our wonderful car-crushing environment up here in the great white north – so he repaired the rust at home and sent the chassis off to Miltowne Auto Body in Milton for a complete re spray in Honda's Monte Carlo Blue.
Mike got the chassis back from Miltowne, and managed to completely assemble the car from a bare unibody in about six months, before spending the rest of the summer sorting out any gremlins and dialling in the car to a good, reliable summer daily that can crack off a 10-second pass at the drag strip whenever he wanted.