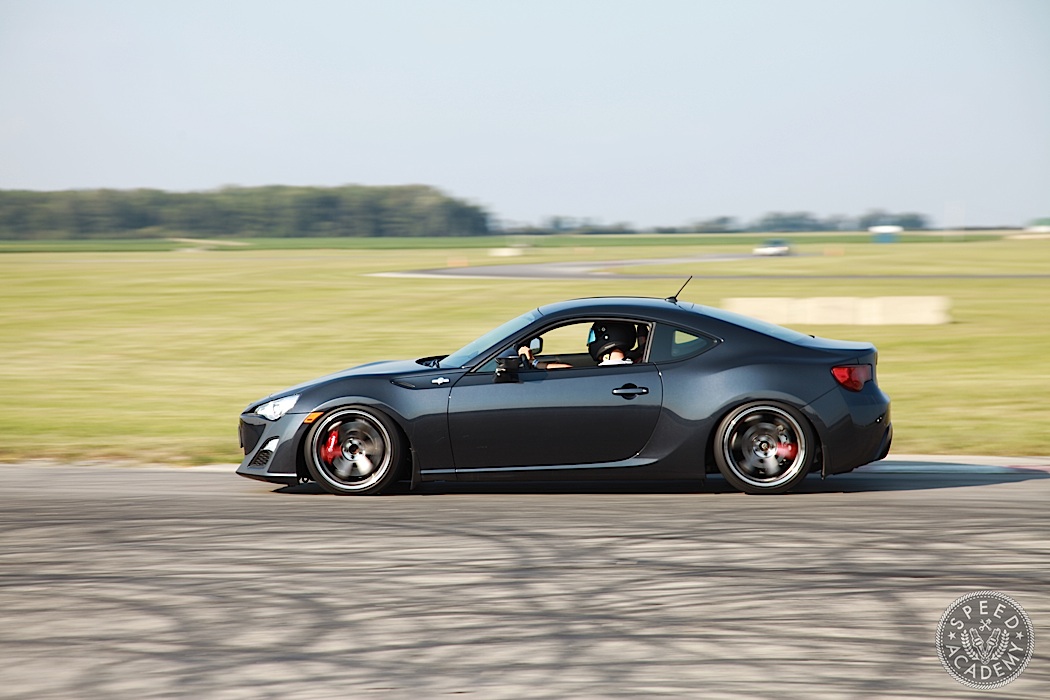 By Mike S. (the fastest banker on Bay St.)
There's really no disputing the fact that the Scion FR-S (and BRZ and GT-86) has shaken up the sub $30k performance car segment more than any other car over the past decade. Out of the box it delivers an absolutely fantastic driving experience; it's a car that begs to be pushed to the limit as often as possible, and when you get it there it rewards you with nothing but pure driving delight. Of course it's a natural draw for the tuner crowd because the idea of taking a package like this, adding the right bolt-ons and tuning, and potentially making it look and drive better is just too tantalizing to resist. So hard to resist, in fact, that I sold my E46 M3 and bought this FR-S as my new track day toy.
The first temptation to tinker arises when you really start to push the limits of the car's cornering grip. It's fairly easy to get the four 215 section width Michelin Primacy tires to howl in pain as you slide them through a corner, a clear sign that the car could benefit from more grip. However, the handling balance that the engineers have achieved with the stock package is nothing short of sublime, and if you want to maintain or improve this car you're going to have to be careful not to mess with that perfectly balanced front and rear grip. Luckily, the design philosophy of the FR-S was to deliver the same handling characteristics regardless of what sort of tire compound is used. So as long as you maintain the same sizing and tire compound on all four corners, a wider, stickier tire should only improve overall grip and cornering speeds without disrupting handling balance.
Of course going to a wider tire means finding a wheel to match. While the car came on 17" wheels from the factory, a 1" larger wheel diameter would really fill out the fender well, and at the same time give some room for big brakes. Also, a nice aggressive offset is definitely at the top of the list for the best combination of performance and looks. For me, the choice that fits the FR-S best in every way is an 18×9.5" +35 offset Volk Racing TE37 SL wheel, a truly timeless six spoke design constructed using the most advanced forging techniques on the planet. This makes for an extremely lightweight (17.3 lbs) and stiff wheel, reducing unsprung mass (a very valuable thing on a relatively low torque engine like the FA20) and helping keep the tire in more consistent contact with the road surface. For anyone wanting to learn a bit more about the mold form forging process used by Rays Engineering when manufacturing Volk Racing wheels, here's a link to their YouTube video and here's a really good description by the guys over at Edmunds on the subject.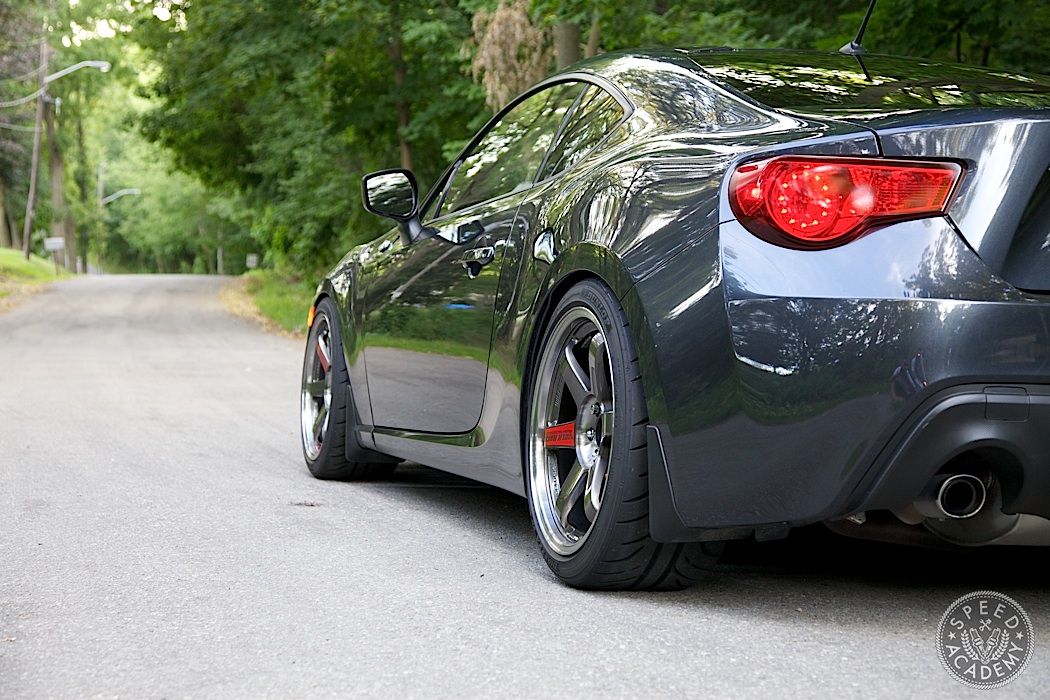 I realize that not everyone is going to want to spend $3k+ on a set of Volk Racing wheels for their $25k sports car, but to me part of the appeal of modifying a FR-S is that I have more budget for quality parts like Volks precisely because Scion has giving us so much car for so little money. Plus I'm a strong believer that nothing changes the looks of a car more dramatically than a wheel upgrade, especially when combined with the right offset and ride height. And with Volks you get the peace of mind of rolling on some of the strongest wheels available at any price, so potholes aren't as big a stress and neither are curbs at the race track. In other words, I believe in spending my money where it matter most, starting with wheels, tires and brakes. Plus you've got to admit, the dish and offset on these 9.5" wide +35 offset SL's looks prefect on the FR-S, not to mention the unique Pressed Graphite finish compliments the Asphalt Grey paint nicely, too.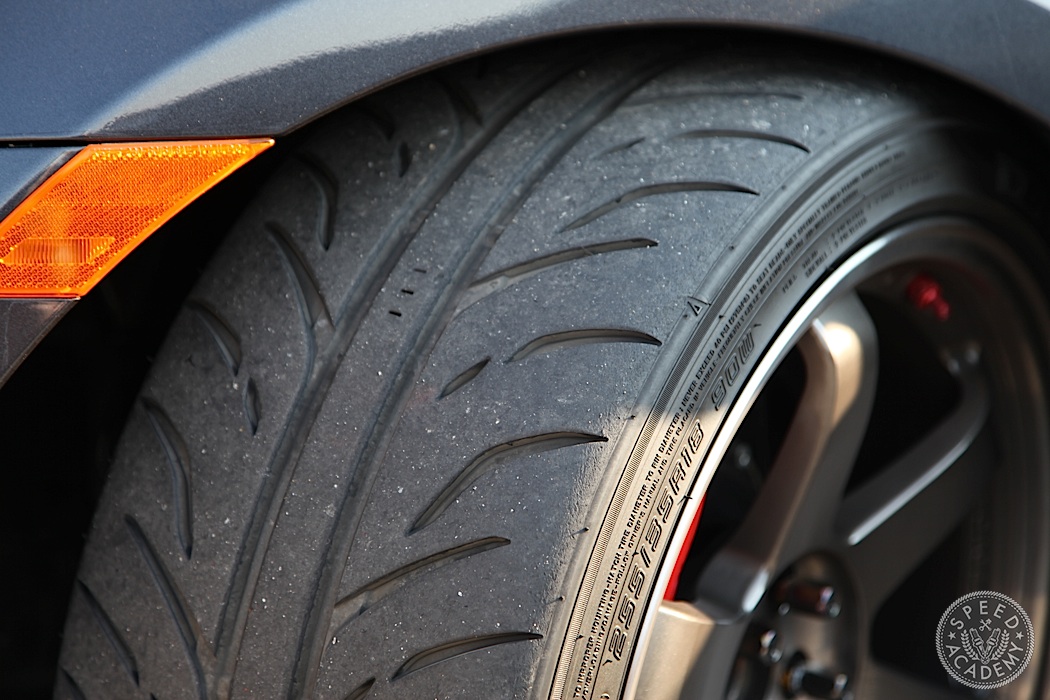 The 255/35R18 Dunlop Dirreza ZII tires we wrapped them in are very close in overall height to the OE rubber (25" vs 24.7″), so gearing isn't thrown off by much, and the 200 UTQG extreme performance summer tire compound will undoubtedly improve cornering Gs in a big way. This tire was chosen because I wanted something I could street drive on in the summer but could also beat on at the race track and use for Street Class Time Attack competition, too. The predecessor to this tire, the Direzza Z1 Star Spec, was a standout both in terms of dry and wet performance but also durability, so my hope is that the ZII is much the same but with dry grip turned up a notch or two. Early reports online suggest it's exactly that.
After deciding on a wheel and tire package that would improve the grip situation, the next thing I looked at was brakes. Anyone who takes an FR-S out for a few hot laps will notice that after sustained pounding the OE brakes don't provide the confidence you'd really like. Instead of a simple pad upgrade, I decided to go whole hog and do a big brake kit, and when it comes to big brakes Brembo is an undisputed leader in the field. Brembo offers several packages for the FR-S, but I opted for the 4-piston front system with a 2-piece floating rotor and a 2-piston rear system with a 1-piece rotor. Along with a greater capacity to handle heat under extreme conditions, the Brembo GT kits have aluminum calipers which offer a significant weight savings over the stock brake calipers. Despite the fact that both the rotors and calipers are physically larger (345mm Brembo vs 294mm OE front rotor diameters, 316mm vs 290mm out back), the front kit's 2-piece rotors with aluminum hats tip the scales 3.5 lbs lighter than the OE rotors and the 4-pot calipers coming in at 5 lbs less their OE counterparts. That's a huge weight savings per side, especially when you factor in the effect reducing unsprung mass has. But really, this mod is all about having brakes that provide confidence-inspiring feel and performance lap after heat-generating lap.
The FR-S has some high quality dampers considering its price tag, but I wanted adjustable damping and adjustable ride height, along with a bump in spring rate that would match the high grip tires well. Choosing a high quality spring and shock combo that has a very wide range of adjustability is crucial, since doing so will ensure that the optimal setup can be found with a bit of testing and tuning. I opted for KW Suspension's 2-way adjustable Clubsport coilovers, a company with an impressive track record including multiple 24-Hour of Nurburgring wins. The cool thing about KW is that all their products undergo rigorous engineering and testing, including hundreds of hours on their 3D shaker rig, where KW's engineers can simulate every possible road condition or driving situation imaginable.
The combination of a high degree of adjustability with separate bump and rebound damping control, beautifully crafted and adjustable CNC front camber plates, and adjustable spring perches threaded on an extremely durable stainless steel shlock body means my FR-S is now equipped with a shock and spring coilover package that is engineered for the track but still totally liveable on the street. KW also includes a tool kit to adjust the ride height and damper settings, as well as detailed installation instructions with recommended starting ride height and damper settings as well as torque specs. We went with their recommended ride height to ensure sufficient shock travel, but I think you'll agree that it's still appealingly low from an aesthetic point of view.