Back in July or August we grabbed my neighbour Mike's 2011 Scion tC2 so we could upgrade the intake to an AEM performance air intake and a Dezod Motorsports Red header. You may remember Mike's tC from a wheel, tire and suspension upgrade story we did with it, along with a little track test video, and we really wanted to keep on helping Mike build his tC, but life has a way of intervening sometimes. More on that in a bit.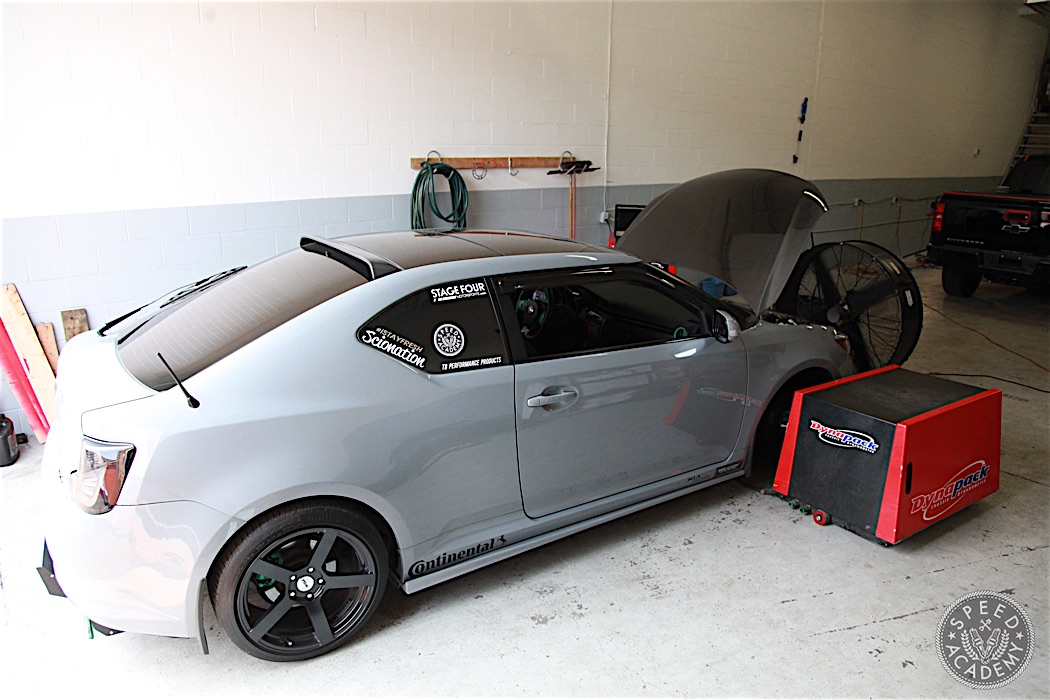 Once we arrived at Make It Shine, our favourite detailer and paint correction expert in the Greater Toronto Area, we helped Sasha from OnPoint Dyno unload and setup his portable Dynapack dyno setup so we could do a quick baseline test of the tC.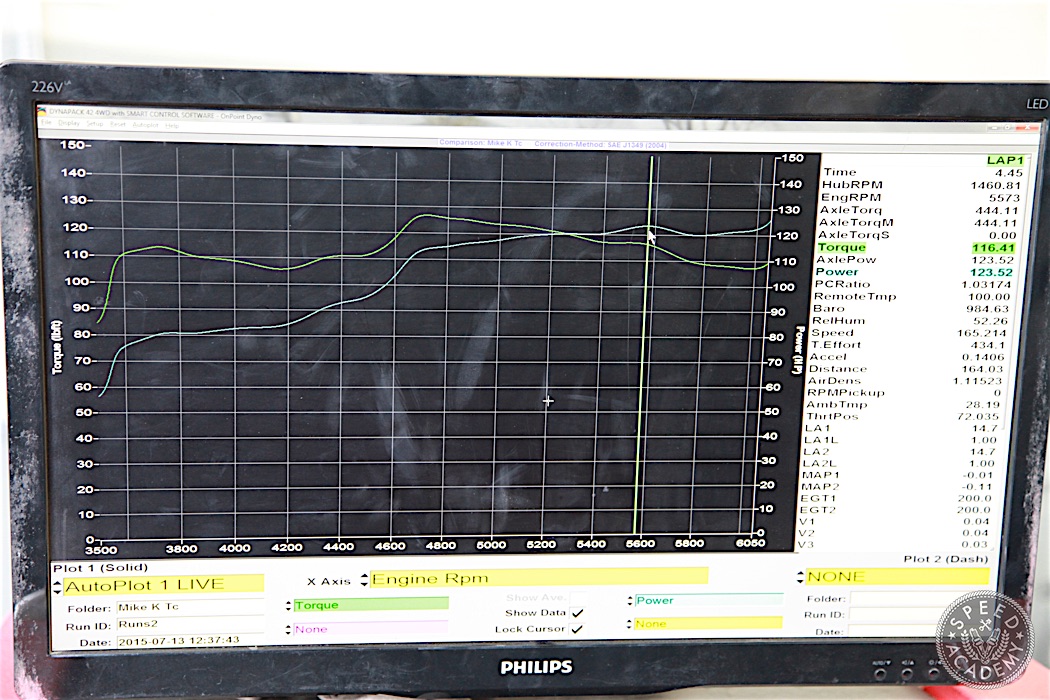 After doing a few runs on the dyno, the best result we could get was a somewhat disapointing 123.5-whp at 5600 RPM and 127-wtq at 4700 RPM. Typcially the 2AR-FE engine, rated at 180-hp from the factory, does a fair bit better than this in dyno testing, but it's important to keep in mind that Mike's tC has an automatic transmission and this robs a lot more power at the wheels (or the hubs, in the case of a Dynapack) than a manual gearbox, plus we know from past experience that the OnPoint Dynapack reads quite conservatively on lower powered cars. In any case, this gave us our baseline, which includes the World Racing Descendant cat-back exhaust system Mike had previously installed.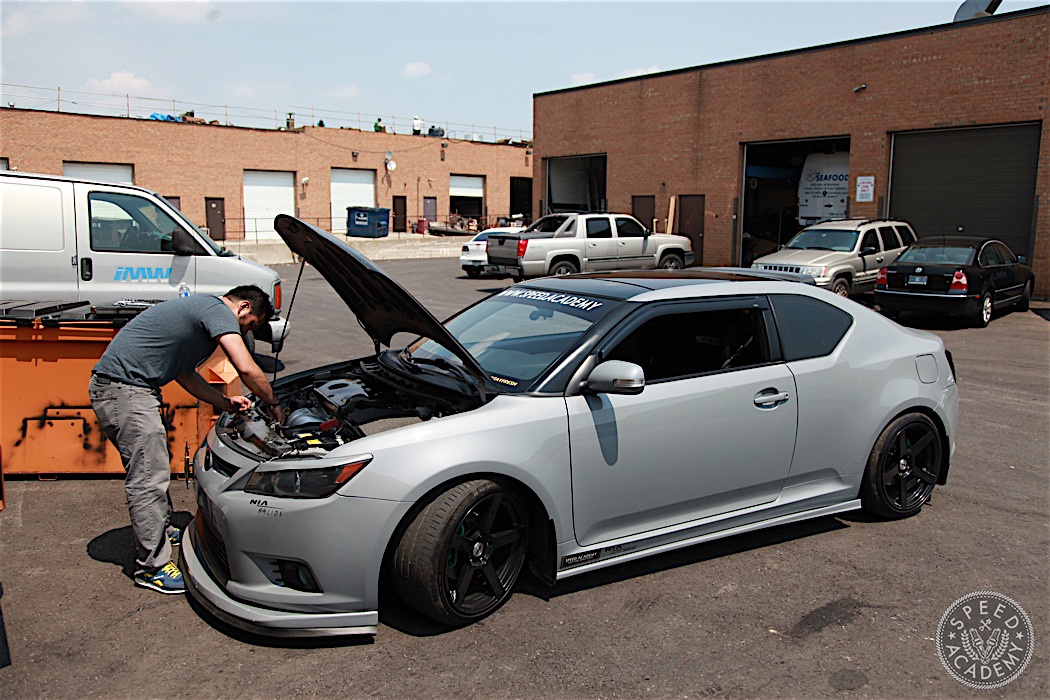 From there we backed the car out of the shop (so Sasha could dyno test our ASS2000), where Ken and I worked on removing the factory intake and exahaust manifold.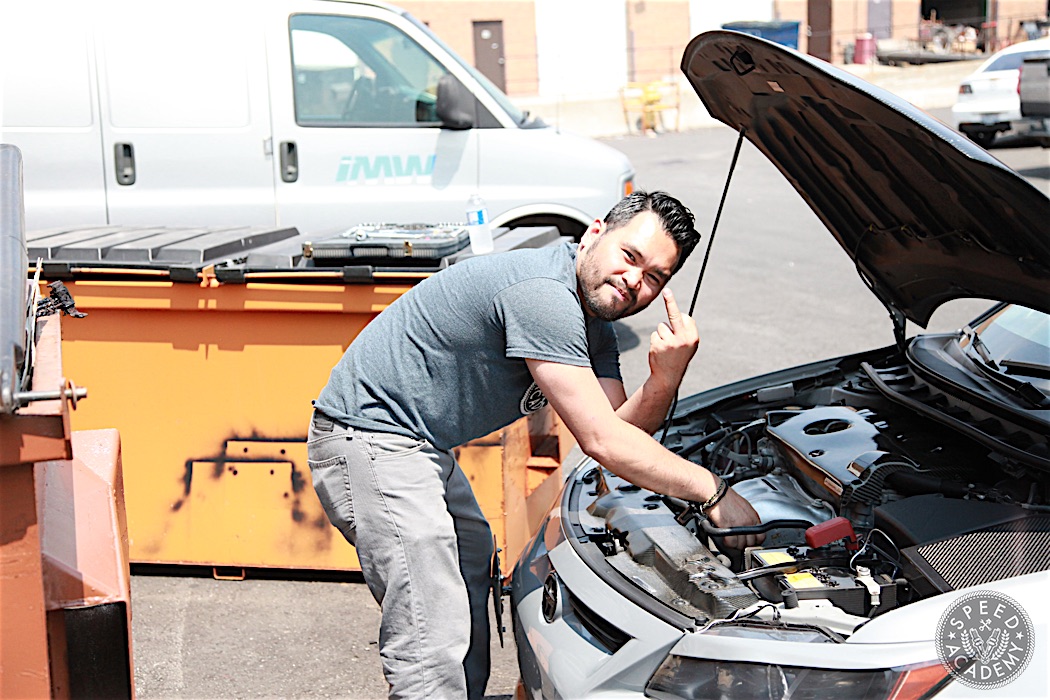 As you can tell, Ken was thrilled to be working on Mike's Scion in the blazing sun right next to a trash-filled dumpster. Stay classy, my friend!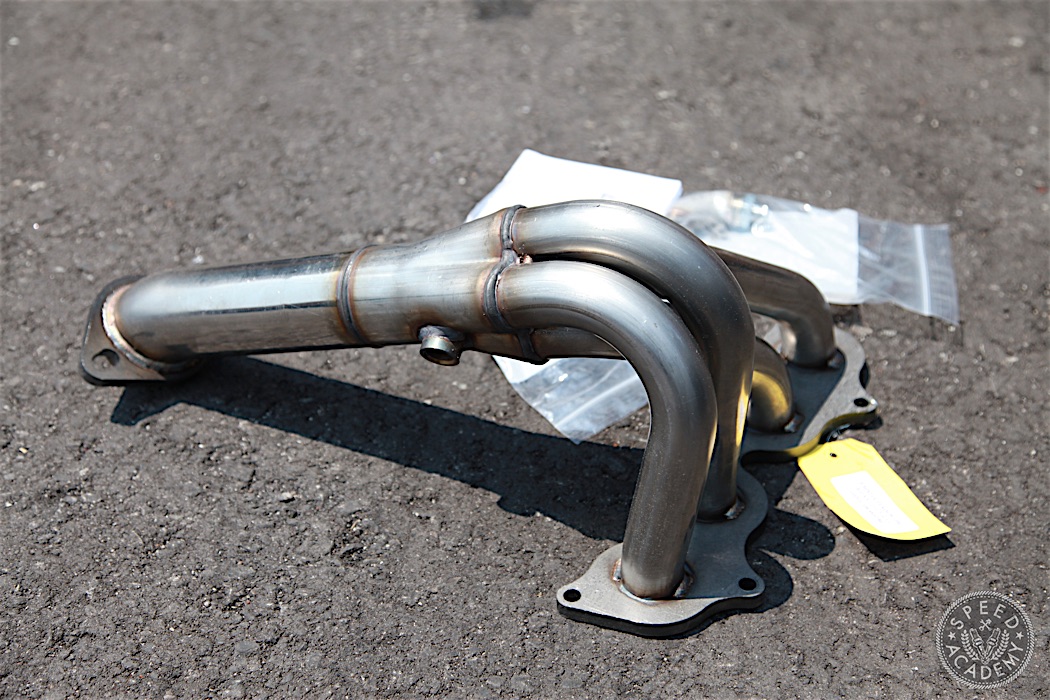 For starters we pulled the OE header so we could install this bad boy, Dezod's Red Header.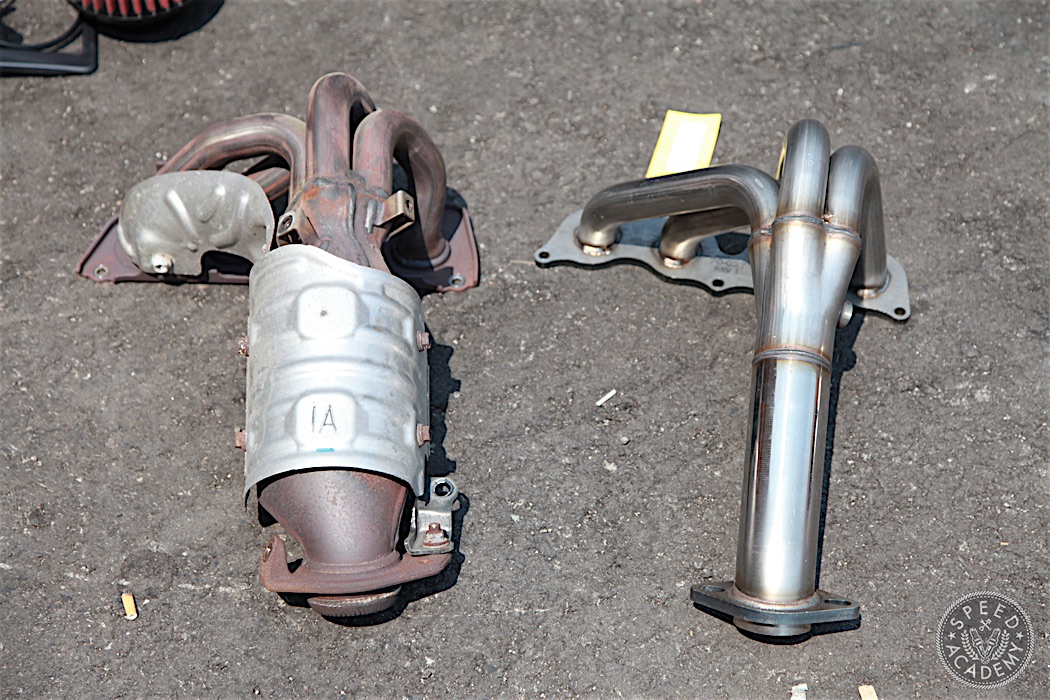 As you can see, it's not red in colour (on the right; OE catted header on the left), but rather in name only since it deletes the catalytic converter. Dezod's Green header has a built-in high-flow cat. Green for eco-friendly, Red for not-so-much. You get the idea.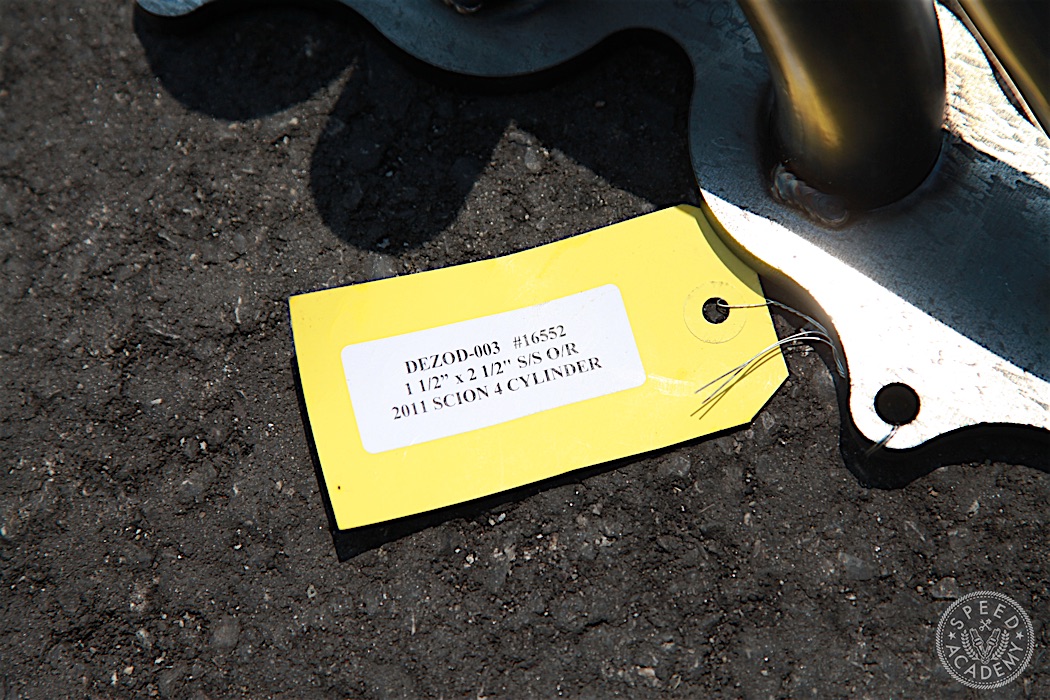 As you can see from the tag, it's made of stainless steel, has 1-1/2" primaries that gather in a nice merge collector and then into a 2-1/2" downpipe that connects to the cat-back exhaust system using the OE donut gasket and bolts (we ordered a new gasket and bolts from Dezod with the header just to be on the safe side).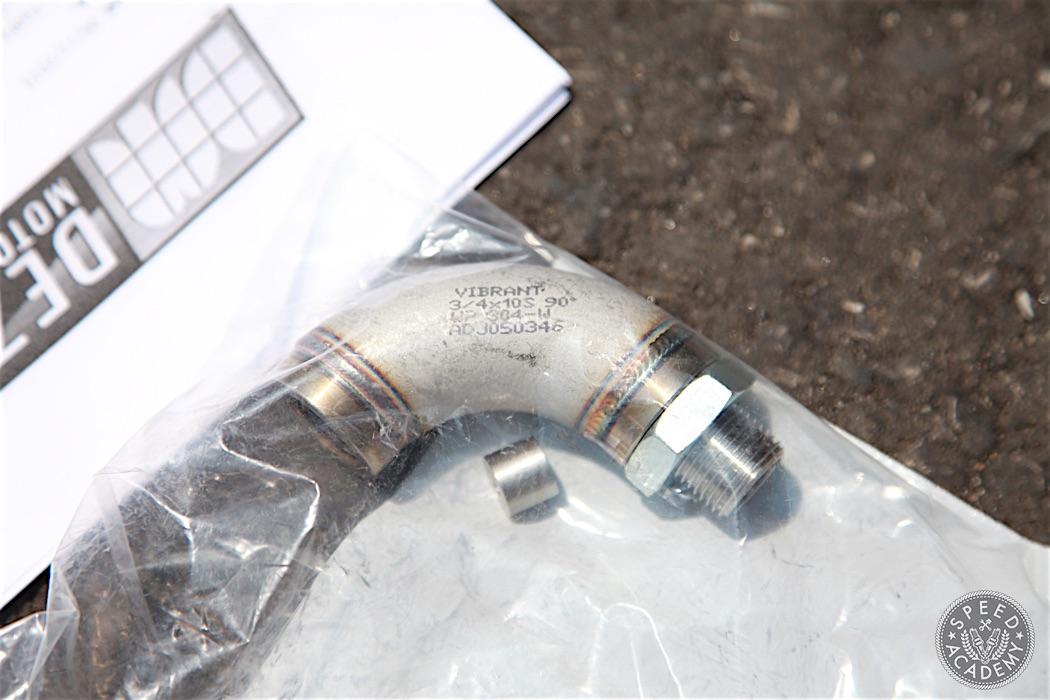 We also ordered this Vibrant Performance J-style oxygen sensor restrictor fitting from Dezod's website. This moves the o2 sensor back out of the exhaust flow enough that it won't throw a check engine light. For any of you shop owners or business owners out there who want wholesale pricing on Vibrant and AEM parts along with a massive lineup of other top quality go-fast goodies, Turn14 Distribution has what you need.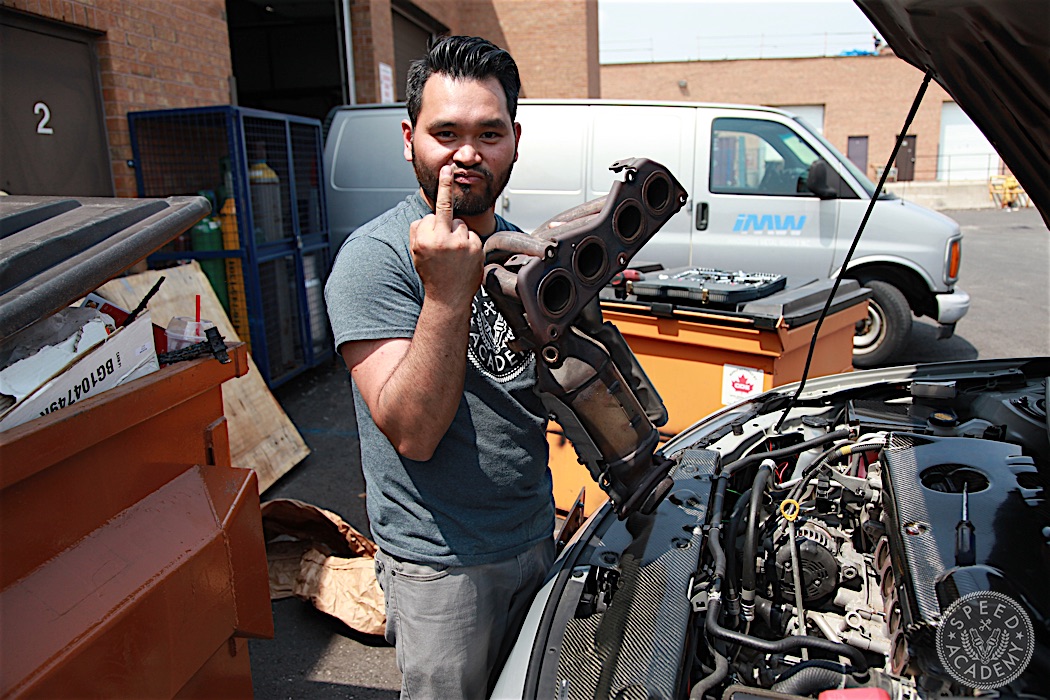 Ken's good mood continued while removing the stock header.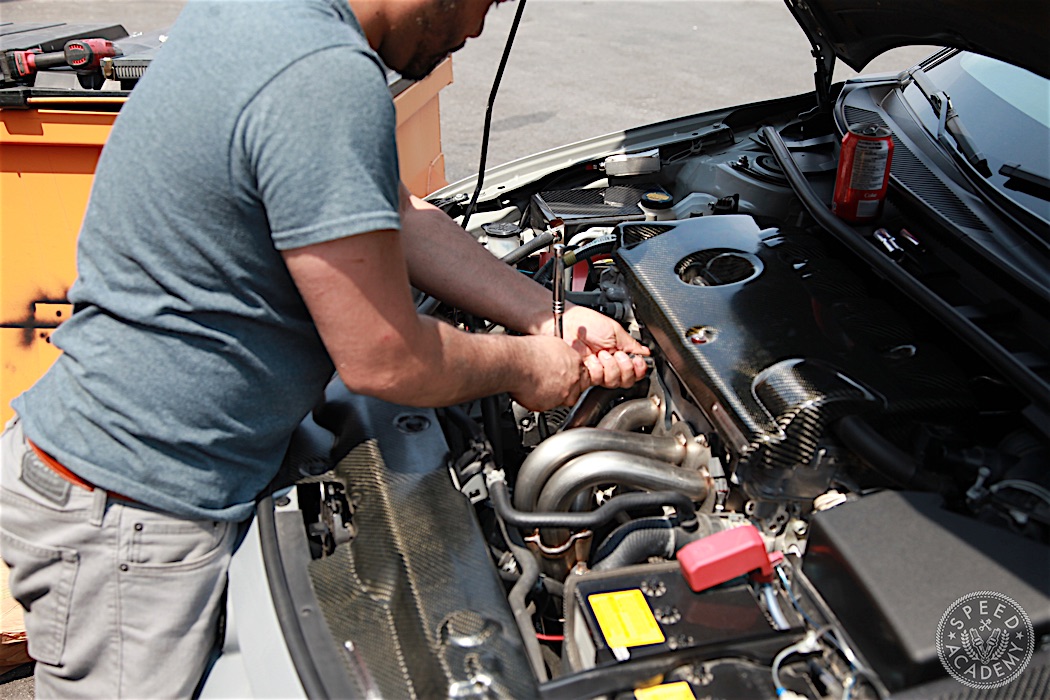 He did seem a fair bit more cheerful while installing the Dezod Red header, though.
Maybe it was the sexy stainless steel construction, or just the overall excellent fitment that made him happy. Either way, we're grateful for the mood improvement.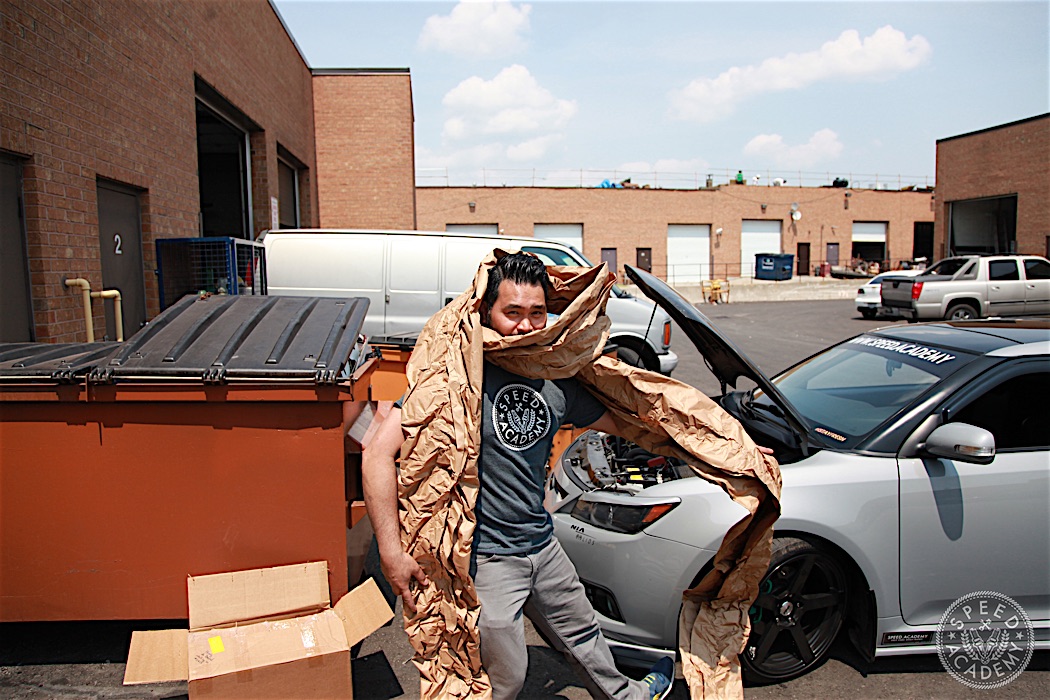 He celebrated the successful header install by showing off his new hipster summer scarf. Available with every purchase of a Dezod header. Maybe.