During our last day at the 2015 SEMA Show, we finally cruised the South hall where most of the wheel and tire manufacturers can be found. We often leave this til the end since it's mostly full of cheesy 24" wheels promoted by scantily clad models with oversized bolt-ons of their own. We always feel like creepers taking pics or video of booth babes, even the classy ones who manage to do a thankless job with an amazing amount of dignity, but we did snap 1 pic that I'll save for the end. Consider it a reward for getting through the rest of the story.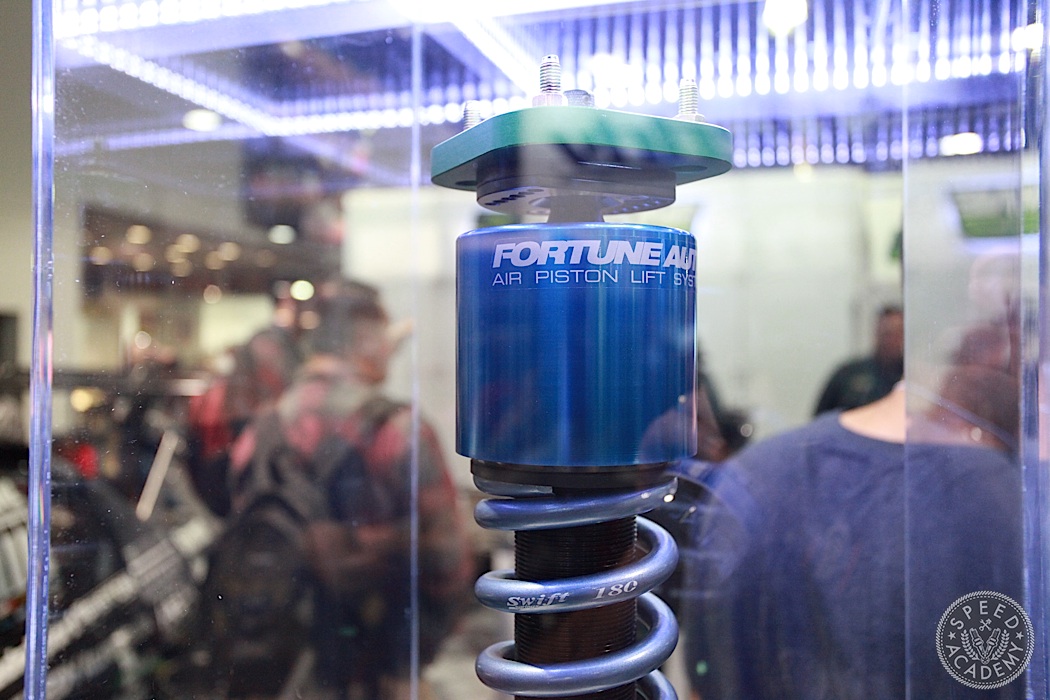 The other reason to visit the South hall is that there's a second level, and up on that level you'll find a lot of newer vendors. Not necessarily new to the industry, but new to SEMA. Fortune Auto, for example, is up on this level and we were happy to get a close look at their new Air Piston Lift System. As you can see, the air cup slips over the piston shaft between the top hat and the spring, allowing race cars to lift their front end to get up ramps onto the trailer, for example, or allowing aggressively lowered street cars to clear curbs or speed bumps with the push of a button.
Of course Fortune Auto is better known for their motorsports coilover kits, the Dreadnought Pro being their top of the line offering in either 2-way or 3-way flavours and this Generation 5 version using their latest and greatest CFD piston technology. Like all of Fortune Auto's coilover systems, Dreadnought Pros are custom built to the exact specifications of the customer, and unlike the 500 and 510 series they also come standard with Swift springs and external reservoirs with 24-step independent rebound adjustability along with 24-step compression adjustability via a knob on top of the piston shaft.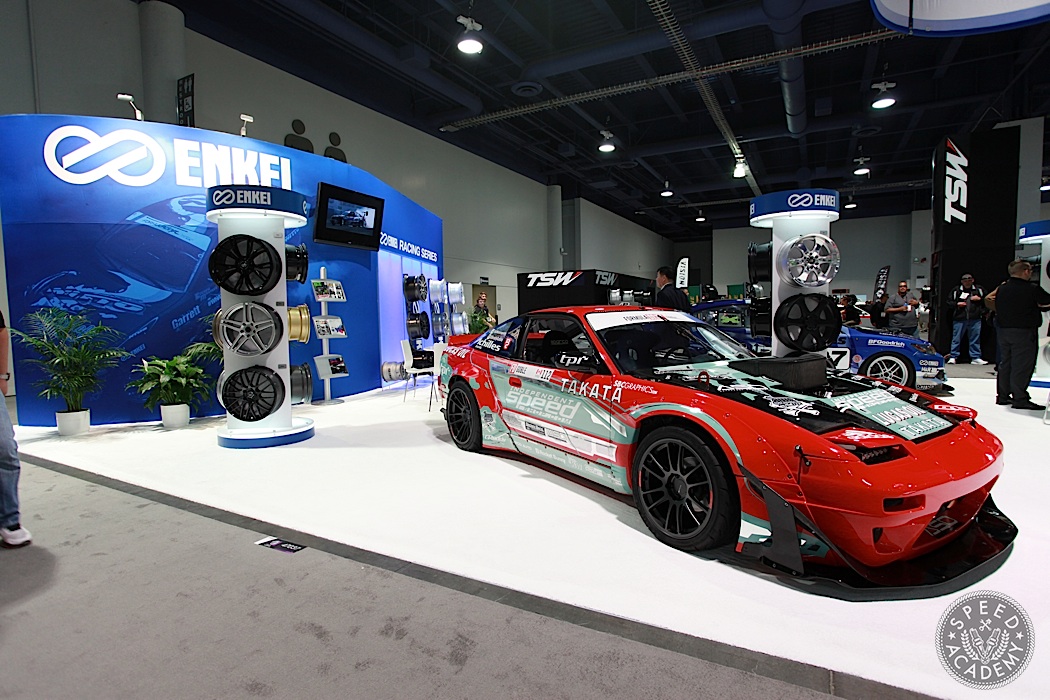 There are a ton of off-shore, no-name wheel companies peddling their wares on this floor of the show, but there's also world leaders in the wheel industry here including Enkei. It's always refreshing to take a good, close look at wheels with this level of design excellence and engineering built into them.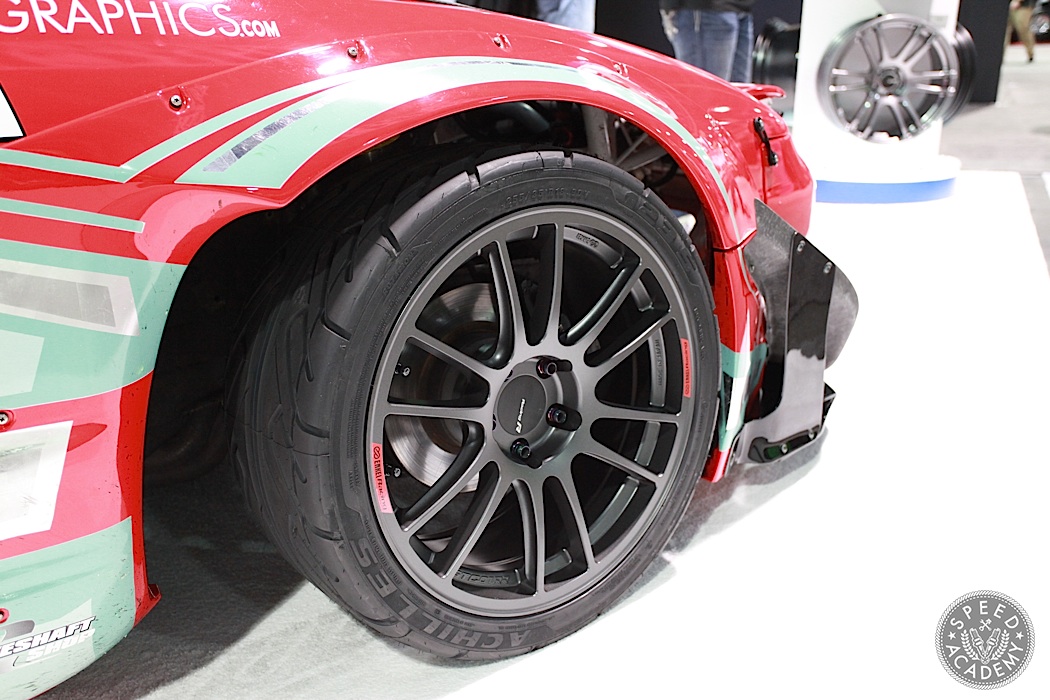 Due to be released in early 2016, the GTC01RR showcased on Goble's FormulaD S13 is based on the extremely strong GTC01 but has been lightened to the weight of a RPF1 without sacrificing any of that strength. It'll be available in three different concave faces in an 18" diameter with a matte gunmetal finish. We like!
Enkei's Tuning collection of wheels offer an attractive combination of style, build quality (using Enkei's MAT process), and affordability. We're particularly big fans of the Kojin and Raijin, both of which can be had with aggressive face concavity.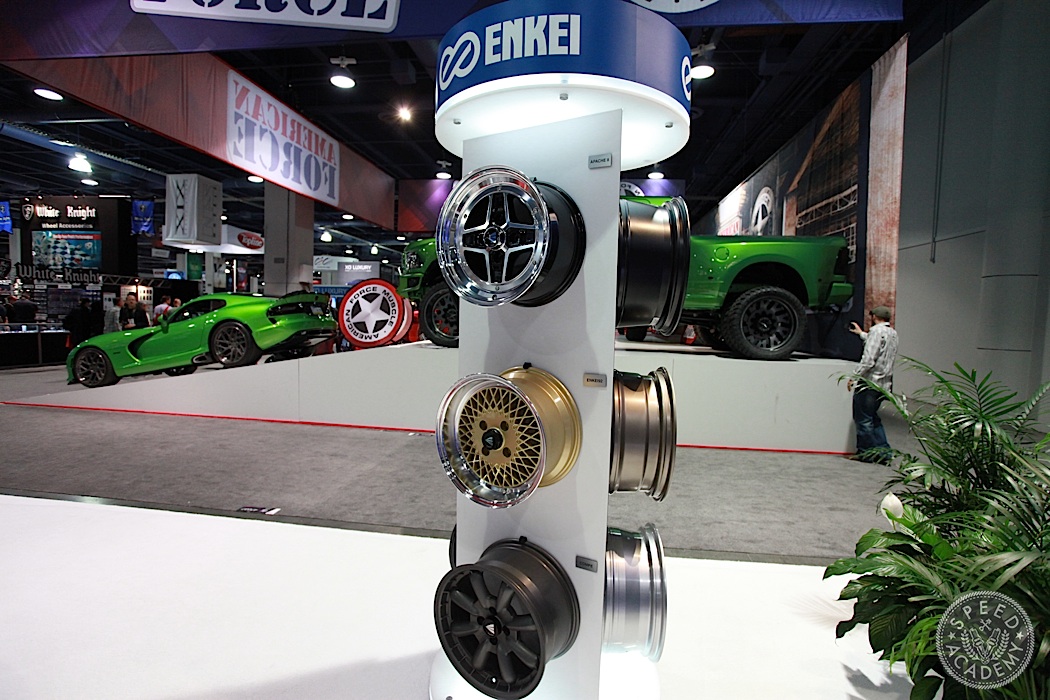 Having just acquired a '77 Toyota Celica GT, I find myself looking more and more at old school style rims like the Classic collection offered by Enkei. Something about that 4-spoke style gets me every time.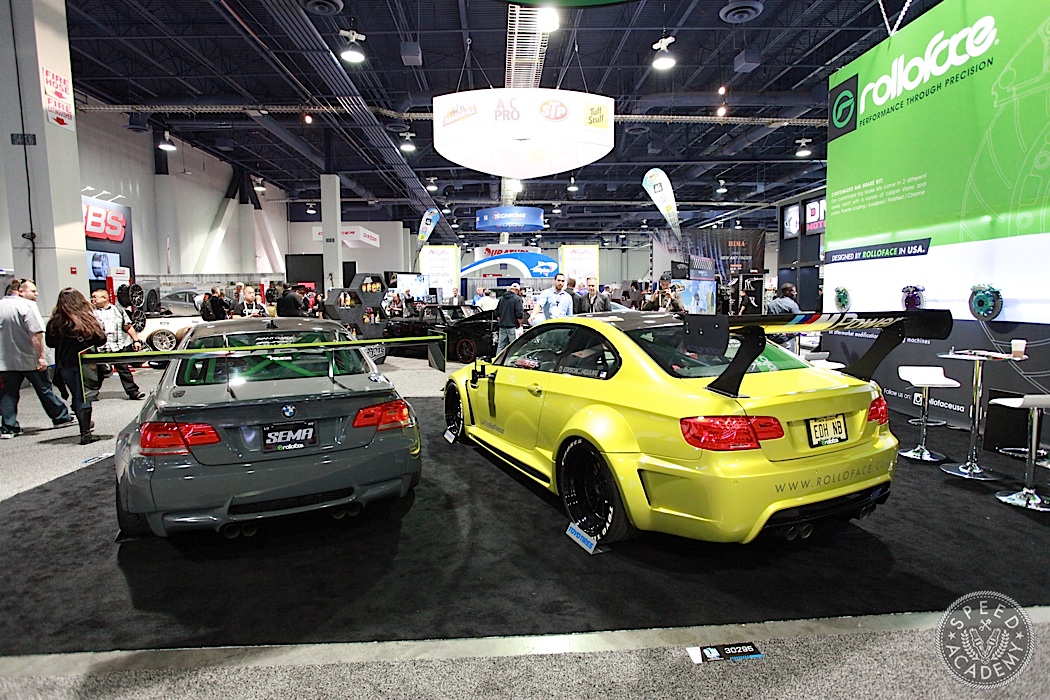 Have you ever heard of Rolloface before? Neither have we, and although we didn't look too closely, they seemed like just another example of marketing. Shiny off-shore big brake kits + shiny wide body BMWs on display = profit!
BBS certainly isn't trying to influence anyone with a fancy booth or wide body show cars. Instead this world-class wheel manufacturer had a rather small put tasteful booth tucked away on the second level, but that didn't stop us (or anyone else) from marvelling at the design and engineering excellence that go into these wheels. Truly impressive stuff, but not for the light of wallet.
Of course wheels are just pretty round coffee table stands without something sticky to wrap them in, so we did spend our fair share of time looking around the major tire manufacturer booths including Toyo Tires. We were pretty awestruck by this Varis kitted BMW speedster from our friends at Bulletproof Automotive. It's one of those SEMA builds you just have to spend some time with to soak up all the details.
Toyo Tires also had an incredible outdoor "throughway" connecting the Central (Performance) and South (Wheel & Tire) halls, where some of the coolest import cars of the show were on display. The Bulletproof M4 was particularly stunning with a really attractive and modern spin on BMW's classic motorsport colour scheme. I especially loved the grey stripes out of the fender vents which mimic the smoke airflow trails you'd see in a wind tunnel.
This Datsun pickup with a Hakosuka Skyline front end was also a major attraction in the Toyo Throughway. The execution of this odd merger was flawless and really worked surprisingly well, and check out that carbon fiber trunk bed.
Kudos to Toyo for putting together such a killer collection of cars for everyone to enjoy while hoofing it between halls, plus Scion had a voting contest going on to pick the best iM build of the show. As you can see, Peter had his usual effect on the charming young lady taking the votes and handing out some sweet Scion swag (we grabbed a couple beanies, because winter's coming).