If you haven't seen our video from Day 2 of our SEMA Show 2015 coverage yet, jump to the bottom of this post (or better yet, go subscribe to our YouTube channel), but in the meantime here's a few of our favourite cars and parts from another 16-km tour of the biggest car show in the world.
Oddly, it was raining outside, but that didn't stop us from taking in the sheer awesomeness of this Twins Turbo built MkIV Supra. The engine bay alone was a work of art, but the entire car was perfection and we loved that it was sitting at a realistic ride height, not slammed to the ground like most SEMA cars tend to be.
Once inside we started off at the SPEC Clutch booth, where they had their new triple carbon clutch kit on display, as well as this bonkers multi-disc setup designed to hold over 2500-hp on heavily modified Lambos.
SPEC also had this sweet Mustang in their booth, with vintage style racing seats we wanted to "borrow" for our 260Z or RA24 Celica build.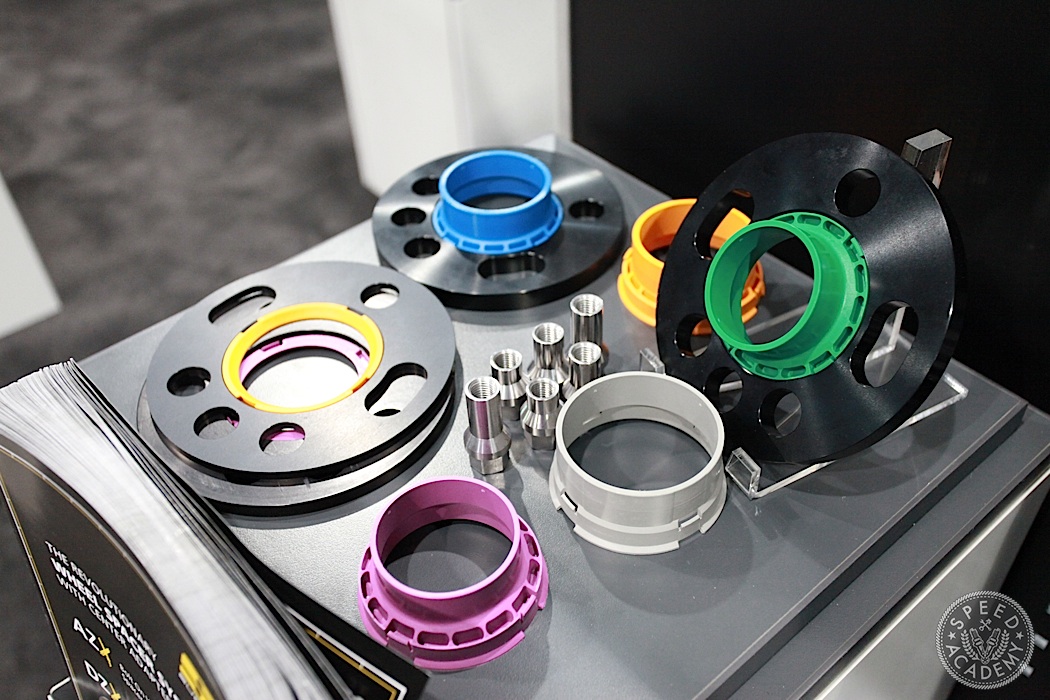 Over in the ST Suspensions/KW Suspension booth, ST had these ingenious new wheel spacers on display (due to hit the market in a few months) that work with rugged plastic centering rings/bore center adapters, so they'll work on a wide range of vehicles simply by swapping in the correct center ring.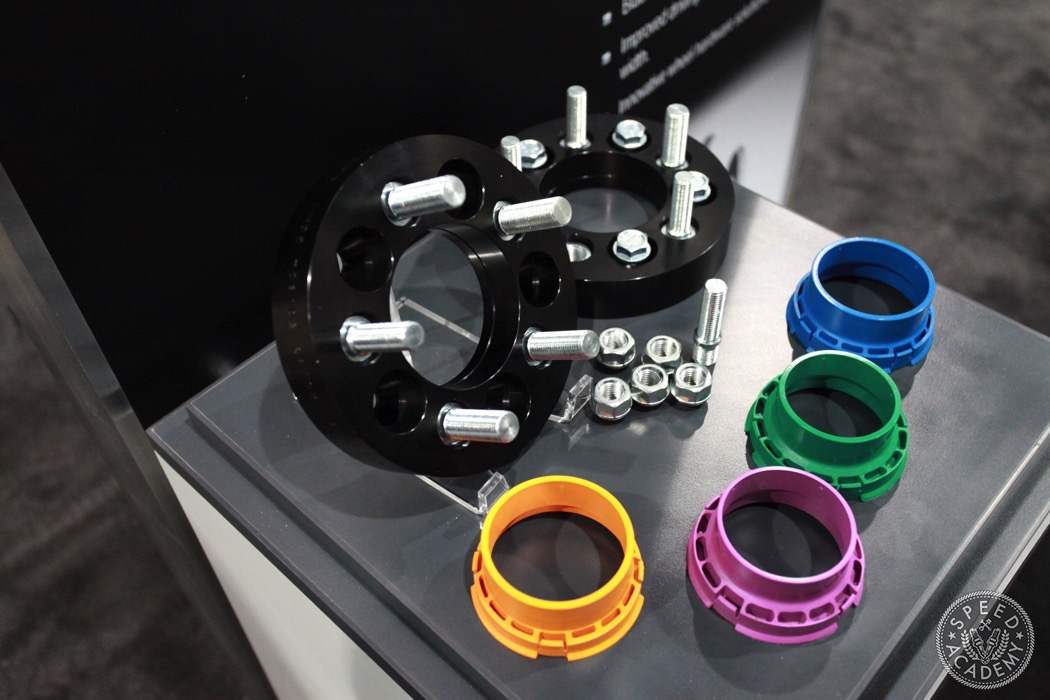 ST also had these slick new bolt-on wheel spacers on display that accept either a stud or a bolt to fasten the wheels to them and work with the same center bore adapters as their non bolt-on spacers. Very clever stuff!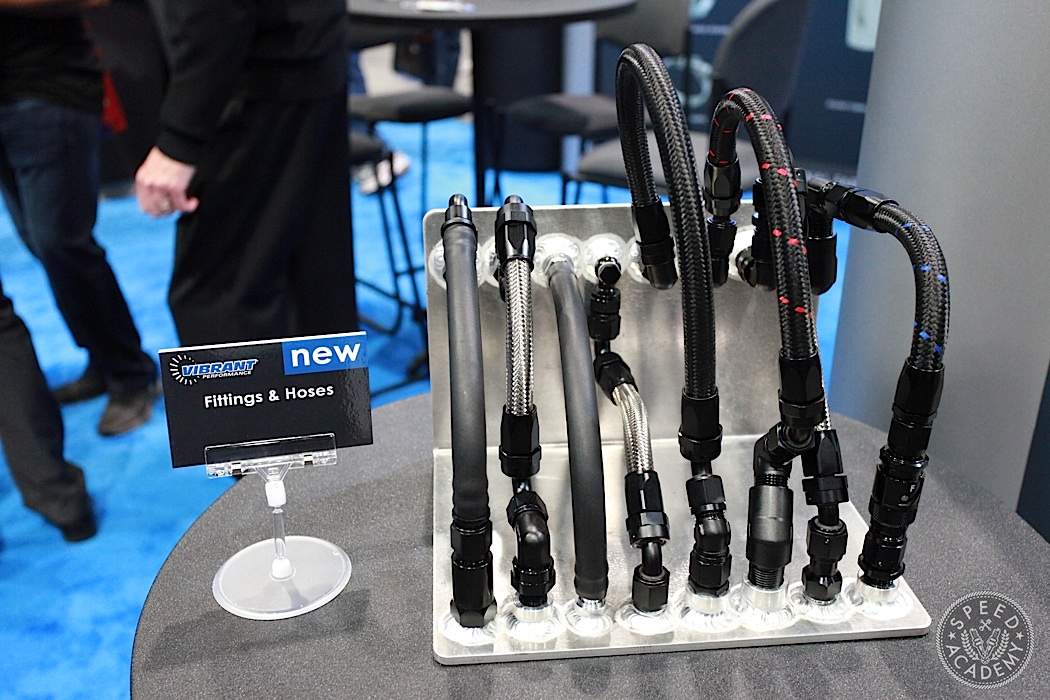 Vibrant Performance continues to release new products at a staggering pace, including these high quality hoses and fittings. Peter was really digging the rubber hoses and black fittings for that OE look he's going for on his 2JZ E39 swap, so expect to see these making an appearance on that project this winter.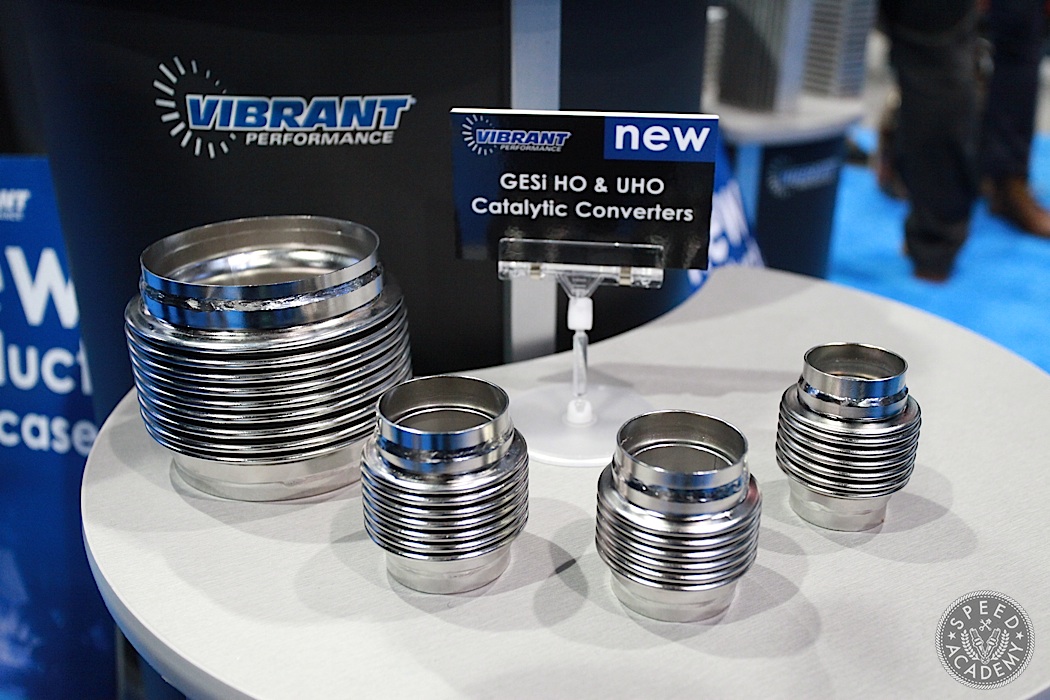 Vibrant also had these new polished stainless bellows on display (ignore the display sign, these ain't GESi cats). As our buddy Aaron from Fabrication Life explained, the new polished finish makes them easier and cleaner to weld into your exhaust system (as a flex joint) and also makes them more resistant to corrosion. Win-win right there, folks.
Vibrant's also adding these heavy duty Vanjen style clamps to their existing lineup of clamps, and we love the fact they're also making high efficiently oil cooler cores available, which gives you DIY types the ability to build your own custom cooler setup.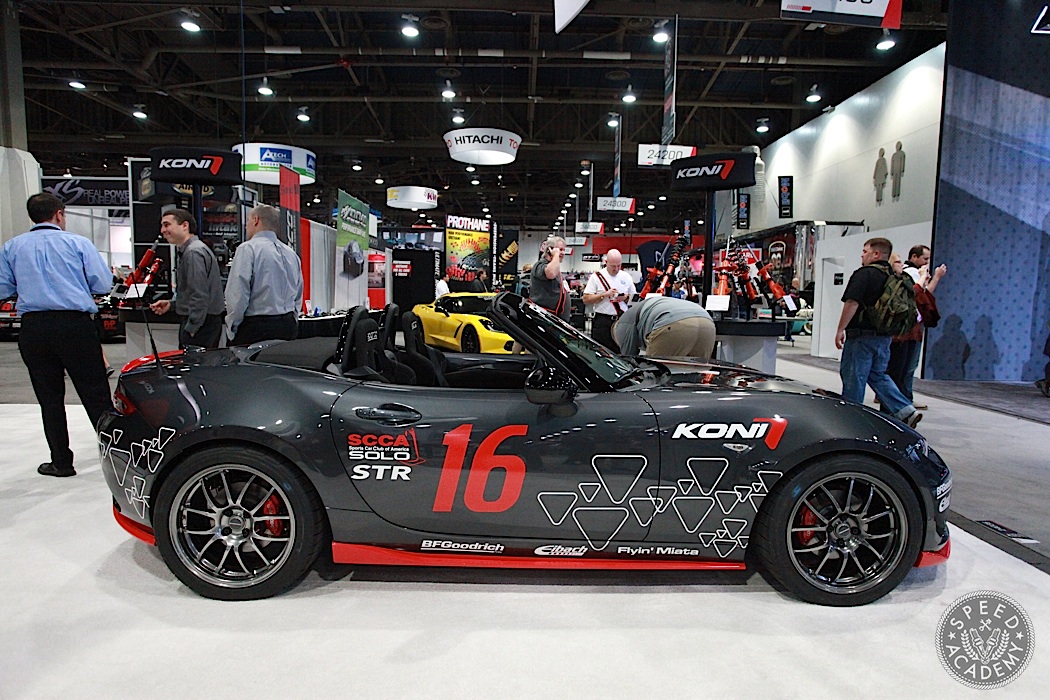 We thought we'd see more ND MX-5's at the show, but this sweet little STR version in the Koni booth was beautifully prepped. I guess Mazda didn't give out any for the show, but when we show you the Mazda booth you'll see where they spent their budget (and it was well worth it).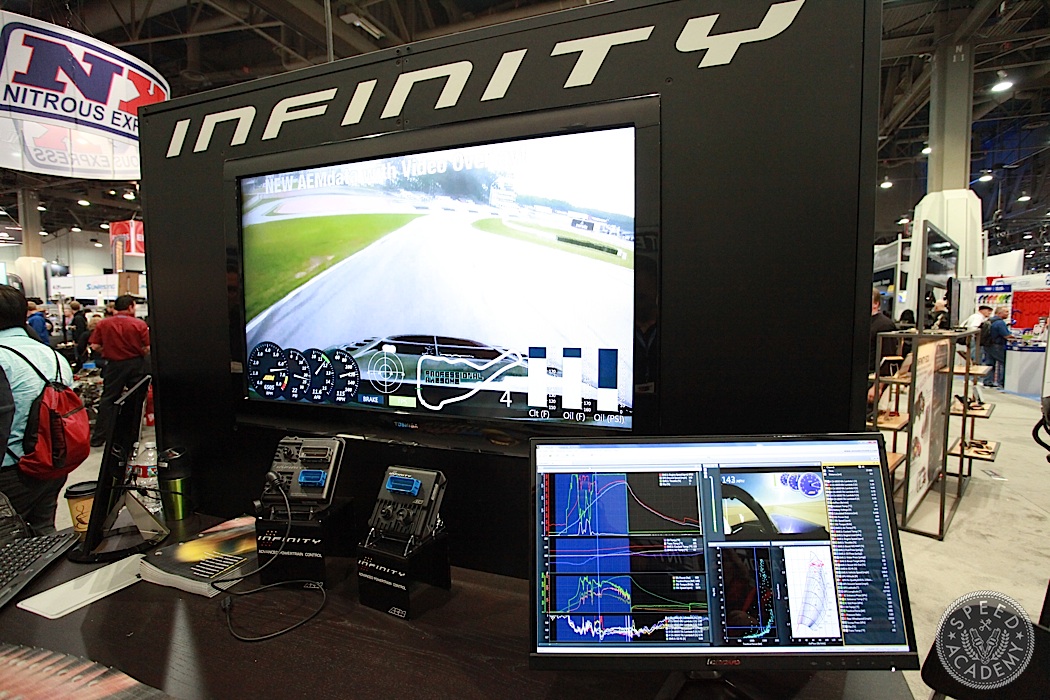 AEM Electronics was showing off one of the cooler features built into the new Infinity lineup of standalone ECUs, their AEMdata logging and video overlay. In our experience there are few tools more powerful than data overlaid on video, because it allows you to create and information rich video that helps you find places to go faster. And at the end of the day it's all about going faster, right?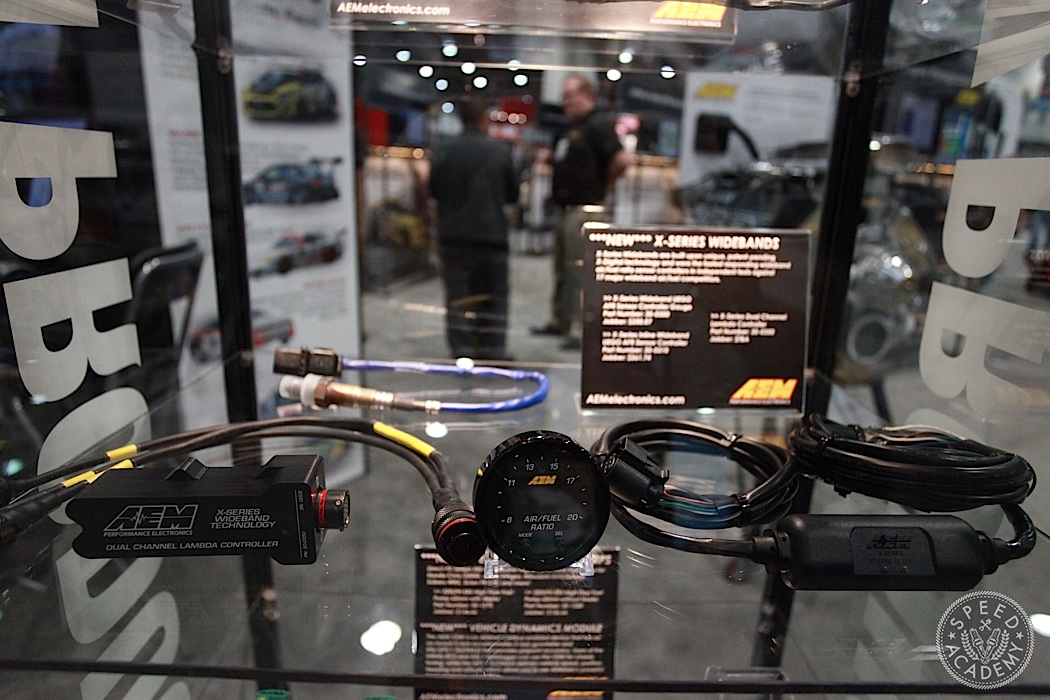 AEM also had their new X-Series wideband 02 sensor kits on display, which are now the fastest responding widebands in the industry (based on independent third party testing). These kits are available with AEM's digital UEGO gauge as well as an inline controller or even a dual channel controller.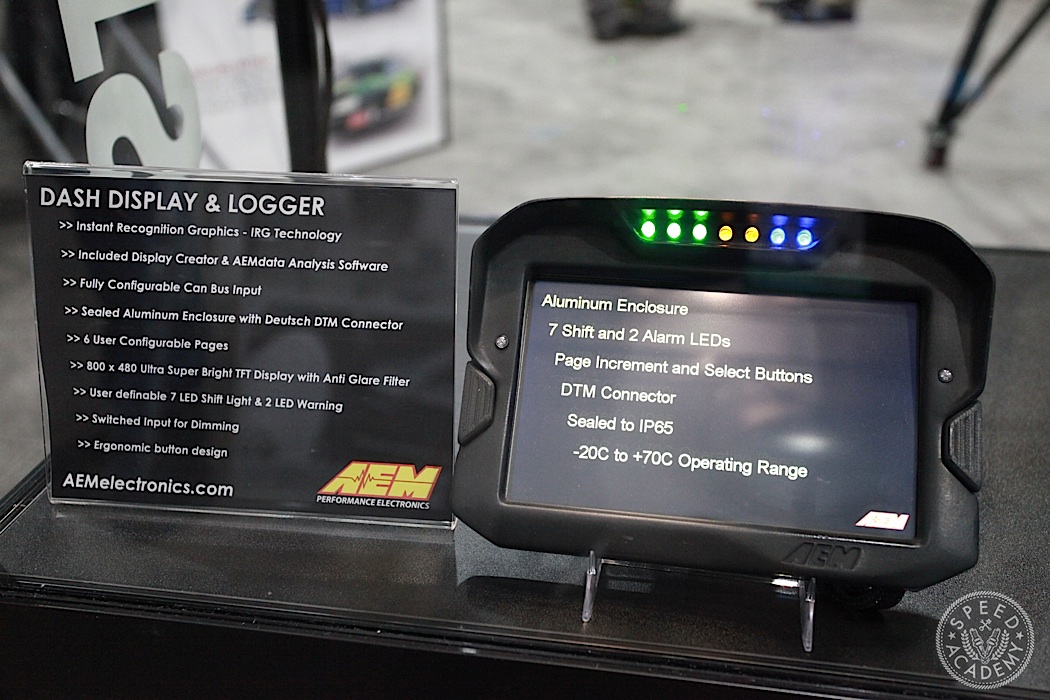 We're suckers for a sexy digital dash and logger, and AEM's also getting into the dash market with this new offering. We really like the form factory and sealed aluminum housing which should ensure flawless operation even in dusty desert racing or (as is more likely the case for us) cold and rainy races.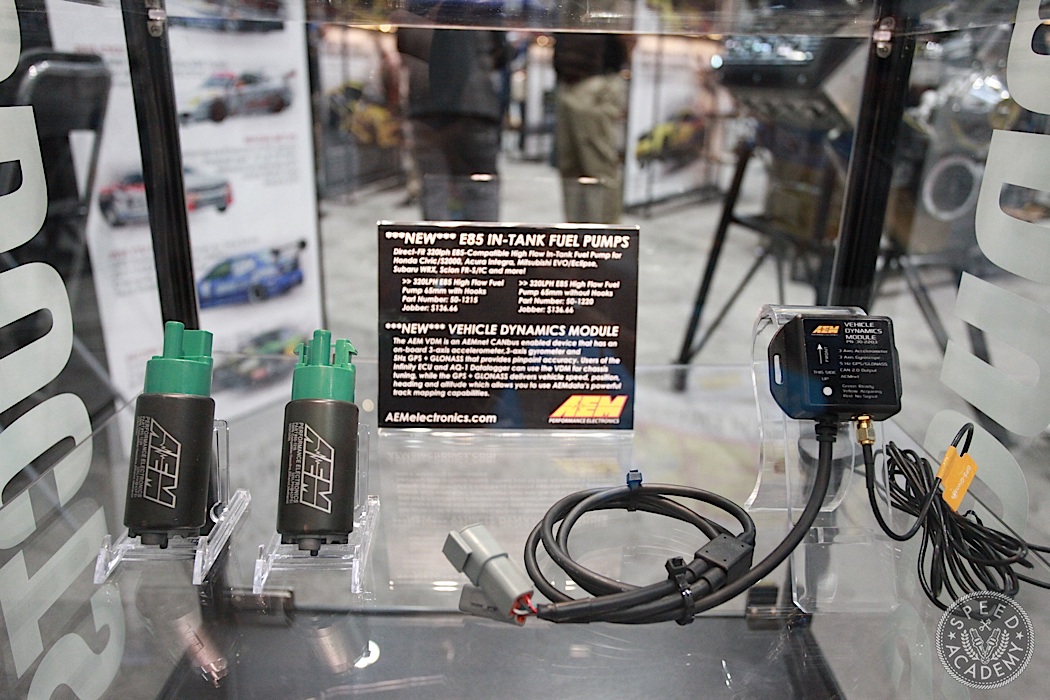 Last but not least, AEM's offering these new E85 in-tank fuel pumps, which is a perfect upgrade for all you boost junkies making big power with a corn-juice tune. We're thinking we'll run a higher boost pulley and E85 next year with our FR-S, so you can bet we'll be dropping one of these pumps into its tank.
This pro touring Charger in the Jet Performance booth was completed a day or two before SEMA (they joked the paint was still drying) and the end result is simply stunning. We're talking full billet grille, door handles, gas cap, rear brake light surround, along with carbon fiber front end, rear bumper and door panels, and black paint so deep you feel like you're looking into the outer reaches of space. No holds barred builds like this are always inspiring to see, even if we're sadly lacking in knowledge when it comes to old muscles cars and the whole resto-mod and pro touring scenes.