In Part 1 and Part 2 of the Abandoned STI, I covered off how we came into possession of this '09 hatchback and how we went about building the engine and rebuilding/restoring the rest of the car. Not quite a "frame off" restoration, this was a very thorough refreshing of a once-great machine, which I think you'll agree we've managed to turn into a seriously impressive performer and head-turner thanks to the support of our title sponsor Turn14 Distribution along with a host of other supporters including COBB Tuning who played a critical role in this final phase of the project.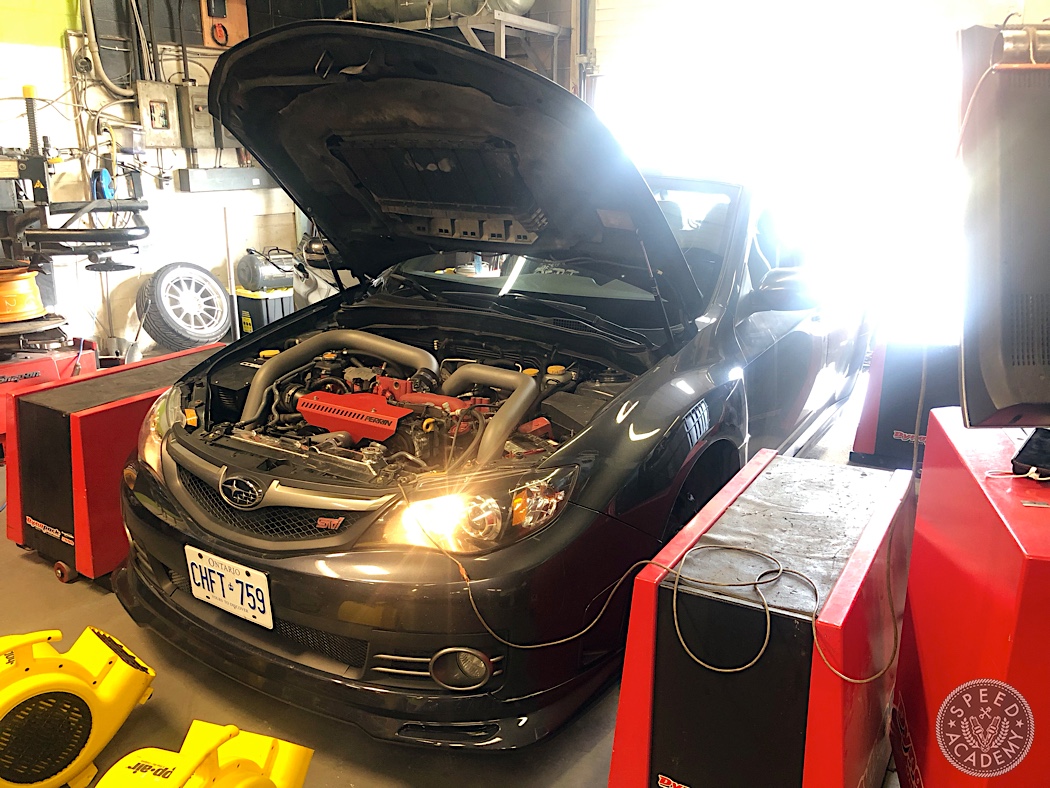 At the end of Part 2 the car was running and we were putting break-in miles on the engine while sending datalogs to Mike at COBB Tuning so that he could refine the engine calibration remotely. Having gone back and forth with Mike for a few weeks, the calibration on the COBB AccessPort V3 was ready for a final touch-up on the dyno, which meant bolting the STI up to a Dynapack hub dyno and making some full pulls while testing a couple of different exhaust housings on the Garrett Motion G25-660 turbocharger.
As you'll see in the video above, the first few pulls were done on the smaller 0.72 a/r housing, which Mike felt was choking exhaust flow and causing exhaust valve float such that power was dropping off dramatically starting around 6,800 RPM.
Based on Mike's feedback, we headed back to our shop and swapped on the 0.92 a/r exhaust housing from Garrett, which is rated to flow 20% more than the 0.72 a/r housing. As you'll see in the episode above, swapping the housing was very simple, since the Garrett G25 uses a V-band setup so pulling the turbo and swapping the housing was about a 5-minute job. We also swapped out the Cosworth front mount intercooler for a COBB Tuning front mount intercooler because we were seeing skyrocketing air intake temps on the dyno and both Mike and Dov felt a larger and more efficient intercooler would help address this issue. We were extremely impressed by the fit and finish of the COBB FMIC kit, but being designed for the 2011 to 2014 STI we did have to do some trimming to the backside of our '09 front bumper , eventually replace the foglight housings with OE blanking plates for cleaner look. And as you'll see in the video above, the housing swap and FMIC swap both paid big dividends, with a 25-degree drop in AIT compared to the old setup.
This dyno session wasn't drama-free, though, as we saw a sudden drop in fuel pressure during a power pull (due to low fuel level in the tank…oops!). Luckily for us, we had equipped the engine with a COBB Tuning fuel pressure sensor kit, which alerted the ECU to what was happening and triggered an engine protection protocol Mike had put in place via the AccessPort that instructs the injectors to stay open longer (maxing out their duty cycle in this case) in order to keep the air/fuel ratio at a safe level and prevent an engine meltdown.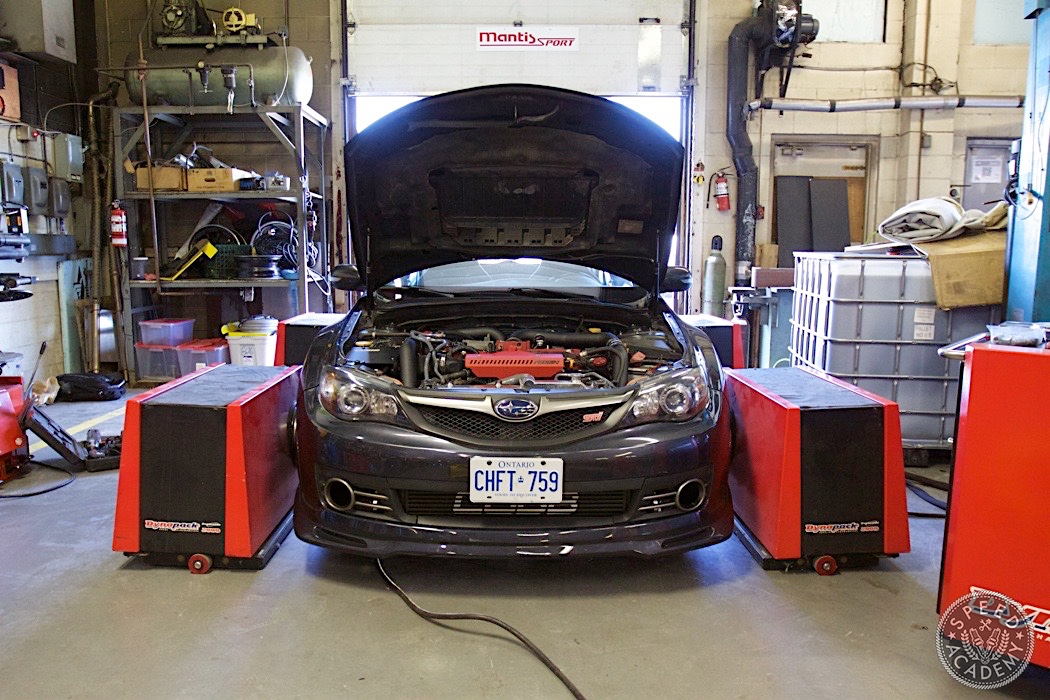 With more fuel in the tank, this tuning session ended up at 398-whp on 94-octane pump gas, which was a very solid number but a bit underwhelming since we really wanted to crest the 400-whp mark. At this point Mike recommended we swap to an equal length header, which he felt would reduce backpressure and deliver better reliability at the race track since all four cylinders would see similar EGTs (while with unequal length headers it's not uncommon to see the shorter runner cylinders run dangerously hot).
Although we were tempted to go to a bigger turbo, we really enjoy the responsiveness of the G25, so decided to change out the Tomei UEL header for a Tomei Expreme 4-2-1 design equal length header, which we wrapped in their signature Titan bandage in order to keep radiant heat out of the engine bay and in the exhaust. As you'll see in the episode above, we also added a spring to our Turbosmart USA Hyergate-45 wastegate to bring base boost pressure up to 19-psi from the 14-psi we were running before. This should allow us to achieve a higher peak boost since we were running out of range on the 14-psi spring, and more boost is good!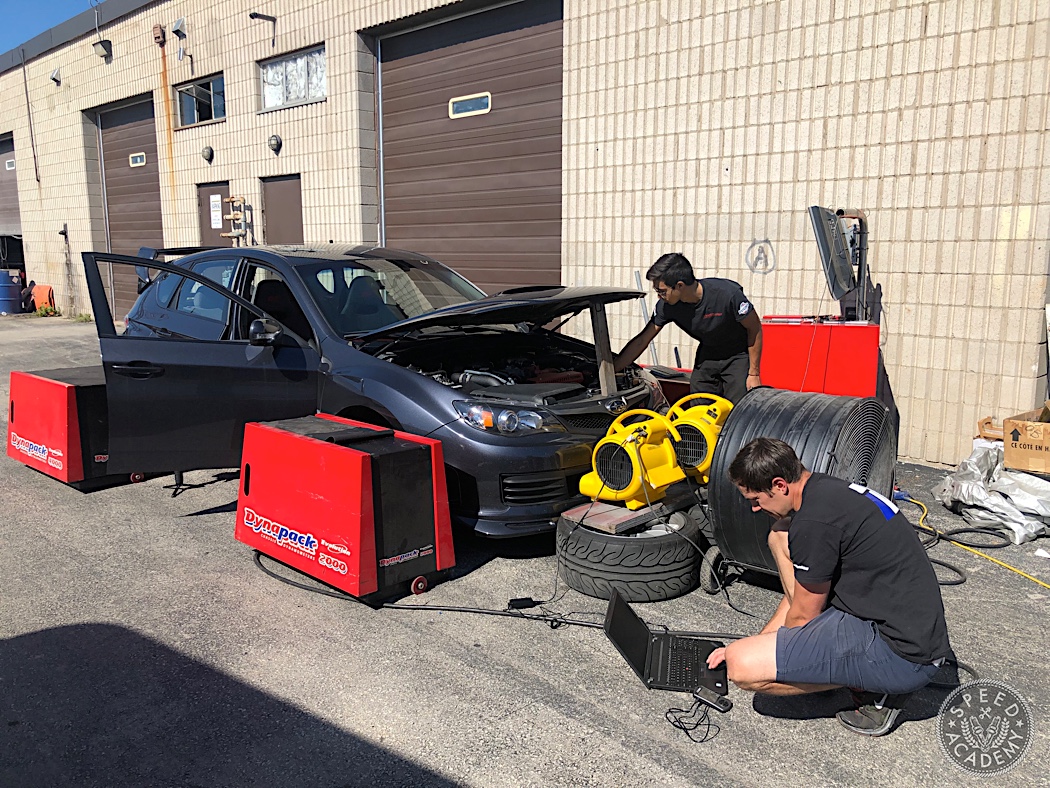 So good, in fact, that back on the dyno one last time (out in the sunshine this time, but with Mike doing the tuning remotely), we decided to throw some VP Racing Octanium octane booster into the tank, raising the octane level from 94 to 102 (when adding a full can to 40-liters of 94). Mike had never tried this type of octane booster before, but we'd seen impressive results with it on other cars and sure enough the higher octane allowed Mike to turn up the boost and add some ignition timing without any sign of detonation.
The results did not disappoint, with peak power climbing to 420-whp at a max of 28-psi. Mike then gave us a bunch of final maps to use, including a safe 94-octane map for street use and a "kill mode" full power track day map when running the boosted 102-octane fuel mixture.
Speaking of the track day map, it was finally time to test that out by heading to Toronto Motorsports Park to have a head-to-head battle with Pete to see which of us would get to claim the STI as their daily driver. You'll have to watch the episode above to see who came out on top, but suffice it to say the STI ran like a champ all day and proved to be properly fast in a straight line and around the road course, where on my only hot lap in the car it went 1:19.3. With a bit more seat time and some minor setup tweaks like adjusting tire pressures on the Yokohama Advan AD08R's and damper settings on the KW V3 coilovers, there's no doubt in my mind this is a 1:17 car that can still cruise comfortably on the street. That really does put our STI squarely in supercar killer territory, but we have another project by that name, so stay tuned for updates on that.