If the SEMA Show is any indication of the overall health of the automotive aftermarket industry, then tuners, hot rodders, and modifiers should rejoice because the 2017 SEMA Show was the biggest and busiest we've seen it in our 14 years of attending.
In fact, SEMA was so massive this year that it spilled over into a large parking lot across the street from the convention center, where Kia had set up their Drift Experience area set up for the new Stinger GT rear-wheel-drive sports sedan, plus this lot seemed to be full of "overflow" cars that didn't make it into one of the main halls but were certainly worthy of being seen at the show, like this very nicely done Toyota 86 with all the TRD goodies on it along with a Jackson Racing supercharger kit.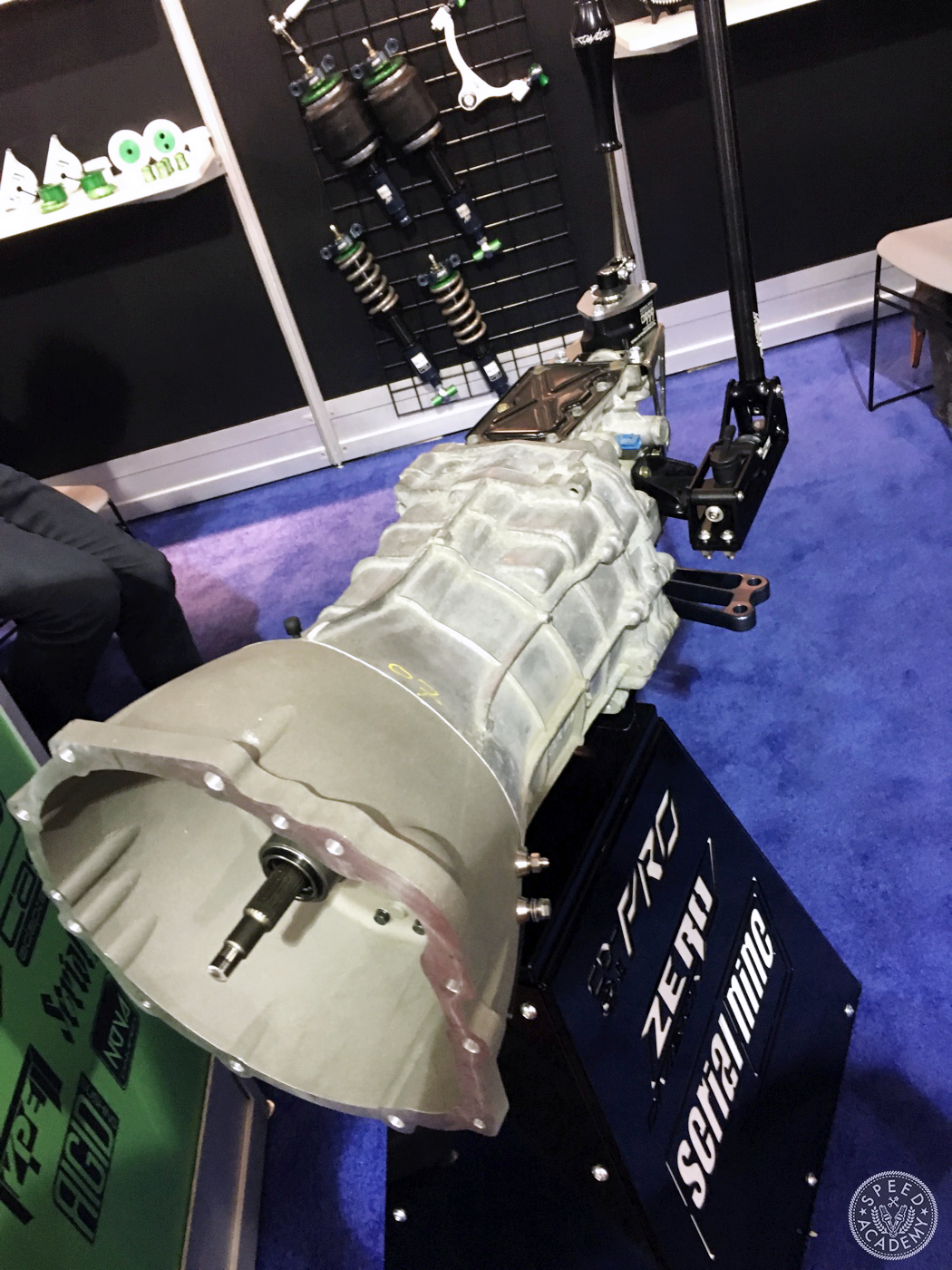 Out in "tent city" we found the Serial Nine booth, a British Columbia based parts manufacturer of some seriously badass parts for drifters including this Nissan CD09 transmission shifter relocation kit, hydro e-brake and bellhousing designed to adapt the 350Z trans to a Toyota JZ engine. Always cool to bump into some fellow Canadians at the show, and these guys really are building some top quality stuff for anyone drifting the more popular Japanese platforms.
Another tent city find was the extremely impressive carbon intake manifolds on display in Performance Design's booth. Seriously sexy stuff.
Continuing the "we're not even in the convention center yet!" theme, there's also a ton of action out in front of the main hall entrance, including Valvoline's booth where they had their new Easy Pour bottles being used in a fun contest you'll see me compete in if you watch our Day 3 video, plus Chris Forsberg's S30 in all its golden splendor and Ray Evernham's amazing Big Iron Garage custom racecar on display.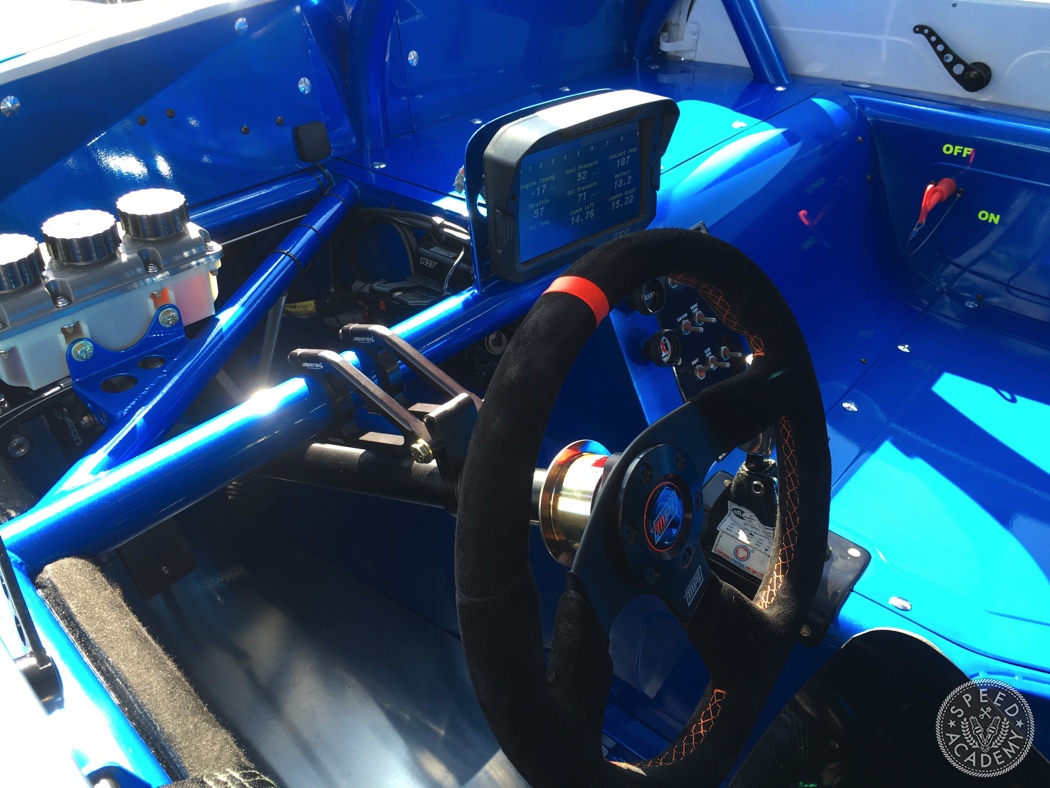 Pretty cool seeing Evernham, one of America's top racecar builders, using AEM's CD-7 digital dash, and if you haven't watched the Big Iron Garage video series covering the build of this very special little speed machine, jump on Valvoline's YouTube channel next chance you get and check it out. You won't be disappointed.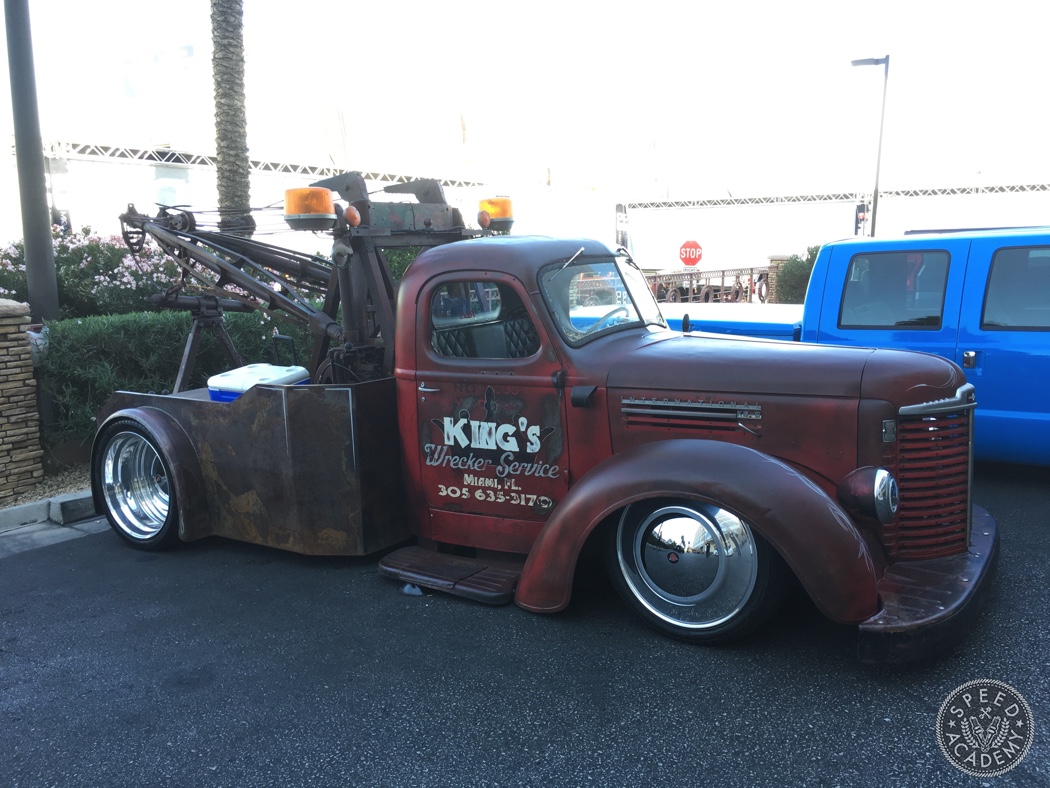 Seeing an insanely cool tow truck like this just chillin' in a side lot is no big deal at a show like SEMA but would completely blow your mind in any other setting.
You just can't beat the variety of builds at SEMA, this long and low Lincoln Continental in front of the entrance to the Central Hall having some of the most immaculate black paint I've ever laid eyes on. Just flawless, and the engine bay has the same high-quality finish as the exterior.
We are mostly Japanese and Euro performance car enthusiasts, but I have to admit that some of my favorite builds at the show were actually trucks. I'll take a hard pass on all the gigantic bro trucks with their 3-foot lift kits and massive wheel and tire packages, but I would gladly trade a kidney for this ICON Reformer, a 1965 Ford Crew Cab F-250 equipped with a Banks turbocharged 5.9L Cummins diesel under the hood. How much fun would it be to tow your race car to the track with this rig?
Cooler still, at least for an old school Toyota fanboy and Overlander-wannabe like me, are these FJ60 Landcruisers. The CATUNED Landcruiser, codenamed OM606, gave me all sorts of bad ideas about replacing my Tundra with one of these classic FJs, and if you check out their webpage about it I'm pretty sure you'll find yourself dreaming up all sorts of reasons to build one, too.