It was exciting to see Vibrant Performance unveil their new lineup of Titanium components, including mufflers, resonators, straight and mandrel bent tubing, o2 bungs, v-bands and all the other fabrication components you've come to expect from this leader in the performance aftermarket. We're stoked to build some Titanium parts soon!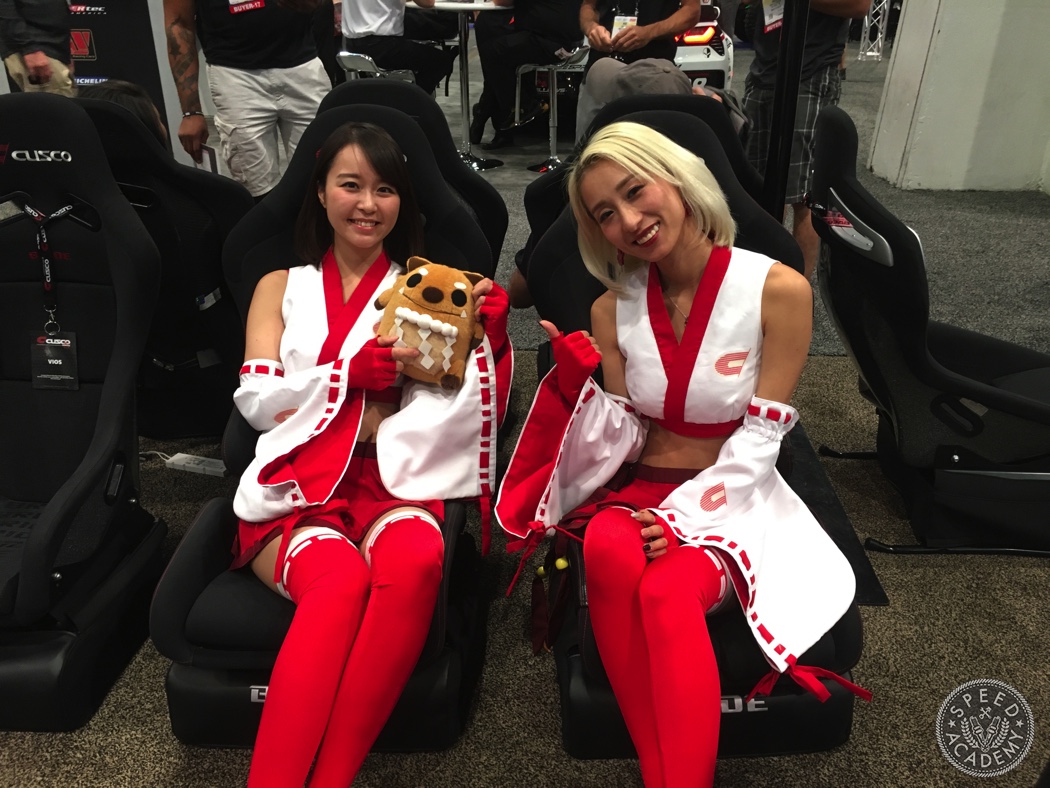 Not going to lie, we sometimes visit the seat vendors just to take a rest, because SEMA is a torture test for your feet. These Japanese models in the Cusco booth seemed to understand our dilemma perfectly well despite the language barrier.
After a successful launch of the CD-7 digital dash at SEMA last year (they literally can't make them fast enough to keep up with demand), AEM Performance Electronics unveiled the smaller CD-5 digital dash this year, which, as you can see, features a more compact form factor in a carbon fiber case. This keeps the new CD-5 extremely lightweight, plus the carbon finish gives it a unique finish compared to other dashes on the market.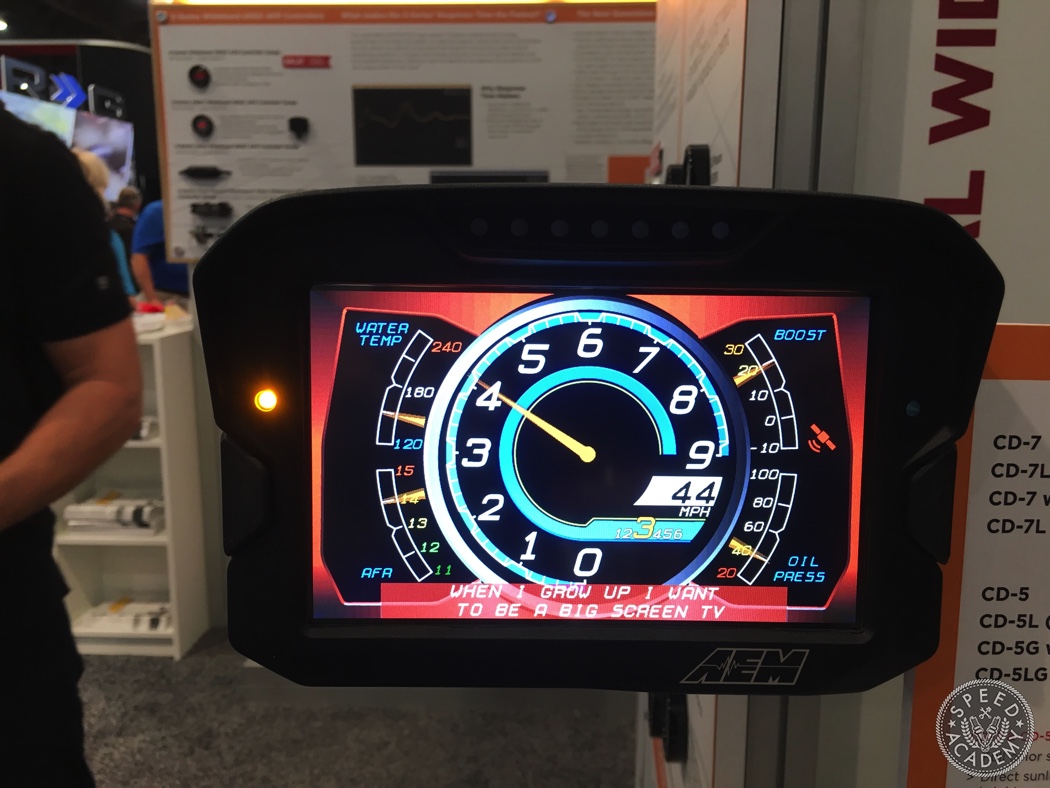 The CD-7L logger we installed in the K-Swift has been a killer setup, and we love the new graphical layouts AEM was featuring at the show, with some campy "warning" messages to illustrate just how customizable this display really is.
Over in the Rays Wheels booth this stunning ZN6 attracted a serious crowd with it's wild Varis aero kit.
I loved everything about this build, especially all the functional venting. And those Mag Blue TE37's aren't too shabby either!
AEM Intakes had Chris Forsberg's wife's "daily driver" on display, this 510 wagon that you can see being built over on the Donut Media YouTube channel. The over fenders are definitely not for the purists among us, but this is SEMA and you can't argue with the fit or visual appeal of the SSR Mk-III wheels or the SR swap with that incredible carbon intake manifold.
Racepak had their groundbreaking new Vantage CL1 system on display, initially developed for karts but will trickle down to cover the full spectrum of motorsports applications soon enough. The kart system uses a smartphone as the display and data recorder (with the data being transmitted via the CL1 data box), and then the data can be analyzed on the phone or on a tablet locally, but where things get really interesting is when you sign up for their Cloud service. Now your ECU tuner or your chassis engineer or your grandpa can look at your data on the Cloud from anywhere in the world and give you feedback on it. Plus you can live stream the data to a device in the paddock, so your crew can watch what's happening in real-time. All in all, this is some very exciting new tech for you data nerds out there!
Ford always has some really cool stuff in their booth, but this…this may be a solution to a problem that doesn't exist.