I bought this 2008 Toyota Tundra SR5 for one reason: we needed a proper shop truck. My Acura MDX was being asked to do things it really wasn't designed for, like towing a 2o-foot enclosed trailer and hauling engines and transmissions around in the trunk. It was simply time to man-up and get a proper work truck that can handle all the heavy lifting we'd be asking it to do.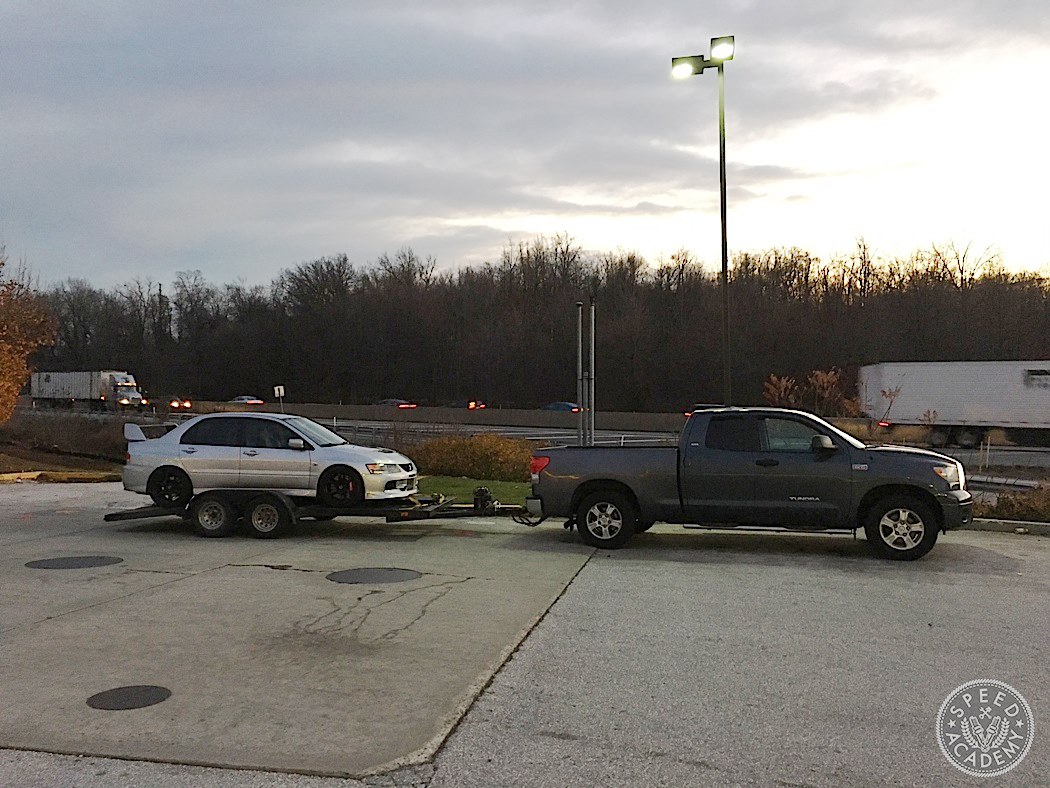 Like towing Pete's Evo VIII back from CBRD down in Pennsylvania as a warm up.
And then towing his 930 Turbo from Toronto to Phoenix, Arizona for an epic engine build at TurboKraft and UMS Tuning. This turned out to be a solid 10,000 km round-trip that included a tour of Napa Valley that Pete took his girlfriend on (that's right ladies, Pete's taken).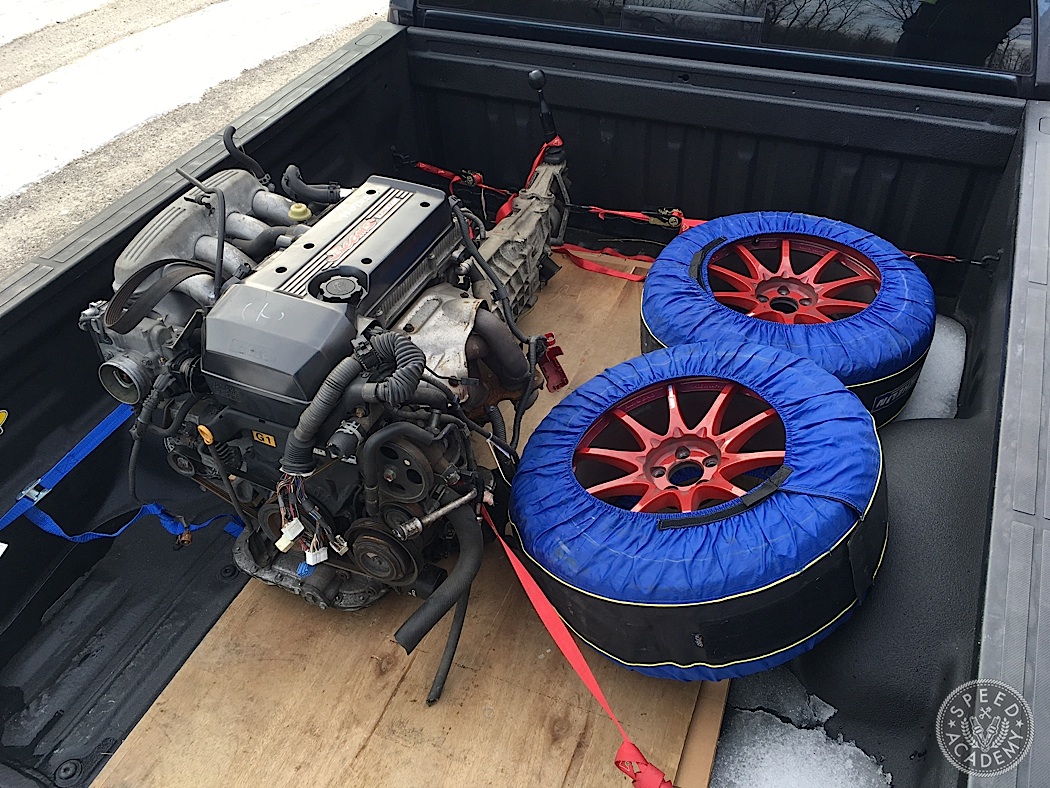 My first taste of that truckin' lifestyle came when we transported Beamsy the Blacktop 3SGE engine back to home base, as you'll see in the video above.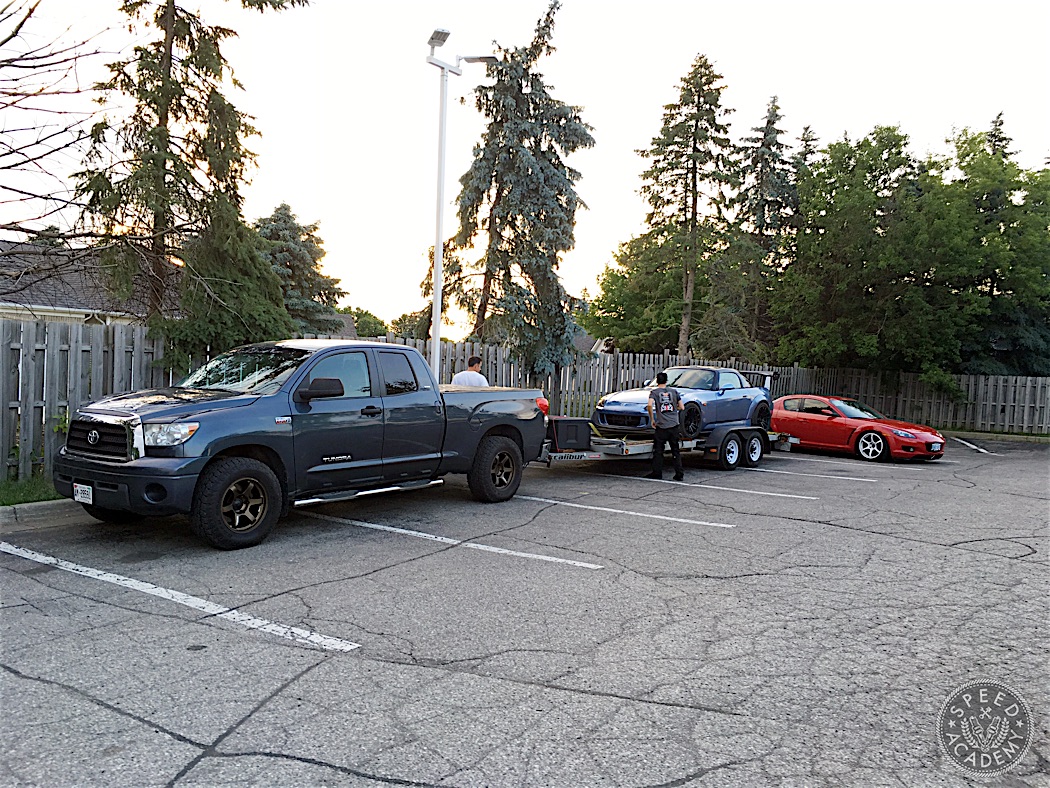 More recently, we also put the Tundra through its paces hauling the S2000 to GridLife in west Michigan, which turned out to be an excellent idea given the engine misfire issue that popped up with the old ASS2k. As you can see, we decided to equip the Tundra with a sexy new set of wheels and tires, not because it was a necessity but because it completely transforms the look of the truck and does give us some added performance, too.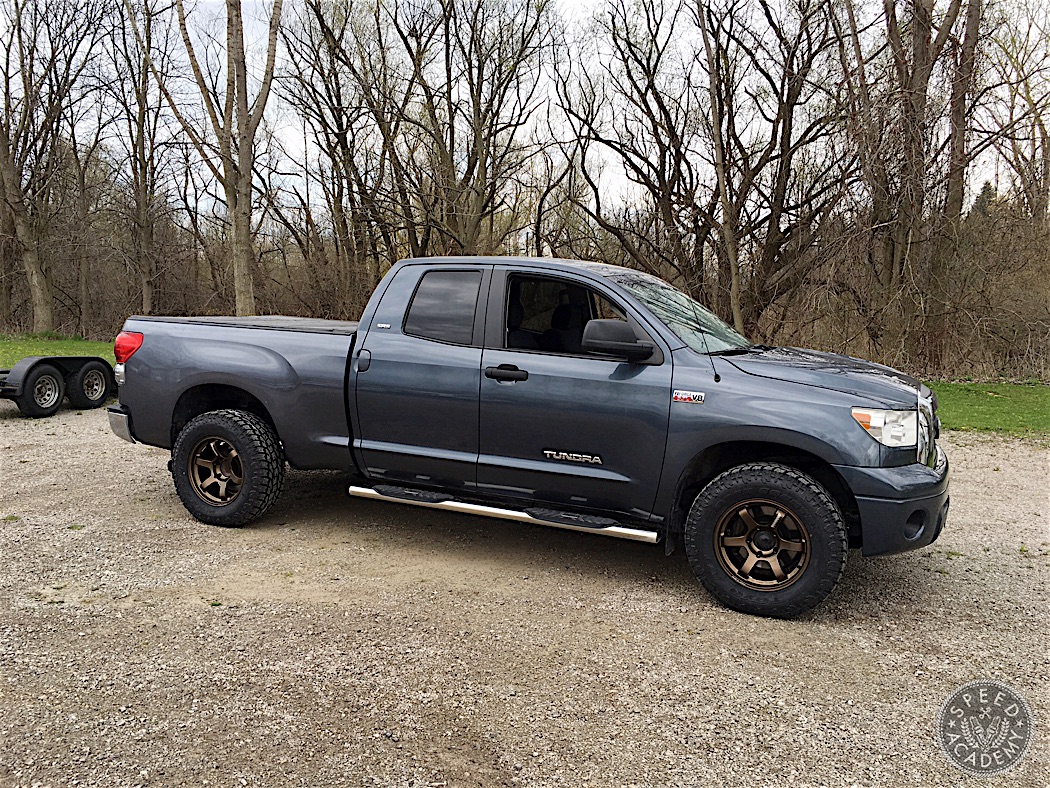 Some people might ask, why Volk Racing TE37's on a truck? Those people are, of course, dead to us the second they ask. Ok, ok, maybe not dead-dead, but if you don't understand the appeal of TE37's on a Tundra then your JDM Fanboy Card is most definitely revoked and you're banned for life from using terms like Time Attack, Touge, and Zenki or Kouki, nor are you ever permitted to watch Initial D or Best Motoring.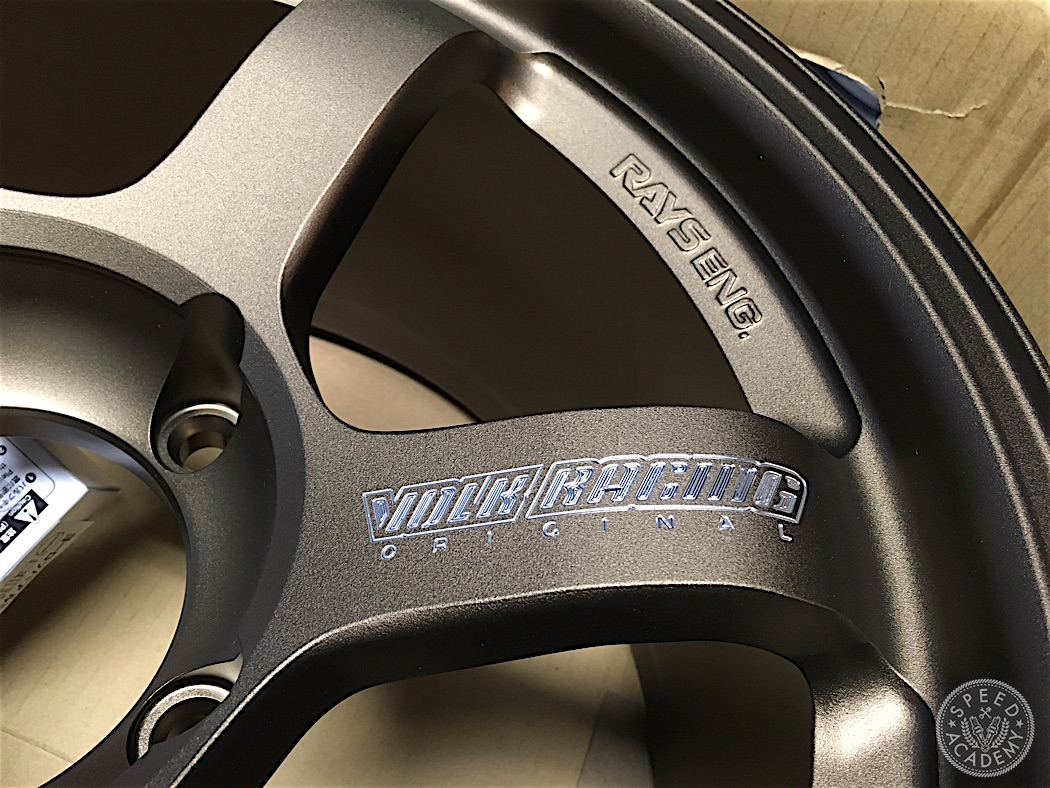 For those of you who get it, I don't really have to explain, but for the rest of you, Rays Engineering in Japan is one of a very small number of wheel manufacturers in the world producing flow-formed forged aluminum wheels. This process makes for an incredibly strong wheel, which also means you can design them with less material and thus less weight. As a result, Rays produces high-performance wheels for Nismo, TRD, Mugen, and STI to name a few, plus they are wheel supplier at the highest and most demanding levels of motorsport including F1, Super GT, ALMS, BTCC, WTCC, Pirelli World Challenge and Formula D.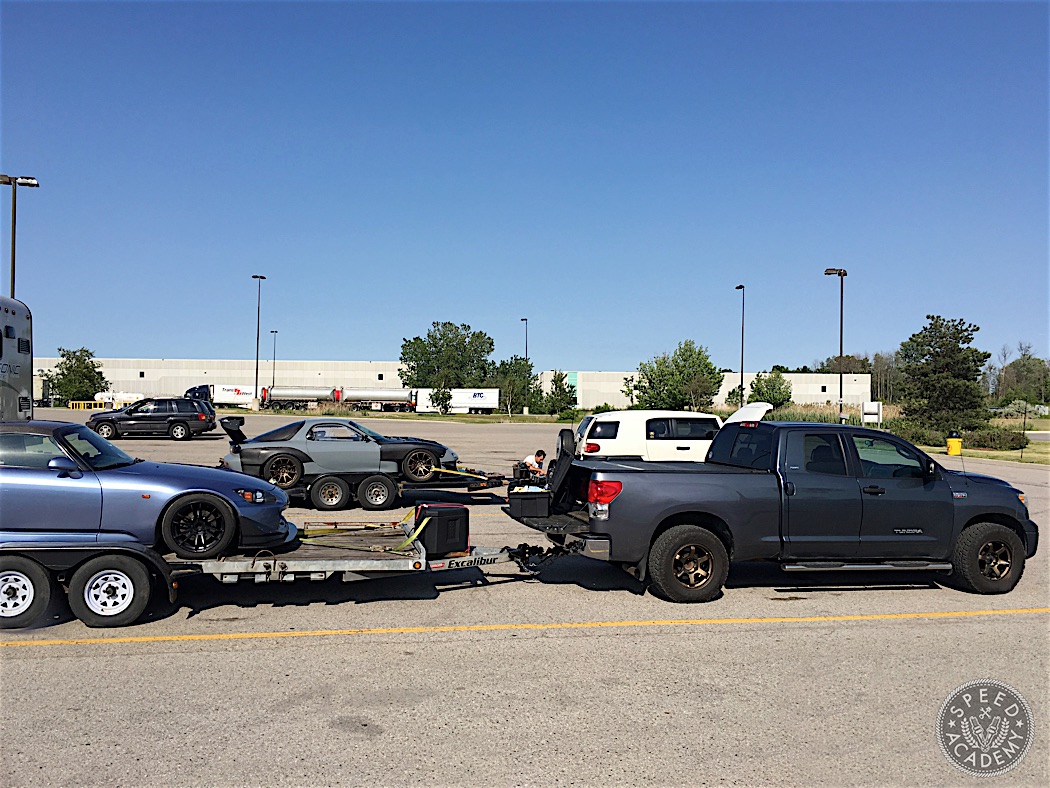 Obviously weight savings isn't really a big issue for us on the Tundra the way it is on our track cars, but it's still reassuring to know we've got the strongest and most durable wheel money can buy on the truck since it will be pounding down pothole strewn Canadian roads while hauling a trailer and race car behind it.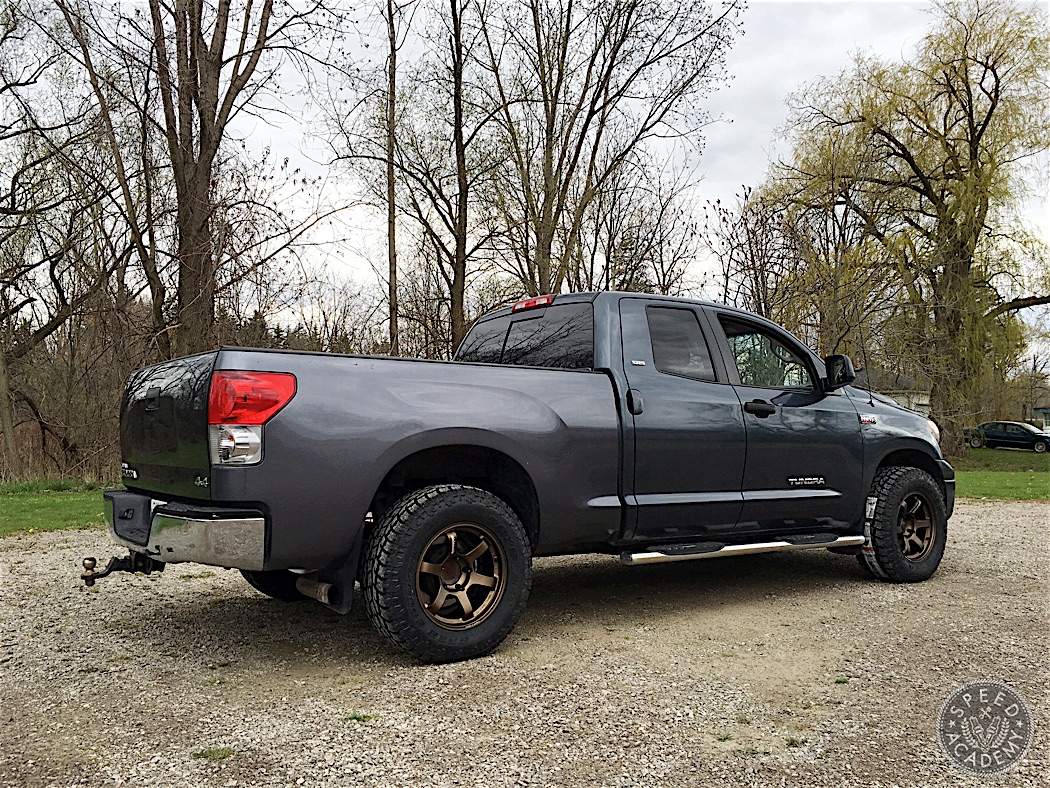 But really, I mainly wanted TE37's on my truck because they look super badass. For anyone who's a fan of Japanese engineering and performance, TE37's are one of the most iconic wheel designs of all-time, which is why we've said in our videos a number of times, "TE37 all the things!"
For tires, we turned to our friends at Toyo Tires Canada. We've been long-time users of Toyos on our cars, from RA-1's and R888's on our race cars to R1R's on the FR-S last year when we won the Ontario-1500 (a grueling 7-days straight of racing on Ontario's best race tracks), so we were stoked to get the opportunity to try out their truck tires. If they're good enough for Robbie Gordon during insanely tough off-road races like Dakar and Baja, we figure they're good enough for our gravel parking lot at the shop.