Here's a good example of a basic street/track alignment, as performed by NV Auto on our S14 240SX. Pete did a major overhaul on the car's suspension over the winter, including Godspeed Project control arms and KW Clubsport coilovers, and after recently fighting through the rear subframe debacle it was finally time for a proper alignment so we could take the car to the track and fine-tune its setup.
As the video above and spec sheet below show, we opted for what we consider a solid track spec alignment for a well balanced RWD chassis like the S14 on Toyo R888 semi slick tires. Nothing crazy going on, just a reasonable amount of front camber to help the front end grip in the corners along with slightly less rear camber to help the chassis rotate and put the power down coming out of corners. We also know from extensive tire temperature data collection on a bunch of different RWD cars including our RX-8, G35, S2000 and FR-S that camber in this range generally puts an even amount of heat across the entire contact patch at all four corners, and ultimately that is the name of the game when trying to generate maximum grip and minimum lap times around a race track.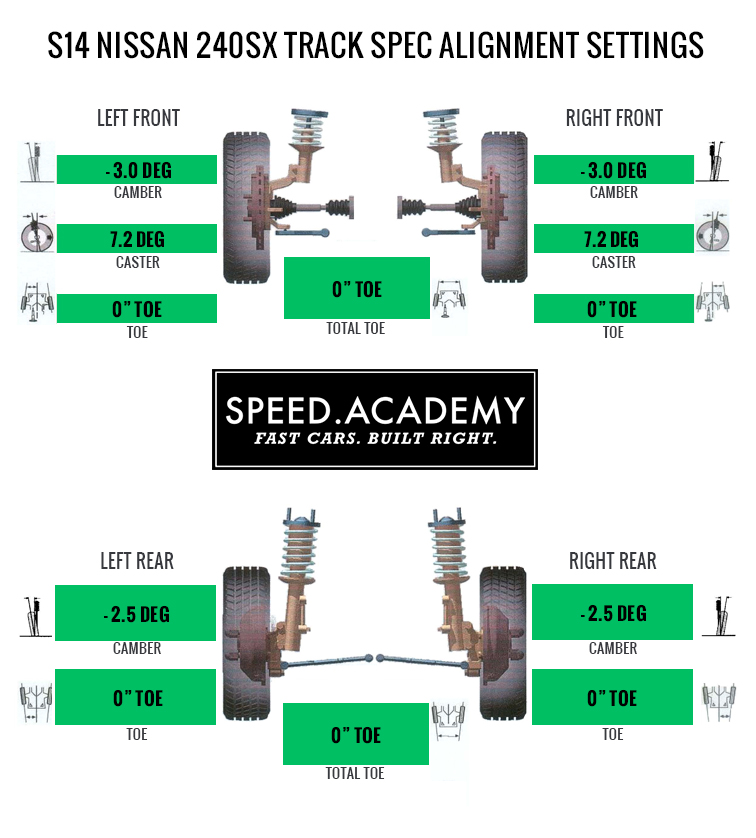 From this point Pete and I will begin to fine-tune the alignment using tire temperature data (but first he needs to replace the head gasket on his SR20DET…more on that in an upcoming video). If you're unfamiliar with how to collect tire temperature data and use it to fine tune wheel alignment for optimum tire performance, below is our Just The Tip video explaining exactly that. You're welcome.
Because the S14 was completely untested when doing the alignment, Pete set the KW Clubsport dampers to the recommended compression and rebound settings. Or at least I'll assume he did, though he's been known to toss instruction manuals aside once the wrenches start to spin. The dude's a beast!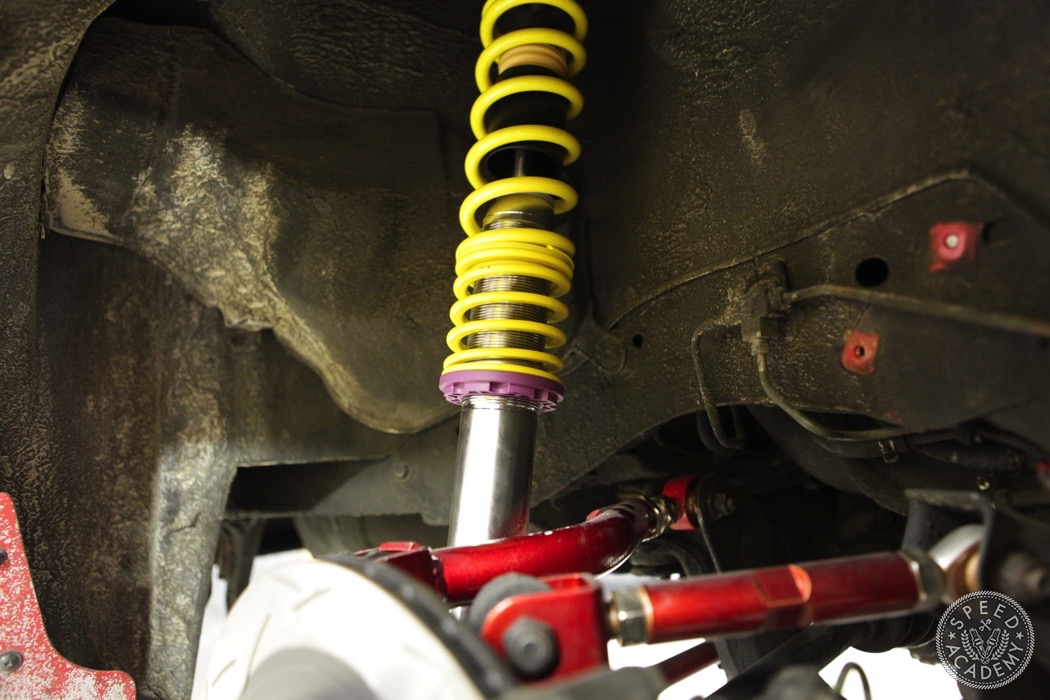 But seriously, KW does a great job of giving you recommended damper settings and ride height settings in their instructions, and in our experience these initial settings are very good. In fact, when we tested a set of KW V3's on an otherwise stock FR-S their recommended settings were absolutely perfect during our track test. We literally didn't even touch the damping adjusters the car was so well balanced. But from the picture above it looks like Pete got a little greedy on the lowness when initially setting up the KW's on his S14, but as he mentioned in the alignment video he's since raised the front ride height for better shock travel and suspension geometry.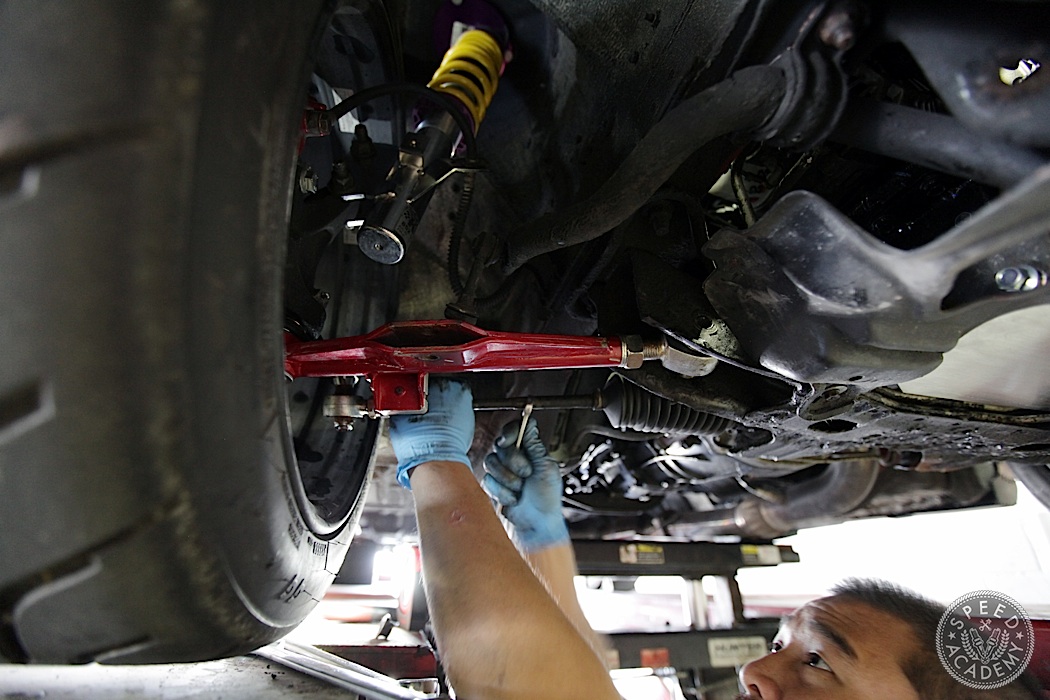 Alright, hopefully we'll have a more refined track spec alignment on the S14 that we can share with you soon, but in the meantime we think the S14's starting alignment is a good blank canvas for pretty much any RWD chassis to start from. After that the ball's in your court in terms of doing the homework required to refine your car's handling via tire temperature data along with shock setting experimentation cross referenced against lap times and other in-car data collected with a system like the AiM Solo we use.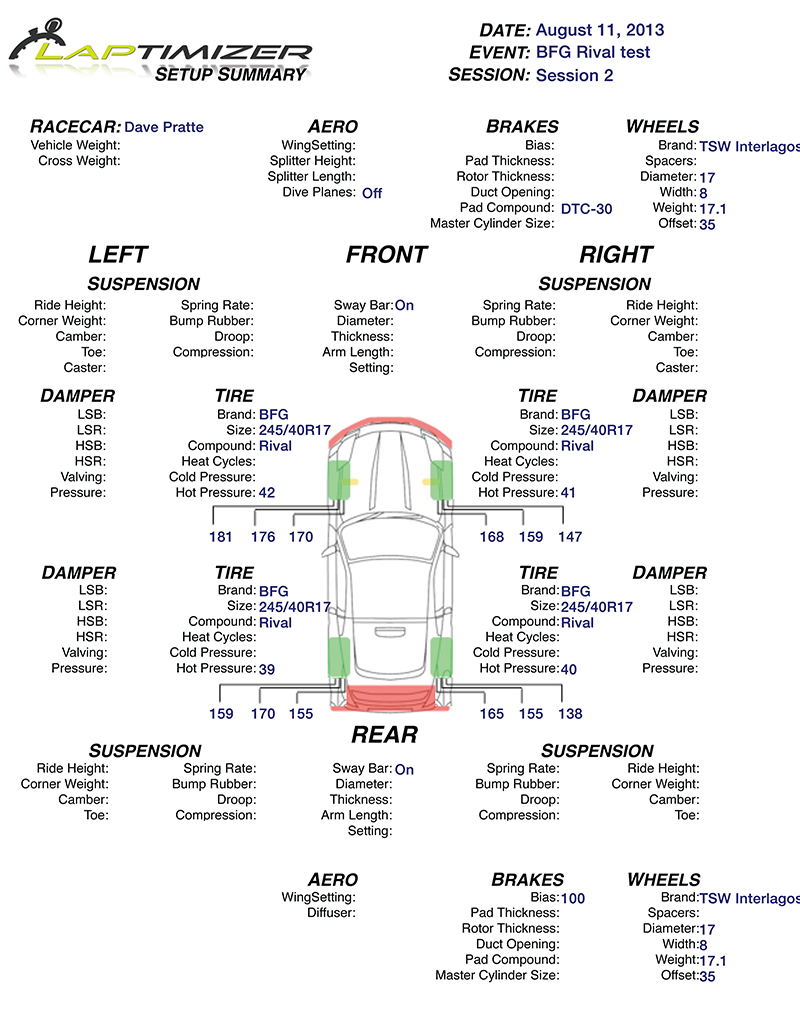 And like we've mentioned before, take lots of notes on your car's setup so that you can easily keep track of which setup changes resulted in a move in the right direction and which ones didn't. We recommend Laptimizer, an outstanding iPad app, for keeping track of all your setup data, but even just a notebook and pen will do the trick. Or you can print off some chassis setup sheets like the one below and use them to keep track of things. High tech, low tech, just get in the habit of taking notes because otherwise you will forget what changes you made last time you were at the track and will end up starting all over again. Been there, done that!