Once upon a time I had a dream of wind tunnel testing my Honda Civic race car, since I'd added a custom front splitter and wing to it and wanted to know if the car was actually making any meaningful downforce and if that downforce was split from front to rear in a balanced way. That's when I got a serious dose of reality, finding out that the only wind tunnels within a semi reasonable distance from my home base in southern Ontario were either not available for public testing (used strictly for scientific or government research) or priced so astronomically that it was completely out of reach for a grassroots racers like me. We're talking $10,000 an hour. Ouch.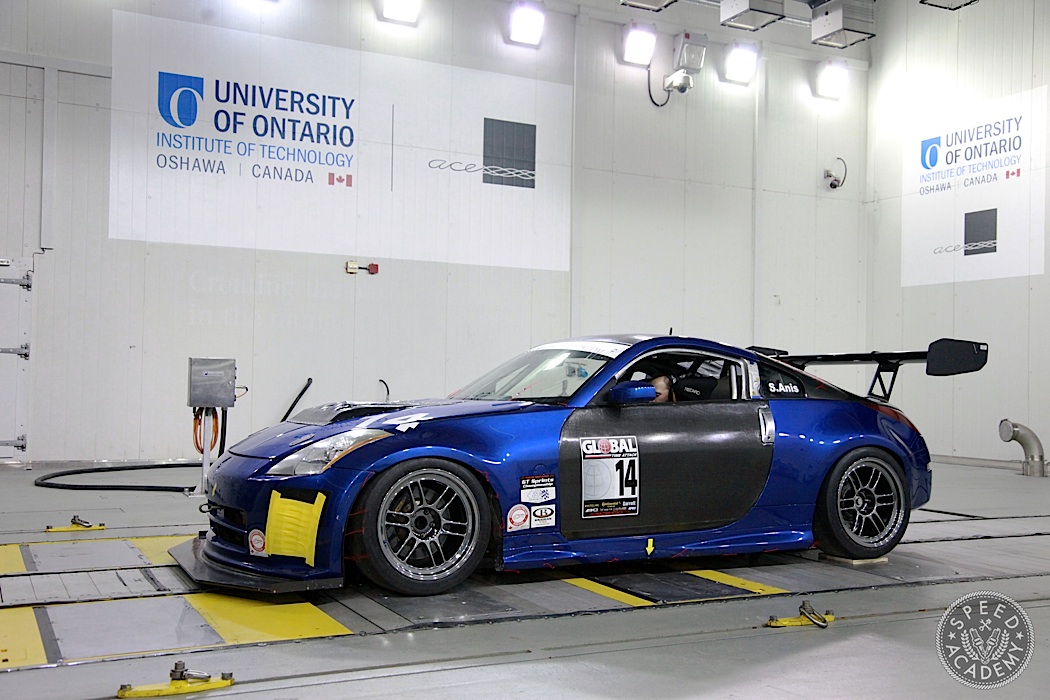 Then something big happened. The University of Ontario Institute of Technology (located in Oshawa, Ontario) wanted to build an Automotive Centre of Excellence (ACE) that would include a climatic wind tunnel capable of doing full scale testing of vehicles across a broad range of wind speeds, climatic conditions and yaw angles. It was a bold idea, as it would be a unique facility in Canada. General Motors loved the idea and helped UOIT lobby the provincial and federal governments to get behind the idea, and thanks to their efforts public funding was found to break ground on the $100-Million facility in 2006. The 5-story ACE building now houses all sorts of automotive awesomeness including a four-post shaker for suspension testing, climate chambers, a multi-axis shaker table for durability testing, and the world-class wind tunnel our buddy Sasha from OnPoint Dyno was invited to test in with his amazing Nissan 350Z racecar we recently featured.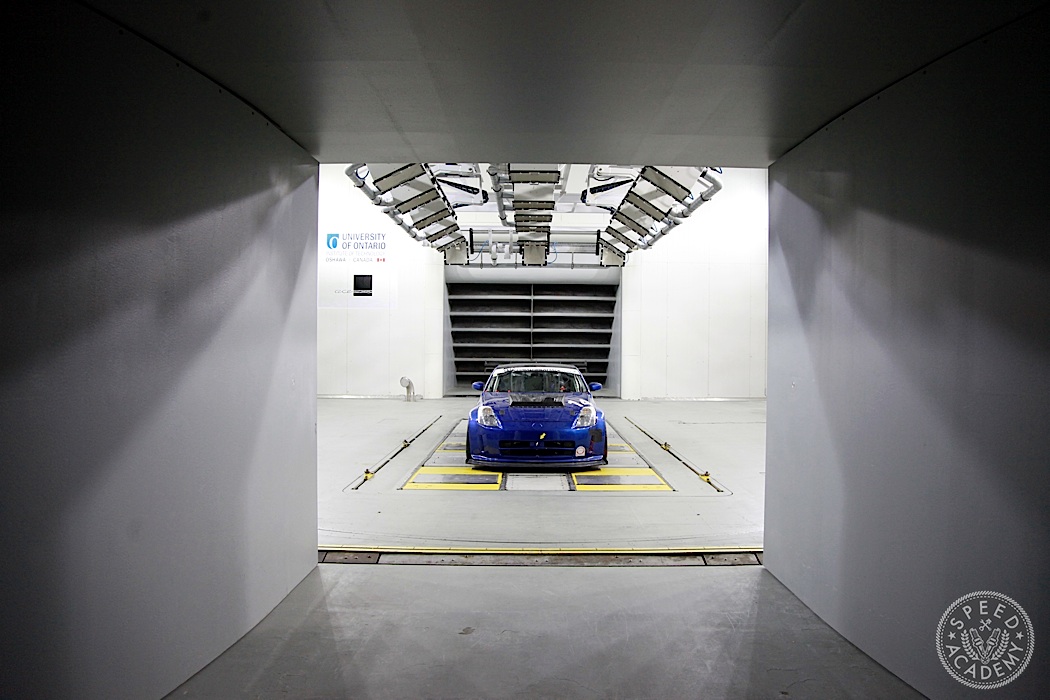 Fully operational since 2011, the ACE wind tunnel now has six OEMs clients as well as numerous corporate and private sector clients. But the business model at ACE isn't just about servicing big dollar customers. This tunnel was conceived of from the very beginning as being accessible to anyone with an interest in thermal aerodynamics, and with an hourly rate of $2000/hr it's certainly well within reach of pro race teams and even grassroots racers like Sasha who recognize the importance of downforce in his endless pursuit of speed.
Part of what makes ACE's wind tunnel so special is its large chassis dynamometer and turntable floor structure. There is literally no other climatic wind tunnel in the world with these two features, the turntable being supported from below the tunnel floor by a massive structure that can be lifted and rotated using air pressure, just like NASA uses to position their gigantic rocket launch pads. ACE tunnel designers and engineers Gary Elfstrom and John Komar (now the Directors of the facility) literally used rocket science technology for this, giving clients the ability to rotate their vehicle or test structure in order to evaluate the impact of crosswinds or yaw angle. So cool!
Speaking of temperature, the tunnel is also highly valued by OEMs and clients from a wide range of industries because it can simulate a broad range of temperatures and humidity levels. In fact, it can be run at temps as low as -40 and as high as +60 Celsius, and at humidity from 5 to 95%. You can imagine the benefits this offers to automakers who need to evaluate the heating and cooling systems in their vehicles at idle or at wide open throttle on the integrated dyno. And because of the unique look of the tunnel and its ability to create just about any weather conditions, it's also being used by the film industry as a movie set. Yes, that's Rick Mercer shooting a segment for The Mercer Report and they literally made it snow in the tunnel for him. How badass is that?
As for race car testing, we were curious how they dealt with the boundary layers, meaning the disturbed airflow that gets excited and heated by friction along the walls and floor. The shape of the adjustable nozzle (which can be widened or narrowed to allow from 7 to 14 square meters to cover a wide range of test vehicle sizes) smooths the airflow before it passes into the chamber, and the floor boundary layer is sucked down through an inlet (that I opened with my foot in the picture above) and recirculated via a massive vacuum and ducting system. This ensures that the car sees a smooth, undisturbed airflow, just like it would driving down the highway or ripping up the back straight at Mosport.