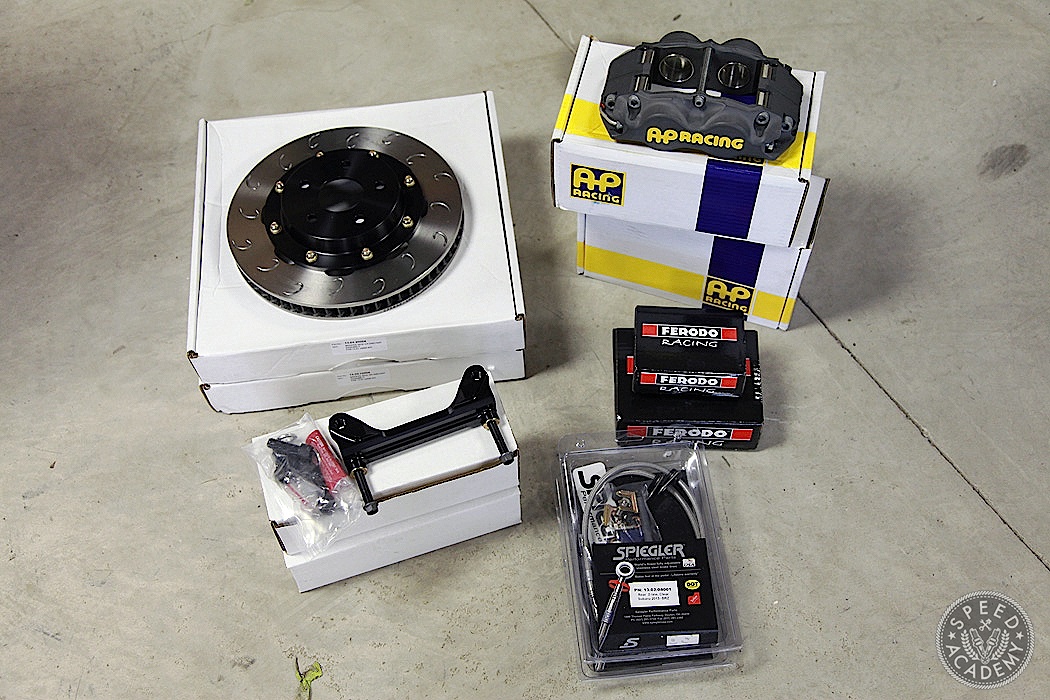 But before we bolted up those sexy red Volks, we first removed the front OEM brakes so that we could replace them with Essex Competition's Sprint System. As you can see, it uses motorsports-grade components from AP Racing, including forged aluminum 4-piston calipers with stainless steel pistons and hardware and 4-lbs anti-knock back (AKB) springs as well as two-piece rotors with aluminum hats and AP's J hook racing discs.
Essex also includes high-quality caliper brackets that are machined from heat-treated 6061 T6 billet aluminum and hard anodized to ensure strength and durability. These brackets are also designed to allow for brake ducting, though we don't expect to need any ducting on our FR-S with the extra thermal capacity the AP rotors provide. Essex also includes Spiegler DOT compliant brake lines with this kit, which feature stress-free torsion fittings that allow 360-degrees of rotation of the banjo fitting for correct alignment and strain reduction, plus they have an abrasion resistant coating on the braided stainless steel sheath that eliminates snagging or chafing and a Teflon lining that reduces line expansion and provides greater durability.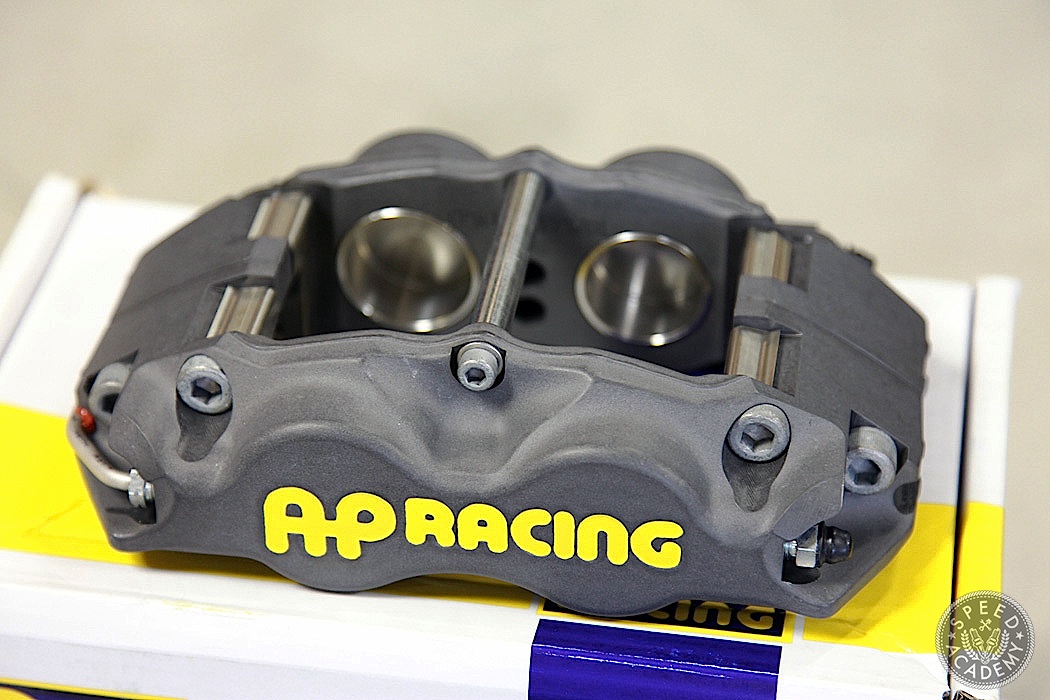 Maybe I'm a bit weird, but I have to admit to being slightly aroused by the feel of these AP Racing forged calipers in my hands. They feel incredibly solid, yet impossibly lightweight. Everything about them screams motorsports, from the single pin you pull to swap the brake pads, to the stainless steel pistons that keep heat out of the brake fluid far better than aluminum, to the piston size being specifically chosen for the FR-S/BRZ platform such that it doesn't upset front-to-rear brake bias. And thanks to the aforementioned AKB springs, which put some tension on the back side of the pistons, you won't find yourself wondering why the pedal has suddenly gone soft after a series of quick corners (where the caliper pistons can be knocked back into their bores from the wheel hub and bearing deflecting during heavy cornering). You'll also notice that the bleeder screws and hydraulic lines are well protected in recessed areas, and yet you can still fit a box wrench over the bleeder screw without issue. Proper motorsports thinking throughout.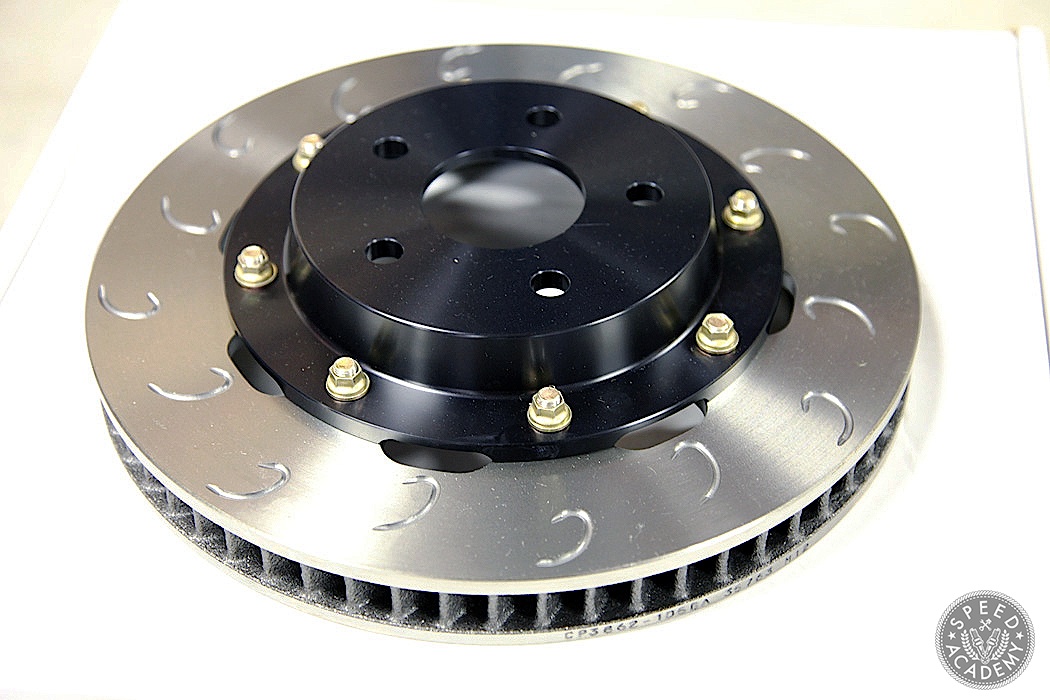 Although the Endurance kit uses a floating rotor, the Sprint kit like we've opted for uses a fixed rotor that's bolted directly to the aluminum center hat. A floating setup reduces stress and thus disc cracking better than a fixed setup, but Essex has many hundreds of these fixed-mounted discs on a wide range of racecars and they've had zero reported cases of stress-related cracking. One advantage of the fixed disc like the Sprint kit uses is that there's no noise related to their operation, plus they're lighter than a floating setup. The center hats are manufactured from 2024-T351 heat-treated billet aluminum, which provides excellent strength at high temperatures, and they've been hard anodized for extra durability. The hats also feature scallops on the underside, a design that allow for heat evacuation along the outer disc face once installed.
The heavy duty AP Racing J Hook discs are where the magic really happens, though. For starters, that unique J Hook design creates a constant pathway of evenly distributed brake pad material on the face of the disc and also promotes more even heat distribution, reduces the likelihood of cracking, provides cleaner pad material transfer during bed-in, and improves pad bite. These discs also put the mass where it counts, out in the swept area where it can absorb and radiate heat through the disc's vanes. So even though the AP discs used in the Sprint are basically the same diameter (299mm) as the OE rotors, the AP discs have a vastly superior design for absorbing and dissipating the heat generated by braking. Part of the trick here is that the AP disc is much wider (32mm) than the stock rotors (24mm), which is how its gained the thermal mass necessary to absorb more heat, plus the added thickness allows for a wider air gap through the vanes and thus much better airflow. The internal vane design is also much better than the OE rotor, moving air quickly and evenly through the disc such that it's less prone to coning, distortion, and cracking. Oh, and for you metallurgy types out there, these AP Racing discs use a proprietary iron alloy with extreme durability, drawing on the more than 600 Formula 1 wins they have under their belt and the 3 out of 4 cars on the NASCAR grid that run their J Hook discs.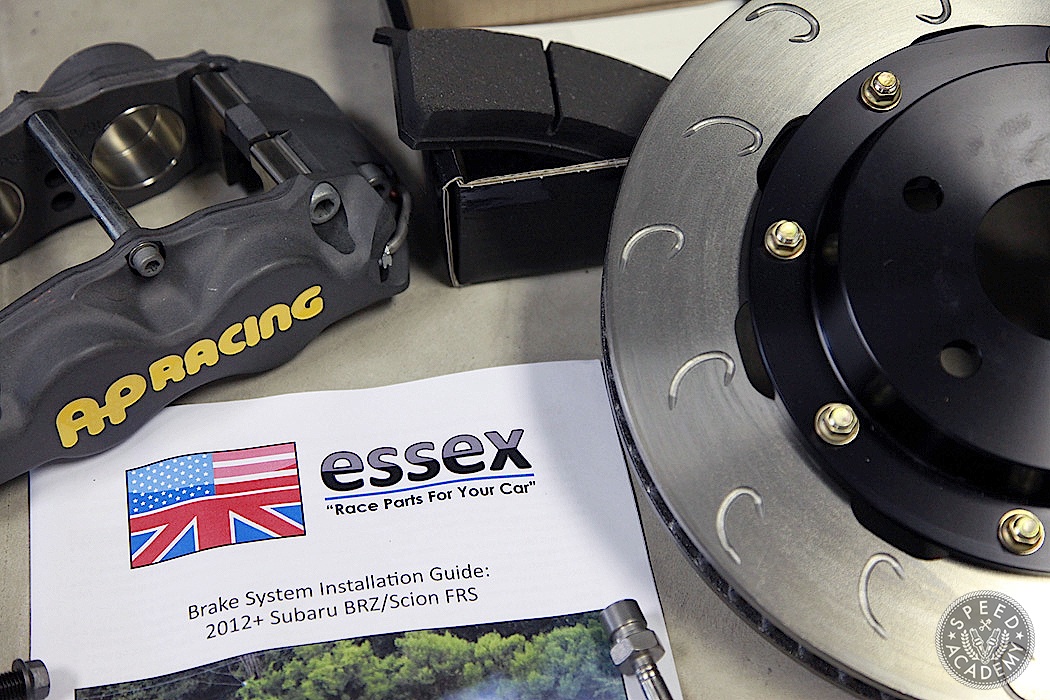 All this world-class engineering doesn't just add up to what we expect will be fade-free braking for lap after lap at the track and stage after stage at Targa, but to big-time weight savings, too. In fact, the Essex Sprint kit is over 10-lbs lighter per side, not only reducing our Scion's curb weight but more importantly reducing unsprung and rotational mass. This should pay big dividends, since we've not only improved front-to-rear weight balance by taking 20-lbs off the front end, we've also lowered moment of inertia thanks to the Sprint kit's compact design. We were also impressed to see that a set of TSW 17×8" +32 Panorama wheels cleared the calipers with tons of room to spare, and you'll find a list of wheels that are known to clear these calipers over on Essex's website.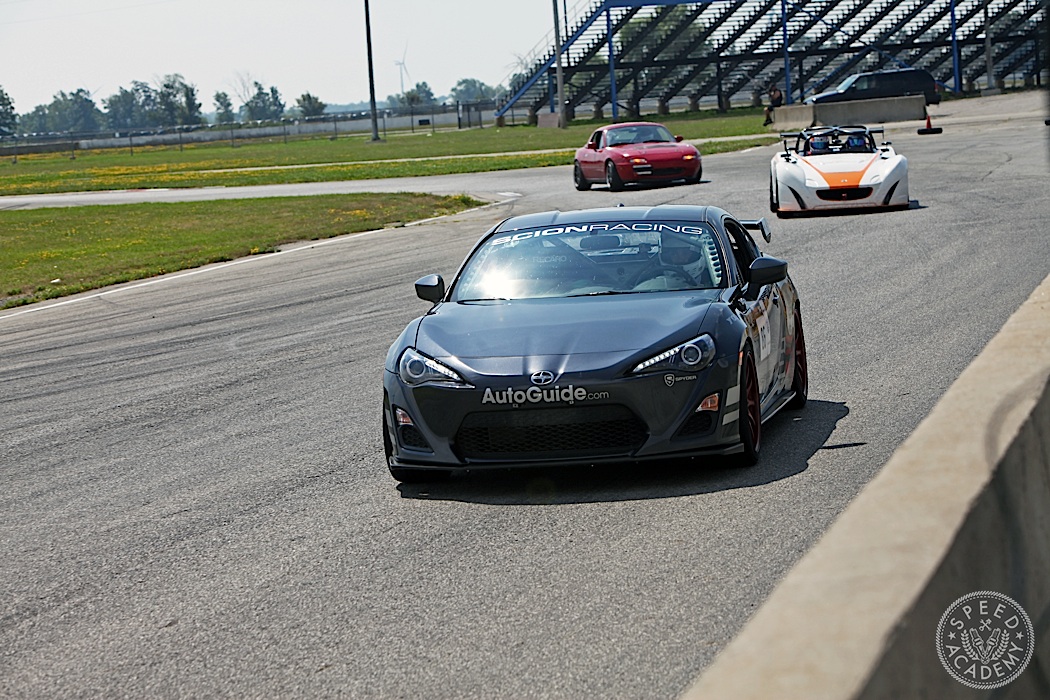 We have in fact given the KW coilovers and Essex brakes (and the rest of the car) a bit of a shakedown at the track during a recent Sigma Time Attack event, but due to differential and ABS problems we couldn't put the power down coming out of corners or fully utilize the brakes. But hey, we have a Tomei clutch-type limited slip differential to install now, and we've traced the ABS issue to a faulty steering angle sensor, so we should have the car better sorted for an upcoming CSCS Time Attack (August 10th at Mosport) and will report back on how she's performing. But even without functioning LSD or ABS, I will say the car handled extremely well on the KW Clubsports and had a ton of cornering grip and stopping power thanks to the Yokohama tires and Essex Sprint kit. Stopping power was so good, in fact, that we were locking the brakes quite easily due to the lack of ABS. The brake pedal is also super firm and high now, so much so that we're actually going to need to adjust it downwards so that it's easier to heel & toe on downshifts, but that's a good problem to have. And we can always reduce initial bite by going with a less aggressive brake pad (we've opted for Ferodo DS1.11 pads to start, but may dial it back to the less aggressive DS2500 compound, depending on what Jeff Ritter from EssexParts.com recommends).
Next up we'll cover a whole host of exterior modifications, as you'll soon see in our next video episode.