Turns out Chumpcar racing is pretty serious. Or at least that's the impression we got when we first rolled into the paddock at Canadian Tire Motorsports Park (Mosport) and laid eyes on some very nicely built and presented race cars. These were not the clapped out rust buckets we thought might make up the field at Chumpcar Canada's Inaugural event (organizers Wendy and Sal having just taken over the series from its American originators).
There was an army of E30 BMWs, many of which looked more like pro class race cars than $500 crap cans. This chassis seems to be one of the go-to choices for teams wanting a competitive RWD platform for Chumpcar.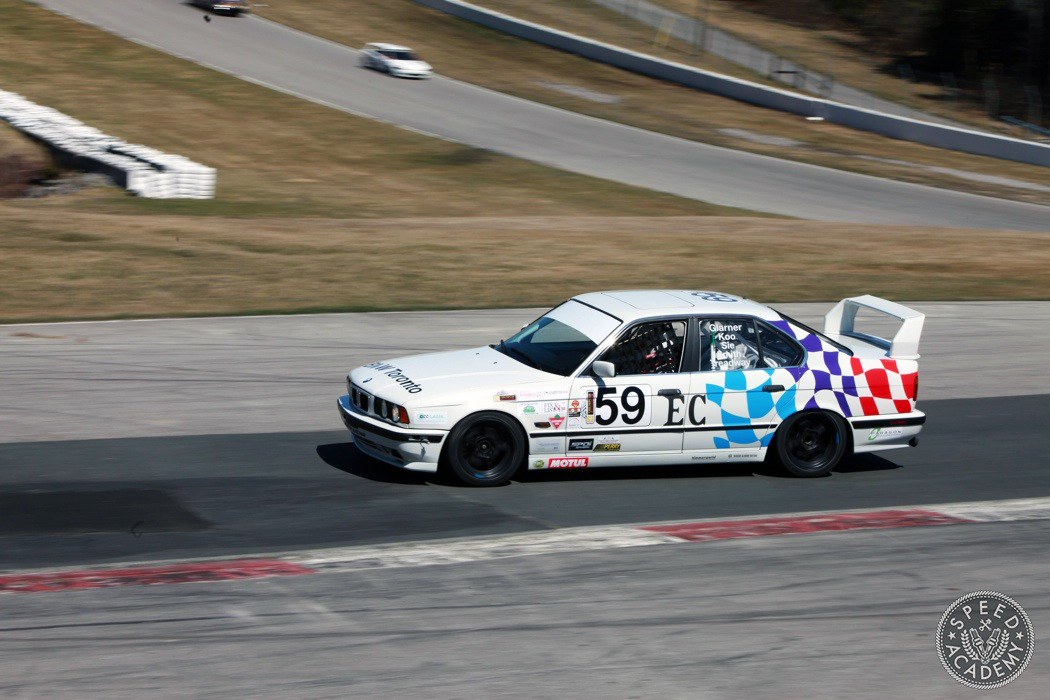 Peter literally couldn't take his eyes of the beautifully prepared E34 5-series. It felt a little creepy, to be honest. Plus he kept saying the wing alone was worth more than $500, but starting with a car with a Chumpcar-approved value of $500 (or less) doesn't mean they're being raced in $500 trim. The roll cage and other safety gear alone means every car in the field has a real world value of at least $4-5k, and that's before any performance mods are made. But when you split the cost up amongst a bunch of buddies like we have with our Suzuki and like we assume most Chumpcar teams do, it's still a super-cheap (in relative terms) way to go road racing. We spent about $600/each for the weekend at Mosport, and I was spending 4 to 5 times that for a weekend in the Canadian Touring Car Championship and I was doing it on a very tight budget compared to most.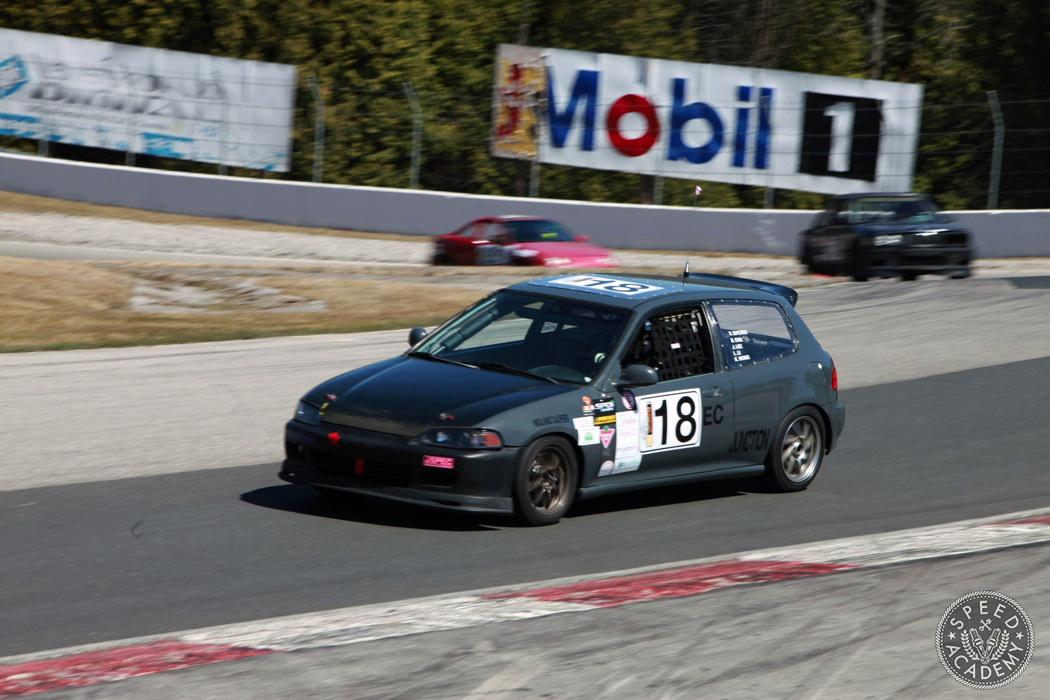 As you'd expect, there was also no shortage of Hondas in the mix, this minty fresh looking EG being piloted by our friends Brian and Val. Their whole team did an awesome job and kept this car looking minty fresh the entire weekend. Well done, boys.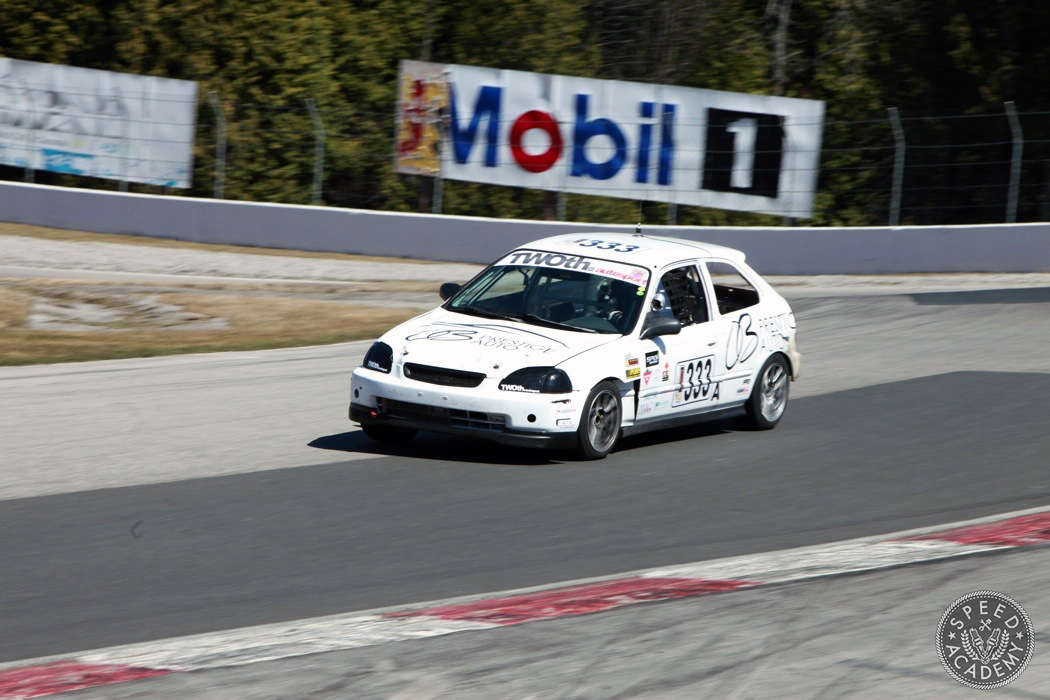 This EK Civic was the fastest car in Class A where our Swift was running (the slowest of the 4 official classes). This thing passed us like we were standing still going up the back straight, so pretty sure it's got a B-swap.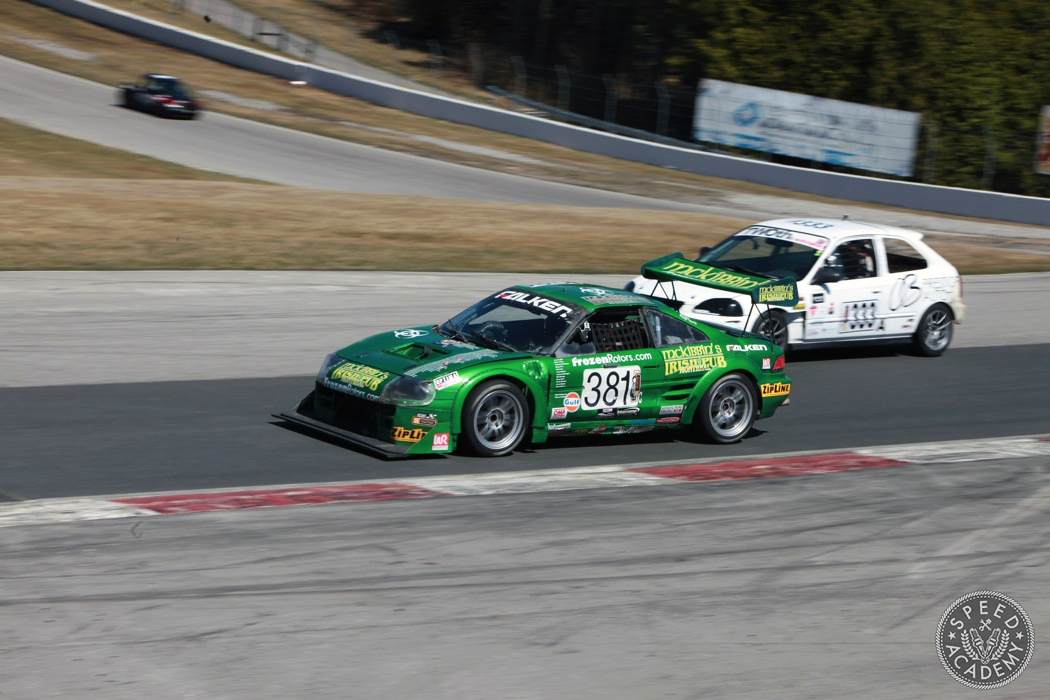 Speaking of engine swaps, we quickly learned that these are a popular option in Chumpcar, probably because they offer a competitive advantage and/or a more reliable and low-cost option for endurance racing. This SW20 MR-2 (which we're still amazed is considered a $500 car) had a V6 swapped in from a Toyota Sienna minivan, and from what we gathered this is acceptable within Chumpcar rules since the Sienna's V6 has a lower value than the MR-2's original engine. There's a valuation process associated with engine swaps within Chumpcar's rules that factor in the need for any custom work to make the swap work, and penalty laps are assessed if you go over the points limitations for your chassis, but that didn't seem to be slowing this MR-2 down any! It was the fastest car in the field on Saturday and won the race despite a failing transmission.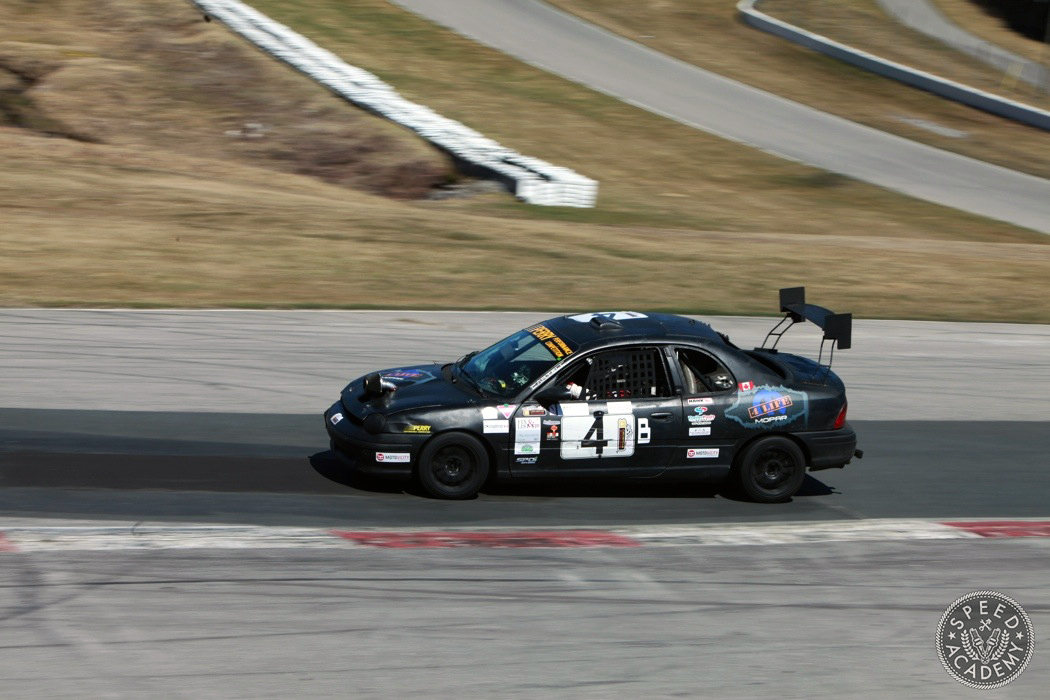 So we'd brought a knife to a gun fight, at least when measured against machines like the MR-2 and this 2-time Chumpionship winning Dodge Neon, built and piloted by our buddies Dave and Brian Sibbitt (awesome dudes, and Dave has done a ton of work on my RX-8 over the years). But within our class, we were actually running a pretty competitive pace, other than the #333 EK Civic who was a good 3-4 seconds quicker than anyone else in Class A.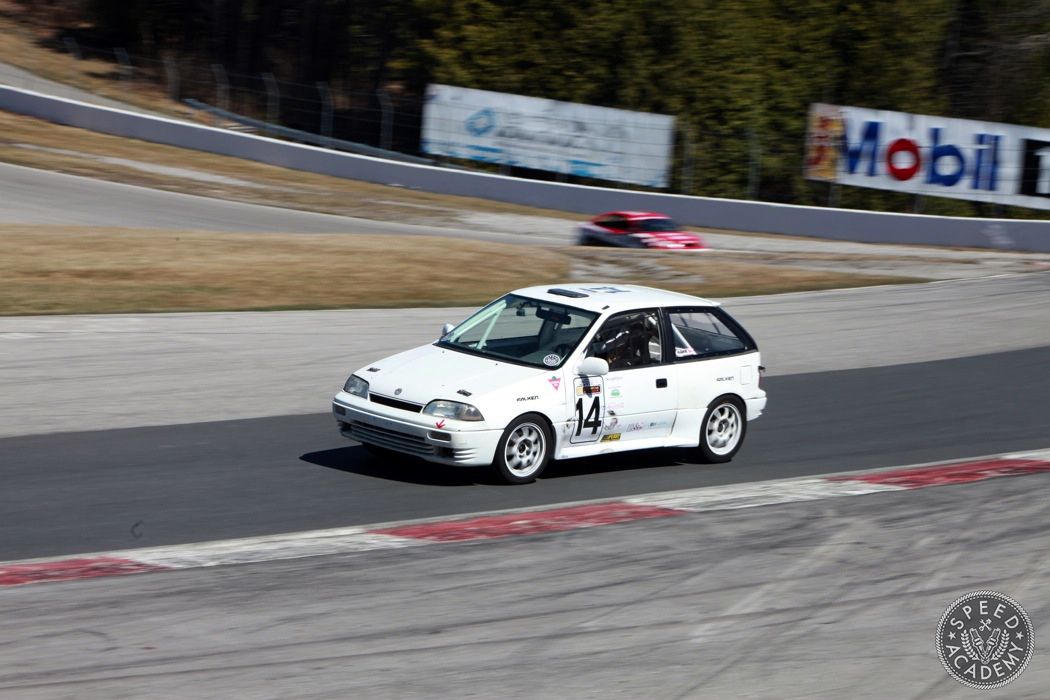 Still, I think it's safe to say our little Swift was way faster and more competitive right out of the box than any of us had anticipated, especially since it literally turned its first laps on the Friday test day after a complete winter teardown and rebuild. We were really just here to shake the car down, have some fun, and learn about the inner workings of Chumpcar racing. Plus it was a great way for two of our teammates, Kevin and Ken, to lose their door-to-door racing cherries and experience the awesomeness that is Mosport, literally the fastest road course in North America.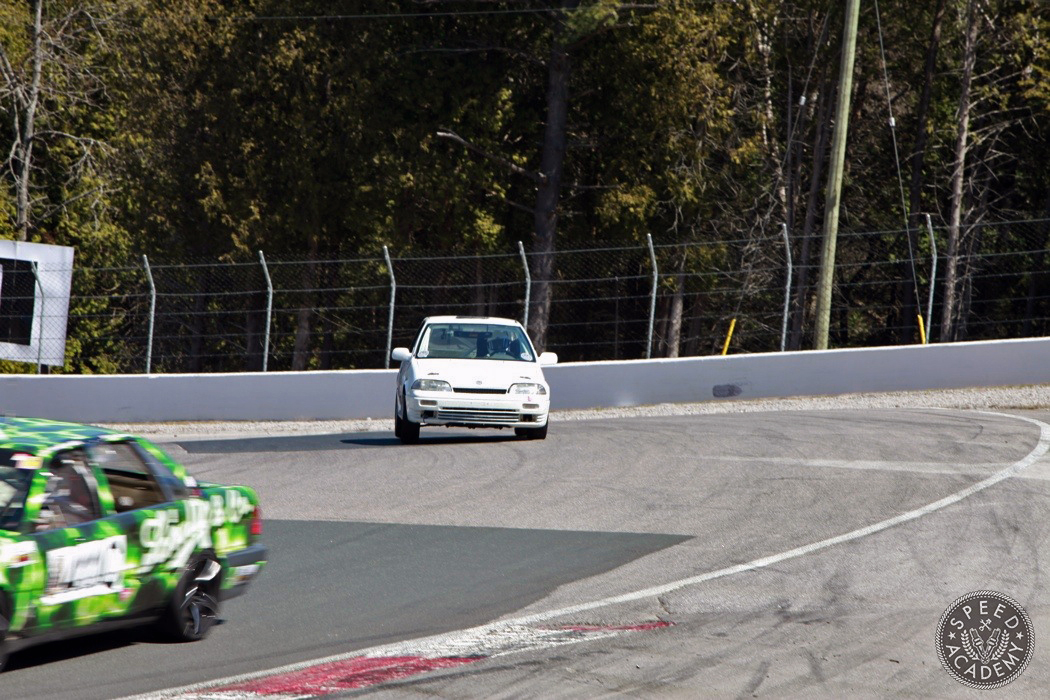 When the Green flag dropped for the 7-hour race on Saturday (which another 7-hour race on Sunday), I'd be lying if I said my competitive juices didn't start flowing. As you'll see in the video, I had a ton of fun mixing it up with the eclectic field of cars out there, especially since our 1800-lb Suzuki was able to out-brake and out-corner most of our competitors. The Falken Azenis RT615K tires we equipped the Swift with worked exceptionally well, and I was seriously impressed by the lateral grip they generated during my entire 90-minute stint to start the race. They showed no signs of fading until I started to overdrive the car, but once I backed off just a touch the Falkens would come right back up to full grip level. (FYI, Chumpcar rules limit tire tread wear rating to 200 or higher, making extreme performance summer tires like these 200 UTQG Falkens a perfect choice).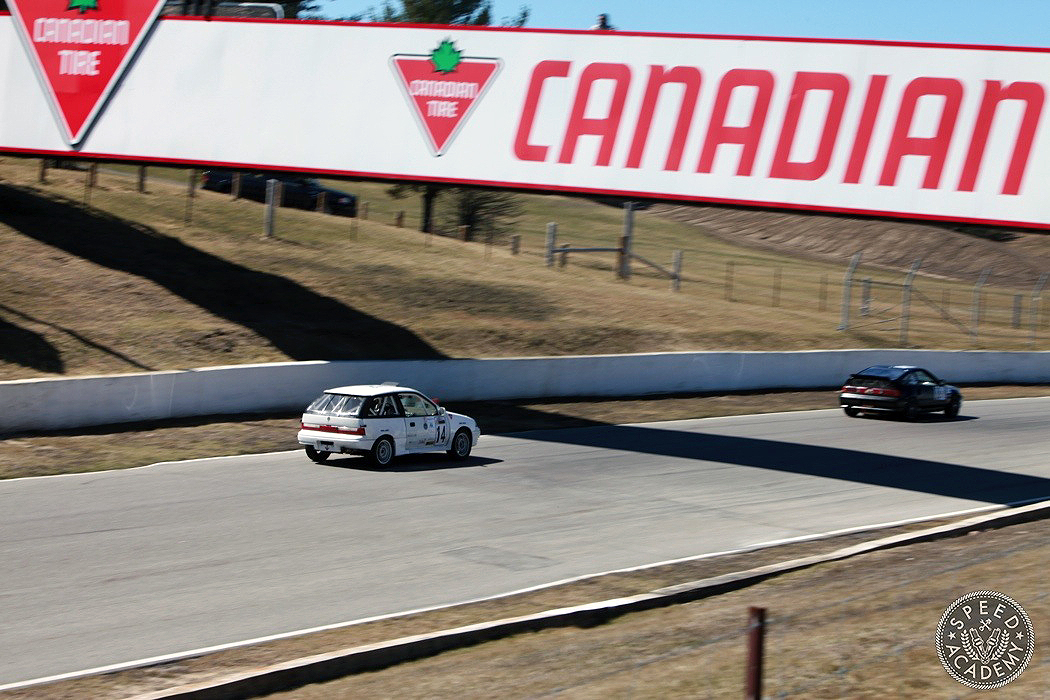 We certainly gave up some ground to most cars climbing the back straight, though the 100-hp 1.3-liter Swift GT engine was surprisingly peppy and willing to rev, plus it sounds pretty cool at 7,500 rpm. We didn't win too many drag races, but we weren't giving up that much to the other cars in our class, at least. The car did have a quirk or two, though, including a disconcerting desire to swerve to the left while driving in a straight line, particularly when getting off the throttle to change gears. We think this is the result of some funky suspension geometry and we're looking at a few solutions for the next race. It also had terrible gearing for this track, which meant we either had to beat the piss out of it in 3rd gear (my preferred approach) or suffer the rev drop off and weaker acceleration that came with using 4th (Andrew's preferred option, and he used it surprisingly well, as you'll see in the video).