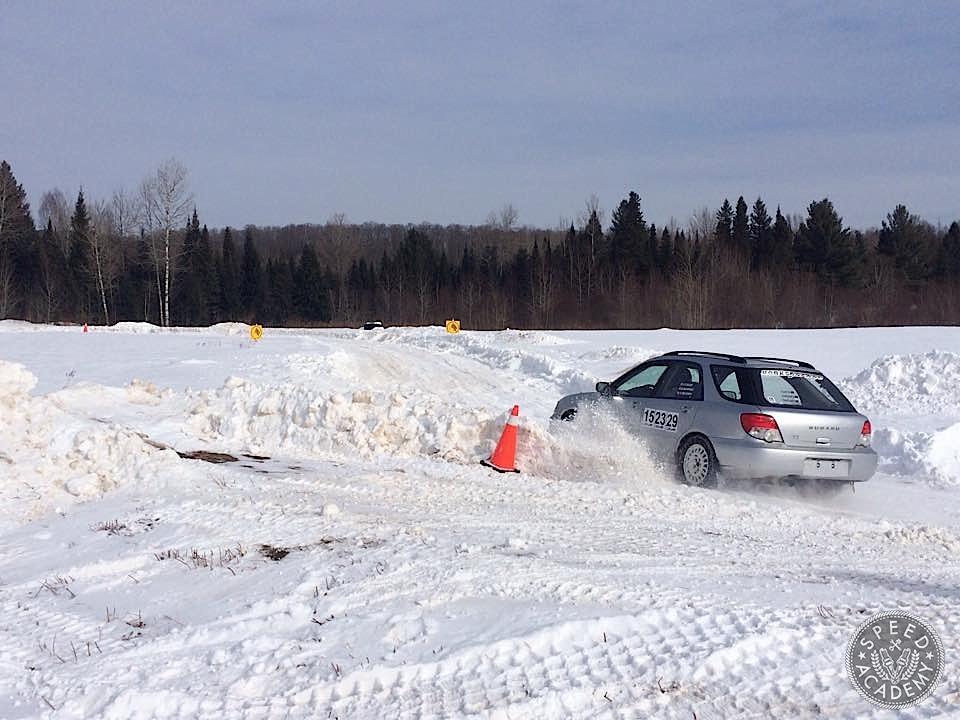 The common solution for the budget minded enthusiast seems to be to get a set of half decent used winter tires and run them, though some of the more well heeled competitors were running Yokohama snow rally tires. Because the surface at the winter event was changing over the course of the day, and ended up being largely ice it didn't seem like they had an advantage – if any – over the commercial tire users. We went a step further and ran tubes in our tires. Our reasoning for this was that any sliding or snow bank contact could de-bead the soft winter tires and deflate them, ruining our run. This decision turned out to be a good one as at both winter MLRC events at least one competitor got a flat doing exactly that. One competitor ended up losing most of his day to a tire that would not re-seat.
For the even more adventurous and competitive individuals out there, some teams would take the winter tires of their choice and increase the size of the grooves between the blocks, then run them over a "tractionizer" (kind of a cheese grater that cuts grooves in the tread blocks) to increase the siping in the tires. We elected not to do this for our first go-around, however we are considering it for the 2016 winter events and are excited to see the difference in available traction.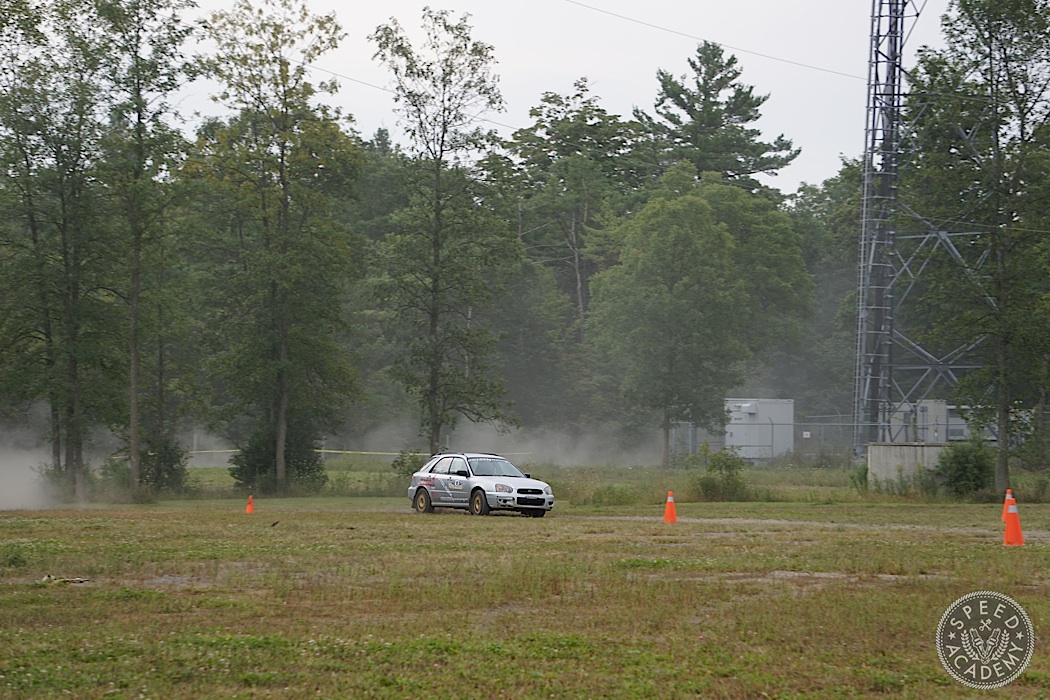 Next on our list of things to consider when putting our car together was pretty much everything that could break and end our day. First and foremost on this to-do list was a skid plate. Ours is a little overkill. It's simply 3/16" galvanized plate cut and bolted to the lower rad support, and transmission cross-member. Cheap, and effective, it has yet to let us down despite my repeated and merciless durability tests over exposed rocks.
After that we turned our attention to the suspension. Upon recommendation from a few rally teams, we found that JDM STI "Pink" dampers and springs are quite strong and a popular choice for budget rally racers. Some teams will have these revalved and run aftermarket springs. We left ours stock, right down to the top hats. They have served us extremely well on all surfaces, both from a durability standpoint as well as performance.
We also added a Perrin adjustable rear sway bar to help tailor the car's attitude and get it to rotate. This is the extent of our suspension modifications. The only other thing we added was a Sparco Sprint driver's seat and a Lexan rear window, which was not planned but came about when the open rear hatch decided to intercept a screw driver that had been thrown across the shop the night before our first event.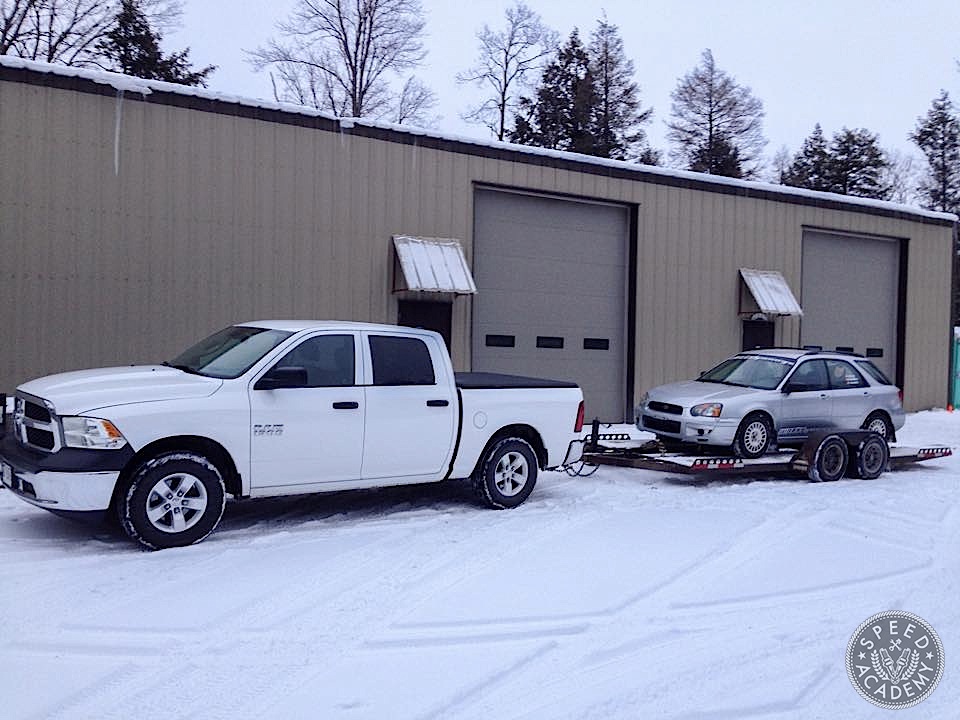 With the car all stickered up and gone over, we were now ready to depart up north to our first event. The MLRC events take place on Sundays and allow a nice chance to take a couple days up north. We have had great success using AirBnB or other booking services to find a cheap cottage to rent for a few days and make a weekend of it.
While reasonably far for people west of the GTA, these events provide a nice excuse for a three-day weekend. Having said that, some people do drive up from Toronto on the day of, race, and go home. At any rate, our first event proved to be a great learning experience, chief of which is the difference in scoring between rallycross and autocross.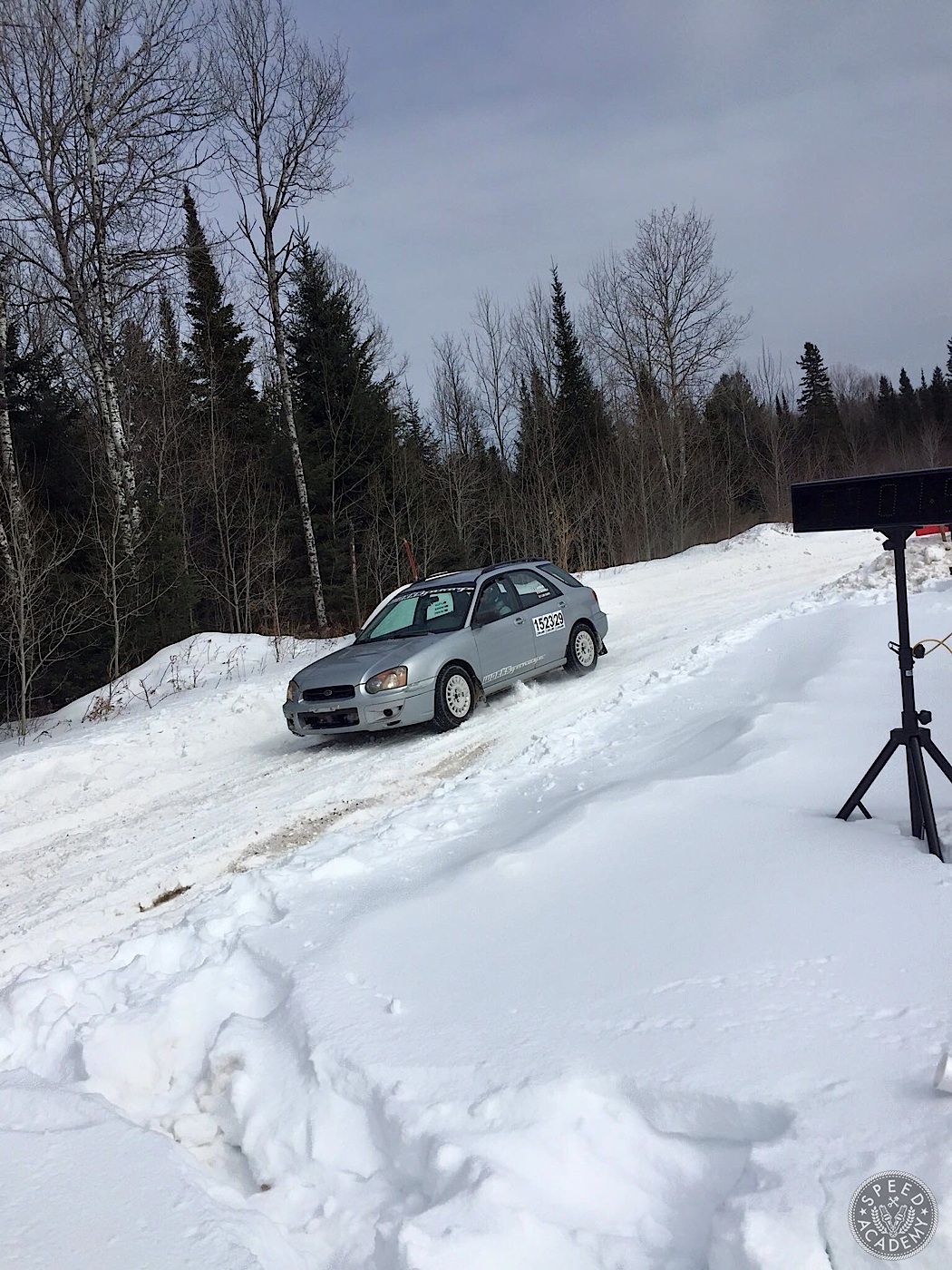 Typically in autocross, your fastest run will be taken and scored against other competitor's fastest runs. Conversely in rallycross, your runs are added up and your total of typically five to seven runs are scored against the competitors. The difference here being that consistency seems to be more important than outright pace.
In our first two events, I had set the fastest single lap of our little group and had stayed reasonably consistent. However, two trips into snow banks dropped me down to the bottom of the field overall. Outside of avoiding penalties, we found that our times were getting faster through the day as we were figuring the course out. Had we been able to go out on our first two or three laps and go 80% as fast as our fastest we would have been much more competitive. Some people were able to go out and run within a couple seconds of their fastest time from the first run on. Experience seemed to be the difference here. Not necessarily experience with the course itself, but with driving on loose surfaces.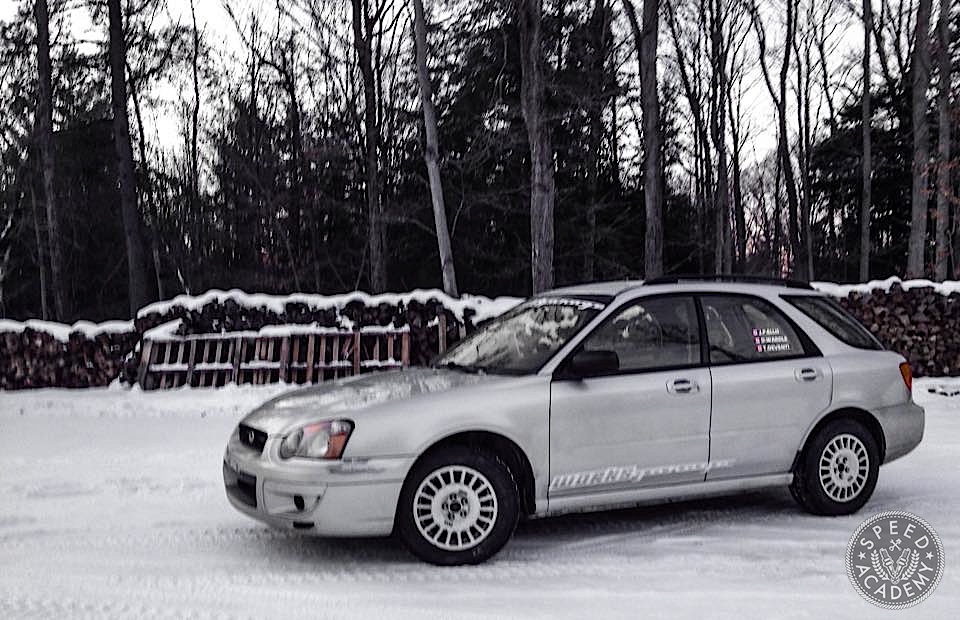 Our first couple events seemed to be an exercise in patience and restraint as we dialled in our driving abilities on the changing winter course. By the end of the day, our times would be competitive, but with the structure of the event, our slower first couple runs would hurt us and take each of us out of contention overall. That said, the race between the three of us was reasonably fierce and kept us entertained all day long.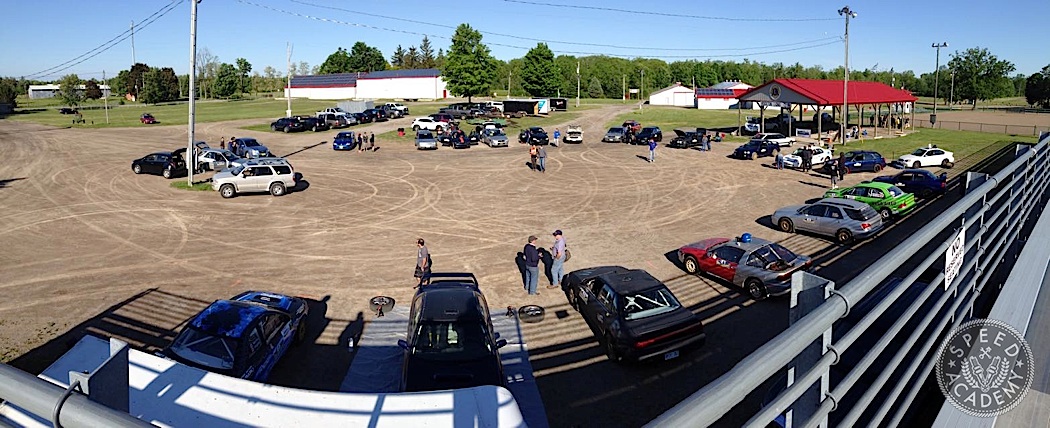 Fast forward a couple months and we were preparing ourselves to race on gravel. Watching YouTube videos of the course and looking for speed anywhere, we thought we were mentally prepared, experienced enough and ready to maybe move up the pecking order and within striking distance of the podium. I never said we were smart.
The day started out with a harsh reminder of the cruel mistress motorsport can be. We first noticed just how much grip there is in just about every circumstance on gravel. Proper gravel tires are impressive pieces of equipment. The ability to threshold brake, corner, and place the car where you want on such a sandy and loose surface is remarkable!
Our learning experience was about to take a turn, though, as shortly after our first runs were done we watched a competitor's Subaru ended up on the trailer after tipping onto its side. While everyone was ok, it was a stark reminder not to get too carried away.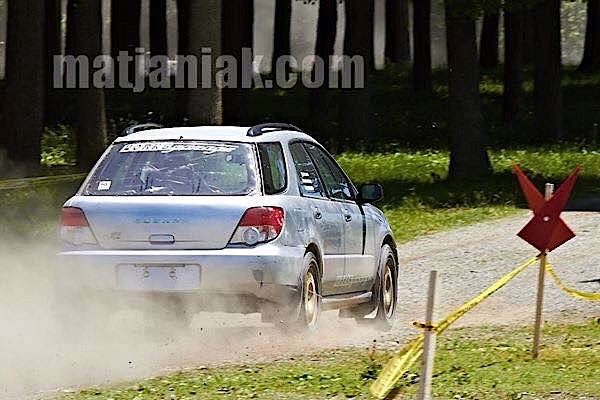 We dialed it back a little and made it out of the day with a respectable finish, but the lesson learned was that just watching videos and thinking you know how to control a car on gravel is not enough. Learning to raise your personal comfort level and driving at 9/10ths while still being competitive is paramount if you're not to be replacing cars every event.
We also learned that doing a thorough nut and bolt inspection before every event is incredibly important. The abuse these cars see is pretty significant. While it may seem obvious to some to inspect your race car, it can be overlooked by newcomers or people who are in a time crunch. We have witnessed a few failures on competitors cars that ended their days prematurely and could have been avoided by a simple inspection, one of which ended up with a car colliding head on with a tree.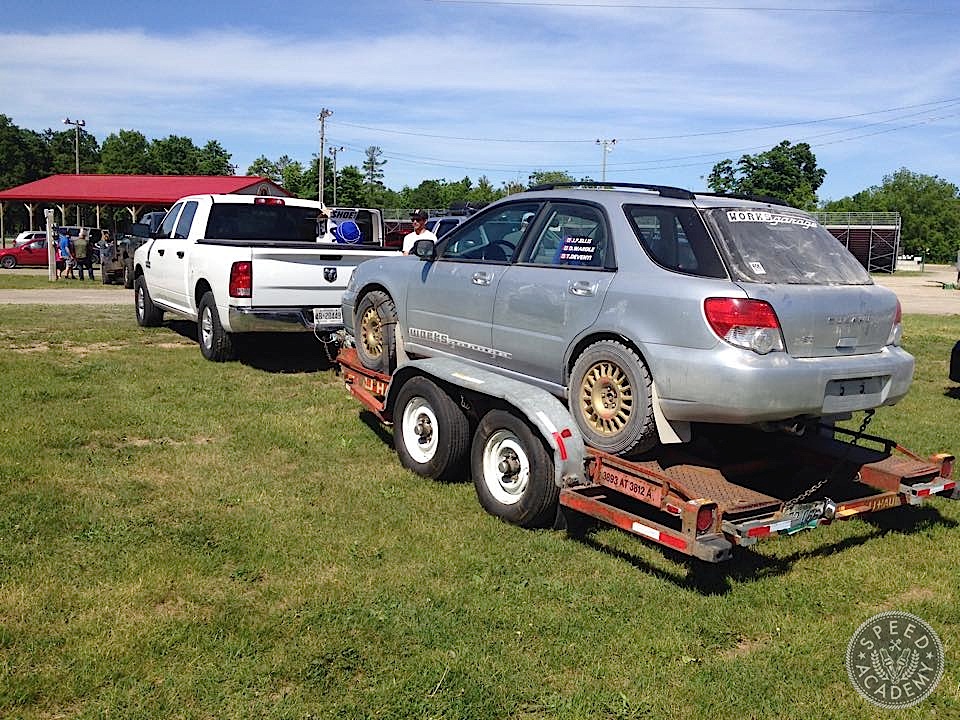 The speeds in rallycross are high enough to make it very fun, but also low enough to make incidents like that end in laughter and a shrug, rather than a hospital trip. Durability, attention to detail, and preparation seem to be keys to success and fun in preparing a car for rallycross. Plus there are other benefits to competing in rallycross. Since I'm a road racer at heart, and driving on gravel has helped my car control immeasurably as well as other aspects of my driving, and this is all in just a year of competition.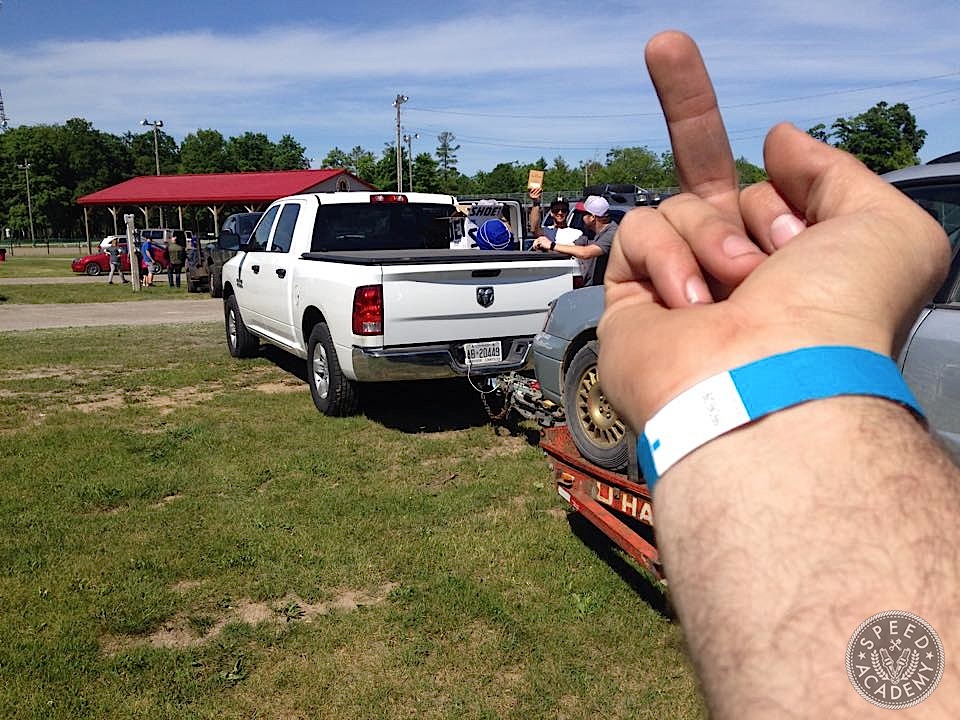 Oh, and the camaraderie racing with buddies, that's pretty cool too!