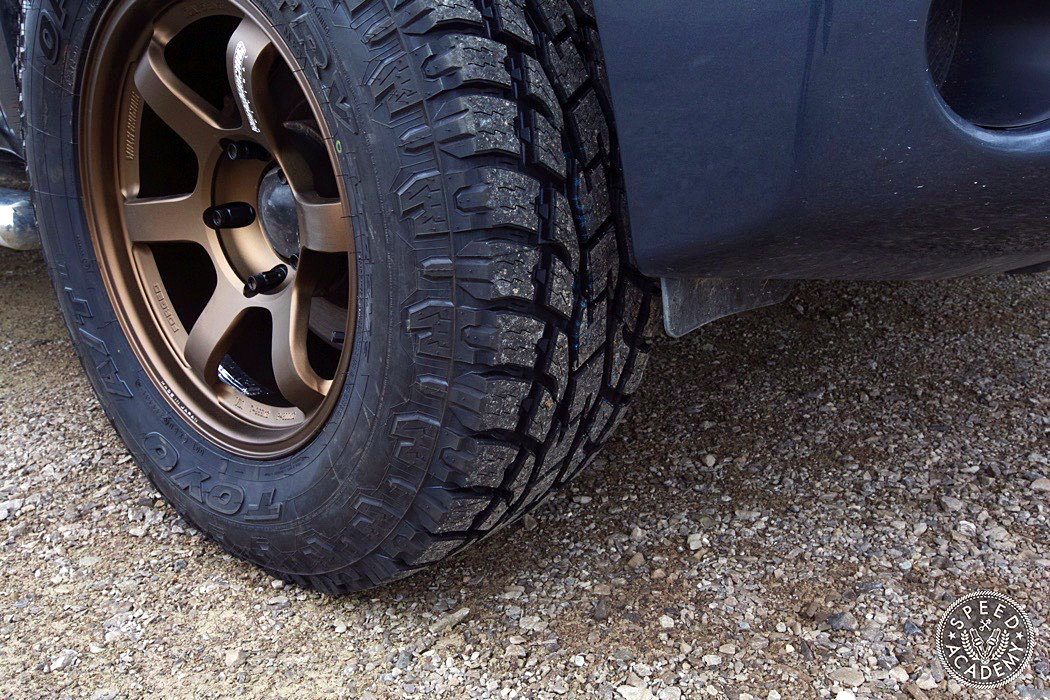 Realistically we're not going to do any hardcore off-roading (though Ken and I have been talking about doing a little overlanding in his FJ and my Tundra, so perhaps we'll shoot a video of that in the future), but I still wanted a rugged looking tire that would get me through mud and snow while still being suitable for daily driving. For that, I opted for the Open Country A/T II Xtreme, since it'll provide the all-weather and all-surface capabilities I need but without the obnoxious howling and road noise that often come with big, knobby off-road tires.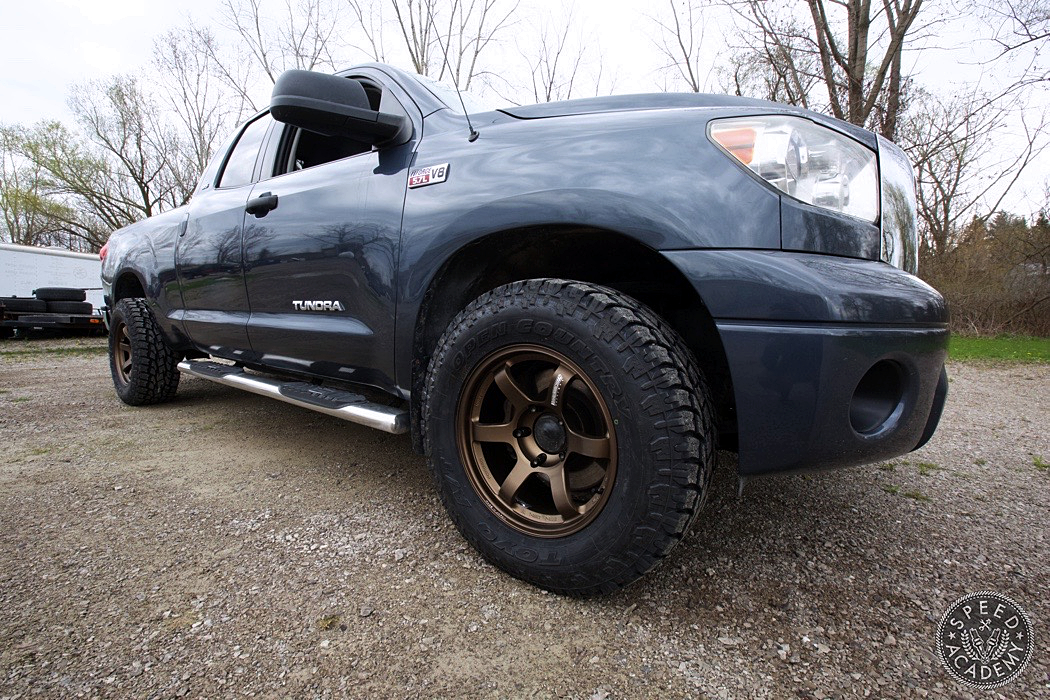 I drive my son to daycare on a dirt road 5 days a week and this road can turn into a rally special stage in inclement weather, so I do actually need those big lugs and deep grooves and sipes from time to time, but mostly I just want a gnarly looking tire that gives me improved performance, and having driven on these A/T II Xtremes for the last couple of months I'm happy to report that they've been an outstanding choice. Road noise is very livable, only slightly louder than the stock tires, and with the wider contact patch (I stepped up from the OE 275 to a 285 width) and superior compounding the truck has way more grip on the road.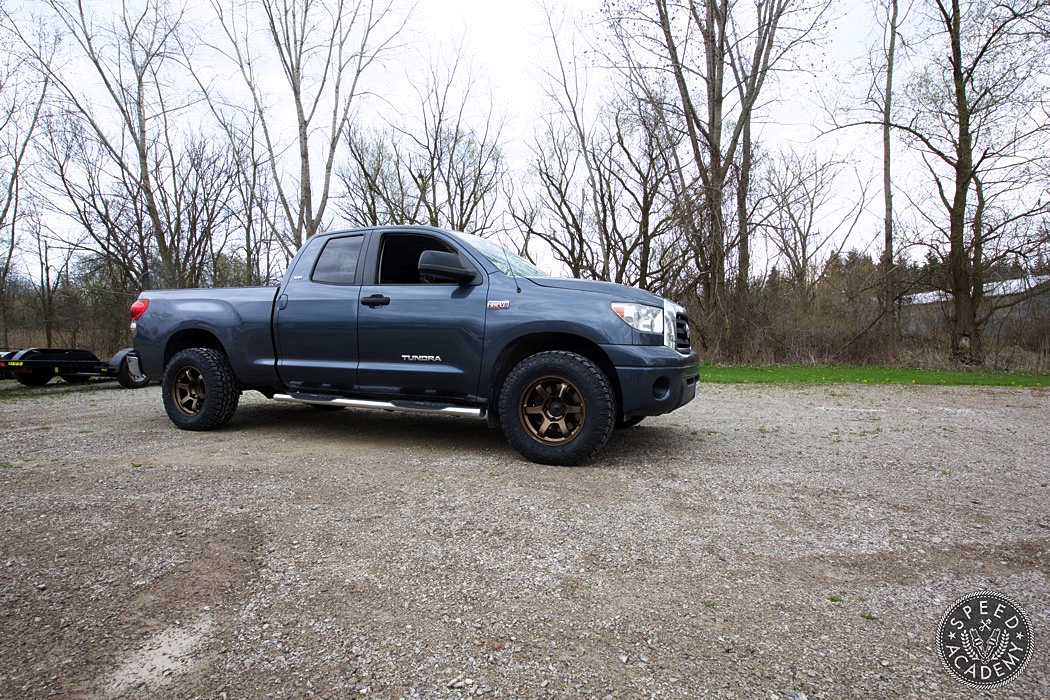 I should mention that these 285/65R18 Toyos are almost an inch taller than the OE spec (275/65R18), which has the added benefit of raising the truck's ride height a bit. Based on my Tundra forum search it seemed the 285's would clear the wheel wells and fender liners without issue but anything wider would require some clearancing, but it turns out even these 285's do rub a bit at or near full steering lock. During normal driving conditions it never rubs, but when pulling in and out of parking spots where I need to make a sharp turn I can hear them rubbing a bit. No a big deal, but something we will look at curing in the near future.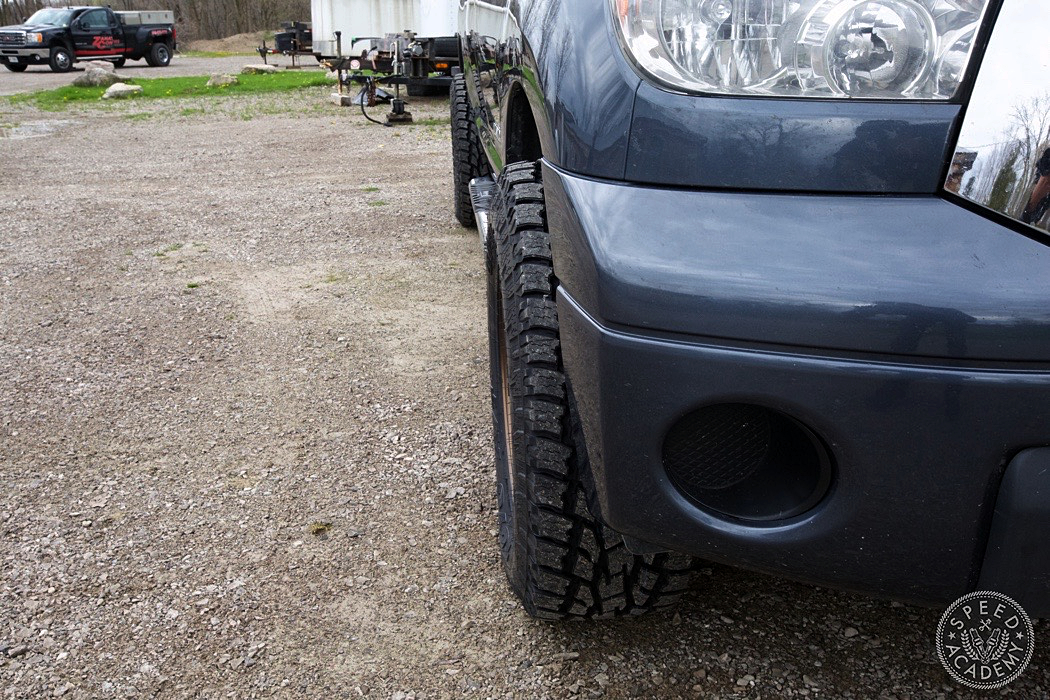 The +0 offset of these large PCD 18×9″ Volk Racing TE37's does mean we have a bit of poke with the wider tires. I don't mind this look, even if it's a bit bro truckish, but I think we will order some SET (South East Toyota) fender flares so that we've got the tops of the tires covered up a bit better, plus I think these flares give the Tundra a cool Tacoma-on-steroids look that I dig.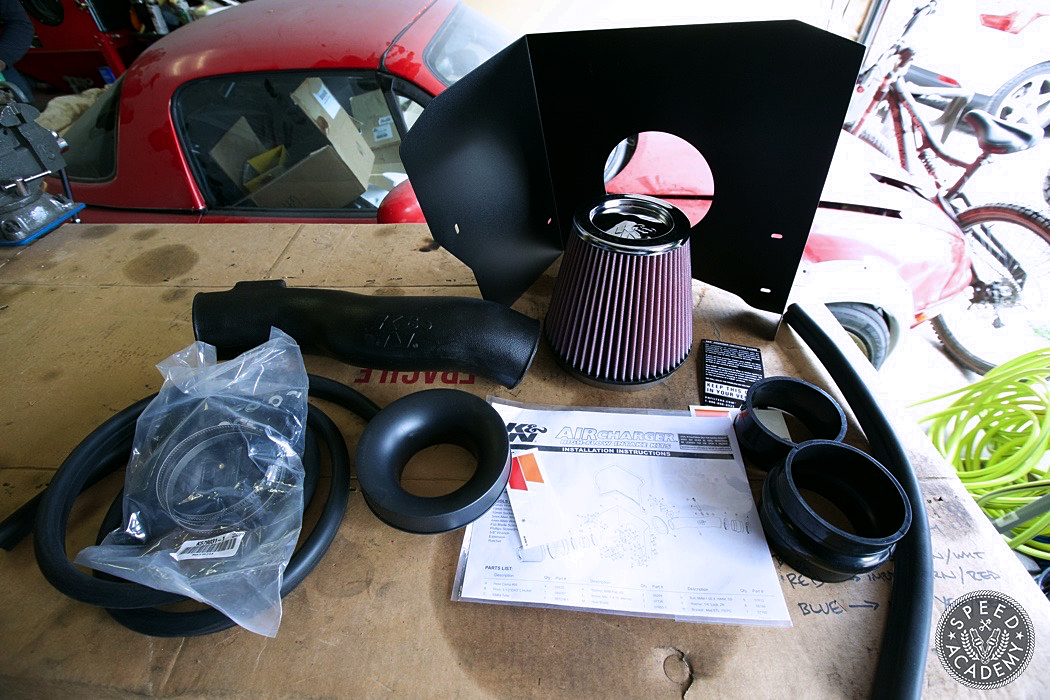 As you'll see in the video at the below, we also installed a K&N Aircharger high-flow intake system on the Tundra while we were at it. This is a super easy install thanks to the detailed instructions K&N provides, plus the big engine bay of the Tundra means everything is easy to get at.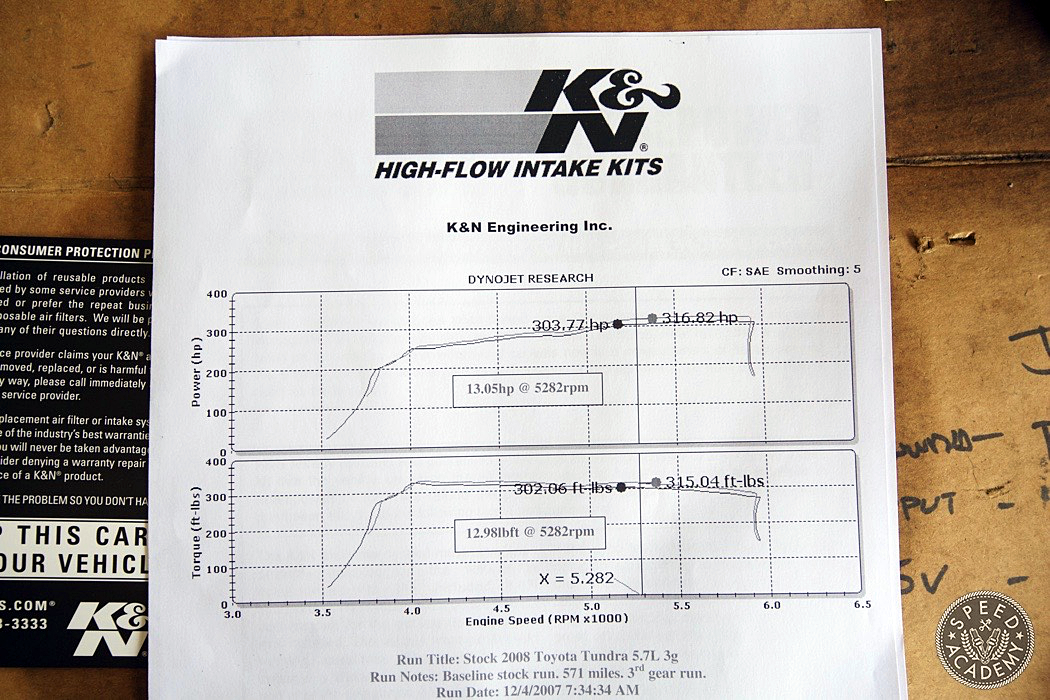 This kit frees up an advertised 13-hp and 13-lb/ft at the rear tires, thanks to its less restrictive air filter, straighter and smoother flowing intake tube and integrated velocity stack. If you don't know anything about velocity stacks, do a quick Google search on the Venturi effect and you'll find all sorts of cool stuff explaining how and why velocity stacks improve airflow into an engine. The Coles Notes version is that by routing airflow through a decreasing diameter nozzle like a velocity stack you can change both the velocity and pressure of the airstream such that they better suit the induction needs of the engine.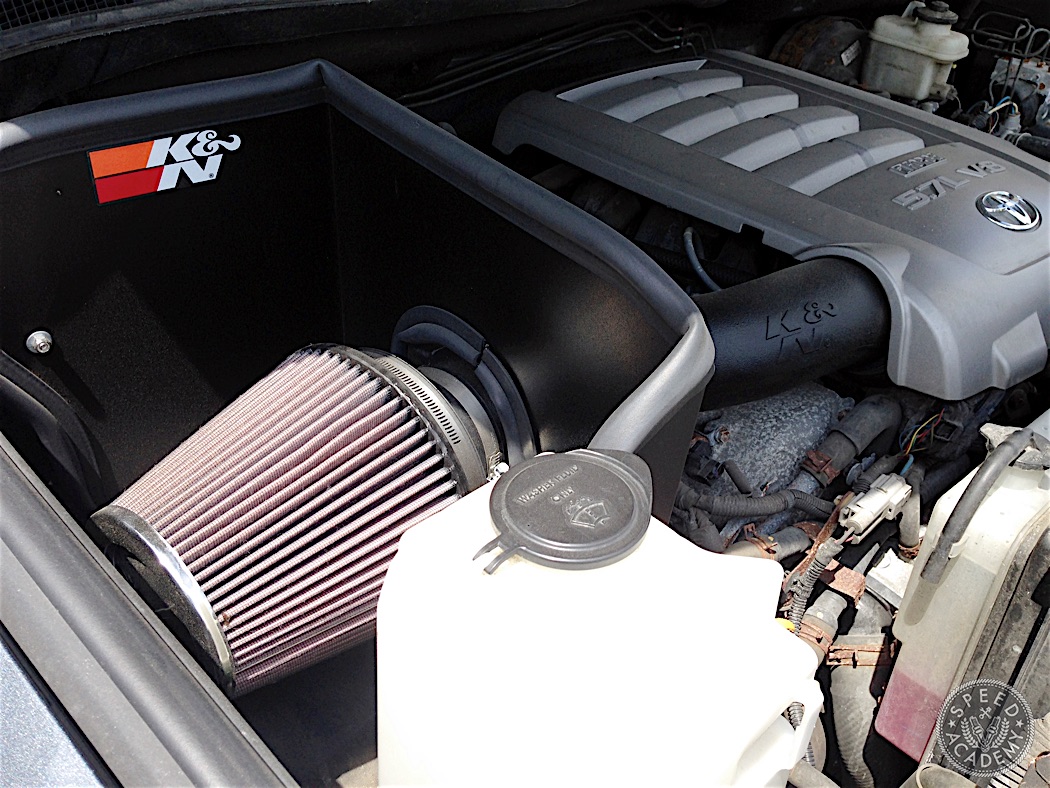 We've tested a ton of K&N intake systems on the dyno over the years and they've always matched our outperformed their advertised power gains, so although we didn't dyno test the Tundra we have absolutely no reason to doubt their dyno chart. We've also installed enough K&N intakes to know that they always fit perfectly and feature high-quality construction and this kit is no exception. I particularly like their OE quality custom molded intake tube and the way the heat shield seals against the underside of the hood to keep hot engine bay air away from the filter while allowing for a really aggressive induction noise at the same time. The Tundra no longer sounds like a muted appliance at wide open throttle, now it sounds like a proper hairy chested V-8 when you give it a rip!
I should mention that you can source Rays wheels including these Tundra specific Volk Racing TE37's and the K&N intake from our friends at Turn14 Distribution. All you need is a business license to sign up for wholesale pricing and gain access to their unrivaled line card of products and industry-leading ordering and shipping systems.
That wraps up this round of Tundra upgrades, but we've got lots more to come as we tweak the shop truck to better meet our needs and our style. We hope you enjoy a little truck tuning content as a change of pace from our usual high-performance street and track oriented car builds as much as we're enjoying it ourselves. Hell, we might even do some off-roading, or enter the Dakar rally.