Overall, the interior feels significantly more spacious and luxurious than my 2011 Prius, and the overall visibility feels much improved. The extra room in the rear seat and trunk areas is also greatly appreciated for family road trips, as we often have an adult in the back seat to keep this little guy from trying to climb out of his seat. I should mention that with the Prime's battery pack beneath the trunk floor there is less cargo depth than there is in my older Prius.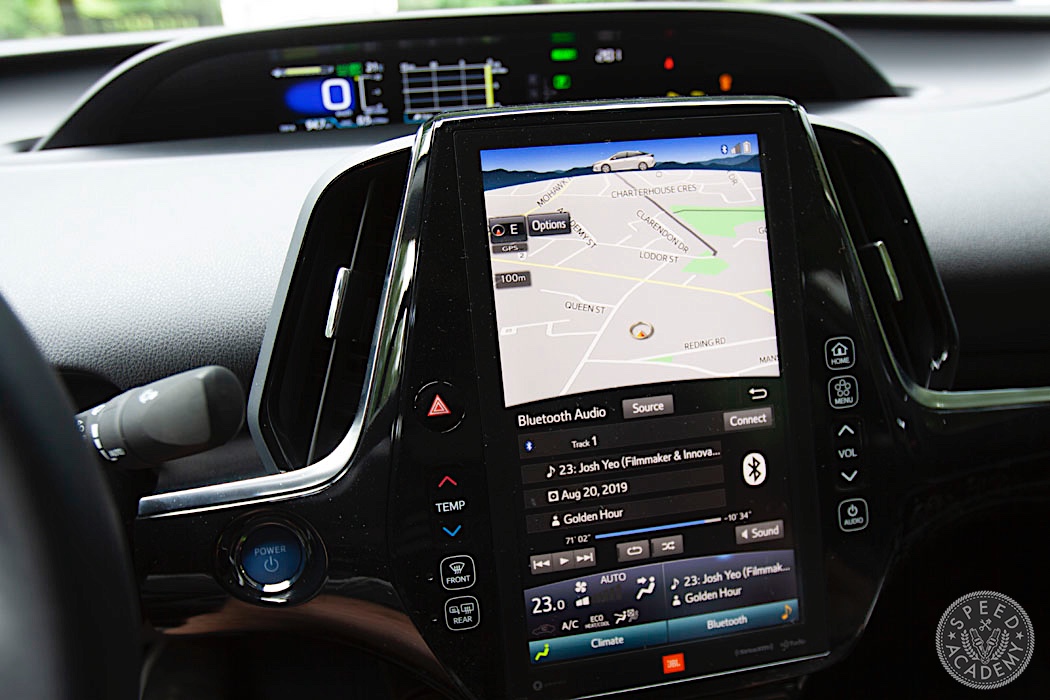 The 11.6 inch HD multimedia touchscreen display is absolutely massive and is easy to use. The sheer size of this screen is a lot to take in at first, but for anyone who finds it distracting you can turn it off.  That said, it takes two buttons to turn it off and your eyes need to leave the road for the second button because it's located on the touch screen. Please note that the buttons down the side, including Home, Menu, Volume, and Audio ON, can all be operated with your gloves on because my son operated them with his socked feet, but to turn off the screen, you need your gloves off.  I would have liked a simple OFF button instead of this two step process, but I understand that most owners are unlikely to want to turn it off, given how dependent we all are on navigation these days.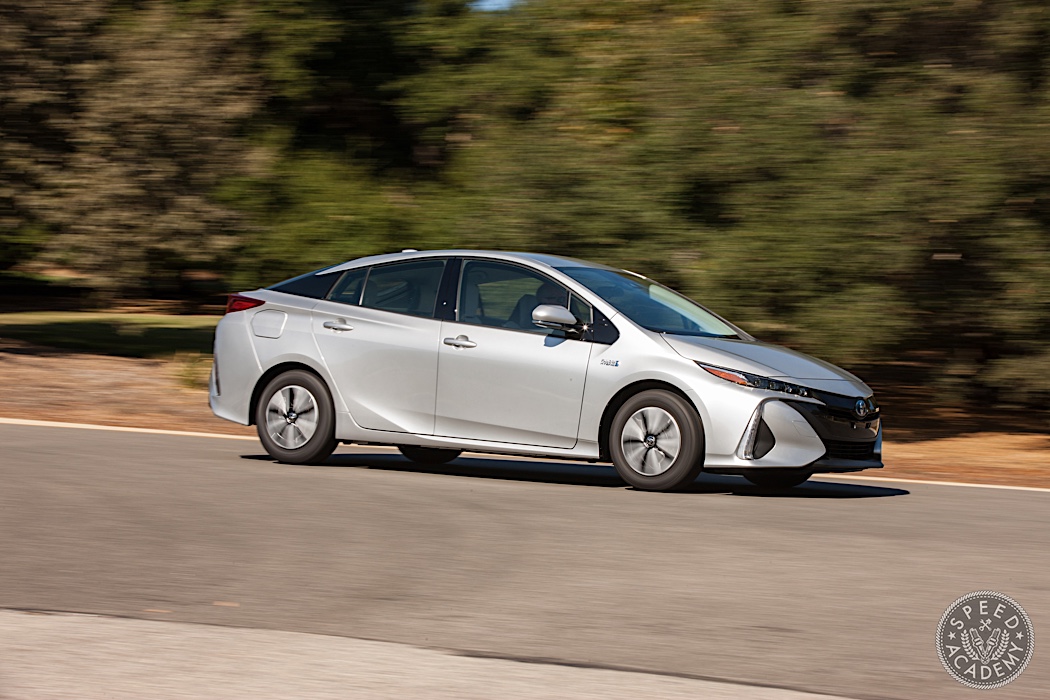 Eventually, I started to drive.  I made it one block, then pulled over and sent the following text to my husband; "OMG OMG OMG! Let's switch right away!"  So many things jumped out at me as vastly superior to my 2011 Prius. Sorry Cybil, but your days are numbered!  For starters, the ride quality is hugely improved, with bumps and cracks in the pavement being soaked up with a level of refinement I did not expect. The chassis feels so composed, so tight, even over the roughest Steel City roads.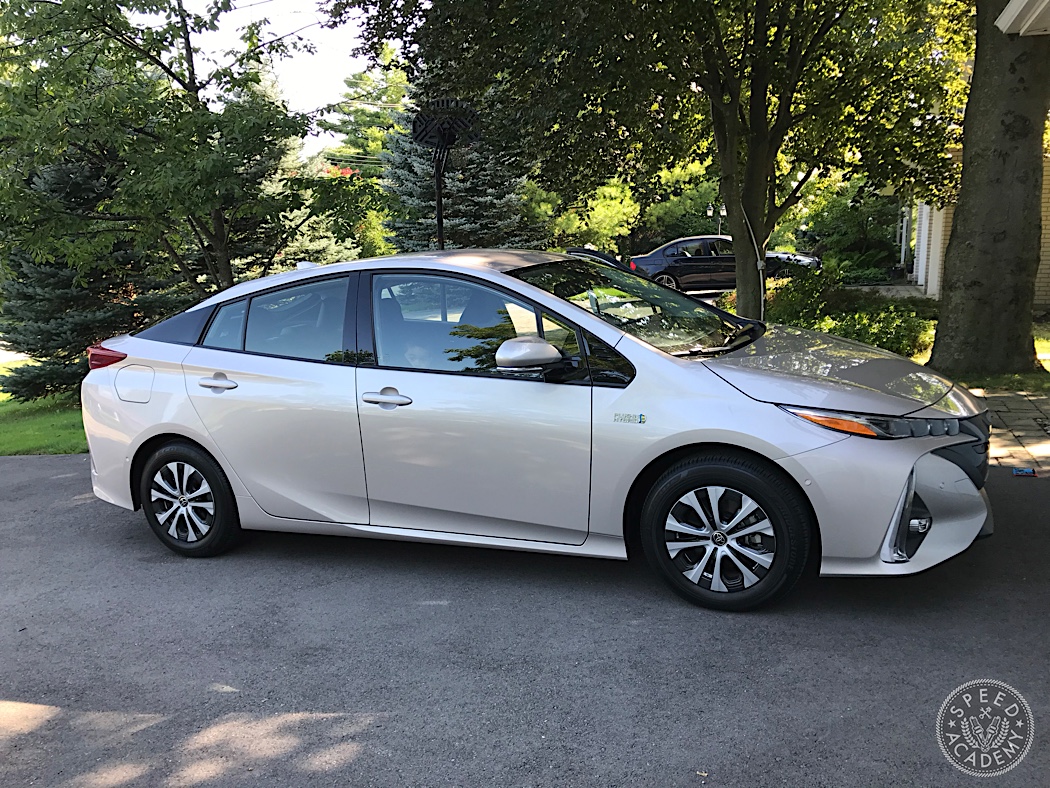 Typical of all Prius', the reverse beep is ever-present.  I've come to accept it, since pedestrians need to hear something and the rest of the car is so silent when in full EV mode. Second, we live in a hilly neighbourhood and have a steep driveway that can make reversing out onto the road a bit tricky. Let me tell you, the Rear Cross Traffic Alert works!  It told me before I could even see that a car was speeding down our road while I was reversing down our driveway.  
Equally impressive is the Blind Spot Monitoring System, which always knows when someone is cruising in my blind spot on the highway.  The Prime never failed to warn me of this with an audible beep and little flashing arrow on the sideview mirror.  At first, I didn't understand where that sound was coming from or what it was trying to communicate, but I soon became grateful.  It is pretty cool to give up the stress of blind spots, especially for anyone who struggles to do a shoulder check.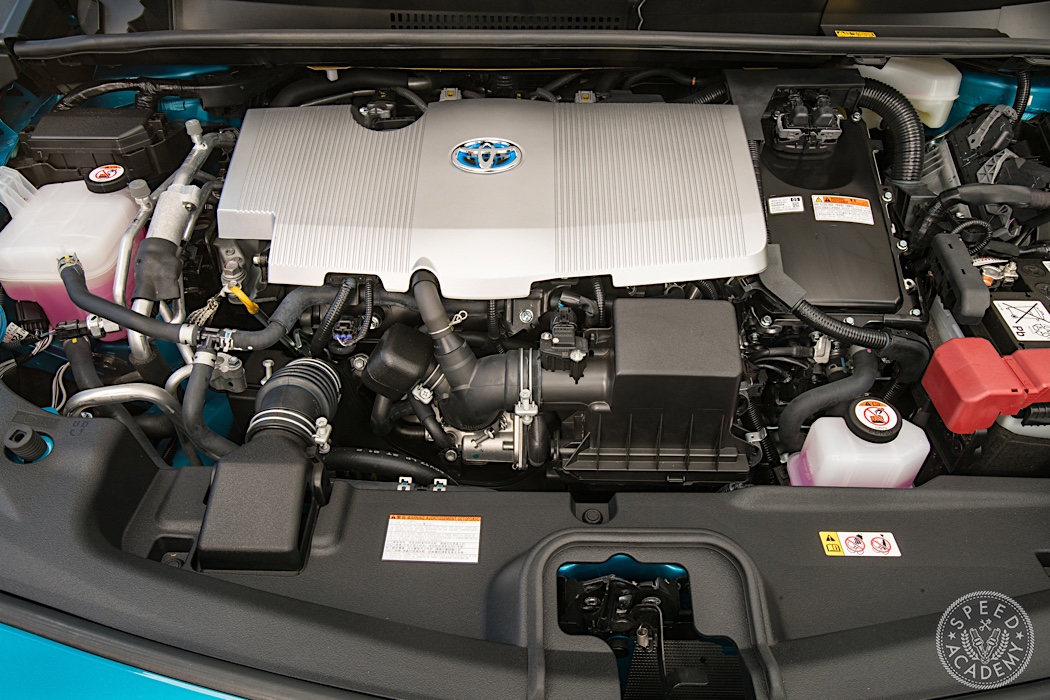 Once I put the Prime in motion again,  the instant torque of the electric motor onboard [rated at 75-hp and 120 lb-ft and will allow you to drive up to 40-km in full EV mode thanks to the 8.8 kWh Li-ion battery pack in the trunk] surprised me. From a stop, the Prime definitely outruns any of the cars I've previously owned, including my 2011 Prius and several generations of Honda Civic. And thanks to the torque and range of the full EV mode, I rarely needed the gasoline engine to fire up [rated at 95-hp and 105 lb-ft].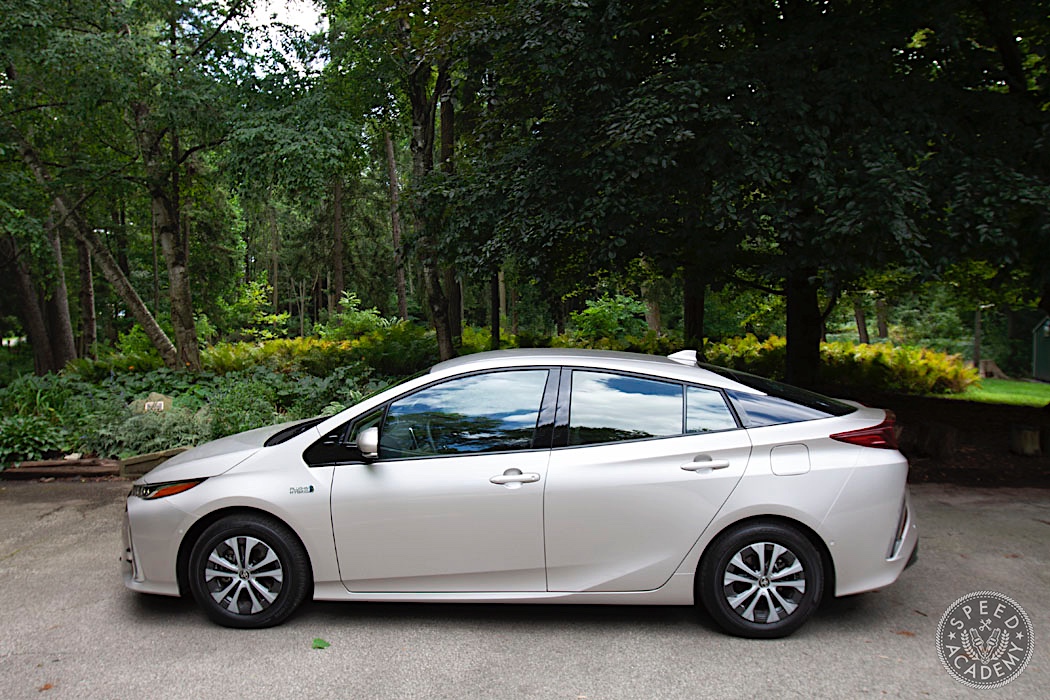 I didn't just zip around town in the Prius Prime, though, I also went on long pleasure cruises in complete comfort.  On twisty country roads, I was really impressed by the car's composure in the corners. Turns out I wasn't imagining things, because the new Prius beat a lot of very sporty machines in Motor Trend's famed Figure-8 test, which the editors at Motor Trend state is "the best repeatable assessment of a car's handling". Some of the cars the Prius beat in this test include the Fiat 124 Spider (which shares a chassis with the Mazda MX-5), Jaguar XF S Sportbrake, and Mercedes-AMG GLE 43. 
I've never driven a car with a Heads Up Display before so that took a bit of getting used to, but having the speed limit right beside the HUD speedometer is a really clever way to help heavy-footed drivers keep better track of their speed.  I validated this by driving the same section of road again and again, backing up and moving forward right where the speed limit changes.  It's impressive how quickly and accurately the GPS data updates, even on the most remote back road.  Based on my little experiment, the display will have the speed limit displayed accurately within 1-2 meters of the sign. If you get a speeding ticket, you were begging for it.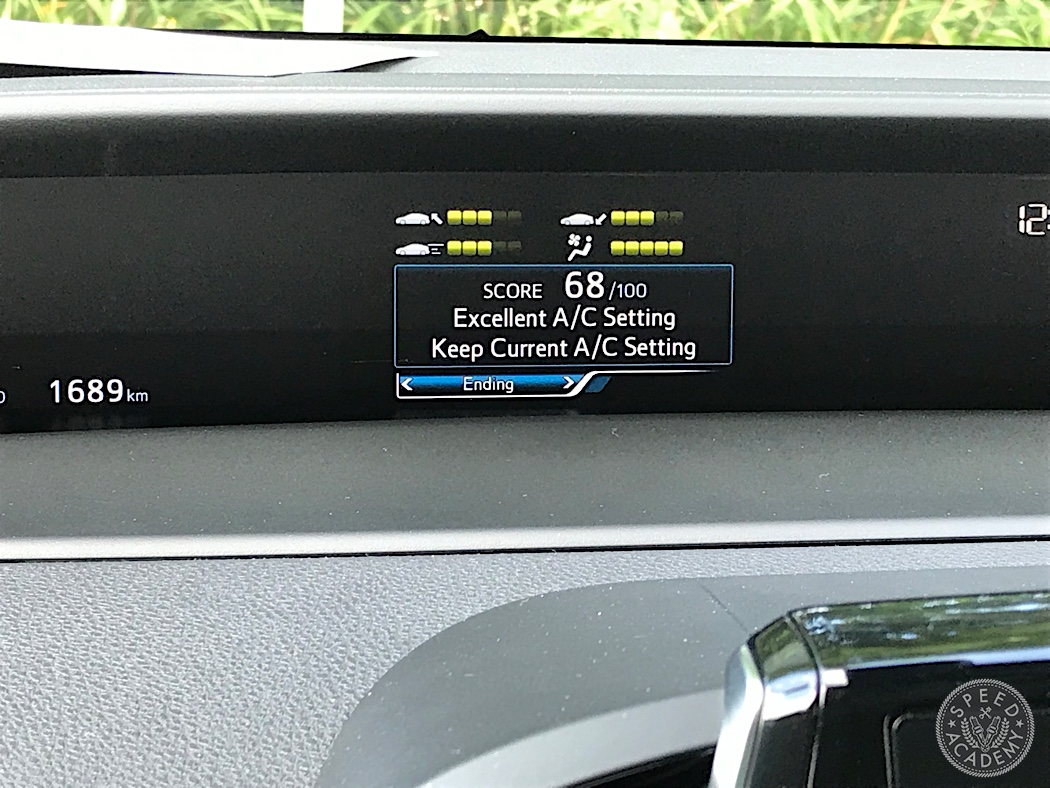 Remember that whole "it tries to make you a better driver" bit I mentioned at the start of this review? Well, true to Toyota Production System principles, also known as Lean methodology in other sectors, the Prius Prime also challenges you to continuously improve your driving performance.  At the end of each trip, you will be given a score out of 100 (and Toyota marks hard!) for your ECO driving performance, how you measure up next to a benchmark, and then a recommendation for improvement is made.  If you use the air conditioner, you will also be graded. I can't believe that my 68/100 was considered excellent.  I want to be an 'A' student.  You can't help but strive to do better each time you drive the Prime, and I must say I found myself really enjoying the challenge!
Parking the Prime in our home garage, Plug-In Hybrid ownership entails the one extra step of grabbing the charging cable out of the trunk and plugging it into the passenger side receptacle (on the rear quarter panel) on the Prime and into a wall outlet.  Using a typical 120V wall outlet will fully charge the batteries in 5 hours, and if you have a 240V outlet then that time is cut down to 2 hours.  Best of all, if you traveled less that 40 km round trip, you will not have burned a single drop of gas. 
Now, if asked the question, "When was the last time that you filled up on gas," when driving the Prime, you will remember, because it was truly a momentous occasion.