Cheap, fast, reliable: pick two.
We've all heard it, and we've all tried to defy it at one point or another. Cheating this formula is not easy, some might even think it's impossible, but it can be done, even if only in rare cases of good fortune or extreme craftiness. Of course, cheap, and fast are relative terms. Not everyone is going to think the same amount of money or horsepower is excessive, but reliability is a little more cut and dry. So, what's a budget-strapped, tire frying enthusiast to do? Give up on reliability?
Enter the BMW E46 chassis. Produced from spring 1998 until early 2005 with up to 360,000 being sold worldwide each year, the aforementioned 3-series chassis is quite plentiful. With great results in Touring Car, Pirelli World Challenge, and even local Time Attack racing, the E46 has always been regarded as an entertaining chassis. Weighing in at roughly 3200-lbs depending on options and configuration, featuring rear drive, huge aftermarket support, and a wealth of information from avid track addicts, it would seem to be a great low-cost project car starting point.  I'm not saying this is the only way to fry tires and hit apexes for not a million dollars, but it's not the worst choice – or it could be and I'll be lighting it on fire at some point. Watch this space!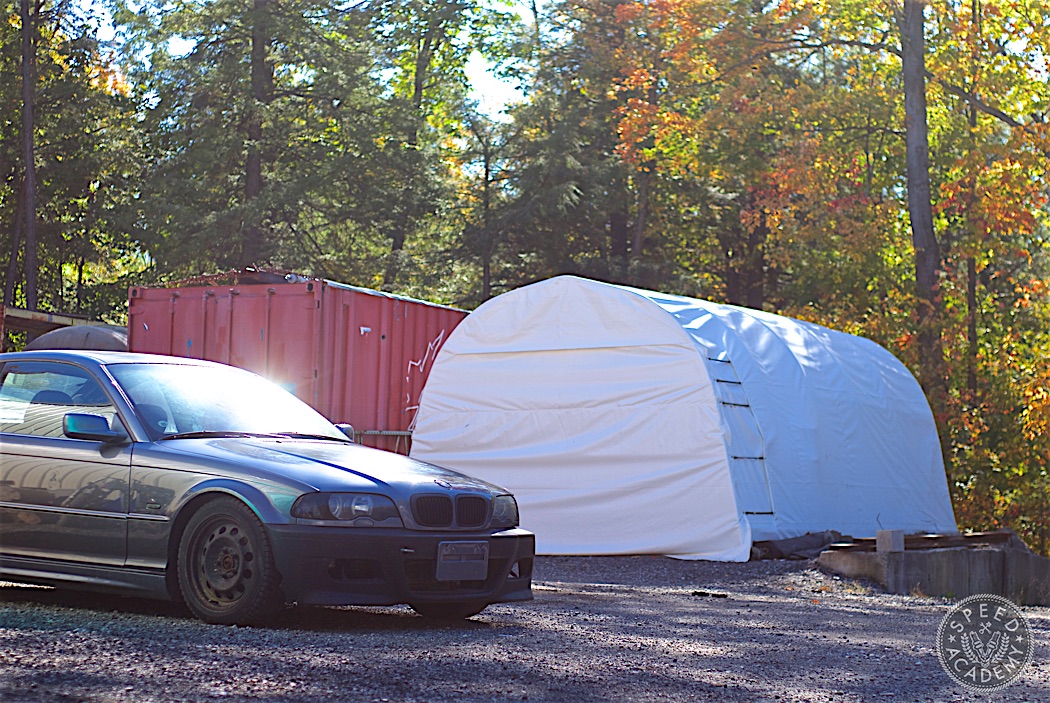 So what made me, someone who's almost exclusively owned Japanese cars, branch out and give something from the land of weird short-legged overalls, feathered hats, and overwhelming precision a go? Follow along as I explain and also try to convince myself this is a good idea.
The E46 seems to have dealt with Canadian winters reasonably well. If you're in the market for a cheap (I got this particular car for $500) RWD coupe that has huge aftermarket support and isn't likely to return to the elements one rusted out floorboard at a time, the E46 3-series seems to be a reasonable choice. Yes, you probably have a friend who knows a guy with a rotten one. Everyone does. Yes, they have their spots where they're prone to rotting (mine is no exception). However, those spots tend to be on panels which are removable. By and large, the cheap examples seem to have relatively clean unibodies, just needing perhaps a door or fender replaced here and there. Ze German (I don't promise that's the last time I'll do that) sheet metal seems to be wearing rather well through our salt-addled winters.
Disclaimer: I have a Datsun 510. It weighs 2000-lbs.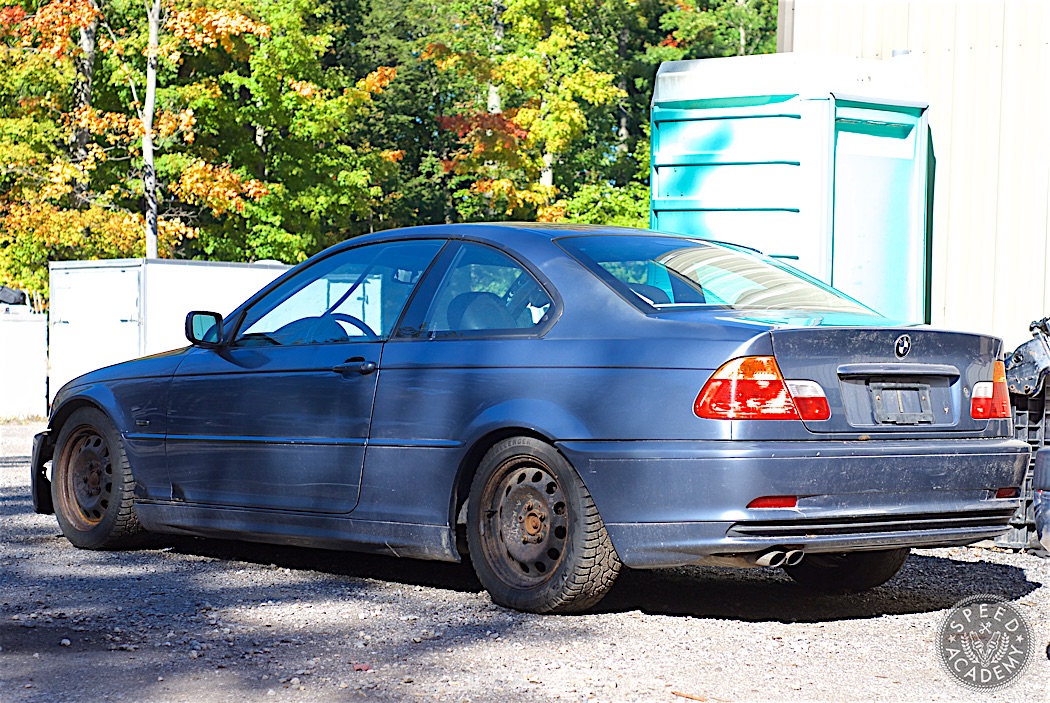 Now, is an E46 a 2000-lbs lightweight like my 510? No. Is an E46 in a weight bracket where the removal and replacement of some items could get it into a weight class where it could be classified as not offensively heavy? Definitely. These cars are not hard to get sub 3000-lbs while still being a very streetable cruiser. To me (again, subjective) a 2900-lbs car with a decent amount of midrange power can be a hell of a lot of fun. All while maintaining a sunroof and AC? Why not?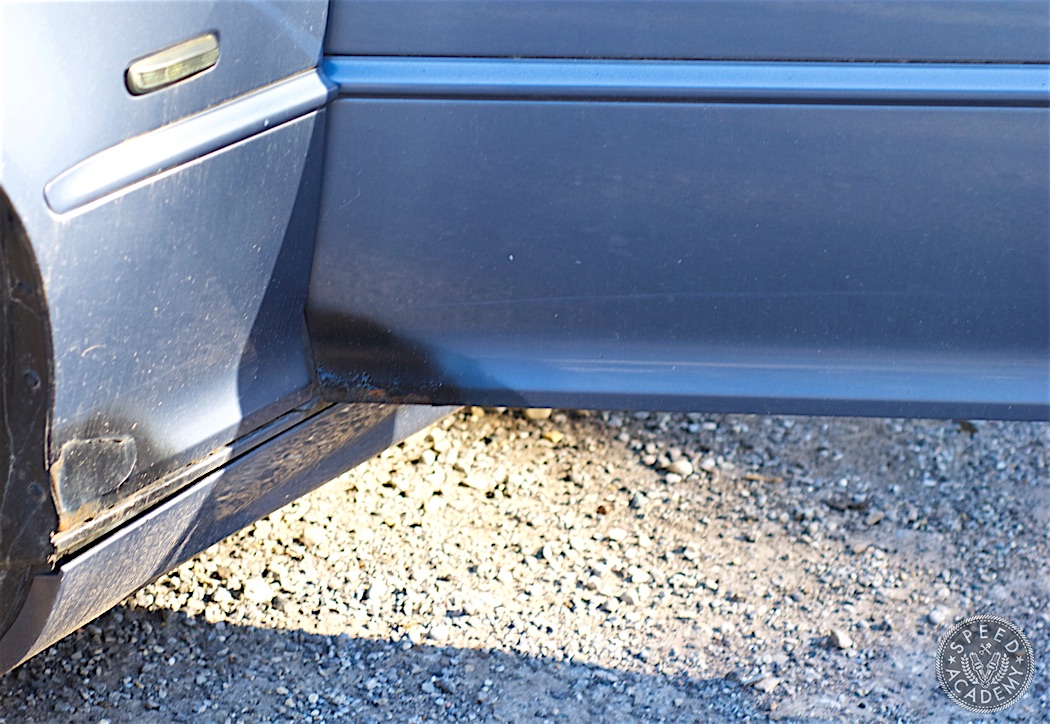 3. Price. My car is a 2001 325CI with 200,000 km on it, rust at the bottom of one door and one fender, a finicky starter, Bilstein coilovers, a host of spare M3 bits, and a $500 price tag. Upon inspecting the car, I resigned myself to something in this price range not being perfect. However, my plans don't necessitate the need for a running stock power plant, a perfect body, or a minty interior. The term polishing a turd comes to mind in this case. Except it's like a nice turd, from a supermodel or prize-winning farm animal or something. I won't get too far ahead of myself with my specific plans, but a good running, workable example of one of these cars can be had for less than an all-inclusive trip to your favorite seaside destination.
4. BMW is happy to cram it down your throat anyway they can that they are making the best driver's cars out there. Currently they have some stiff competition in the sport sedan segment, however back in the early 2000's they were pretty well at the top of the game. And these cars are still tough to beat for the dollar, even when you consider the cost of modifying them. The E46 chassis is a popular choice among enthusiasts ranging from drifters, to canyon carvers, to weekend track warriors and beyond. God's gift to driving instruments it may not be, but it's tough to argue with even a half decent chassis when it comes to the old rear-wheel drive coupe formula.
5. Lastly, the aftermarket loves this chassis. From serious race shops producing parts directly from their World Challenge cars from back in the day, to cheap and effective suspension parts, there's a myriad of aftermarket options for just about every component on these cars. Choice is a good thing. Not to mention the aftermarket parts for factory replacement parts is huge. So the BMW tax has come way down, and replacement parts can actually be (please don't kill me) considered reasonable in most cases.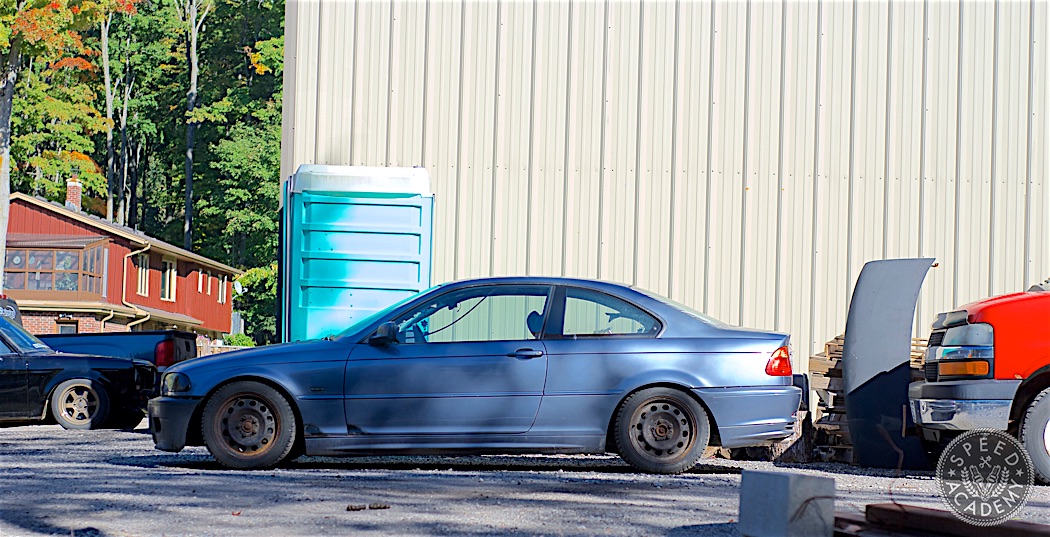 Ok, I'm convinced. Don't try to talk me out of it. Enter Project Freedom Schnitzel!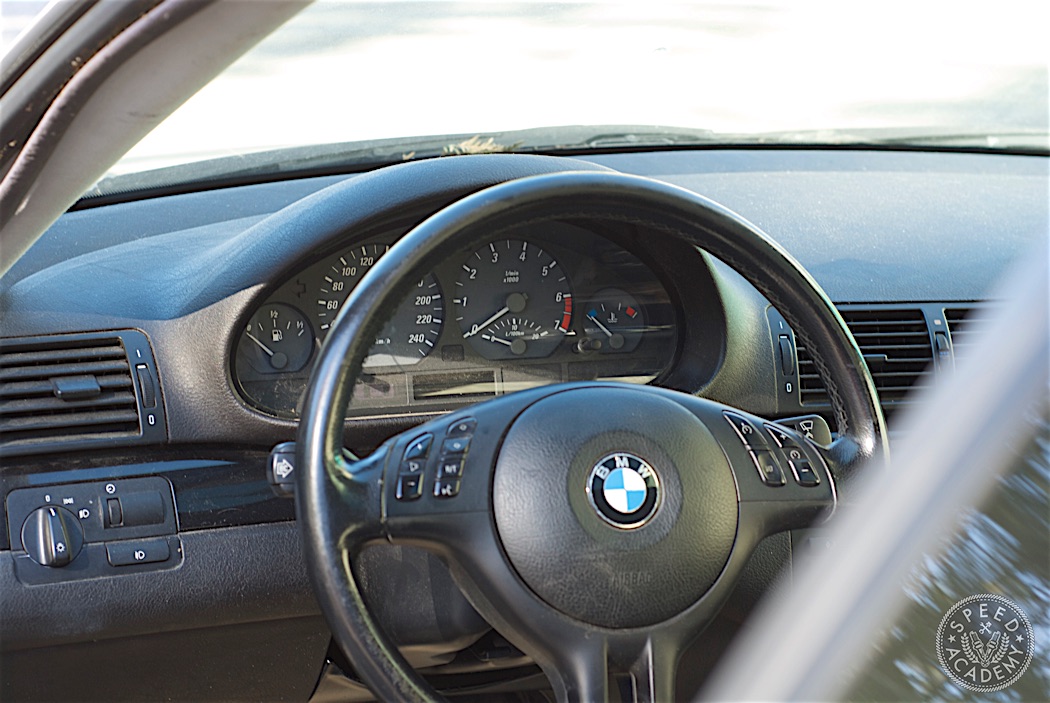 So what are we up to here? Well, what better thing to do with a cheap but presentable car then make a nice, fun, do-it-all street/track toy? I have personally always lusted after an E46 M3, but have never been crazy about the sound of them. It may seem petty, but I feel you have to love the sound of your car to truly love it as a whole. Yes, this is subjective and I know I'm probably in the minority here, but at the same time, I think I can do the M3 one better. Basically, I intend to throw a number of M3 parts at the car, upgrade suspension and brakes, while installing a 6-liter LSX V8 and CD009 six-speed transmission from a 350z. I don't have an endless budget for this project, so some things may meet the chopping block as we progress, but the overall goal will be to build a well-balanced V8-powered BMW.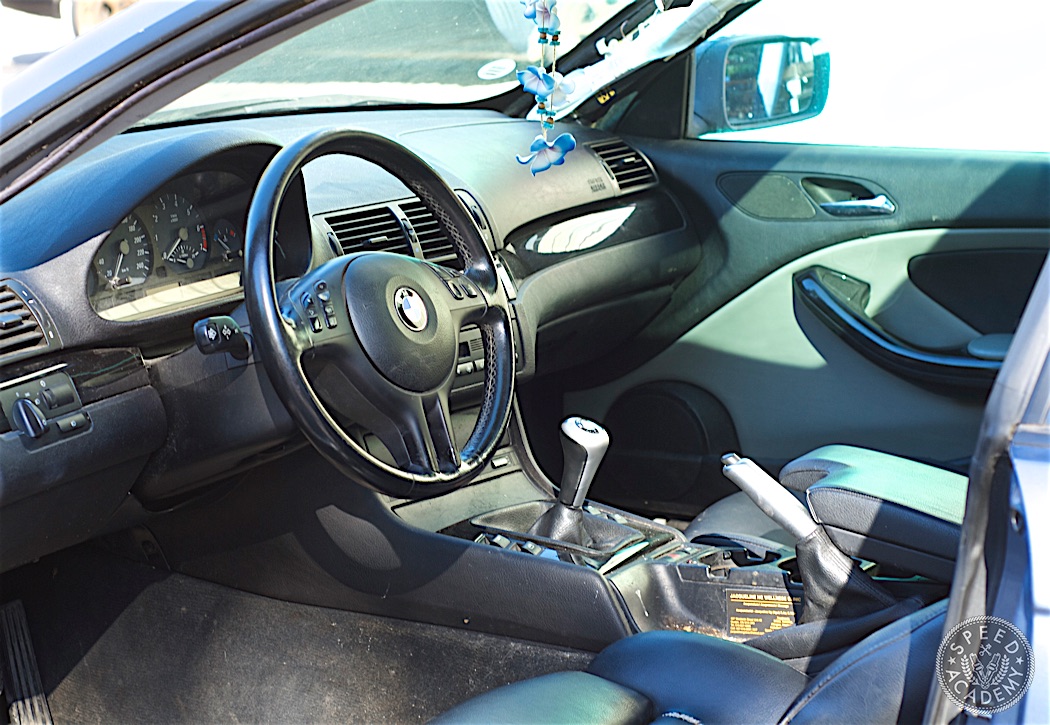 The Starting Point
Perfect, this car is not. Perfect for me, it definitely is. This car is a higher mileage 325ci coupe that frankly will not be missed. This car is by no means what someone would consider to be "mint". However, it is by and large rust free, everything electrical seems to work, the factory engine runs like a top but has a starter issue, and the hydraulic systems all work. Yes, it has some wear in the interior that needs addressing and some home-brewed mods that need to be reversed (see drooping suede headliner, and not properly reinstalled door trim) but everything I need to build it into the E46 coupe I'm envisioning is there and accounted for – or easily purchased on a budget.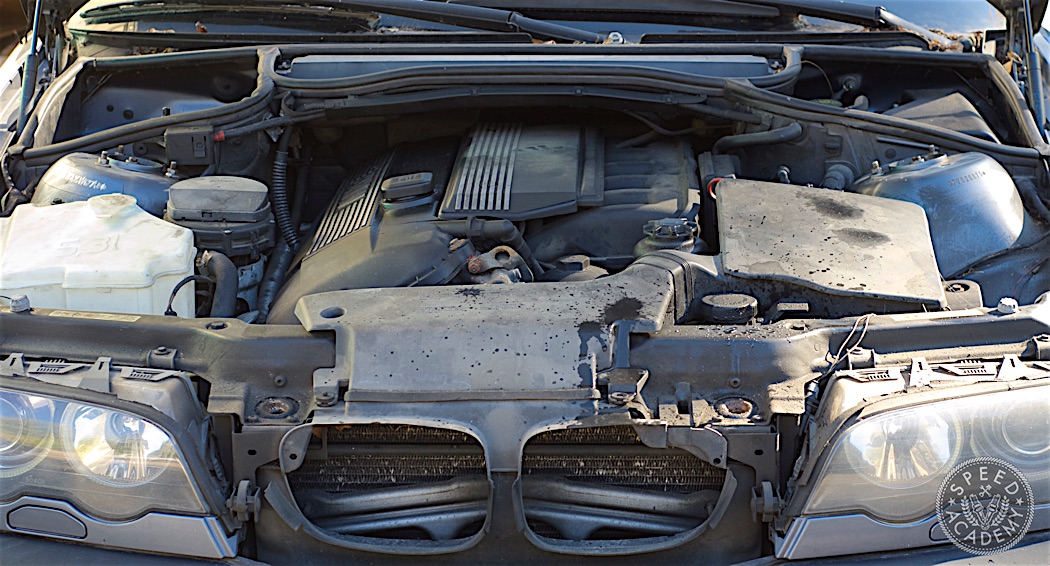 These cars have a few common major issues. The biggest of which is the dreaded rear subframe cracks. It's not the actual subframe that cracks, it's the studs that come through the floor that locate it. These will crack the floor over time, and can even pull right out. It is a fixable problem, but this chassis doesn't appear to be afflicted. Having said that, some preventative measures are on the to-do list.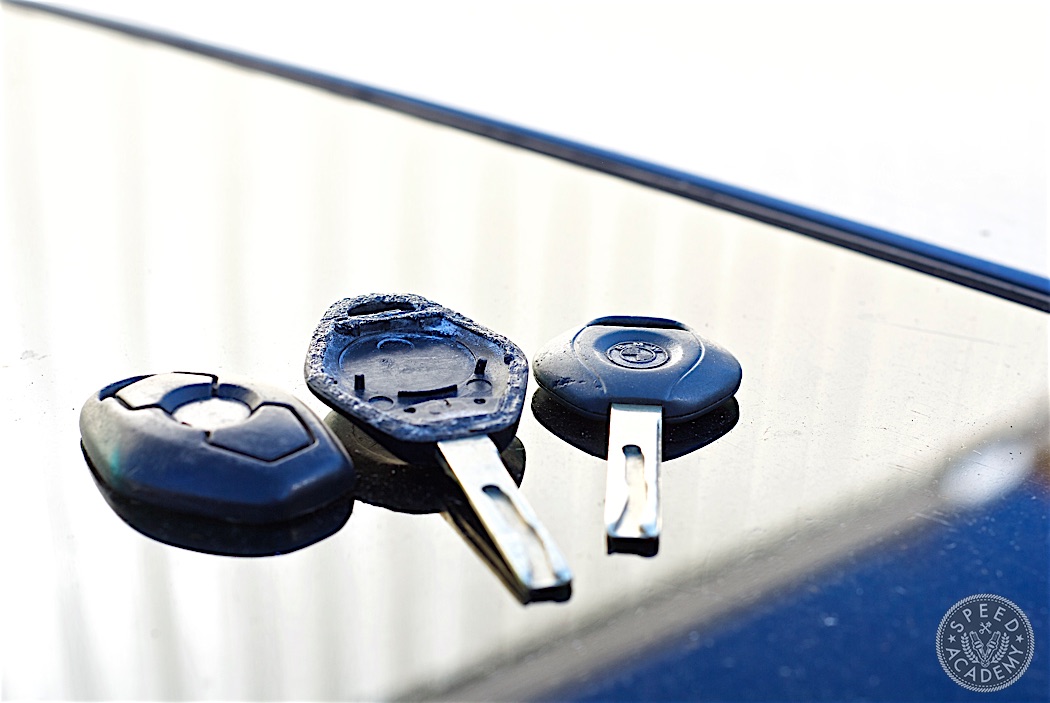 Overall, the $500 I shelled out for this chassis seems to be a fair price. In Part 2 we will be delving deeper into this car as it gets disassembled, and also introducing you guys to the engine that will be living in this car as well as how to make it work.