With the entire drivetrain now tucked away in its Grigio Antares (the colour code of the engine bay) cloaked living quarters, the next obstacle was to make it communicate with the rest of the car. The drive shaft was the first hurdle. Having a flange instead of a slip yoke at the tranny side, and a traditional flange to meet the Subaru rear diff meant that the shaft would need to have a slip yoke in the middle of it in order to be installed and removed from the car. Traction in London took care of my unusual project with ease using OEM parts.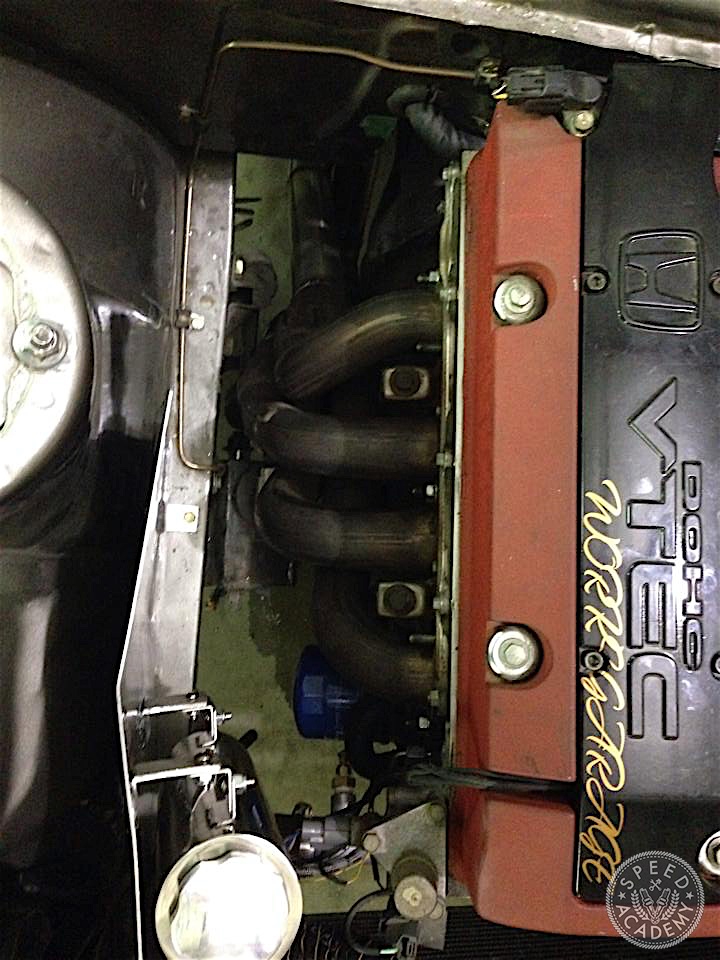 The next step was to let the F20C clear its lungs. The intake was easy, some high heat motorsport ducting, a heat shield, and an air filter, and the engine could inhale. Exhaling took a little more work. Some research yielded that the factory header worked quite well! So my thinking was to use as much of the stock header as possible. The problem with using the stock header intact was twofold. First it was too long and would hang way, way below the floor of the car. Secondly, the pitman arm on the passenger side wanted to occupy to same area of space in the engine bay. Frankly I choose ability to steer over not modifying the header.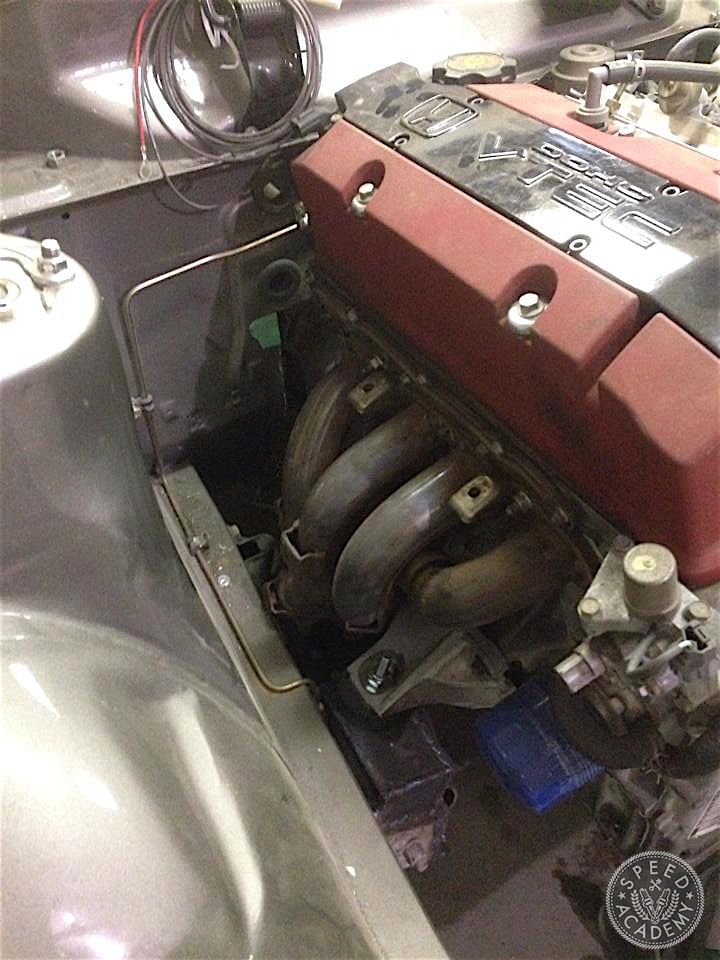 To make the header fit, I cut the secondaries off where they met the primaries, and fashioned an equal length remodel out of the same diameter tube; tucked that up into the transmission tunnel, and ran a little further towards the rear of the car rather than down towards the earth. This fit the car great and seemed to be the simplest option. The rest of the exhaust was a snap to put together using Vibrant stainless tubing, a Magnaflow resonator and a Magnaflow race muffler. For you shop guys or business owners wanting wholesale pricing on Vibrant, Magnaflow, and a massive lineup of other go-fast goodies, check out Turn14 Distribution. We have a lot of buddy's who run race shops and they've all told us that T14 are unbeatable on price, delivery time, ease of ordering, and customer service.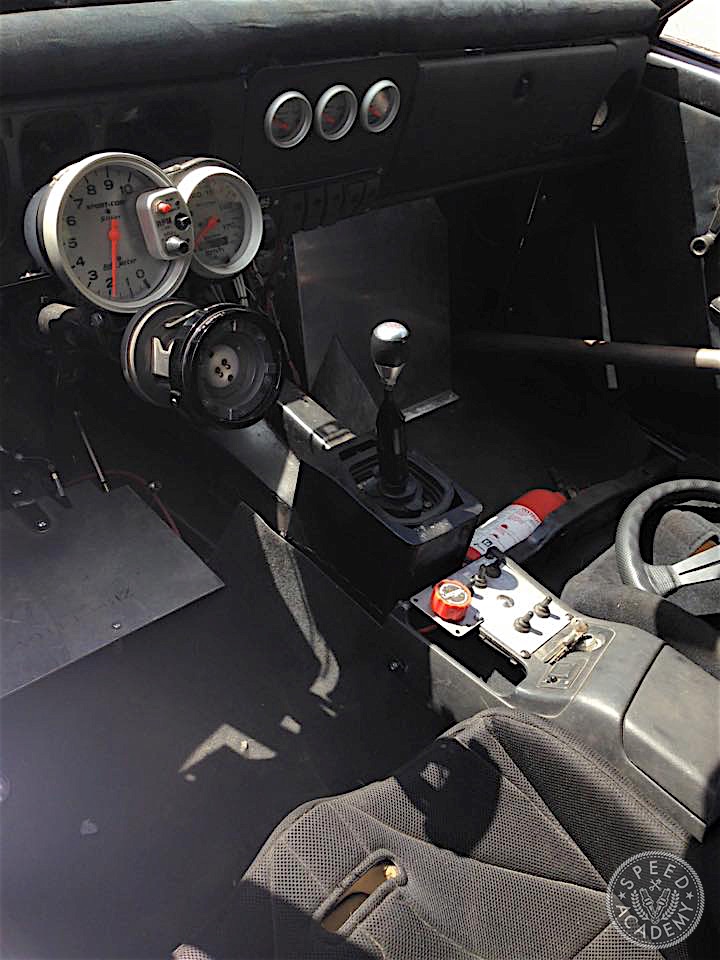 The wiring for the swap was taken care of by Ryan Maxwell. He used mostly the OEM harness, repining plugs, checking wires for integrity, and rewrapping it all in a chemical and heat resistant wrap. The stock ecu controls the engine through the harness and tells me all about what's going on through basic electric AutoMeter ultra light gauges. We employed the stock immobilizer and key in the car, along with a couple other added anti-theft features.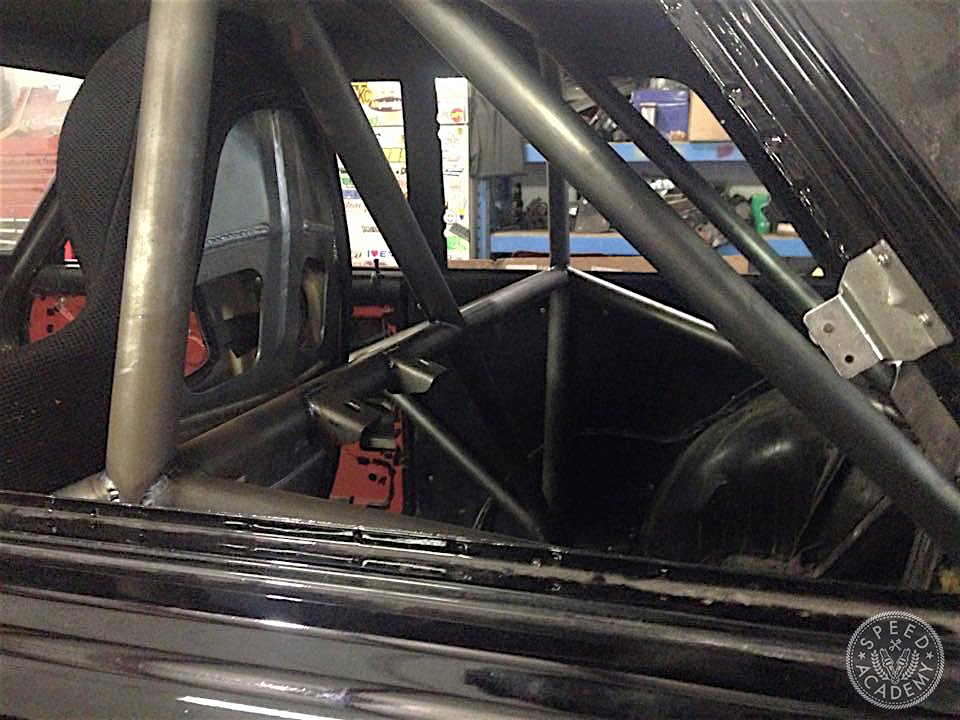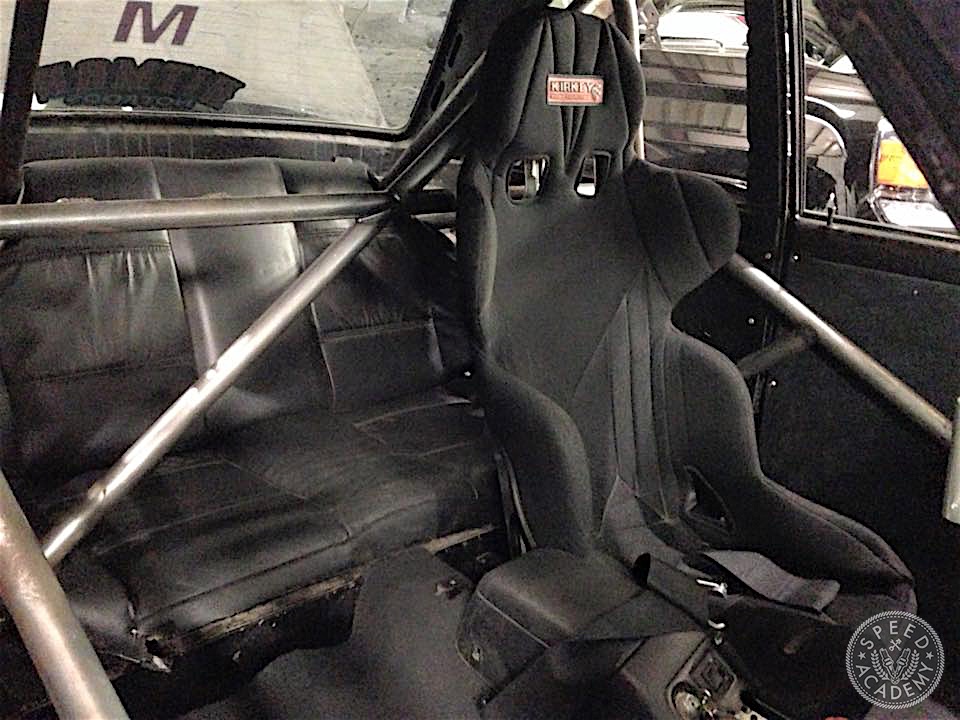 The car continued coming together after the first summer of "testing". A six point roll cage appeared, as well as carpet, new Racequip belts, and a more complete interior. The first few track tests were exhilarating, 12+ years of waiting, dreaming, thinking, finally a reality. I couldn't have been happier. Until I realized it was time to start getting serious about making this thing perform.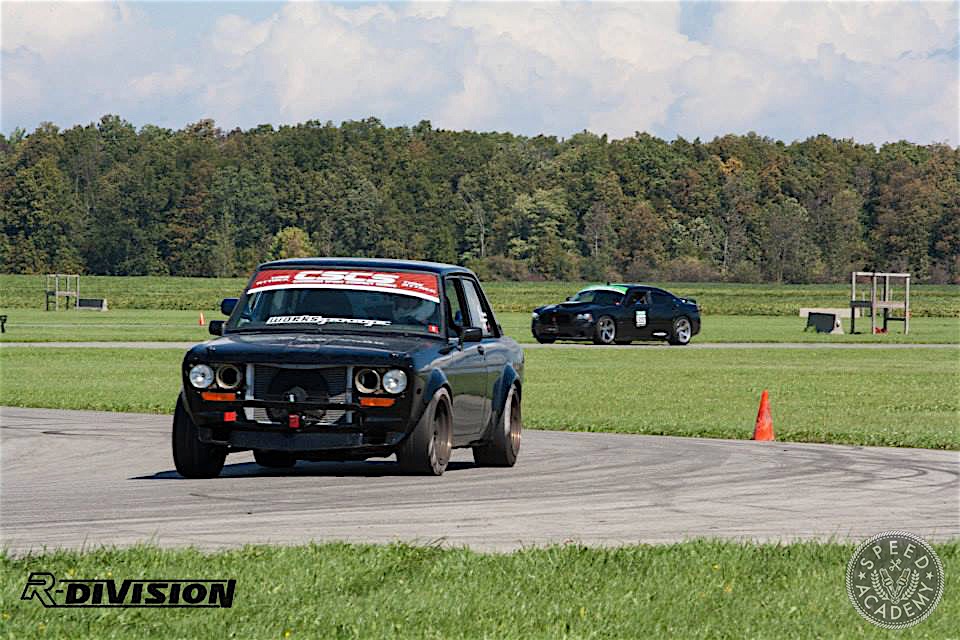 That brings us pretty much to winter 2016. Build phase mostly done, time to refine and maybe see what this thing will do on a road course. I mean the car was a race car its whole life, why not continue the tradition while keeping it streetable? The car has a few areas that need maximizing. Starting with the suspension, it's time to get a real shock in there. The Stances proved the concept works, but they're a little tired, and not quite up to the task of controlling the body motions this little bucket creates on track.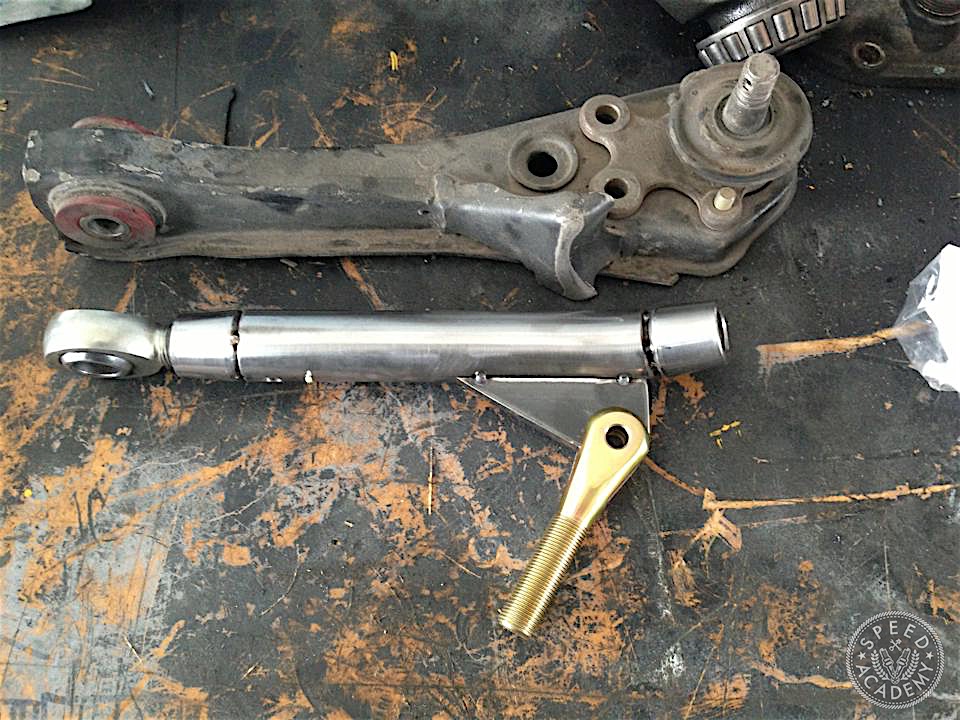 Along with the dampers, a set of adjustable sway bars will be added to help dial things in. I plan to employ a circle track style splined bar with blade style ends, connected to the control arms via custom endlinks and heim joints. To finish up the suspension revamp, I'll be adding spherical bearings to the rear control arms to help combat bind, and add a little more adjustability.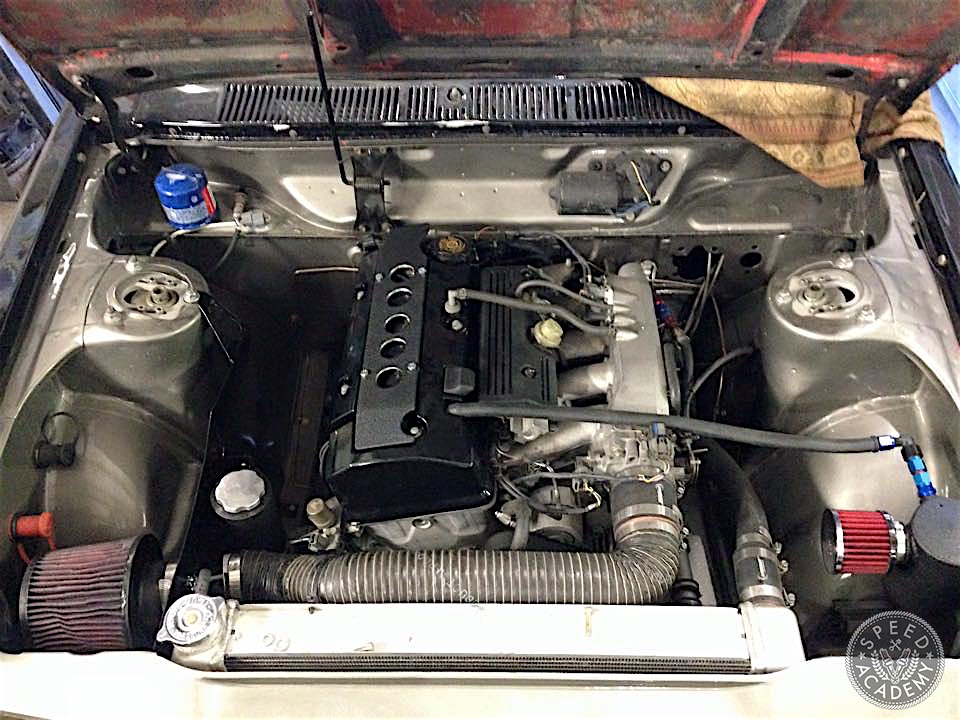 In the quest for lower lap times, I will add a little more power. Starting with a 3" exhaust, a larger intake manifold and throttle body, and a longer intake, coupled with a standalone ECU and a dyno-tune I'm hoping to add some mid range power. Eventually a stroked bottom end, or K series may find its way into the car, but there's definitely more to be had from the chassis before adding power.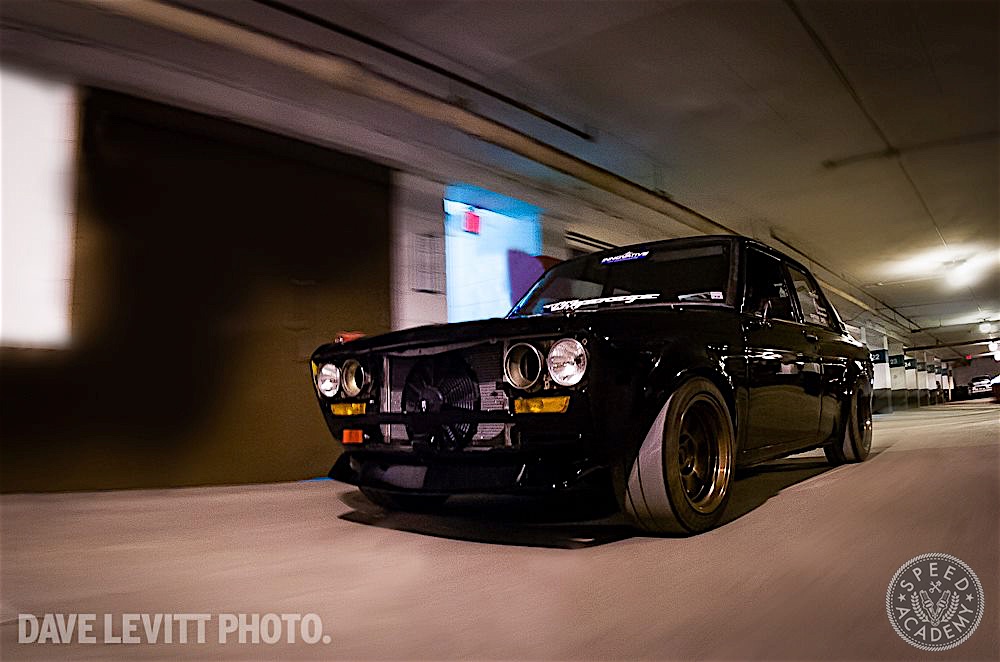 Lastly, I might put a grille in it…maybe.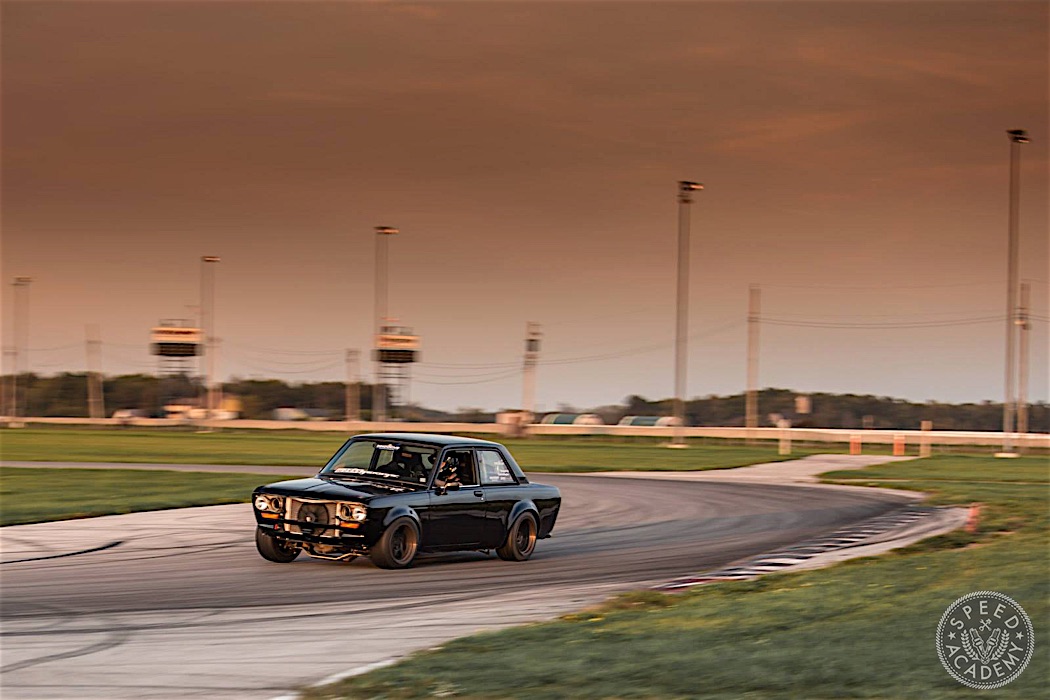 In an effort to avoid the typical "this is more than a hunk of metal, it's a family member" philosophical crap, I will say that this car has been a way for me to escape figuratively and literally during some trying times in my life. It's been there through family sickness, has brought me closer to some amazing people, and has been a silent partner when I just needed a break from life. Because of all this, the thing means more to me than anything I could ever purchase. The lessons learned, and memories garnered through the years of possession and building can't be bought. I think that's pretty true of most long-term projects, but this somehow feels like more.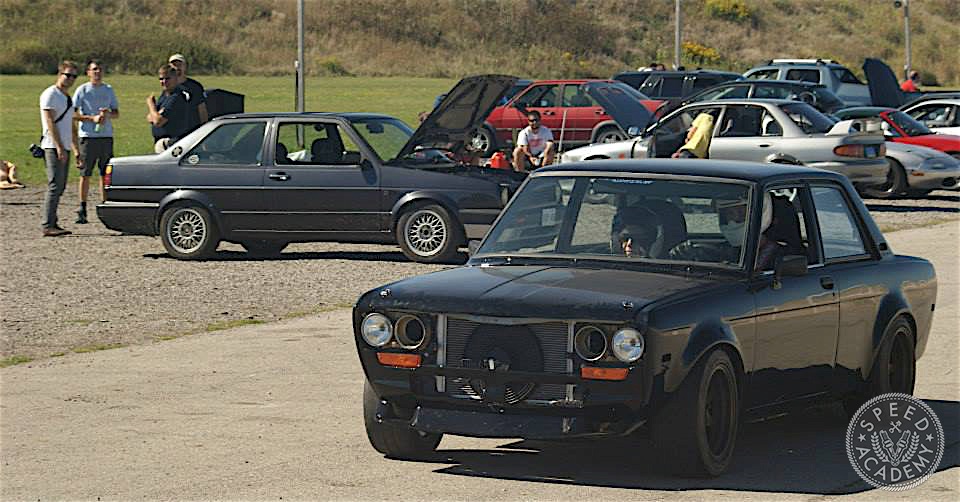 At any rate, this heap of metals, plastics and memories will live with me for a long time, hopefully long enough to one day see it reach the unreasonable standards I've set for it. It still has so much to teach me, and I have so many things to learn before we get there, but its definitely off to a great start!