We're officially elbows deep in de-assifying the ASS2000, thanks in large part to the support of title sponsor Turn14 Distribution and all our other site partners and parts suppliers. Last week we tackled the transmission and clutch replacement, so it was finally time to address all those seized bushings and camber adjusters on the subframes as well as replace the engine mounts and diff mounts.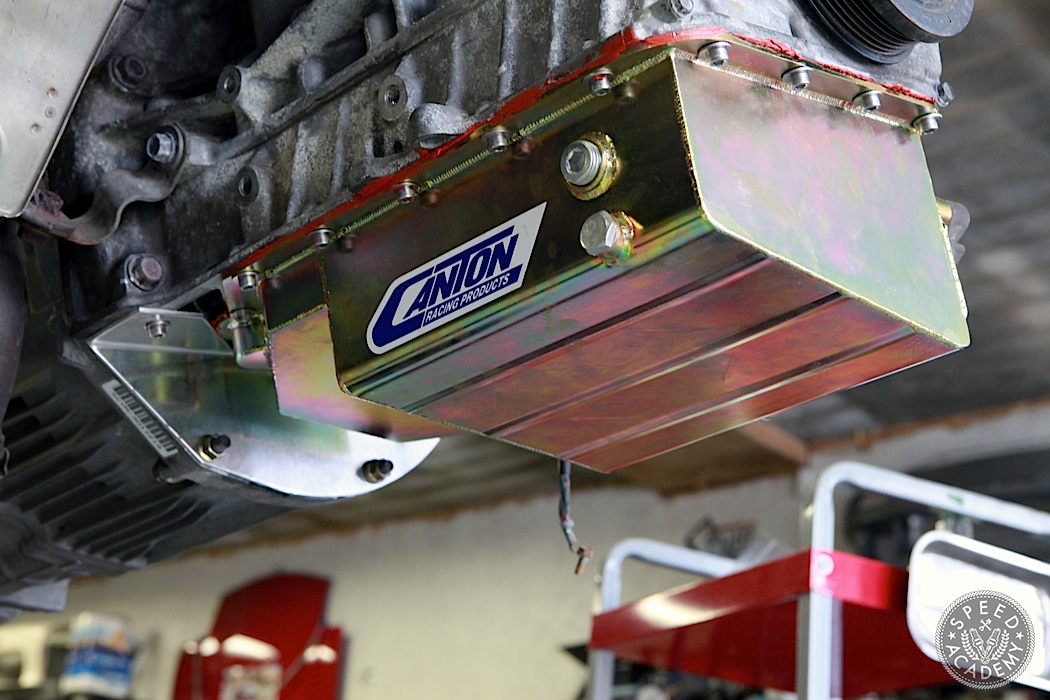 But before that, we took advantage of the engine being on the hoist by removing the subframe and swapping in a higher capacity baffled oil pan from Canton Racing. We opted to go with this pan for two reasons, the first being the increase in capacity by 1-liter and the second and more important being the trap door baffling. The stock pan is basically unbaffled (there's a semi circular lip near the pickup is all), and considering the cornering g-forces this car can generate, having a properly baffled pan is a must for track day duty, at least in our books. I've spun bearings from oil starving more than once when track driving a Honda with an unbaffled OE pan and it's not an experience I want to relive with the S2K.
The diamond shape baffle assembly in the Canton sump has four one-way trap doors, so oil can flow into the diamond shaped pickup area but not away from it during cornering. There's also a windage tray included with the pan, so as we learned the hard way (as you'll see in the video below), you need to remove the OE tray before install the Canton pan. We also like the fact that Canton has included a 1/2″ NPT bungs for oil temp and/or a turbo return line, and it also uses a magnetic drain plug so you can check it for any metal debris whenever you change the oil.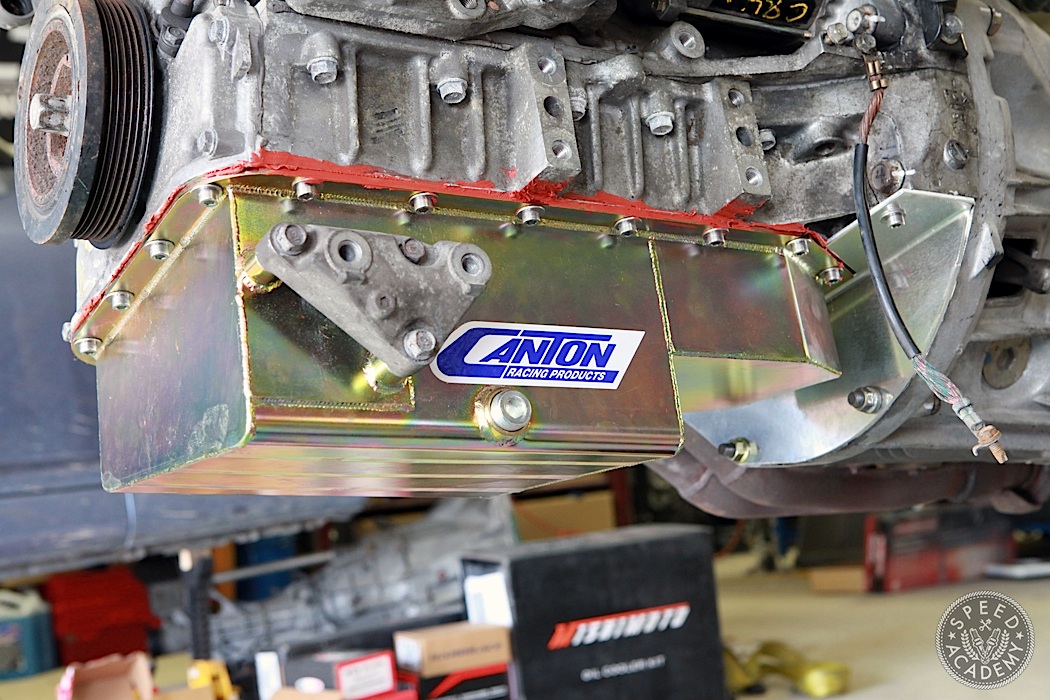 As you can see here, Canton also includes an aluminum flywheel cover, since the OE pan design has the cover built into it.
The only potential downside we're aware of with this oil pan is that some users have reported higher oil temperatures, since the OE pan uses a finned aluminum design and Canton's pan is made from steel. But since we're installing a Mishimoto 19-row oil cooler kit sourced from Turn14's massive lineup of top notch aftermarket performance parts manufacturers, we're confident we've got oil temp under control and will report back on temps on the street and at the track.
With pan bolted in place, we turned our attention to the Hasport Performance engine mounts, starting with the laser cut steel brackets that bolt up to the engine block.
The OE mounts use a big and fairly soft bushing that's notorious for wearing out quickly, and since this car is going to live a good portion of its life on the race track, we wanted a far more robust and less compliant set of mounts. Hasport's motor mount kit fits both the AP1 and AP2 chassis, are CAD/CAM designed for proper engine placement and axle alignment, and are made from lightweight yet extremely strong T-6061 aluminium billet. The kit comes with a lifetime warranty and use polyurethane bushing material in your choice of Street (62A), Race (70A), or Extreme Race (80A) durometer (or stiffness).  We opted for the 62A Street bushings since Peter wants to take his Tinder dates on the occasional pleasure cruise. Grabbing ass in the ASS2000, perhaps?
Before we bolted the front subframe back up to the engine with the Hasport mounts, we installed Blox Racing's front bump steer kit, sourced from our friends at Turn14. This kit uses a 20mm thick aluminum shim to raise the steering rack and put the tie rods back to a more optimal angle relative to the knuckle. This corrects for bump steer, or the wheel toeing out when ever it hits a bump. Bump steer starts to get noticeable on a car that's been lowered more than 1.5" or so (depending on its OE geometry), and results in the steering wheel pulling left or right when the left or right front wheel and tire go over a bump.