With Nissan 350Zs and Infiniti G35s being surprisingly affordable these days, they're one of the best options on the used car market for a project car starting point. I still miss my '06 G35 coupe, since it provided a superb mix of luxury, style and performance. The Z is really the better choice for a pure track day car, but for a road car I highly recommend the G coupe since it has semi useable backseats that fold down, making it a surprisingly practical daily driver. Both have tons of aftermarket support and have been around long enough that there's a strong knowledge base about what mods work best.
Back when I started modifying my G35, the RevUp VQ35DE was still a relatively new engine to the market, but there was strong support from some of the bigger Nissan tuners including Stillen and MotorDyne Engineering. Of course I was tempted to go with a turbocharger or supercharger system for a big jump in power, but this was my daily driver and I really wanted to keep it simple while adding some much needed mid-range punch. The G was a bit of a porker at around 3500 lbs, but with an extra 40 or 50 horsepower I was confident it'd have the kind of performance I was looking for.
Before bolting up a series of intake and exhaust upgrades, I first baselined the G on OnPoint Dyno's Dynapack hub dynamometer and took it to Toronto Motorsports Park to baseline its on-track performance as well. This way I had a true starting point from which to measure any gains achieved from the bolt-on power adders. Science! It's not that hard, kids!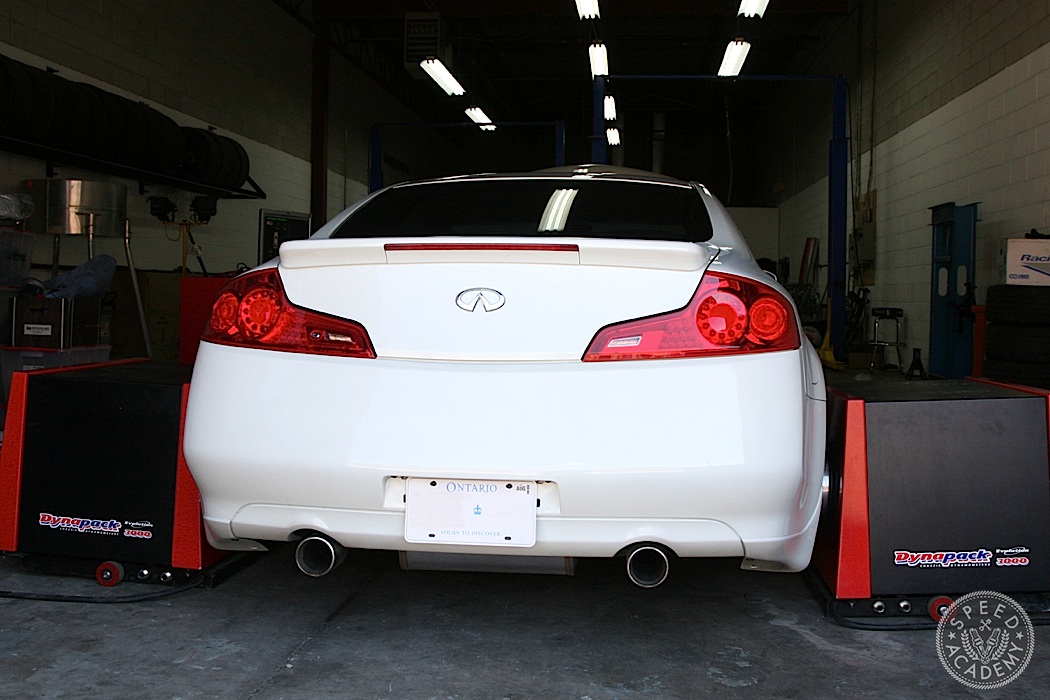 On the dyno the G pumped out an underwhelming 221.8 whp and 215.2 wtq, and turned an equally uninspiring lap time of 1:29.198-seconds. This put it about on par with a stock Honda Civic Si with respect to lap time, which was pretty disappointing but the body roll wasn't helping any, nor was the horrendous brake fade, and the top end power delivery just wasn't where it needed to be for track day action. The suspension and brake issues I was able to address easily enough (and will recount here in separate stories), and as you're about to see squeezing some extra naturally-aspirated jam out of the VQ35DE is certainly worthwhile.
I decided to start out with Stillen's true dual cat-back exhaust system and their Hi-Flow intake system. The exhaust system is made from 304 stainless steel, features polished 304SS dual wall tips that keeps them cool so they won't melt the bumper cover, and use a clever slip-fit design that makes it very easy to adjust its fit and get the tips lined up perfectly in the rear bumper openings. Plus the exhaust gave the G some extra attitude, thanks to a mature but more aggressive exhaust note. It also delivered a solid bump in power, increasing peak wheel horsepower over the 230 mark and bumping torque up across the board too.
The intake was child's play to install, with everything being easily accessed from the engine bay (no need to remove the bumper cover or anything like that). This kit includes a large K&N cone filter and an aluminum venturi ring that speeds and smooths the intake charge. You can also add an option Z-tube to this kit, which replaces the OE tube between the filter and throttle body, but I didn't bother since the Internet told me it wouldn't likely result in any meaningful power gains. I like how the polyurethane filter housing shields it from engine heat and how it integrates perfectly with the OE power duct that draws fresh air in from outside the engine bay. It's also worth noting that this is a CARB legal intake, so even you Cali dudes can rock it on your street car.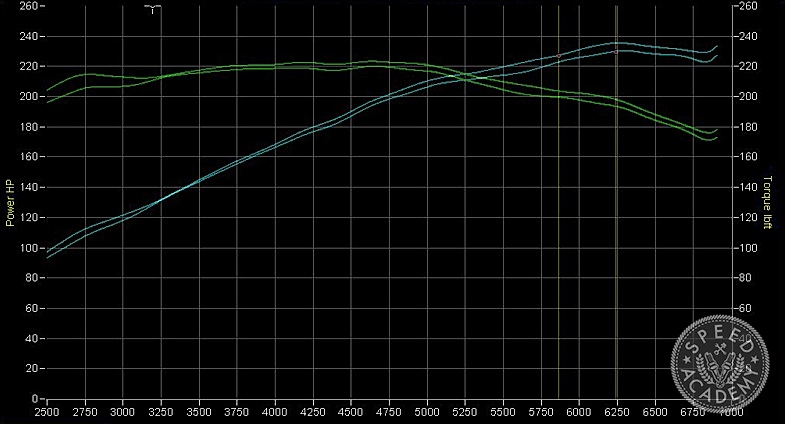 Power gains were respectable for such an affordable and simple upgrade, with peak horsepower improving by 5.2-whp and torque up by 3.4-wtq. Plus power is up across the entire rev range, so there's absolutely no downside to this modification.