Next I installed MotorDyne Engineering's 5/16'' plenum spacer kit and MREV2 lower intake manifold. The MREV2 is based on a non-RevUp manifold that has had an airflow restriction removed, while the plenum spacer simply increases the manifold's volume. Again, installation was very simple, and MotorDyne supplies very detailed instructions so you really can't get it wrong.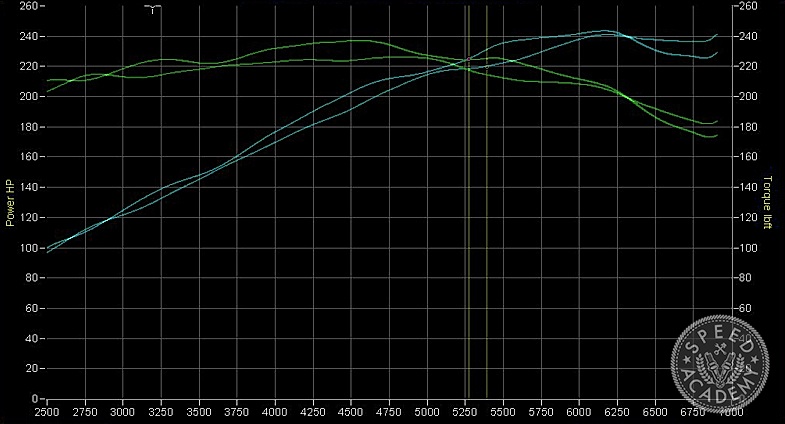 This combo of MotorDyne intake manifold upgrades proved to be very effective, increasing peak power by 10whp and 13.7wtq. But what really stands out on this graph is the huge jump in mid-range torque in the 3,500 to 6,000 RPM, with gains over 20-wtq in places. This really delivered a huge improvement in throttle response and acceleration on the street and at the track. I would argue these two mods are your best bang for the buck in VQ tuning if you're staying NA like I did.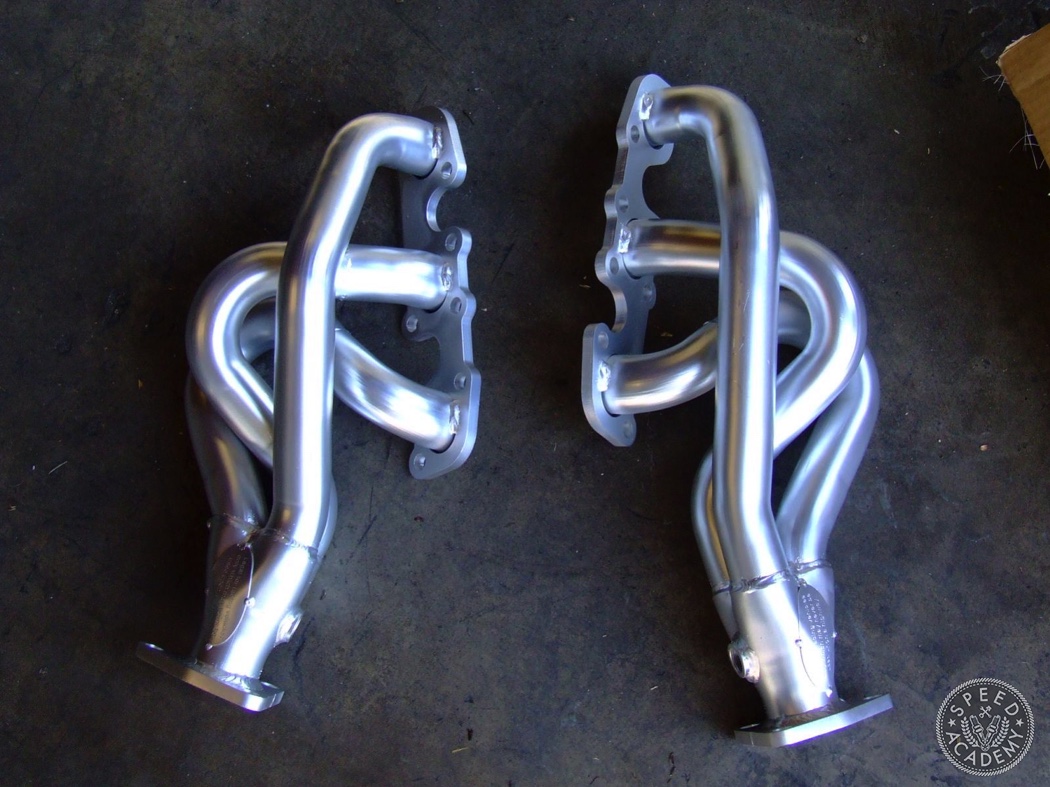 Next I decided to change out the OEM headers for Stillen's ceramic-coated headers, along with Stillen high-flower catalytic converters. Be warned, though, that changing the headers on a G or Z is a bit of a nightmare. There's so little space between the frame rails and the headers that getting at the nuts that hold the headers to the block is pure torture. I think it took us (meaning Sasha from OnPoint and I) a good 4 or 5 hours to swap the headers. The HFCs are a piece of cake by comparison, simply replacing the OEM cats that sit between the headers and cat-back exhaust.
As you can see from the dyno graphs, the headers (top graph) really improved high RPM power thanks to its equal-length primaries and merge collector, but as a trade-off we did lose some mid-range torque. The Stillen HFCs (bottom graph) also gave the upper rev range a boost, making the last 2500 RPM extremely useful around the race track, while recovering most of the torque lost by the headers. Together these mods provided a 18.6-whp gain while losing 1.7-wtq, but I think you'll agree that for track purposes gaining that much top end is more than worth losing a tiny bit of torque for.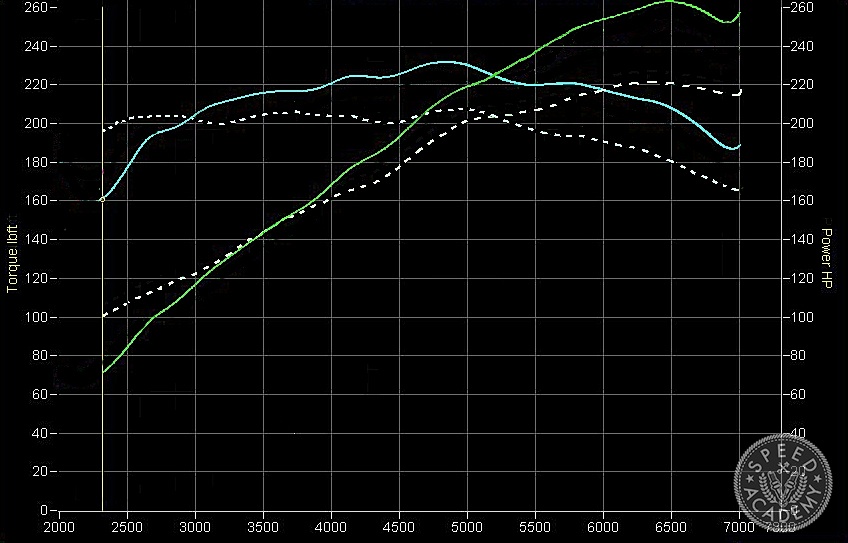 | | | | |
| --- | --- | --- | --- |
| MODIFICATIONS | WHP | WTQ | WHP/WTQ GAINED |
| Stock | 221.8 | 215.2 | |
| Stillen cat-back exhaust | 230.3 | 223.2 | 8.4 / 8 |
| Stillen intake | 235.5 | 226.6 | 5.2 / 3.4 |
| MotorDyne spacer/MREV2 | 245.6 | 240.3 | 10.1 / 13.7 |
| Stillen headers | 253.6 | 230.2 | 8 / -9.9 |
| Stillen catalytic converters | 264.2 | 238.4 | 10.6 / 8.2 |
In the end, the power gains from this combination of intake and exhaust upgrades is really quite impressive. Total horsepower on the dyno increased by almost 43-whp and torque by just over 23 lb-ft.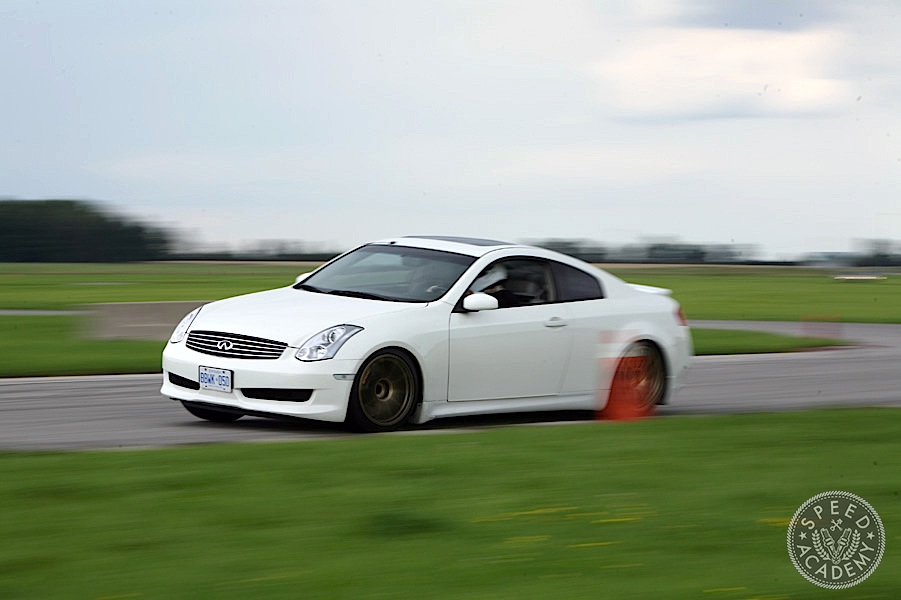 This certainly delivered much improved throttle response and acceleration in every gear and across the entire powerband, making it a lot more fun to rip around on the street. But how did it impact on lap times around Toronto Motorsports Park? Not as much as you'd think, with lap times dropping to 1:28.142-seconds, a full second a lap quicker than stock. Which just goes to show, it isn't easy going faster on power alone. For lap times to really drop, the G35 needs some wider wheels, stickier tires, brakes that can take the heat, and a suspension designed to better control its considerable mass.
The rest of the G35 upgrade stories are located here:
G35 Tuning: Big brakes make a difference
G35 Tuning: Adding grip and saving time
G35 Tuning: Ditching the V-LSD for a proper diff