Most unmodified cars I've track tested suffer for brake fade after a few laps. There are exceptions, of course, since some higher end sports cars and sports sedans come equipped with some pretty mega braking systems these days featuring massive slotted (and sometimes carbon-ceramic) rotors, multiple piston calipers and pads that have plenty of bite and heat tolerance. But my 2006 Infiniti G35 Coupe is not one of the exceptions. In fact, it's the opposite of that, having one of the more severely undersized braking systems I've ever encountered.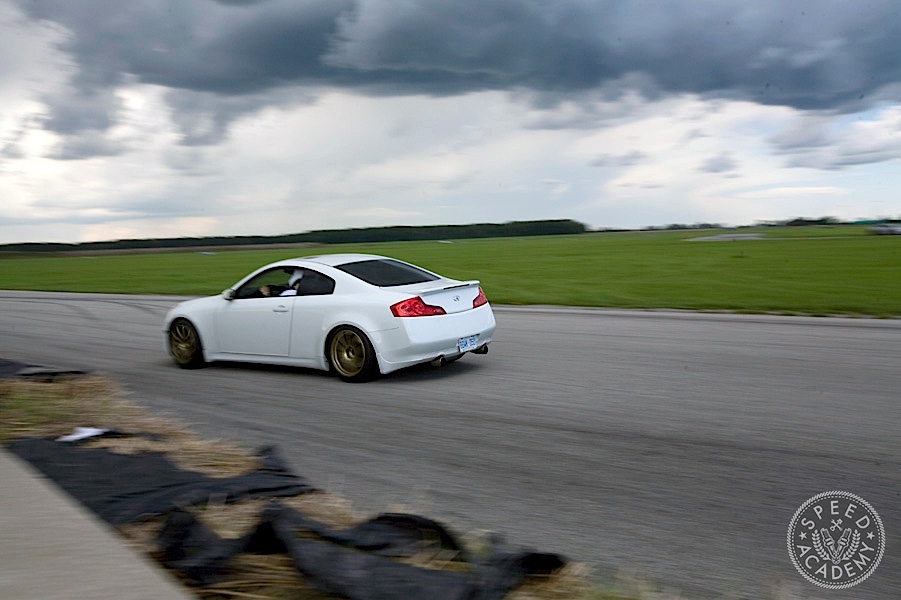 Presumably Infiniti didn't expect too many G35 owners to hit the track, because as I mentioned in the suspension tuning story on this project, dangerous and near terminal brake fade would happen in just a lap or two around Toronto Motorsports Park. With some of my other project cars, like my Mazda RX-8 and Acura Integra Type R, a simple upgrade of the brake pads and brake fluid was all that was needed for reliable and confidence-inspiring braking performance at the race track, but with the G coupe it wasn't so simple.
Part of the problem stemmed from the fact that the '06 Sport model has a different caliper and pad shape than the 350Z and early G coupes, so nobody in the aftermarket made a track-oriented pad for it. The best I could do at the time was try some Hawk HPS front pads and HP+ rear pads along with some Castrol SRF brake fluid (very high wet and dry boiling points), but that did little to hold off the terror-inducing level of brake fade at the track. So I was left with either sourcing some Nissan Brembos off a Z or G, which are still a bit undersized on a 3500-lb car like the G coupe, or going with a more serious aftermarket big brake kit
Since I was impressed by the Stillen power upgrades we covered for you last week, I decided to stick with Stillen on the move to their AP Racing based front and rear big brake kits. These kits are built in partnership with AP Racing using their two-piece aluminum calipers, which have more rigidity than many monoblock designs and feature a hard anodized finish (in Black, Red or Gray) as well as dust seals and anti-rattle clips. To be clear, these aren't AP Racing's motorsports grade calipers, but rather their street calipers, but as you'll soon see, they helped delivered huge improvements at the race track.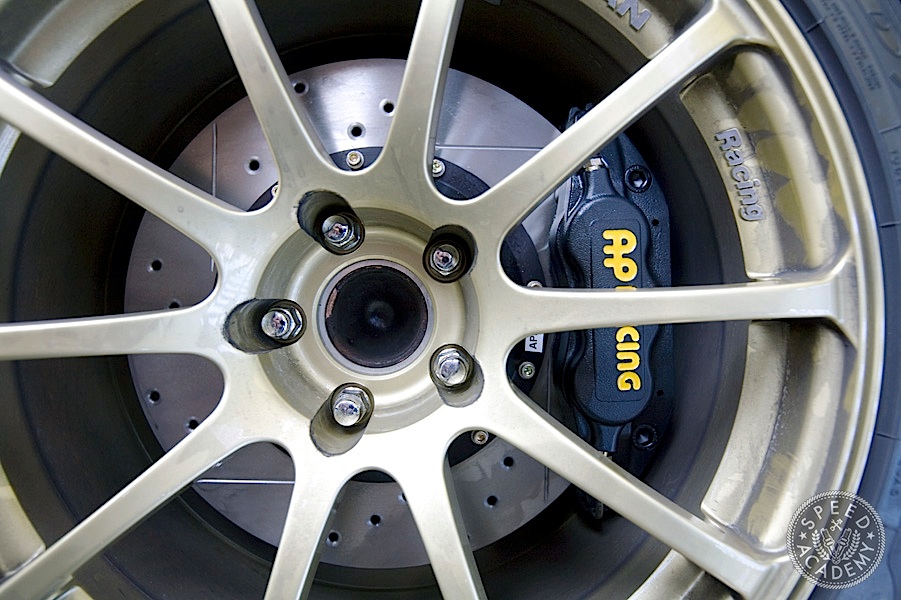 The two-piece rotors use AP Racing discs that are slotted (to refresh the pads and add pad bite) and drilled (to reduce mass and help shed water), while the center hats are Stillen pieces machines for a perfect fit on the hubs. The discs also have AP's unique curved vanes inside that act like a pump, drawing cool air in from behind the center hats and venting hot air out around its perimeter. And at 14.25" in diameter up front we've gained almost 2" in diameter and a lot more swept area, while out back we've gained almost 1" of diameter. So we've got more mass to handle the heat, better ventilation to shed the heat, more surface area for the pads to clamp down on, and more pad bite thanks to the slots. That's Charlie Sheen levels of winning right there.
These kits come complete with a variety of pads for you to choose from, along with DOT-compliant stainless steel brake lines, and all the brackets and fasteners required to make them truly turnkey and very easy to install. We opted for Mintex Xtreme Motorsport pads, which provided impressive levels of fade-free bite at the track but were also totally civilized on the street with easy pedal modulation and no noise to speak of. As you can see, we did the install at the track so we could do proper back-to-back testing against the OE brakes.