Before installing the big AP brakes, first I baselined the OE braking system. The track was a bit slower than usual due to heavy rain the night before, but conditions were dry and warm throughout the test day. With a best lap time of 1:26.174 (recorded using our MSD G2X data acquisition system), I was satisfied that this was a fair baseline under the conditions. We also did a 2-lap and a 4-lap session and immediately pitted to take brake temperatures using an infrared pyrometer capable of reading temps up to 1000 degrees Fahrenheit. We then installed the Stillen AP Racing kits, bled the brakes, bedded the pads in and allowed them to cool completely, and then hit the track for the same 2-lap and 4-lap data collection sessions.
| | | |
| --- | --- | --- |
| | OE Brake System Temps 2-laps/4-laps | Stillen AP Racing Temps 2-laps/4-laps |
| Front Left Rotor | 734F / Over 1000F | 500F / 572F |
| Front Left Caliper | 334F / 500F | 228F / 293F |
| Front Right Rotor | 716F / Over 1000F | 536F / 536F |
| Front Right Caliper | 338F / 505F | 239F / 284F |
| Rear Left Rotor | 639F / Over 1000F | 329F / 471F |
| Rear Left Caliper | 333F / 482F | 221F / 277F |
| Rear Right Rotor | 597F / Over 1000F | 347F / 412F |
| Rear Right Caliper | 313F / 493F | 214F / 271F |
As you can see from the data above, the AP Racing brakes cut heat by almost 50%, but what these numbers don't tell you is that after 2 hot laps the OE brakes were fading badly and by the 4th lap I had virtually no stopping power whatsoever due to the pads and fluid being completely overwhelmed by the heat buildup. With the AP brakes, I didn't experience even a hint of brake fade during either test session, and afterward, I did a much longer lapping session where the brakes proved to be rock solid and utterly fade-free.
And what about the lap times? Those fell by a mind-blowing 2.5-seconds to an all-time best of 1:23.742. That's a really solid lap time in a 3500 lbs car equipped with Goodyear Eagle F1 Asymmetric summer tires (240 UTQG). As the MPH data from the G2X system showed, I was able to brake later, as demonstrated by the higher MPH readings at the end of sections 1-2, 6-7, 7, and 11-1, which all end in heavy braking zones. The data also showed greatly improved stopping power in the form of higher negative acceleration g-forces, with peak deceleration figures rising from 0.99g's with the OE brake setup to an astounding 1.33g's with the AP Racing brakes installed.
It's not often you can take a car's most glaring weakness and turn it into a strength, but that's exactly what Stillen's AP Racing big brake upgrades did for the G35. The spongy and unreliable brake pedal provided by the OE system was replaced by a firm and responsive pedal that provided huge stopping power lap after lap, and they also gave the car a much more hardcore appearance, filling up the void behind the 18×10" Advan RS wheels.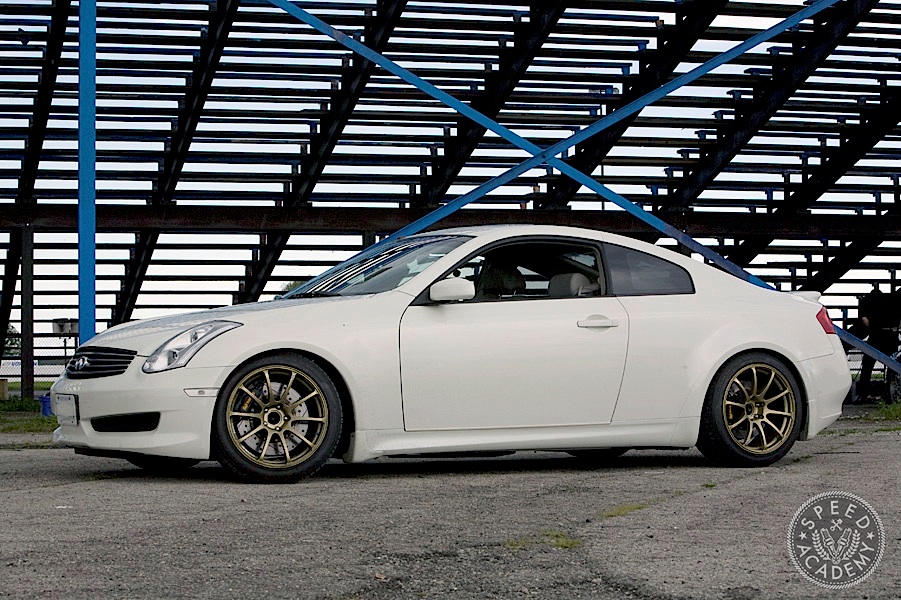 You shouldn't necessarily expect this big an improvement in lap time should you upgrade the brakes on your car, since not too many cars are as under-braked as my G coupe was from the factory, but our results certainly emphasize how vital the braking system is to on-track performance. So if your track day car is suffering from brake fade despite a pad and fluid upgrade like our G was, start doing your homework on big brake kits and put some money aside, because you're looking a pretty serious investment to go as big as I did (the 6-piston front kit retails for a hair under $3000 while the 4-piston rear kit goes for almost $2500).
The rest of the G35 upgrade stories are located here:
G35 Tuning: Ditching the V-LSD for a proper diff
G35 Tuning: Adding grip and saving time
G35 Tuning: How to bolt on over 40WHP