With the dampers tested, the locking coilover collars, springs and top and bottom mounts are installed. The bottom lock collar and mount (not pictured above) can be moved up/down the threaded shock body without altering spring preload, which is adjusted via the upper spring seat collar and lock collar, for truly independent ride height adjustability.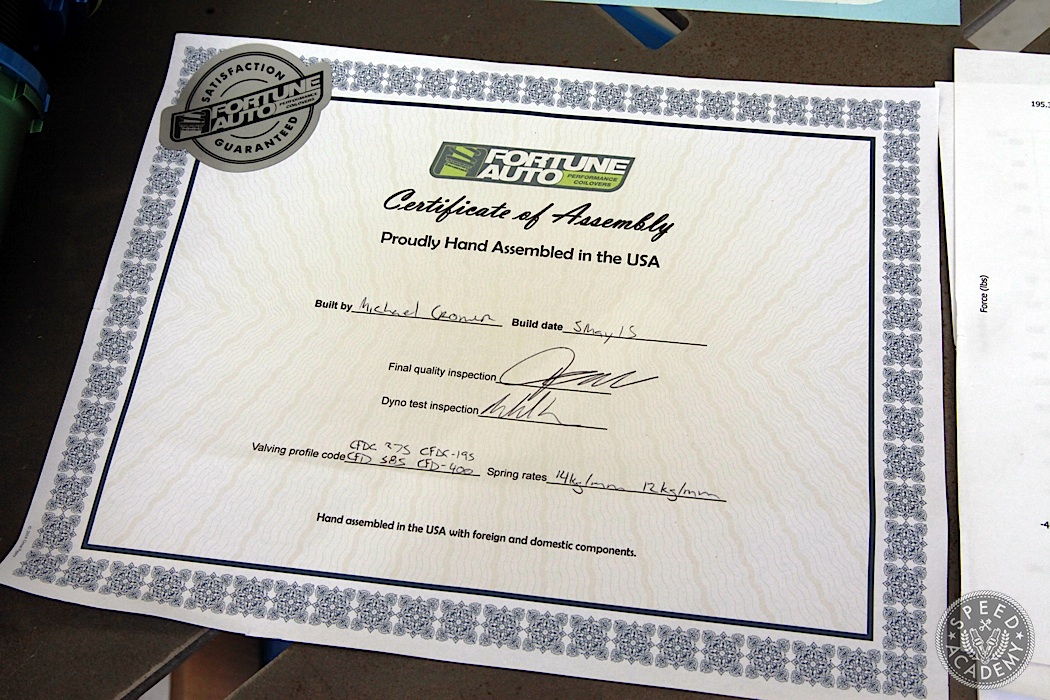 The coilovers fully assembled, the Certificate of Assembly is signed and the kit shipping off to Speed Academy HQ. As you can see, the Certificate even includes details on the valving profiles used and the spring rates equipped. Time for the install!
When we unboxed the kit we were impressed to see it includes everything needed to properly install and adjust them, from brake line mounting brackets to collar wrenches, Allen keys, and the all-important 5-hp sticker! We also love the fact that the 510s are modular and rebuildable, so they can be revalved/rebuilt at Fortune Auto's VA facility and we can even opt to have them upgraded to 2-way independently adjustable compression and rebound damping with the addition of an an external canister. So these are truly a coilover kit we can grow with, and that's a pretty unique and exciting prospect, especially considering how easy it is to work with Fortune's staff.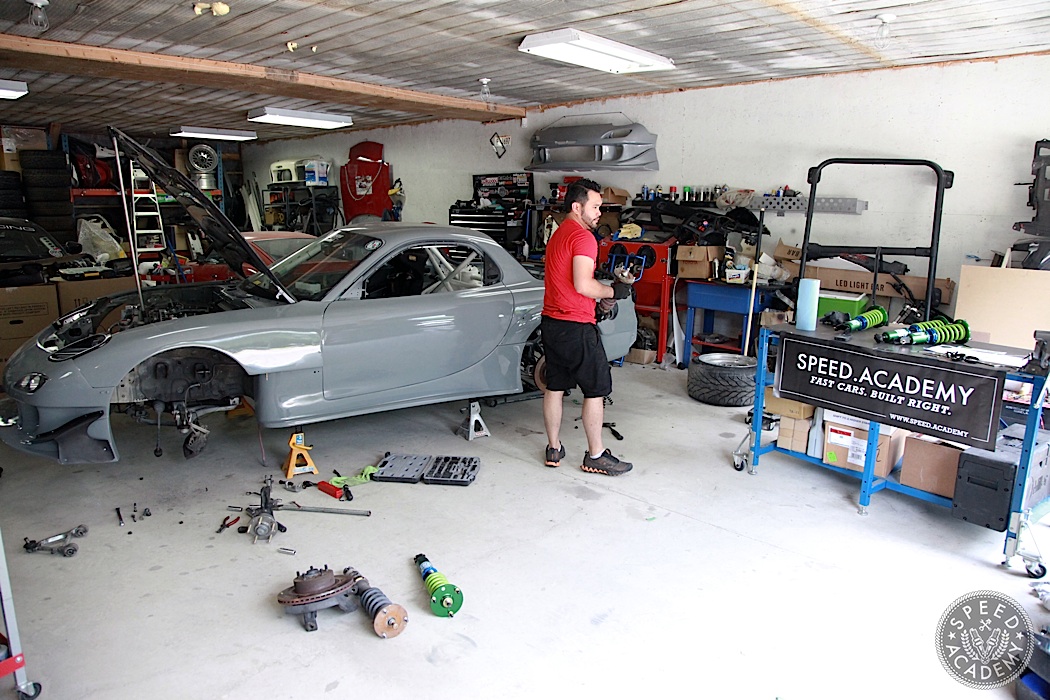 As you'll see in our install video, the front is a bit more involved (requiring Ken to use that mess of tools on the floor), while the rear is much simpler (one hammer, bro!). But really, installing coilovers is one of the easier jobs a DIYer can tackle, plus it's a great way to familiar yourself with how your car's suspension works. Just remember to get the car aligned afterwards, since any change to ride height is going to result in changes to wheel alignment.
For now we simply set the ride height to what the old setup was at, but once the rewire and retune is complete we'll be taking the car to NV Auto for a corner balance and aggressive track alignment, at which point we'll finally be ready to hit the track and give these coilovers a proper test.
We'll have a full story and video for you on that soon, but in the meantime be sure to check out our install video if you haven't already. Oh, and let us know if you think we should design a Speed Academy x Fortune Auto "One Hammer, Bro!" t-shirt. I'm pretty sure it'll make you super popular with the ladies.