Ever since I started sharing my involvement in rallycross on social media, people have been asking me, "How do I get involved?" There are a number of ways you could go about it, but for me the story began with a brief conversation with a friend about some photos on Instagram of his rally prepped Subaru wagon. From then on out, it's been a whirlwind of cultivating information and tracking down used or otherwise useless (to professional racers, anyway) second-hand rally parts.
From the outset I knew that I didn't want to use my daily driver Subaru Outback XT for these events, nor did I want to use my F20C-powered Datsun 510 featured in the video above. I also didn't have the money to purchase yet another purpose-built race car. This meant I would need to put a car together for rallycross, and some how do it for free or at the very least share the cost.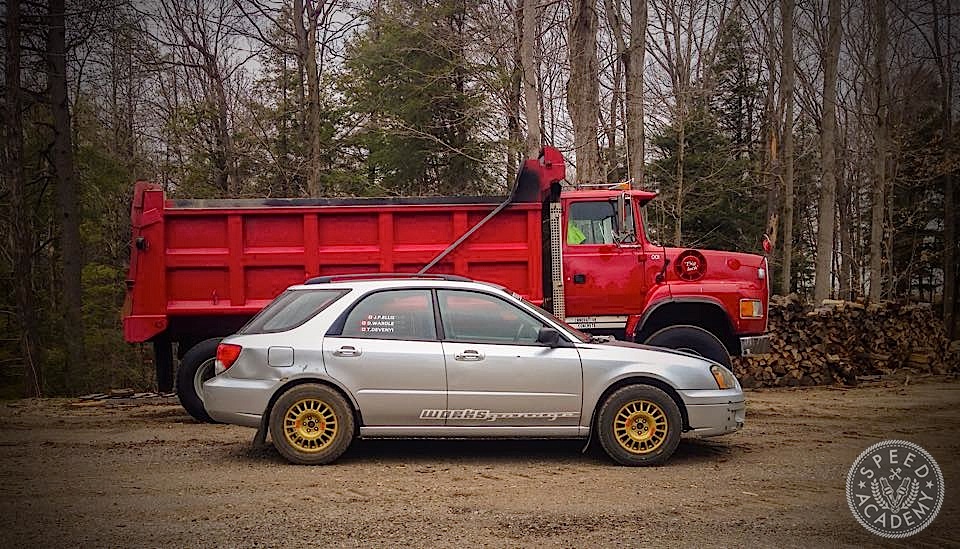 In order to figure out the best way to go about getting involved meant I needed to do some reading and brain-picking. So, after flipping through the Maple Leaf Rally Club's rulebook, I discovered you are allowed to share a car between a maximum of three people. Naturally my mind leapt to making a short-list of the least financially responsible people I knew, and I began making some phone calls.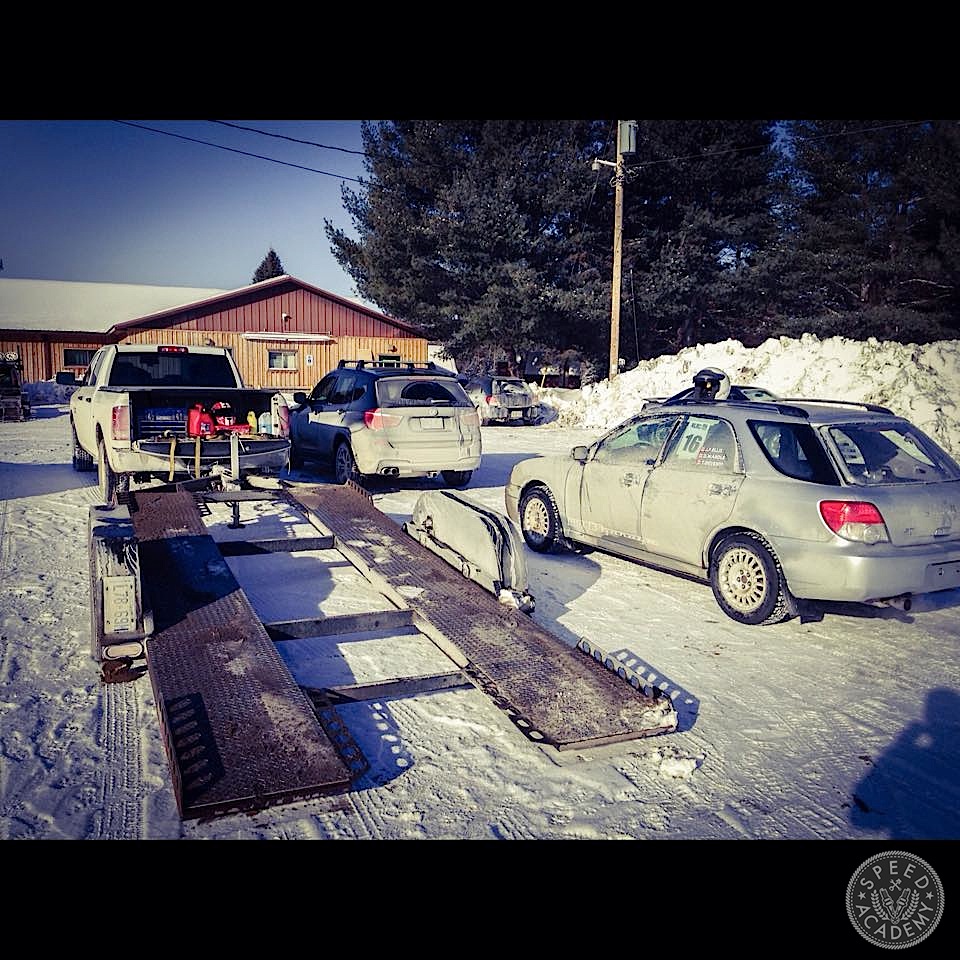 Before the end of the day, my plan was hatched. Myself and two friends (Dan Wardle and Tyler Devenyi) would track down a cheap, naturally aspirated Subaru of some sort and go slithering through trees with as many dramatic slides as possible, and likely end up on top of the podium – at least that's how it went in our heads.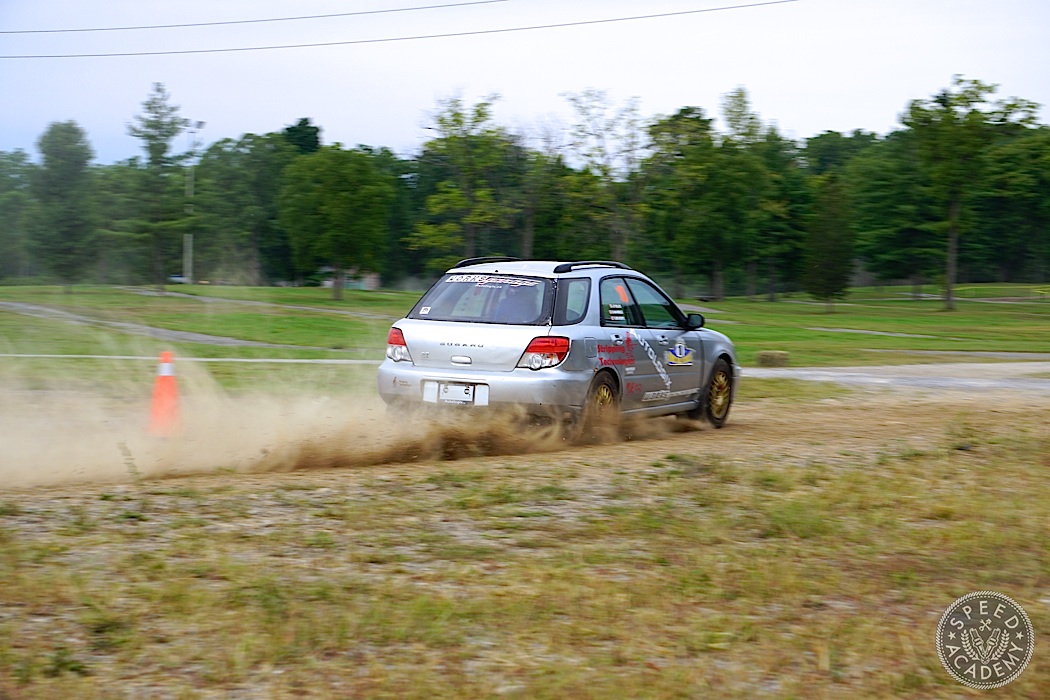 In some respects we were incredibly wrong, and in others we were closer to reality than we could have imagined. Before I get too far into detail about how our season unfolded and the lessons we learned, I think it best to let you know just what it is we got ourselves into and how you can actually get involved in this hilariously awesome motorsport in Ontario.
The Maple Leaf Rally Club runs the largest and most popular rally-x series in Ontario, but more local clubs are popping up with their own events too. The Kitchener-Waterloo Rally Club hosted their first event this April, the success of which prompted the scheduling of two more events in the late summer.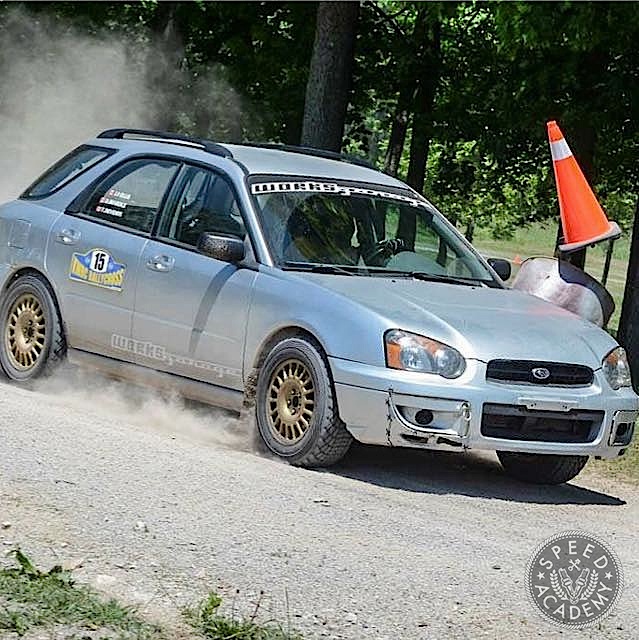 The basic premise behind rallycross is short course racing on loose surfaces on a reasonable budget. It's much like a longer autocross course, the main difference being the surface is anything from snow to ice to gravel and everything in between. Instead of pylons, there are trees or the dreaded snow banks, though there are also sometimes cones, barrels, or even hay bails that'll suck you in and ruin your run or your day.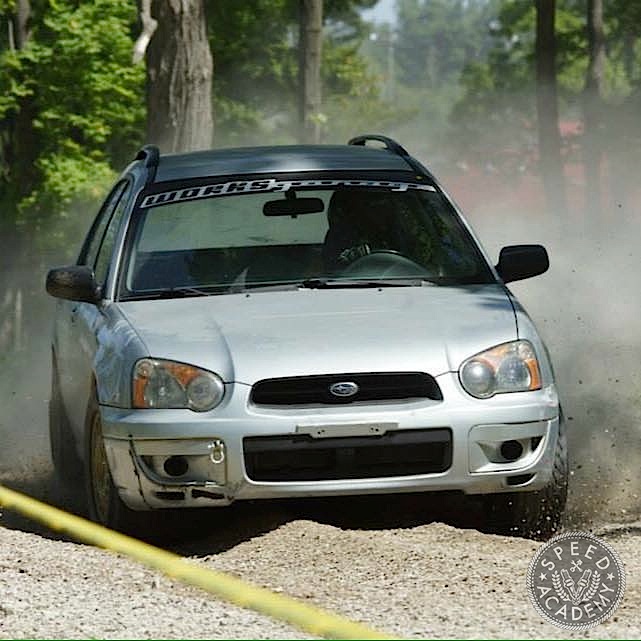 Having said all of this, I can't imagine having more fun for the $60 registration fee that the MLRC charges for each event. The MLRC events are held at the Bancroft Fishing and Game Club in Bancroft, Ontario. They have a permanent course laid out in a field, as well as through some trees on the back end, you know, for that authentic WRC feel.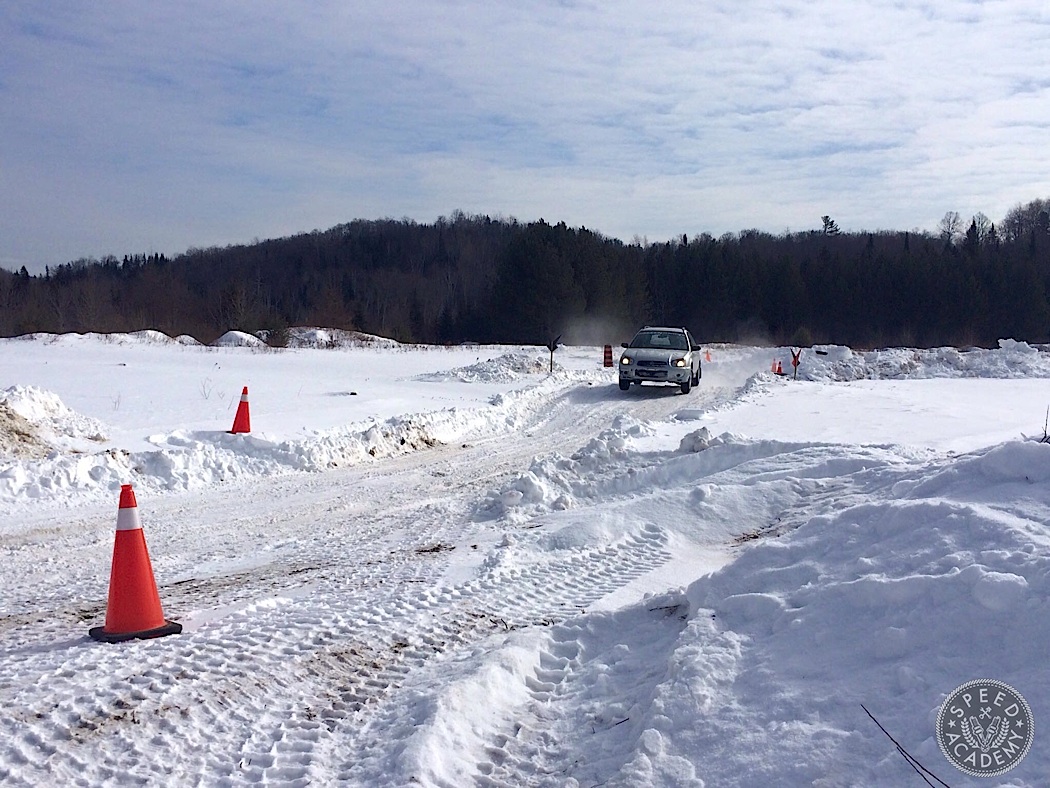 During the summer the course is entirely dirt, ranging from gravel to sand, with a little clay mixed in for good measure. The winter events feature an adapted shorter course lined by snow banks, and punctuated by the odd tow vehicle.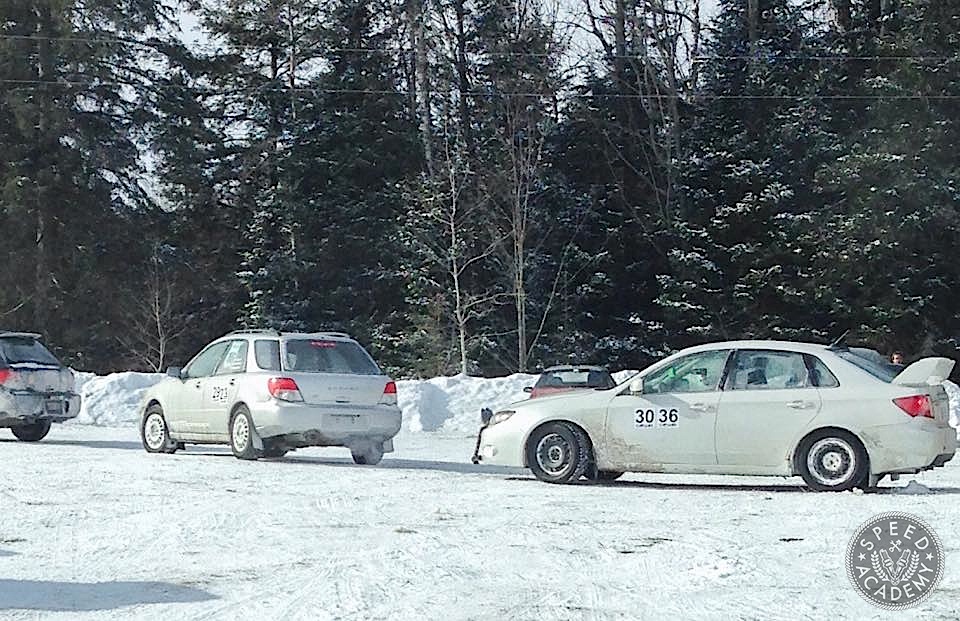 There are four flavors of classification in the MLRC series. The truly insane will enjoy the RWD class, where we have seen everything from Miatas to half-ton pickup trucks, however the weapon of choice seems to be cheap BMWs. Next up is the reasonably competitive front wheel drive class. Common vehicles are mid 90s Hondas (Civics and Integras), but the Ford Focus seems to be a reasonable alternative and in the hands of the right driver posts times that are competitive with the fastest of the AWD cars. However, anything front wheel drive is welcome! The most competitive class is the naturally aspirated all-wheel drive class. This is the class we compete in. NA AWD is the largest class, and the lap times are reasonably close together, making days out competing pretty fierce! Finally there's the turbocharged all-wheel drive class. This class features everything from stock Subaru STIs to fully prepped open class CRC rally cars, complete with cages and funny looking helmeted drivers.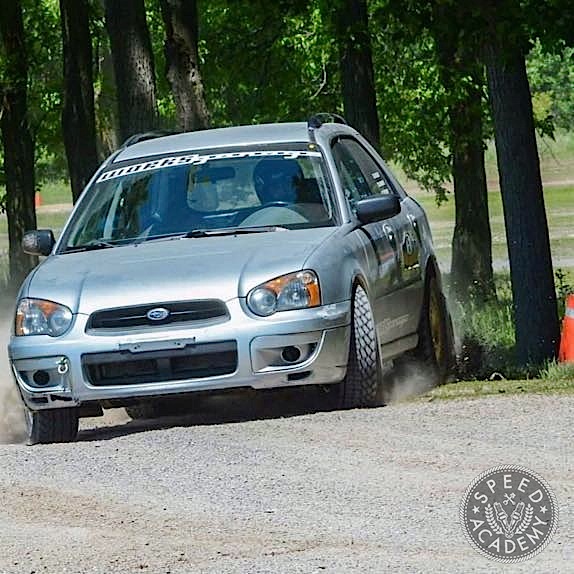 I have to say, if you're going to spend your money in one place, spend it on tires. Whether you decide to use a daily driven car for the events, or go our route and prepare a bespoke car on a budget, the most important part about racing on a loose surface (as we have found) is the bit that meets the road.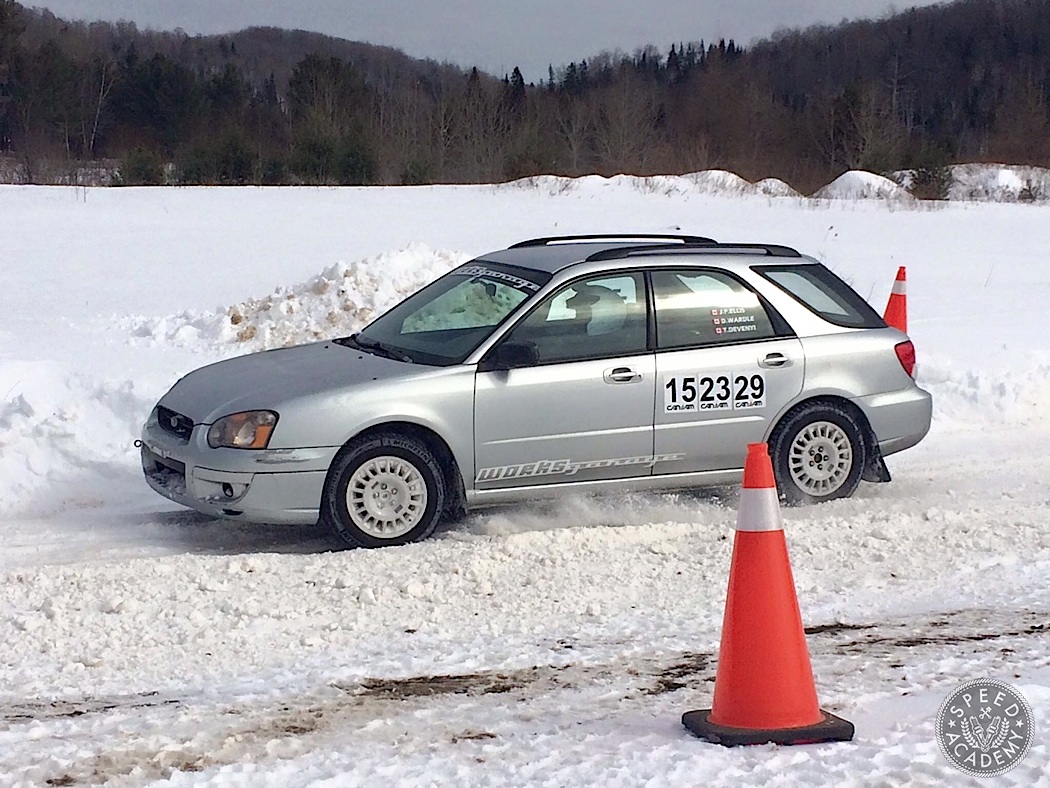 We had set a budget of $1000 each ($3000 total including the car), and our goal was to not end an event due to a mechanical failure. Having the advantage of splitting everything three ways seems to have allowed us the luxury of spending more money on our vehicle than most other people in our class. While nice, this is not necessary, as several people who've beaten us have proven. After surfing every rally forum we could find, asking shops that support rally teams, and asking the teams themselves, it turned out that the thing most likely to fail us on our stock Subaru during an event was indeed the tires, followed closely by anything on the underside of the car that a rock could puncture, bend, or otherwise destroy.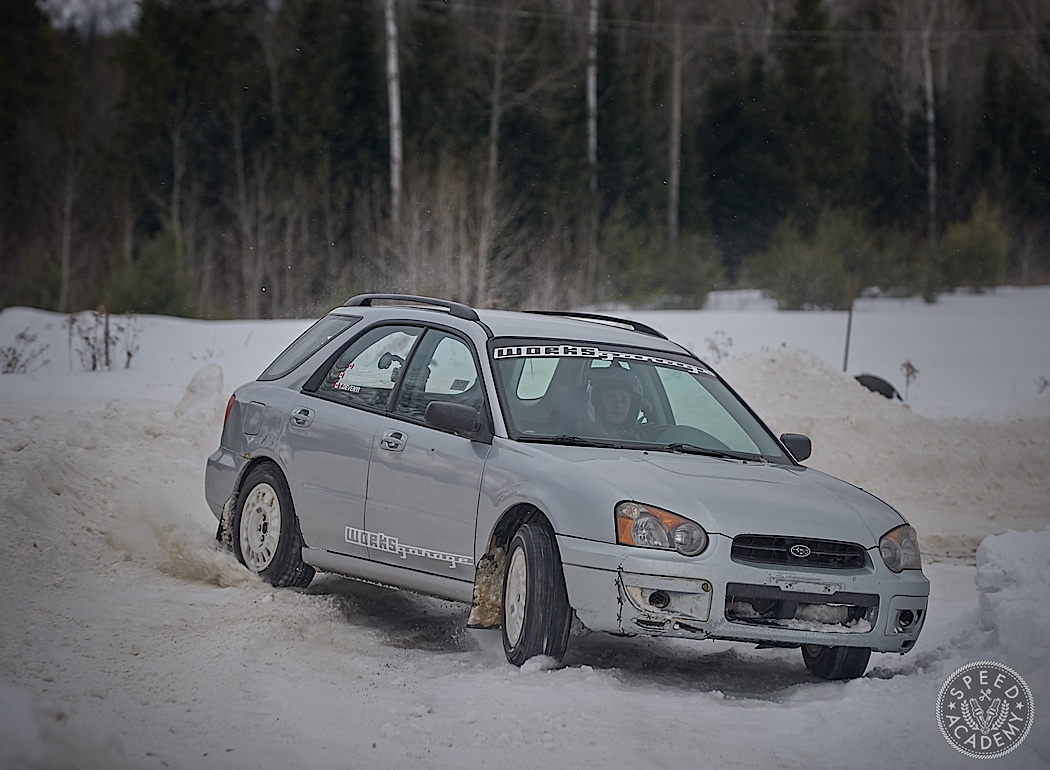 Because our budget was reasonably tight, once the purchase of a car was factored in, we had to cut corners somewhere. Our approach was to get some used take offs from a rally team at the end of their season. We purchased six Braid rally wheels and six Yokohama AO53 gravel tires, giving us two spares should we need them. We had assumed (key word) that the gravel tires would also be amazing for the two winter events. Oh, how wrong we were. When we arrived to pick the wheels and tires up and mentioned we would be using the gravel tires in the winter we were informed that was just about the worst idea we could have. Apparently the gravel tires will basically turn into hockey pucks and shred themselves to death in cold temperatures, a statement that was cemented into fact the moment we plucked them out of the back of the truck after a two hour and minus twenty degree Celsius drive home and realized they were about the consistency of granite.