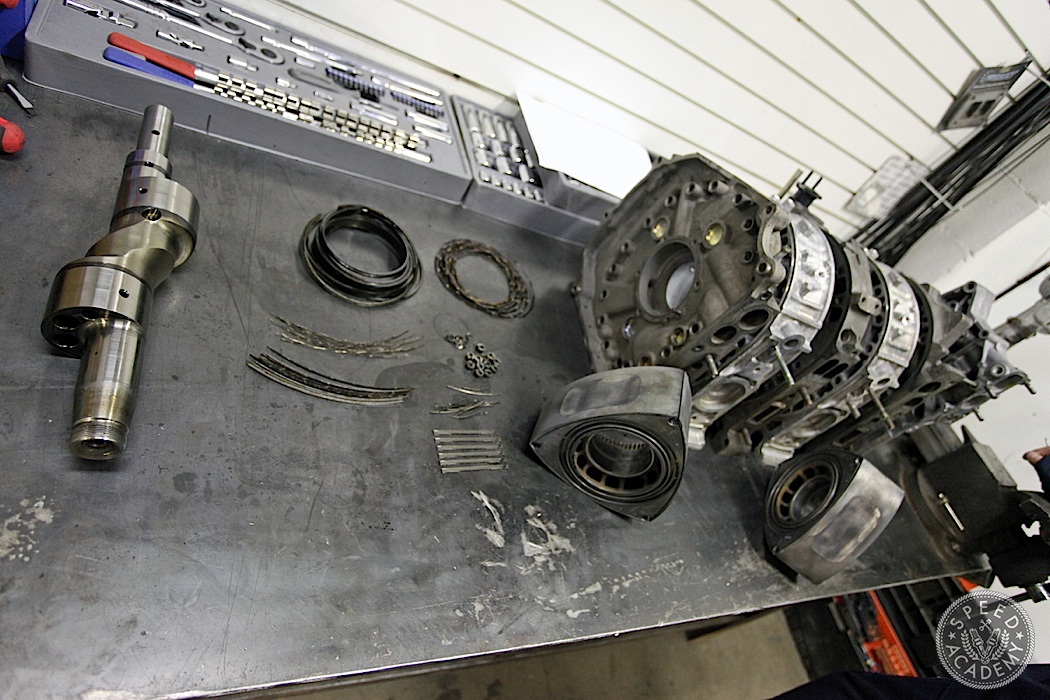 With a low compression motor to deal with and no STX restrictions to limit the build, the only reasonable decision was to build the most powerful naturally-aspirated Renesis engine we possibly could, right? And build it strong enough so that we could throw some boost at it too if we wanted, right? Of course! So off she went to Joe's shop for a teardown while I started reaching out to rotary experts like Mazdaspeed, Racing Beat and Goopy Performance for the parts we'd need to make some sweet rotary jam.   Come springtime the freshly built engine was in, along with some supporting mods like a Mazdaspeed lightweight flywheel, race pulley set, and Bully Stage 4 clutch kit. After that it was a simple matter of breaking the engine in (meaning not beating the piss out of it for a couple thousand kilometres of street driving, but varying the RPM so the seals and Goopy refurbished housings make a nice high-compression love match) and then tuning the ECU.
Jeff from MazdaManiac and I played his online game of "you send me log files from wide-open throttle pulls on the street and I'll send you fresh Cobb AccessPORT calibrations" for a few weeks as we snuck up on a nice, clean tune and then we were off to the races. And by that I mean some local Time Attack events with CSCS, since the project had now morphed into a Time Attack focused one (where engine rules are wide open, so our built Renesis would fit right in). Because Jeff and I street tuned the motor, we never actually got an official dyno number on it, but it felt strong on the street and the throttle response was just insane because of the lightened rotors, lightweight flywheel, and lighter clutch assembly (all of which Joe had professionally balanced for safety and reliability at the 10,500 RPM the Racing Beat lightened rotors are rated for).
Ironically, my STX legal Moton Clubsport dampers were deemed illegal for CSCS Street RWD class competition because of the remote reservoirs, so I had to run it in SuperStreet class against far more powerful and highly modified machines. Still, the RX-8 performed fantastically and definitely attracted some attention with how quick it was, posting a best lap of 1:20.4 on a fresh set of Hankook Ventus TD semi-slicks. I even had a few competitors and spectators asking if the 8 was boosted, which is, of course, the question everyone wants to be asked when kicking ass in a naturally-aspirated car.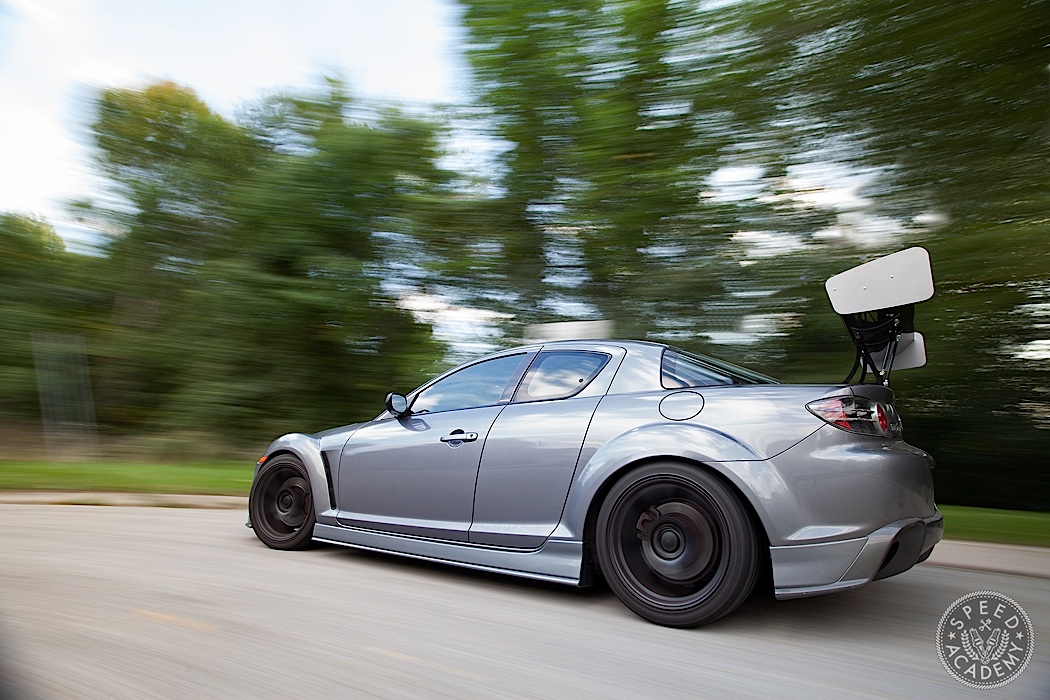 Wanting to go even faster, like any racer would, next I turned my attention to aerodynamics. Since I already had a Mazdaspeed front bumper on the car, it made sense to add the matching side skirts and rear diffuser. These are no longer in production, but I literally got the last rear diffuser in stock through Mazda Motorsport's excellent support program, as well as one of the last sets of side skirts. The side skirts should help prevent air from getting under the sides of the car and disrupting the low-pressure area beneath it, while the rear diffuser probably isn't functional but does match the rest of the kit nicely.  The DJ Racecars single element wing I sourced from wingshop.co.uk (run by well-known aero expert Simon McBeath from Racecar Engineering mag) certainly make some real downforce, 200 lbs of it at 100 mph to be precise. To balance the wing I need to add a front splitter, but that's something that's still on the To-Do List to this day.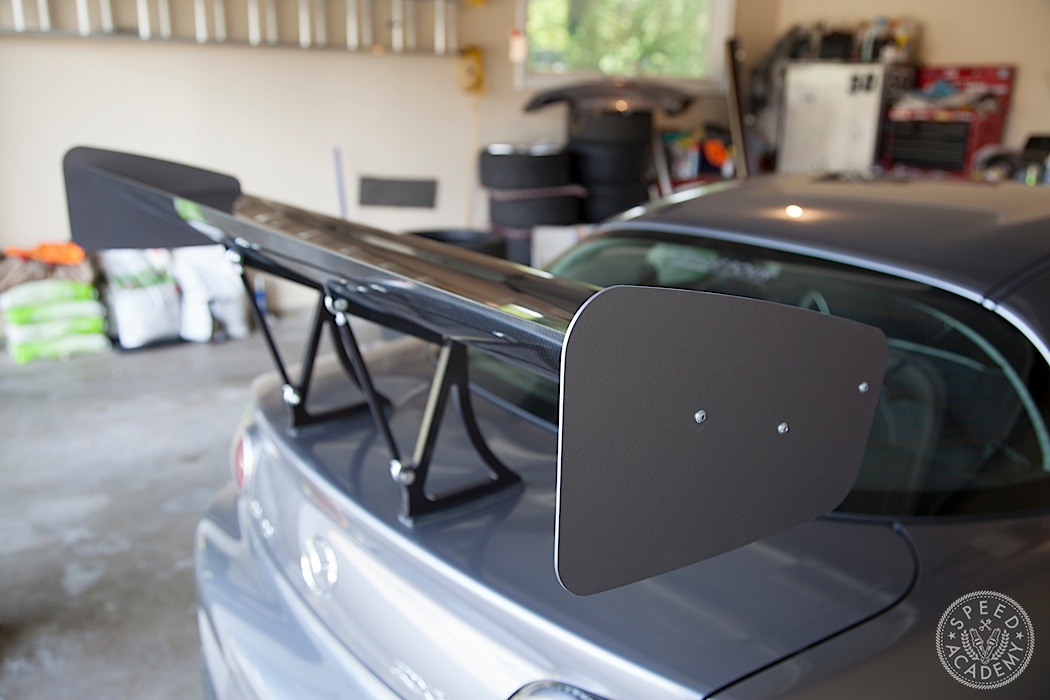 One of the frustrating things about being a car-guy in Canada is that winter is always just a few months away. So all the momentum I'd built up with the project over the summer suddenly came to a halt when the snow started to fall, which is exactly what happened with the splitter project. And since track season was over for the year, silly things started to happen. Like buying a second-hand Pettit Racing Stage 2 supercharger kit from a local RX-8 friend who was planning to go 20B. He also had a Auto Power roll bar for sale cheap, so I grabbed that. And he had a Mazdaspeed rear wing even cheaper, so that's on the shelf down the basement now, just in case I want to install it on my wingless trunk lid (I bought a second trunk to install the race wing on, since I only wanted it on the car during track events).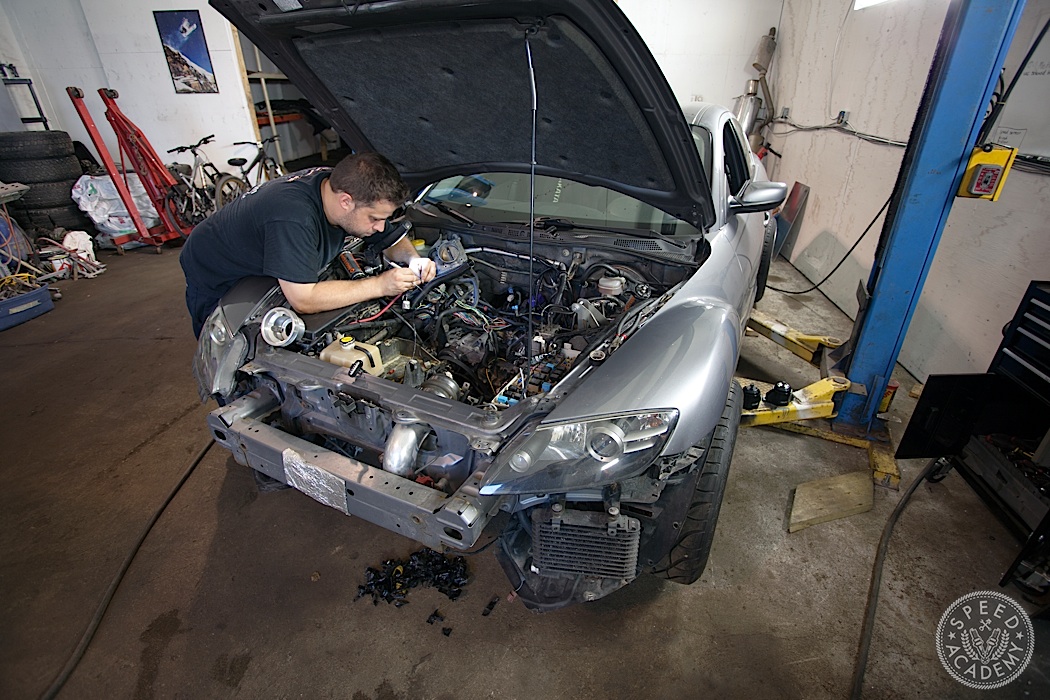 So the car went back to Joe's shop and he and fellow rotorhead Dave Sibbitt chipped away at installing the supercharger kit while I played Mr. Mom at home with my growing family. Buying a second-hand kit was certainly a money saver, but not a time saver, because there were some missing fasteners and other bits and pieces. That didn't deter me from ordered the higher boost pulley from Pettit Racing, though, because I wanted to clear the 300-whp mark. I also had Turbosource build a custom Inconel heat shield for the Racing Beat header and sourced a few other goodies designed to combat the added heat I expected the engine to produce under boost, including a Ron Davis radiator. And although the Cobb AccessPORT would control a supercharged Renesis just fine, I also decided to try an Adaptronic ECU, which turned out to be a bit of an adventure.
With the supercharger installed, Joe took the 8 to Sasha at OnPoint Dyno for an initial tune using the Adaptronic. Everything seemed to be going fine until about 7,000 rpm, at which point all hell would break loose. After considerable investigation, a second Adaptronic ECU, and at least 1 or 2 other tuning sessions, it would appear that (for whatever reason) the ECU wasn't picking up a clean signal from the crank (or eccentric shaft) position sensor. So the ECU would lose touch with how fast the engine was spinning and go into panic mode and shut down the party. We tried our best to fix the problem or work around it, but in the end we decided to switch to a Haltech Platinum Sport 2000 since this is an ECU Sasha has tuned rotary engines with very successfully, plus it was powerful enough to operate as a full standalone if I ever decide to fully live the dream and ditch the Renesis in favour of a 3-rotor 20B (my version of the dream involves ITBs and 400 naturally-aspirated ponies at the rear wheels. not to mention a sequential gearbox).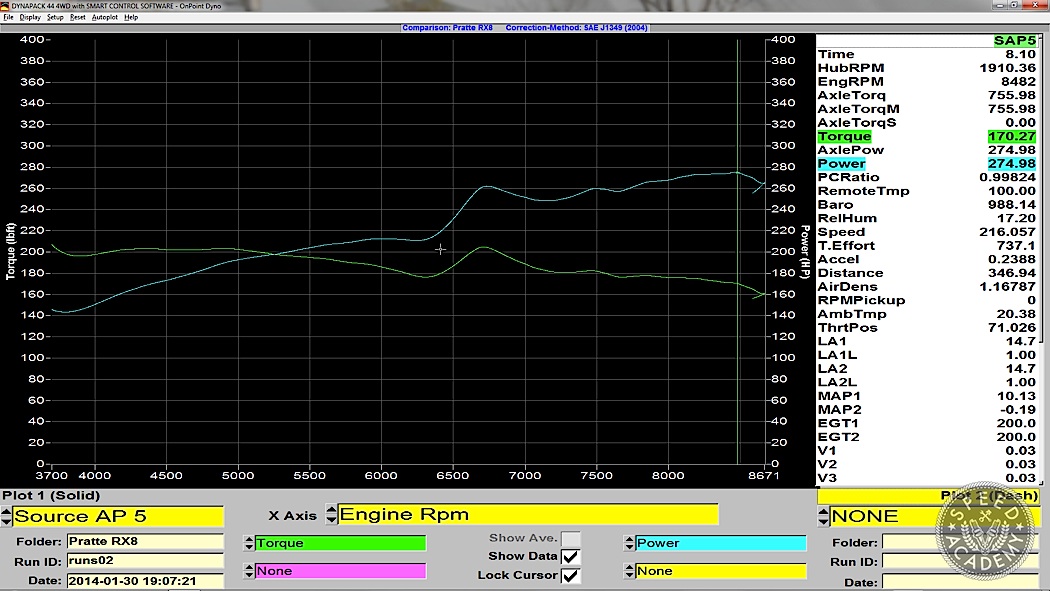 The good news is that the Haltech is running the supercharged setup right to redline without issue and it made a respectable 275-whp on a very basic tune. There's still a lot of tuning left to be done to get the cold start and partial throttle behaviour dialled in to perfection, but the car is running well enough now that Joe actually competed in a CSCS Time Attack with the RX-8 earlier this year. So that's a step in the right direction! We've had some frustrating issues with the alternator blowing up since then, which stems from the fact that the RX-8 normally powers the alternator via the ECU but the Haltech isn't designed for that. We think we have the problem licked by running a FD RX-7 alternator, which doesn't charge through the ECU, but I'll report back if that solution doesn't prove to be as robust as we hope it is.
So, consider that a your (re)introduction to the RX-8. Next up, I'll have a full review of the Haltech ECU and a few other goodies we installed to help with the tuning, including an AEM X-WIFI wideband 02 setup and EGT gauges. I've also got a sweet little Radium Engineering dual catch can setup that's going to work very nicely with the supercharged setup that we'll show you, and some heat control goodies from Earl's, too. And once we get the tuning a little better sorted out, you can bet we'll have a track test video for you showing just how much faster the 8 is with about 10-11 psi of boost added to the mix. The CSCS SuperStreet RWD class record at TMP is a 1:17.6, so you can be sure I'll have that number in mind.