I know what you're thinking- this is supposed to be Speed Academy. What's with the massively heavy retirement chariot?  If you're not familiar with the JZS161 platform, you might be in for a bit of a surprise. While this luxury sports sedan platform was only offered in naturally aspirated I6 and V8 configurations under the Lexus brand here in the states, this saloon packed a much bigger punch in Japan. Sold as the Toyota Aristo in the motherland, the car came equipped with a VVTi 2JZGTE twin-turbocharged powerplant.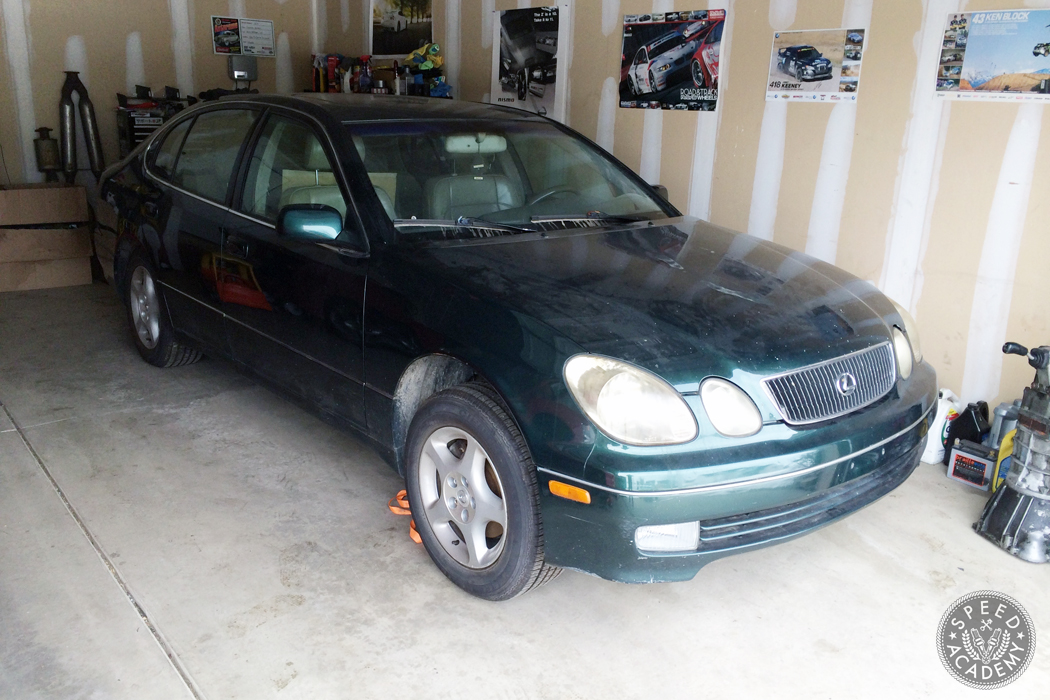 Lets back up for a minute and let me explain why I decided to buy a GS400. My last car was an Evo VIII which I thoroughly enjoyed but I was putting too many miles on it driving to and from the office every day. Owning only one vehicle to both tinker with and rely on for everyday transportation was proving less than ideal, and I missed having a long-term project car like my previous S13 240SX build. I ultimately decided it was time for a change. I've always wanted to own a big-body, JZ powered Toyota ever since my mom bought me a Camry in high school, so I decided it was finally time to make that dream a reality. With two little ones running around at home, it would be a great project that would still allow me to bring the family along for the ride.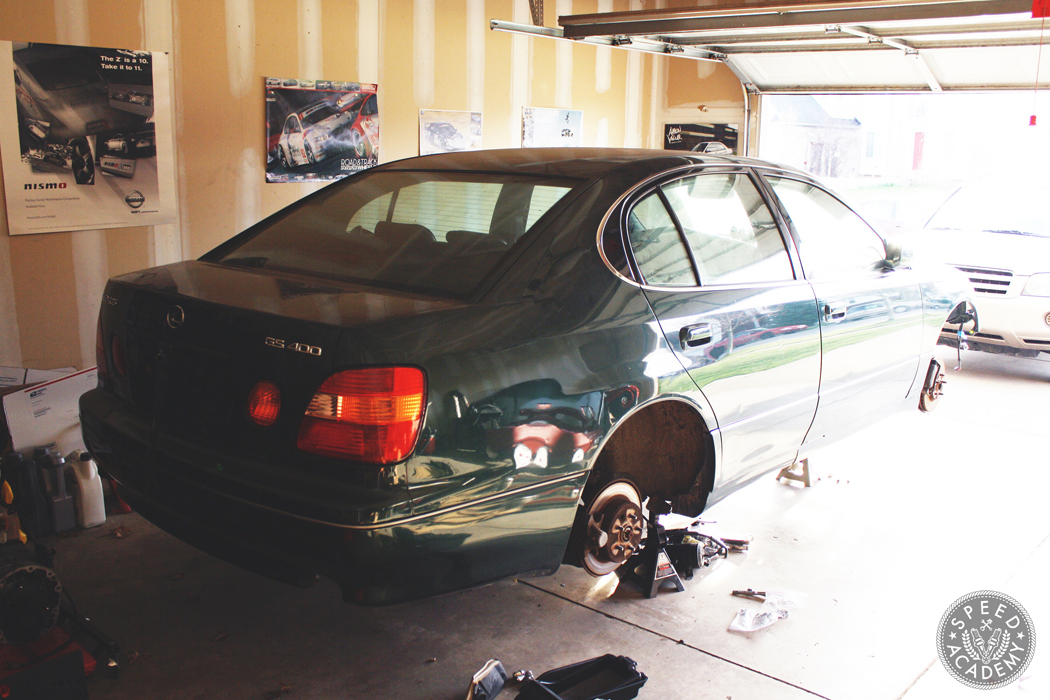 Unfortunately for me, I'm located on the wrong side of the Detroit River (You Canadians are lucky!) to legally own and import a true Toyota Aristo. I'd have to wait another eight years for that to be possible here in the US, and that just wasn't going to happen. Knowing this, I set out to find a suitable Lexus donor car stateside to assemble my own Aristo.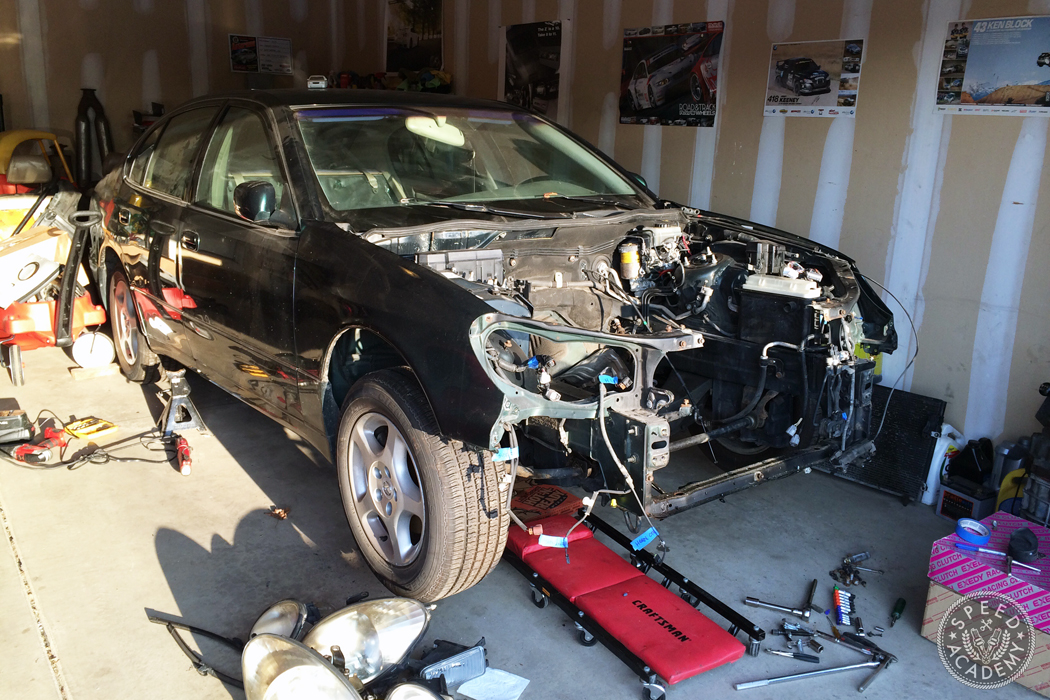 With my wife's blessing (the poor thing) I took delivery of the 1998 Lexus GS400 you see here. The catch? It didn't run. In fact, the 1UZFE V8 engine had dropped a couple valves and was thus rendered scrap metal. A friend bought the car at auction with the intention of swapping in a JDM 2JZ, but found himself with too many projects. When he heard I was in the market for one, we struck a deal and the aging luxury barge was mine. In the end, I essentially traded my set of AME TM-02s that I had purchased for the Evo in exchange for the Lexus.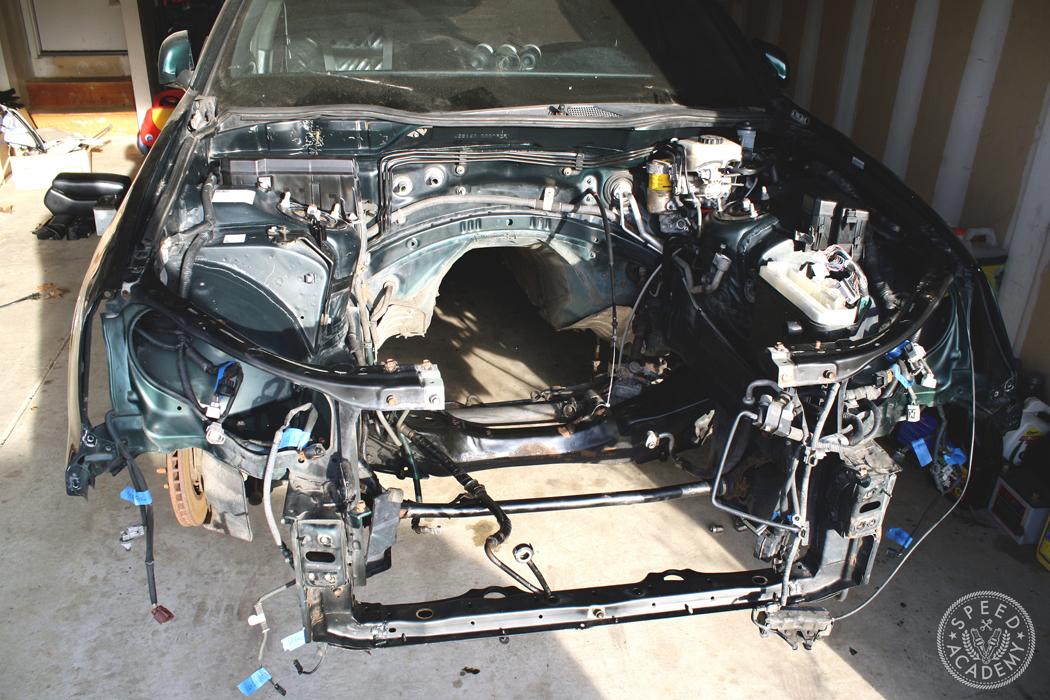 Overall, the rolling chassis isn't in terrible condition. Rust is at a minimum for a Midwest car, so that is definitely a plus. The body has its share of rock chips and dents, including a fairly large blemish near the rear bumper on the driver's side. I wasn't crazy about the pearl green exterior and would have definitely chosen black or white if I had the option, but it's grown on me a bit.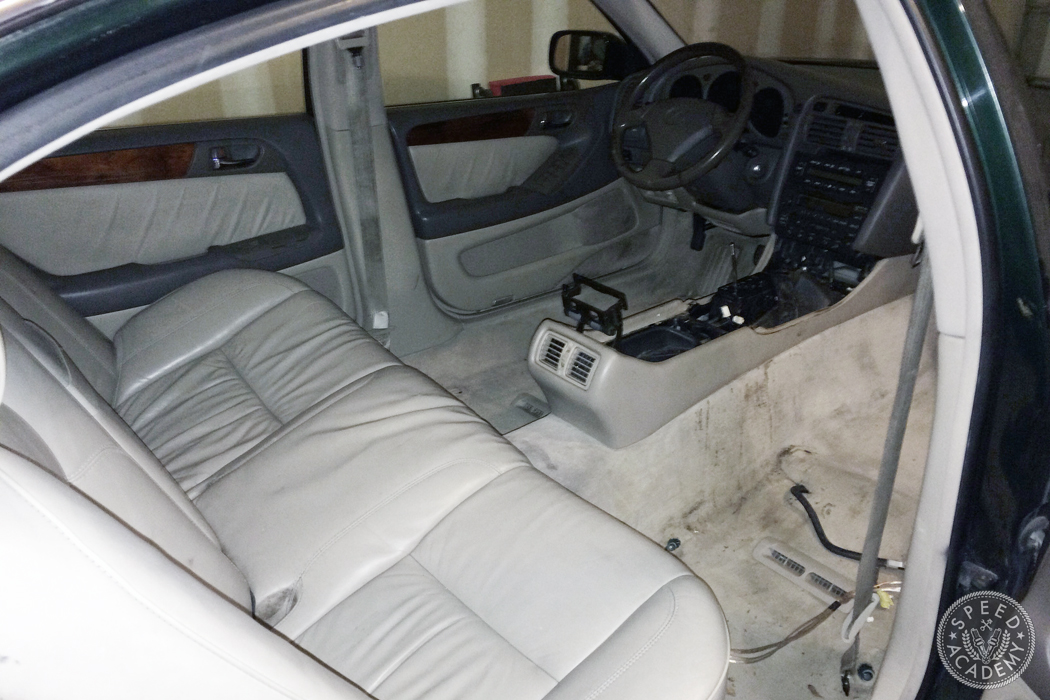 The tan interior, on the other hand, would have to go. Coffee stains a plenty, nearly every surface of the interior was either dirty, faded, or ripped. The massively heavy leather seats were faded and cracked. I couldn't stand looking at it and immediately began removing the tan interior components. Less than a week after buying the car, a majority of the items needed for a black interior conversion were on the way to my garage.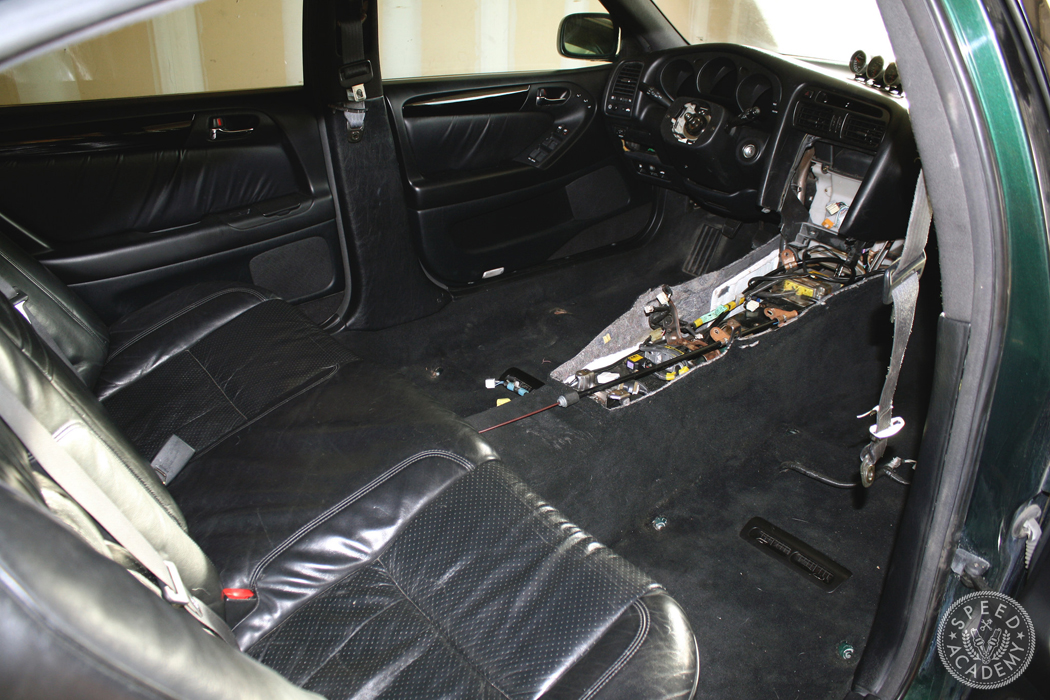 But wait- shouldn't I be more worried about actually getting the car running than what color the interior is? Yes, but I tend to have a very short attention span. In addition to the black interior swap, I sourced a complete JZS161 Aristo drivetrain complete with automatic transmission from JDM Engine Depot in New York.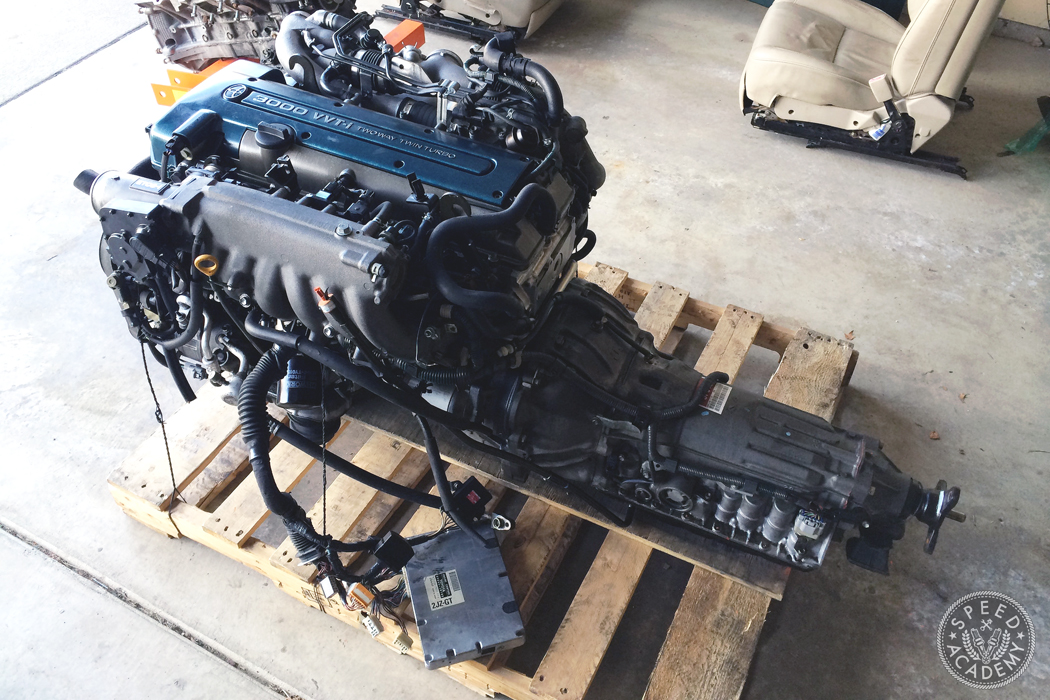 Stop the record- an AUTOMATIC transmission? You read that right- sadly, both the Lexus GS and Toyota Aristo were only sold with an auto trans. With drifting legends Manabu "Max" Orido and Nobutero "NOB" Taniguchi both piloting JZS drift cars over the years, there must be a way to modify the car to utilize a manual transmission. Fortunately, I managed to score a Toyota R154 five speed manual from an MK3 Supra as a part of the trade for my AMEs. It took a lot of supporting items pieced together from other models in Toyota's lineup and a bit of ingenuity for everything to come together, but I'm happy to say my GS is now well on its way to banging gears.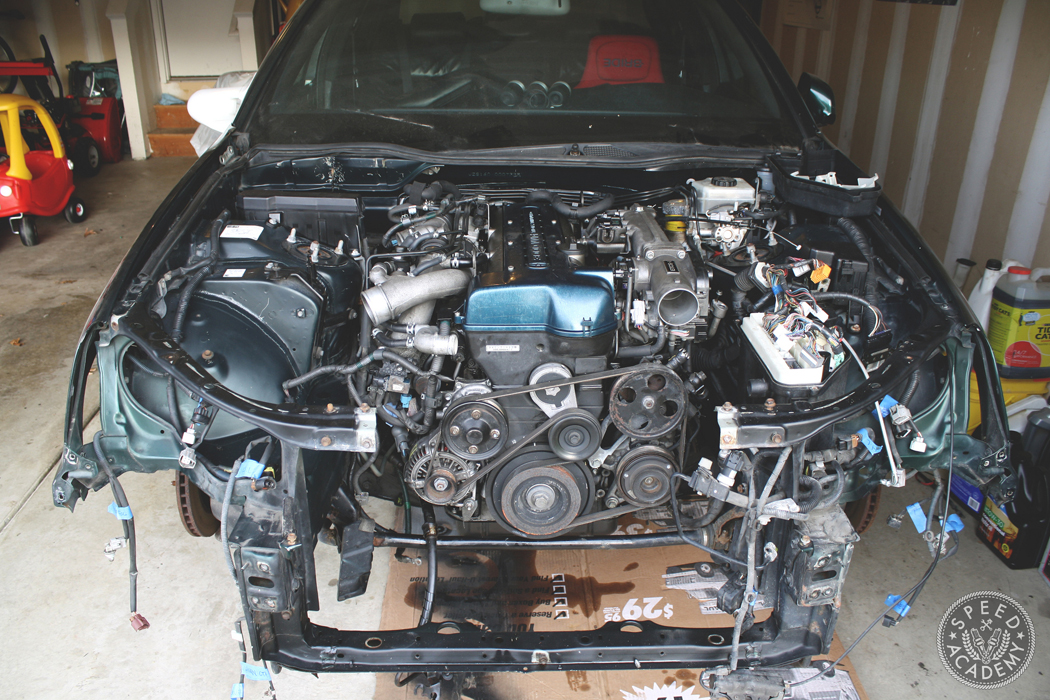 My hope is to have the car running with the new engine and drivetrain in place by sometime this fall. I've been at it for just over three months, and though I have made a decent amount of progress there is still a lot of work to be done. In the end, my goal is to have a reliable and quick Japanese drift-inspired street car that can cruise to the office and maybe even serve as a learning platform for me to try my hand at the art of drifting sometime down the road (if I ever man up and decide to give it a try.) All aspects of the car will need to be addressed, including the drivetrain and suspension. Look for another update soon detailing all of the work that has gone down thus far.
UPDATE: Damon had to abort this project and sell off the chassis for reasons that are explained here: http://speed.academy/damons-s13-240sx-re-birth-the-prologue/ On the bright side, you can now follow along his Nissan S13 240SX build which is proving to be pretty awesome already!