I'd not driven on track for over a year, I'd not driven this car more than a few hundred yards since taking it off the road many months ago. To say I was a little nervous during the lead up to this day is quite the understatement. My overly analytical brain takes over in moments like this, churning through every single negative scenario that could take place. At times it can be exhausting.
With the car loaded up, and every tool or spare part I could lay my hands on crammed into the back of a borrowed van, it was time to head out. The sky looked pretty menacing, and the forecast for the day suggested we might see a fair amount of rain. Not ideal, but searching for positives, it would mean less wear on things like brake pads, and tyres.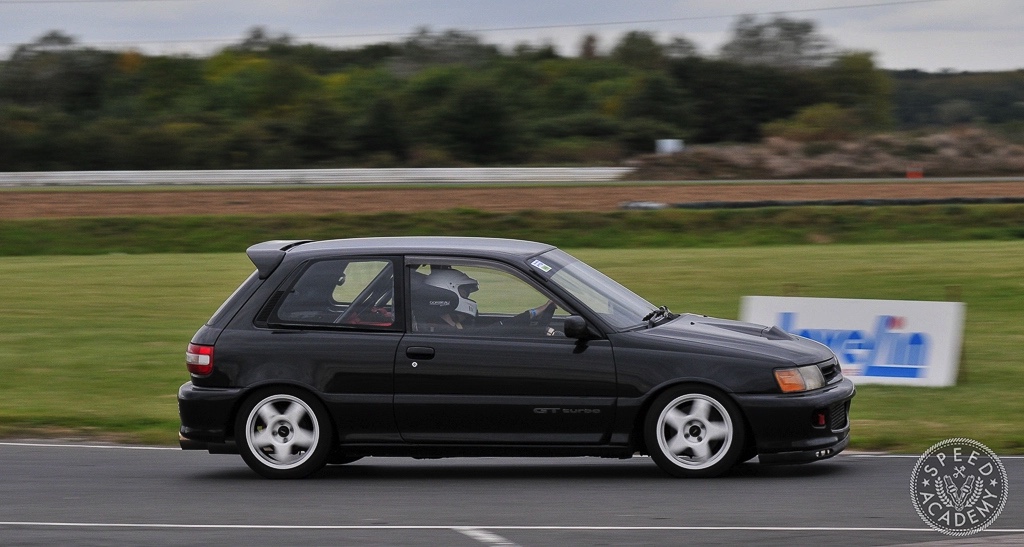 After signing on, and with the obligatory safety briefing out of the way, it was finally time to strap myself into the car. I started slow, keen to drive it steadily around the circuit to make sure if anything was to fall off, it would do so at low speed! With three laps down, I returned to the pits to find I had done a good job of securing all four wheels.
Right then, time to build some speed and really test things.
A few laps down, everything felt OK. AFR's looked safe, we had plenty of oil pressure along with good (if a little low) oil and coolant temperatures. Then I started to hear a slight noise, at first I thought it was rubber pickup, but the noise got louder. Whilst trying to diagnose it, a trackside marshal flagged me down. He could hear the noise as well and suggested I take a shortcut back to the pits to check it out immediately.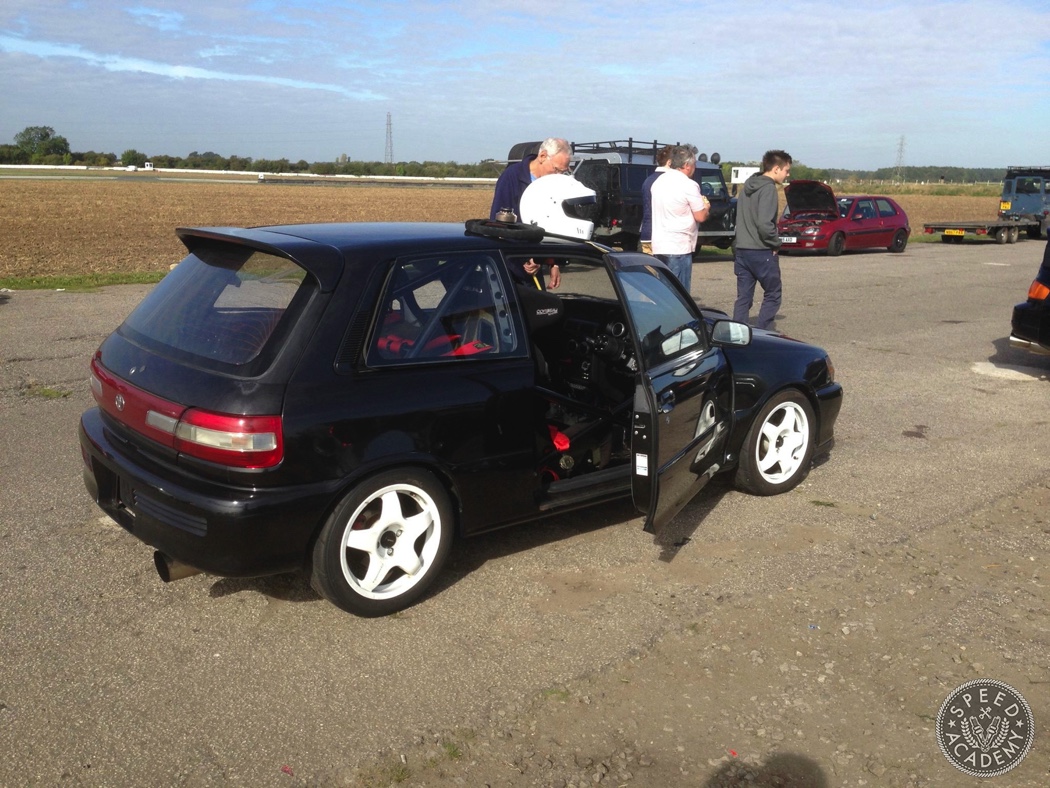 I was attending the day solo, or so I thought. My group of "car friends" were all preoccupied with other endeavors. I try and be as self-sufficient as possible, but in this moment, I was a little worried I wouldn't be able to find the problem with the car. Whilst my friends were unable to attend, it didn't stop their parents showing interest. Chris had shown an interest in helping me out on the day, and true to his word, he arrived, along with his wife, and perhaps most importantly a car full of snacks!
Arriving just at the right time, Chris soon got to work helping me diagnose the noise, which would turn out to be a loose rear wheel bearing. The bearings are a tapered design and can be quite difficult to get right. Too tight, the wheel won't rotate at all, too loose the wheel might fall off! Mine turned out to be a little loose, an ever so slight nip of the hub nut cured the noise, and I was free to carry on with my day. What was that I said about securing all four wheels?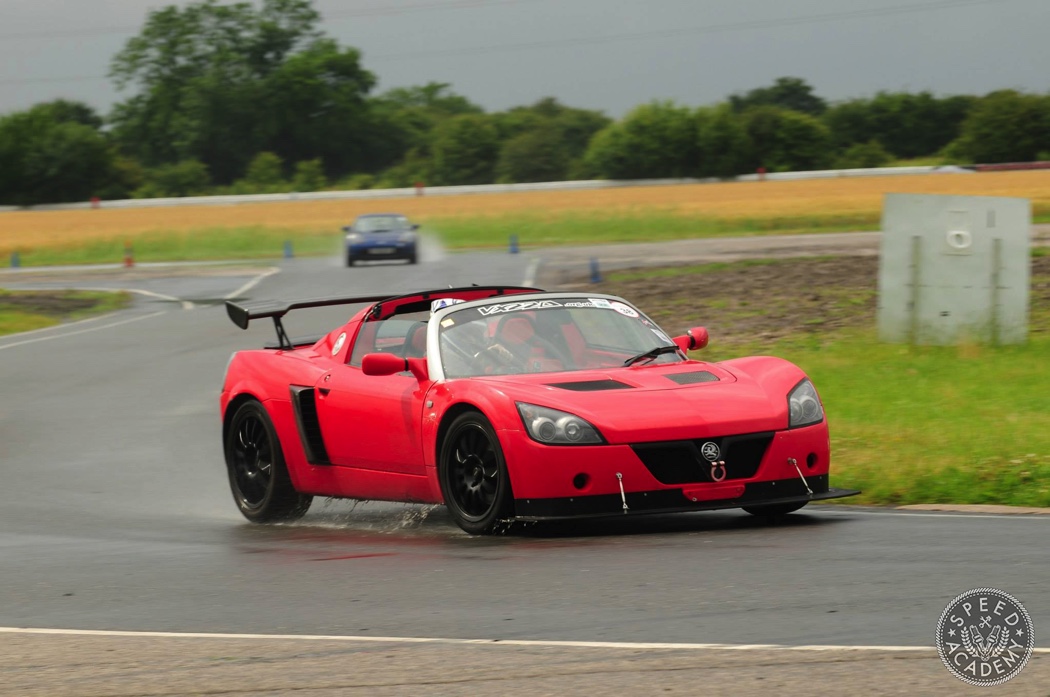 To mine, and everyone else's surprise, the rain stayed away for the entire morning. Our luck would run out in the afternoon, however, and during the lunch break, the heavens fully opened. I sheltered from the storm, expecting it to pass quite quickly, it didn't. We had heavy rain for a solid 45-minutes, which would mean the track staying closed until it no longer resembled a lake.
With the rain stopped, but the track still closed, I wandered around the paddock and bumped into an old friend who had by coincidence booked onto the same day. I thought I recognised that face! Mark was someone I'd known since primary school, and back in the day we played roller hockey together. He was here in his Vauxhall VX220, which you'll see pictured above.
With the track now open, we both ventured out onto track together and had some brilliant laps. It was challenging searching for grip on what was still a very wet circuit, but great fun at the same time. The Starlet handled excellently in the wet, especially given the fact I was still on a dry Yokohama AO48R tyre.
Another few sessions in the car would pass without any other significant problems. Once the wheel bearing drama had been sorted, the only other issue I had during the day was losing a front indicator/turn signal. The same attentive marshal who had flagged me down for the earlier noise retrieved it for me, but that would end up being a souvenir from the day rather than being re-fitted to the car.
So, what did we learn? I guess the big thing was that the car worked well, even in the wet. It was also great fun to drive, I ended the day with a huge smile on my face, and a massive sense of achievement. In summary, the blood, sweat, and even tears (I may have had a little tear in my eye as I pulled out of the paddock with a working car strapped to the trailer) had absolutely been worth it!
It's at this point you are probably wondering, "Where the hell are the videos?!". Unfortunately, I was having so much fun out on track, the day came to a close before I knew it. Only afterwards I realised I'd not found time to sort any video footage out whatsoever. I can only apologise for that, but I did return to the same track a few weeks later. Rather than spread those trips across two entries, I figured I'd sandwich them together.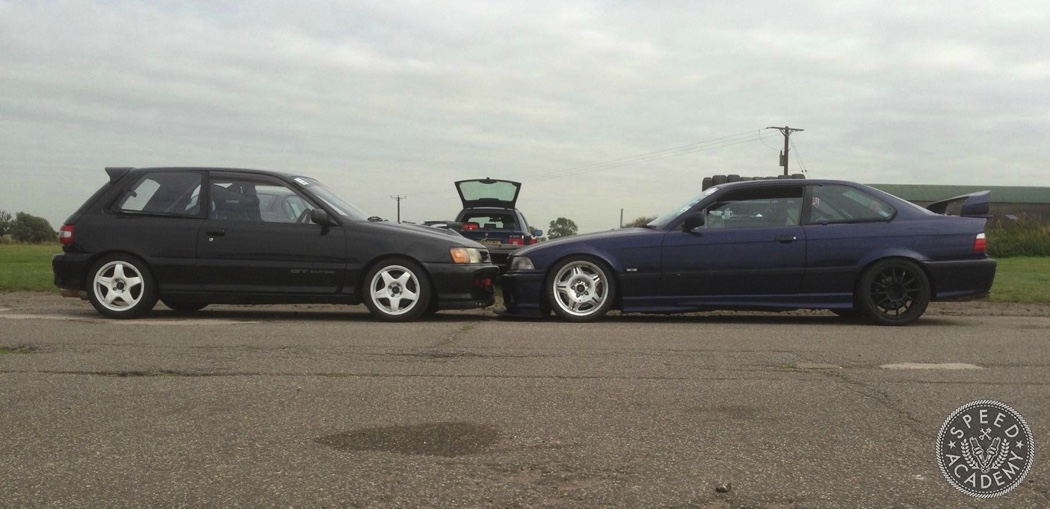 For the Starlet's second outing, it was back Blyton Park with Javelin Trackdays. This time I wouldn't be there alone, a larger group of friends had also made the short trip to the track. Most notably, the Pinders. Nigel and his son Matty are well known on the UK track day scene, Nigel has a MK2 Golf nicknamed The Pinderwagen, it's not like any other MK2 Golf you'll ever see. Today they were in Matty's car, a BMW E36 328i which would serve as the Starlet's yardstick.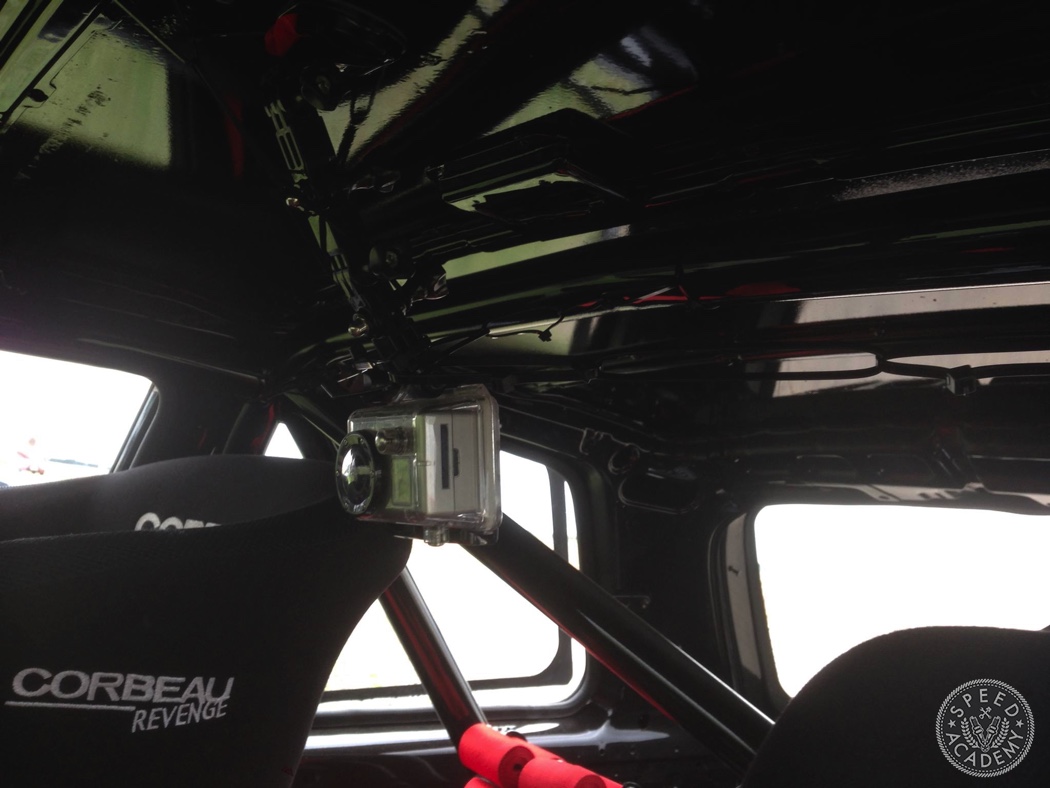 You'll be happy to read that I also found time to sort a GoPro mount, jerry-rigged with about 50 cable ties it actually worked really well. But patience, we'll get to the footage from it shortly.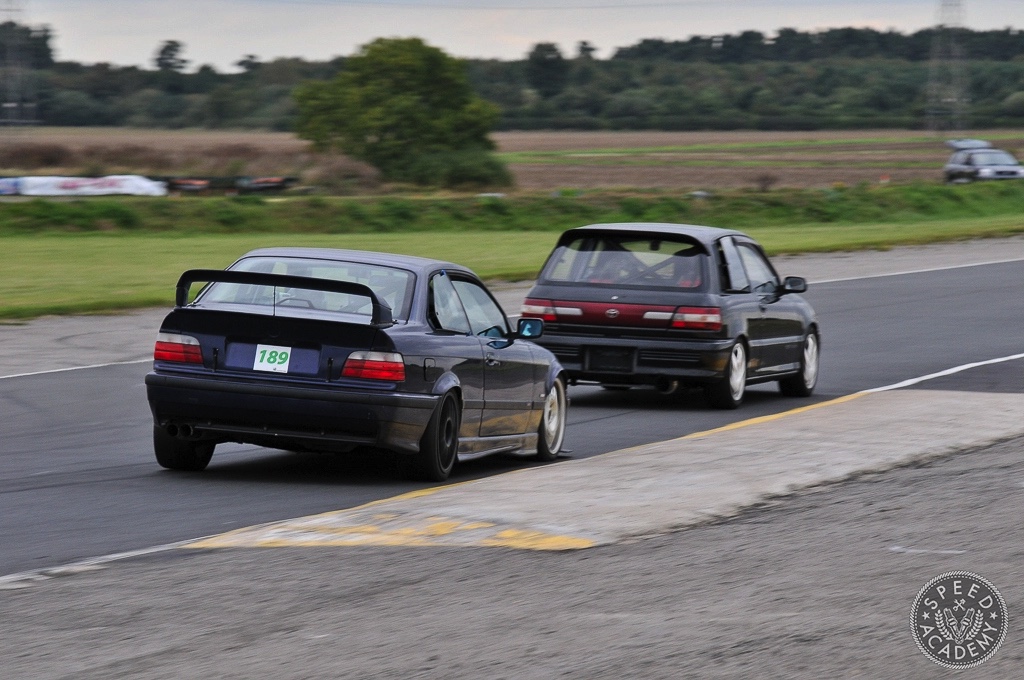 The day drew on, and the lap count increased. I was really starting to get a feel for the car, but one thing left something to be desired. I struggled all day with brake pedal feel, and due to the weather, it's not something I could really test on the previous day. This is often the first complaint about EBC Yellow brake pads, and it was very noticeable on a dry track when pushing on. Apart from the brakes, the car felt great and continued to inspire confidence.
The last session of the day would see Nige jump into Matty's car and have some fun exploring its limits. I would serve as chase cam, and attempt to keep up. Taking the chequered flag at the end of a trouble-free track day is always a fantastic feeling, to share it with family and friends adds a cherry to the top.
Following the two days I had a short list of things to address:
– Find a better brake pad to replace the EBC Yellows
– Fix a slight weep from an internal brake line
– Understand why I was struggling to get oil temperature into the car
Remembering that this is a bit of a retrospective look at the build, I made sure to say my thank you's to everyone back then who had helped me with it. But going through old photos, and writing this now, it's clear to see that without the help of a few close friends I would have never got to this point. So a huge thank you to everyone who helped along the way, from putting up with my worrying phone calls to freeing up some space to let me store a car.
Also, thanks to the Pinder family for some of the photos in this entry, and be sure check out Nigel's Pinderwagen blog.
And if you've made it this far, thanks to you for sticking with it, a little wordier than previous entries but I hope it captures what it felt like to use the car for the first couple of times. Next time we'll continue to look back at some great track days, and edge closer to catching up with where things are currently.