Ok, so if you've been following our Targa Newfoundland saga on our Facebook page, then you know we've made the trip, had an amazing adventure, and brought home some pretty sweet hardware including the Manufacturer's Championship for Scion. We'll have all the details on this for you soon, both in video and story formats. But before that, we wanted to share with you some of the gear we picked up to prepare ourselves properly for the unique challenges an event like Targa NL presents.
Pete and I both have a mishmash of racing gear from previous adventures in motorsports, but for Targa we wanted some fresh gear that matched and would thus look more professional in any team photos and such. Plus it was a good excuse to hit up our friends at Alpinestars, makers of some of the finest racing apparel on the planet. There's a reason their gear is extremely popular in the F1 paddock right on down to regional club racing events, and that's the quality of materials used, the fit and comfort provided, not to mention the style (lets be honest here, we all want to look like badass superhero in our race suits).
Turns out Alpinestars was just bringing their new entry-level GP Start gear to market, so it was a perfect opportunity for us to get a coordinated look for Targa while spreading the word about Astars latest and most affordable lineup of race suits ($599), gloves ($79) and SP shoes ($199). Entry level may be a bit deceiving, since the GP Start suit is still a highly sophisticated garment, certified to FIA 8856-2000 and SFI 3.2A Level 5 homologation. It uses two layers of 100% Aaramid fabric to provide excellent resistance to heat, while remaining lightweight and comfortable thanks to its anatomically optimized design (arm, leg and torso panels are shaped for optimum driving position fit). Like all of Alpinestars suits, the GP Start also has internal flat seams to reduce pressure points and a close fitting design that flatters the fit (Peter) and semi-fit (me) driver alike. We had mixed feelings about the boot leg cuffs, though. They looked a little bell-bottomy to us, but a quick trip to the tailor can address that small fashion nitpick. And on the upside, the boot cuff means you can easily get in and out of the suit without removing your shoes.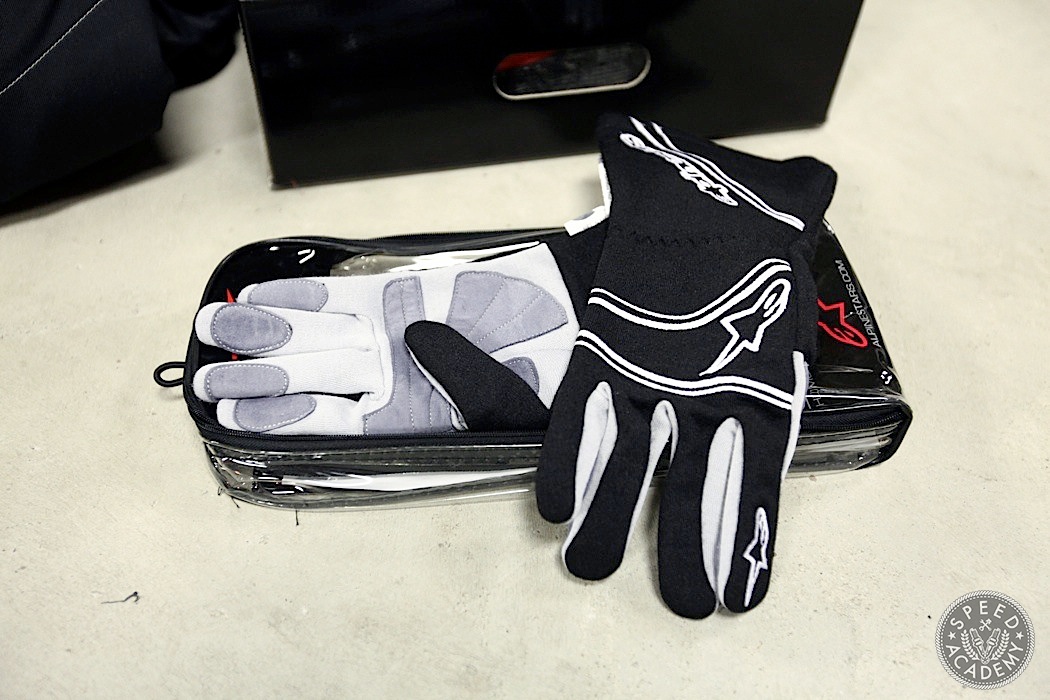 I have some of Alpinestars top-tier shoes and gloves, but I've gotta say the entry-level GP Start gloves and SP shoes give up very little in the way of comfort or style. The gloves are a tiny bit bulkier than the more expensive Tech 1-Z or 1-ZX options, but still felt great on the steering wheel and shifter. The suede inserts on the palm, fingers and thumbs provided excellent grip, and the pre-curved fingers eliminates any bunching while gripping the controls.
The SP shoes do have less cushioning in the sole, so they're not as comfortable if you're standing around in the paddock posing next to your Ferrari all day, but as a driving shoe I find them to be superb, both in terms of comfort and feel. The lighter sole meant I had excellent feel on the pedals, and in the flashier red/white/black colour combo I felt plenty pimp when lacing them up. Peter went with black shoes, because he's so pretty he doesn't need the extra pizzazz. That, or he thinks he's some kind of Johnny Cash tough guy.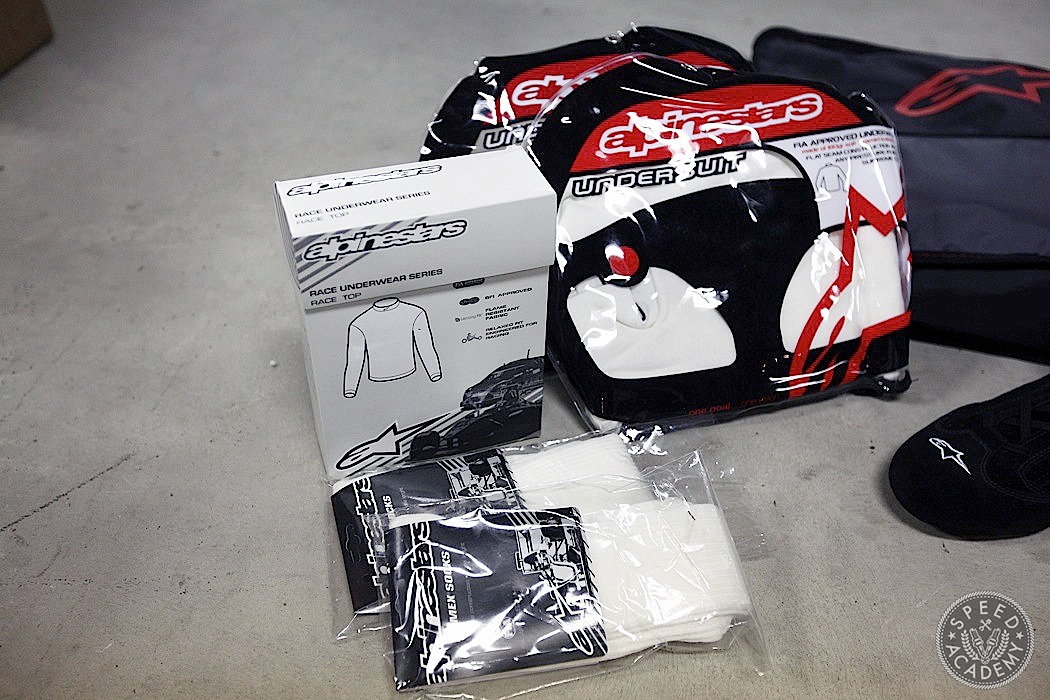 As you may have already seen in Episode 6 of our Targa FR-S build videos, we also added a third layer of protection with Alpinestars underwear (or what they call a tech layer, because it sounds less agricultural than underwear and actually provides FIA and SFI level protection against heat and flames). Since it's typically pretty cold in Newfoundland in mid September, we opted for the long sleeve Race Top, which is actually F1 spec and is constructed using an innovative new flame resistant material called Lenzing FR, which is made up of natural viscose fiber that has unique thermal insulating and flame resistant properties. My Tom Selleck level of chest hair is as well protected as it gets in this top, plus I found it to be very comfortable and surprisingly breathable. The Race Bottom's we wore are made of the same material and offered the same high level of comfort, so you could say the most important parts of my manhood were also appropriately protected. And of course we wore some Nomex socks, which get amazingly stinky after a day or two. I called them Ebola socks after Pete stashed his dirty ones in a cabinet in our RV and then unleashed the stank at the end of the week when we packed up all our gear. Honestly, I threw up in my mouth a bit. And almost passed out.